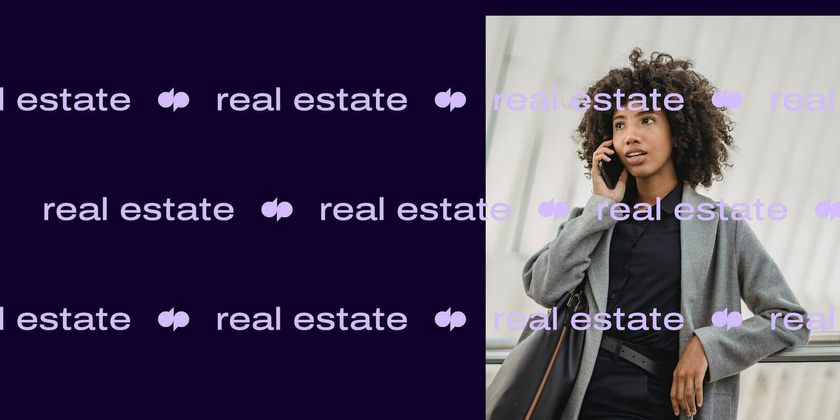 November 02, 2021
In the past, real estate agents had meetings in their office, sifted through endless stacks of paper searching for documents, and stored contact information in a folder bursting at the seams.
Not anymore.
Today, it's impossible to grow a successful real estate business without the right software in your tech stack.
There's a huge range of excellent real estate software solutions for everything from lead generation to cloud communications and transaction management.
And who better to suggest some of these tools than real estate agents on Reddit?
From the expected names like Zillow and Zumper, to some tools that you might not have heard of, Reddits came through with some interesting recommendations for real estate professionals. Keep reading to learn more.
The 34 best real estate agent software tools on the market, according to Reddit
We've trawled through the Reddit threads to find the most loved / coveted real estate agent software on the market.
We've grouped these suggestions for real estate software by category—for example, by communications tools, prospecting tools, and so on.
The best prospecting and lead generation software
Sales prospecting and lead generation play a vital role in business growth for real estate brokerages. There are lots of homeowners and homesellers out there, but competition is fierce.
The real estate industry is especially tricky because leads need to be active in the market to buy a new property—and those active periods are sometimes few and far between.
It's not like lead generation for an ecommerce store, where anyone might decide to buy a new pair of shoes at any time on a whim.
This is where technology can really help lighten the load.
1. Zillow
What Reddit says
There's also Zillow Mortgages, which one Redditor describes as "A good loan amount estimator app to give your clients an idea of what they might pay."

Who doesn't know Zillow?
Well, just in case you don't, Zillow Premier Agent is a real estate software that shows you exactly which listings leads are looking at and saving, so you can reach out to them with timely communication. This means that instead of doing completely random cold calling, your agents can contact new leads that they know are interested, at the right time.
Zillow is completely customizable to enhance the sales process with streamlined tasks, reminders, custom notes, mobile notifications, and advanced analytics to help you achieve your business goals.

2. Realty Juggler
What Reddit says
"It does it all from auto text messaging, email campaigns, transaction manager, accounting, even does rental records and your lockboxes."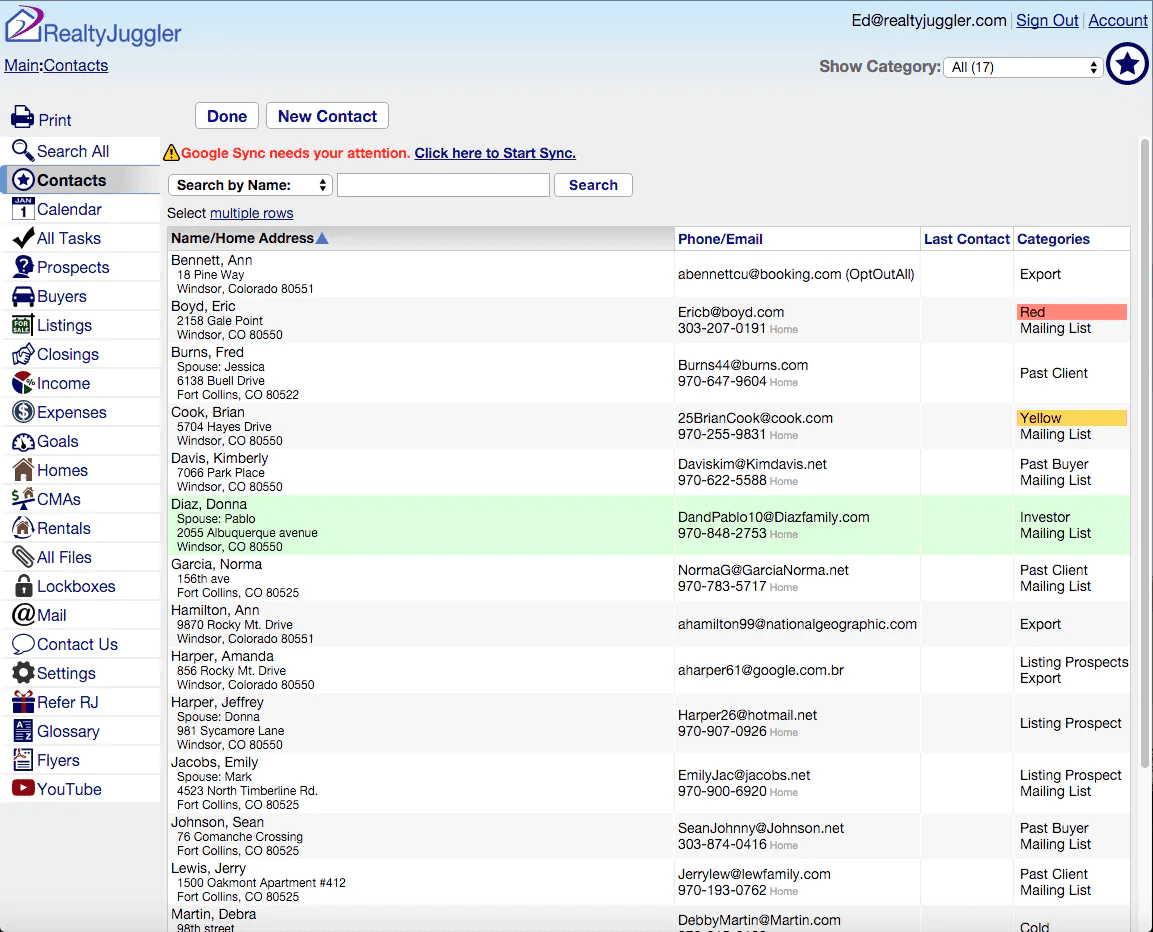 Realty Juggler is real estate CRM software that stands out for its sales prospecting and lead generation functionality. The platform lets you feed leads from any website with a Contact Me form and import them from your MLS, tax records, and lead services.
You can track prospects, schedule follow-ups, and build your daily call lists, all on desktop and mobile. Realty Juggler doesn't have the most high-tech interface and looks almost like an Internet program from 2005, but it gets the job done.

3. Dialpad Sell
Okay. This one technically didn't come up on Reddit, but it can be a useful tool for real estate agents nonetheless!
Dialpad Sell is an AI-driven communications platform with features designed to help real estate businesses with sales prospecting and lead generation.
If you do a fair amount of phone outreach, Dialpad's advanced calling features let you do outbound calling and real-time coaching (for more junior agents), and there's even a power dialer to help you make more calls in less time. Dialpad Sell integrates with CRM solutions like Salesforce and HubSpot so you can make phone calls without leaving your CRM, and the integration also automatically logs calls and activities for you. No more having to constantly switch between apps:
🏠Further reading: See how CIVITAS, a commercial real estate brokerage and advisory firm, used Dialpad's real-time transcriptions and Salesforce integration helped give its brokers a leg up on their daily calls.
And if you leave a lot of voicemails, Dialpad's voicemail drop feature lets you pre-record a message that you can just "drop" into a call when you hit a prospect's inbox instead of having to recite the same message over and over again: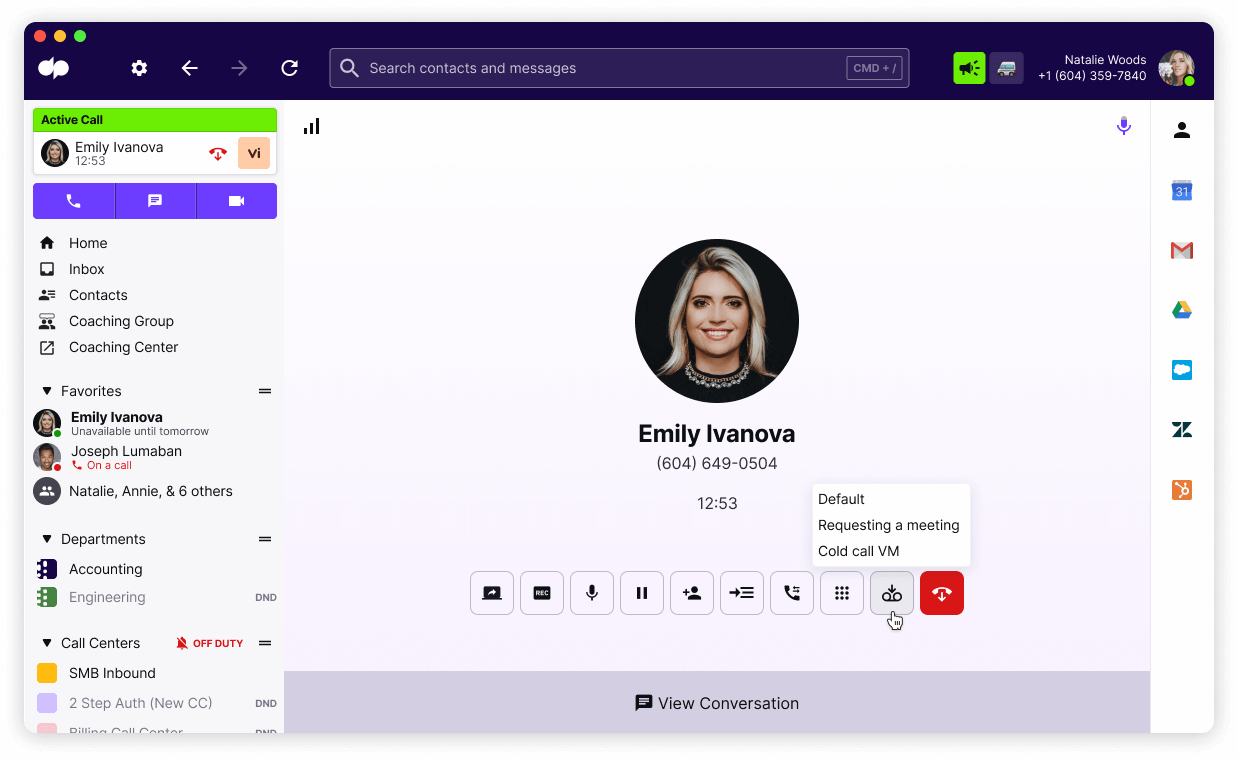 4. Facebook Ads
What Reddit says
"I close 15-20 deals a year from Facebook Ads, and after recently transferring to KW I expect that number to rise."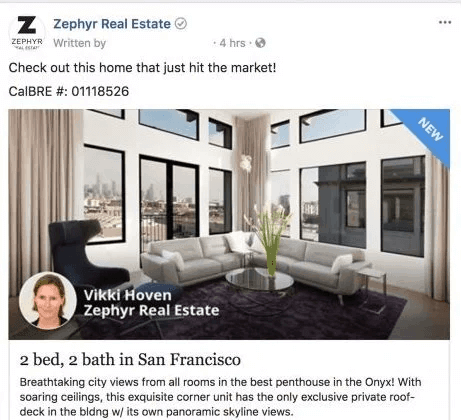 Businesses across almost every industry use Facebook Ads as a prospecting and lead generation tool.
When someone clicks on your ad, it'll pop up a lead capture form that's automatically populated with their contact information (pulled from their Facebook account), which saves your prospects time and more importantly, removes friction and helps you close deals faster.
Real estate businesses can use Facebook's granular targeting options to reach their exact target audience, whether they're trying to attract first-time buyers or seasoned investors.
Just remember that if you use Facebook Ads as your main prospecting and lead generation tool, you'll need to incorporate other software as well to manage those leads once they enter your sales pipeline.
5. CINC
What Reddit says
"I paid for CINC leads, about $2000 per month, and got an average of 10 leads per day. They gather their leads through FB and Google ads, and I am sent the lead's contact info and activity since clicking the ad."
CINC is a real-estate marketing and CRM platform that helps real estate agents stay engaged with clients across the client lifecycle. Generate new leads with its IDX website design feature, identify quality leads, nurture them, and close deals. It also features lead management features that help keep everything organized.
6. Structurely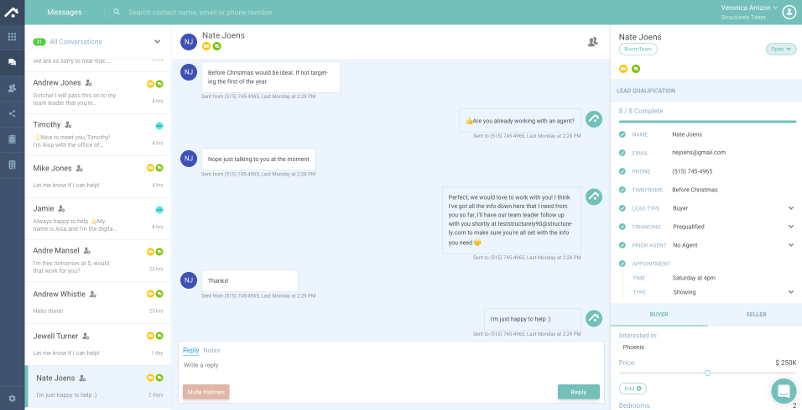 Structurely is AI-driven real estate software that empowers agents to generate and qualify leads with text messaging and email through their proprietary chatbot.
Structurely automatically messages leads once they contact you via your website, live chat, or Facebook page. It asks intelligent questions to determine quality leads and then schedules an appointment with a team member.
The best customer relationship management software
CRM real estate software empowers businesses to manage their contacts and build stronger relationships with leads, prospects, and clients.
7. HubSpot
What Reddit says
"I work with a home builder and we use HubSpot for our entire sales and marketing team. Super powerful and we've also got our site in their CMS. I've built it out over the years, got it pretty fine tuned to our needs now. I'd suggest it 100%."
HubSpot is one of the most popular free CRM solutions on the market. It's used by all kinds of businesses, big and small—including real estate businesses.
HubSpot CRM includes lead generation tools, contact management, live chat, email integrations with Gmail and Outlook, and a range of other features to handle customer interactions across the client journey. With HubSpot, you can start free and scale CRM functionality as your business grows.
Fun fact: You can integrate HubSpot CRM with Dialpad to unify your communications and automate the sales process. By hooking up your CRM to your business phone system, you can do things like make phone calls from right inside your CRM, and it'll also auto-log activities and calls for you: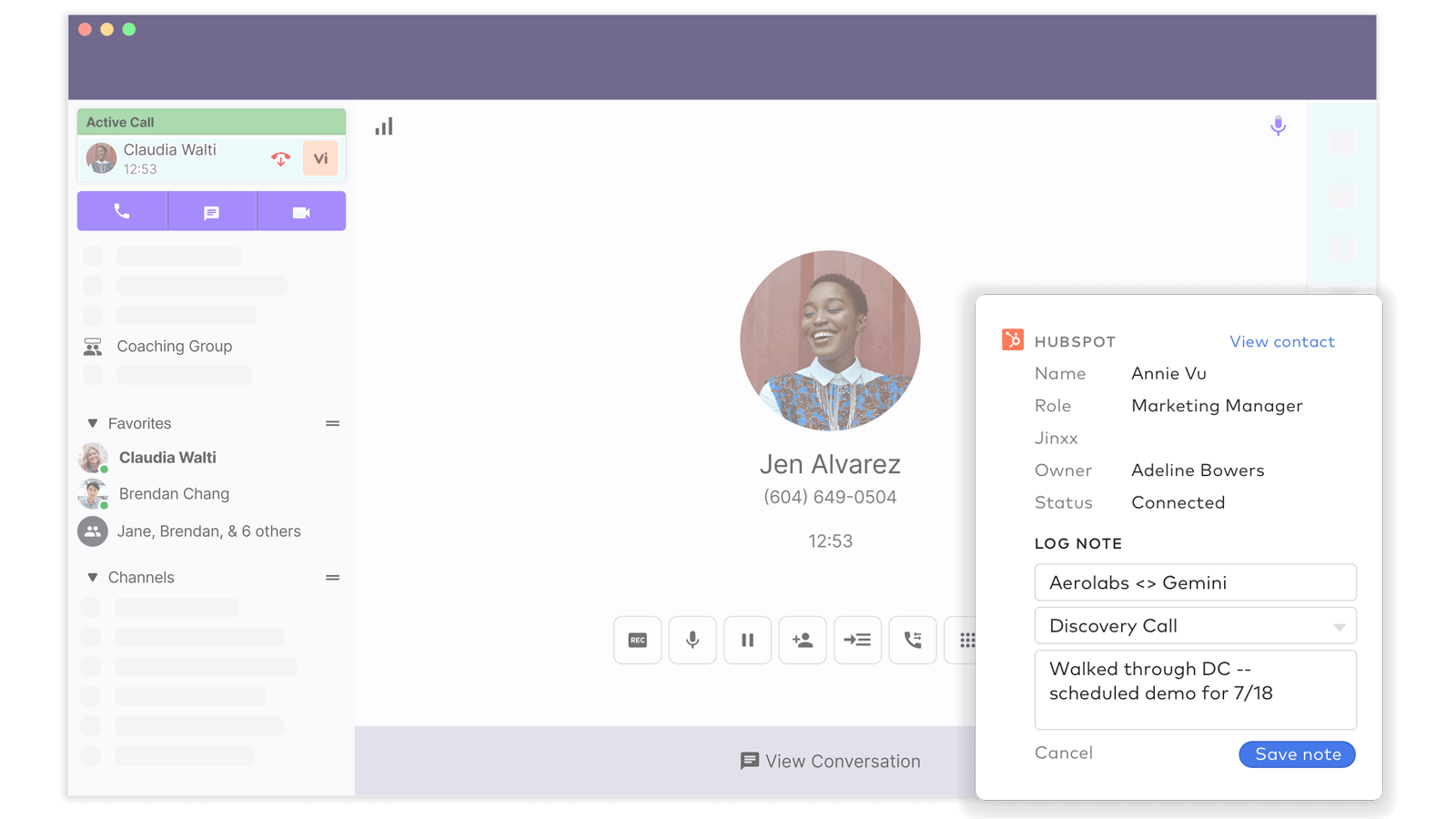 8. Salesforce

Salesforce is another popular (and pricier) CRM software that real estate businesses use to stay on top of their client relationships. It offers features like contact management, task management, workflows, client engagement tools, advanced analytics, and much more.
Like with HubSpot, you can integrate your Salesforce CRM and your VoIP phone system with Dialpad's Salesforce integration. By combining these two platforms, your real estate agents can create better client relationships and drive sales all in one app without toggling back and forth. All of your call history, voicemails, recordings, transcriptions, and more will be stored and updated automatically in your CRM: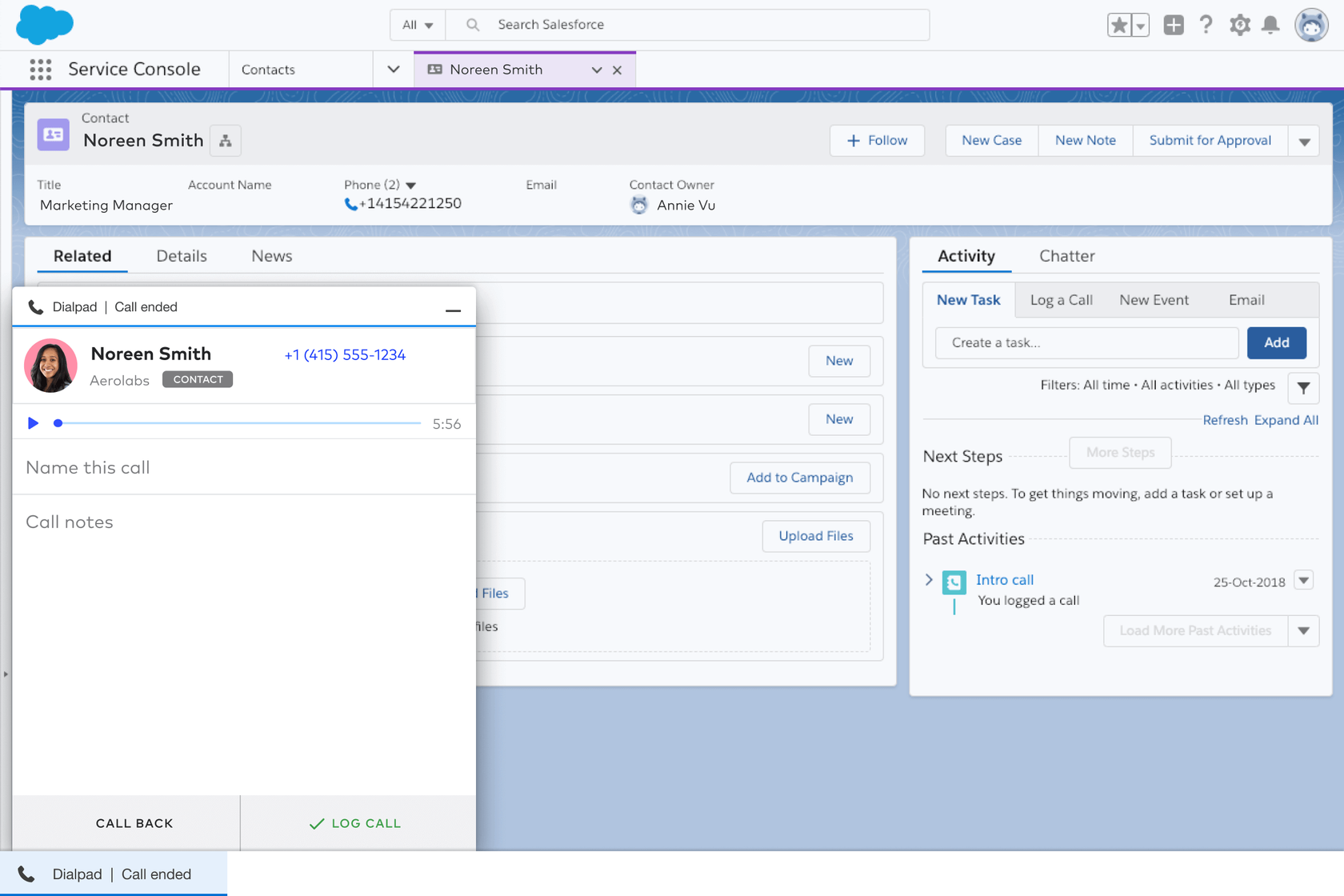 9. AscendixRE
What Reddit says
"AscendixRE is a commercial real estate CRM for managing your properties, leases, listings, deals, contacts, accounts, activities in one place and from anywhere. It is the only real estate CRM software available on both Salesforce.com and Microsoft Dynamics 365"
AscendixRe is a cloud-based CRM designed for commercial real estate use. With this platform in your tech stack, you can carry out effective sales prospecting, automate workflows and back office tasks, track your data, access reports, and personalize the client experience right in your CRM.

10. Odoo
Odoo provides a suite of open source ERP and CRM software solutions that can prove really handy for real estate agents. Odoo Real Estate ERP helps streamline online sales of real estate, and has various modules that users can combine to meet their specific needs. They include modules that help to log and manage project and property details, live chat for client interaction, and plenty more besides.
11. Top Producer
Top Producer is a CRM solution that helps real estate businesses stay on top of contact information and client lifecycle progress. It also features integrated websites, insights, text messaging, and automated marketing. Top Producer is a suitable option for real estate businesses seeking an all-in-one CRM software that's easy to use.
12. Follow Up Boss
What Reddit says
"For an individual agent? Or team? Either way, my favorite CRM is likely FollowUpBoss. It's not the most budget friendly, but it's adaptable to a growing business and has everything you'd want. The owners are also super receptive to feedback and implementing the good ideas.

Follow Up Boss is a CRM and lead nurturing tool that centralizes leads and keeps them organized in an easy-to-use platform. Some of its features include calling and dialer, SMS and group texting, lead routing, email integration, and a mobile app. You can also access analytics and reports to stay on top of agent activity, real estate transactions, and overall ROI.
The best communication and collaboration software
Just like any other type of business, real estate companies need to be able to collaborate and communicate both internally with other staff in the brokerage, and also externally with clients.
The best software solutions should empower agents to connect across different channels, send and receive files effortlessly, and collaborate on projects in real-time.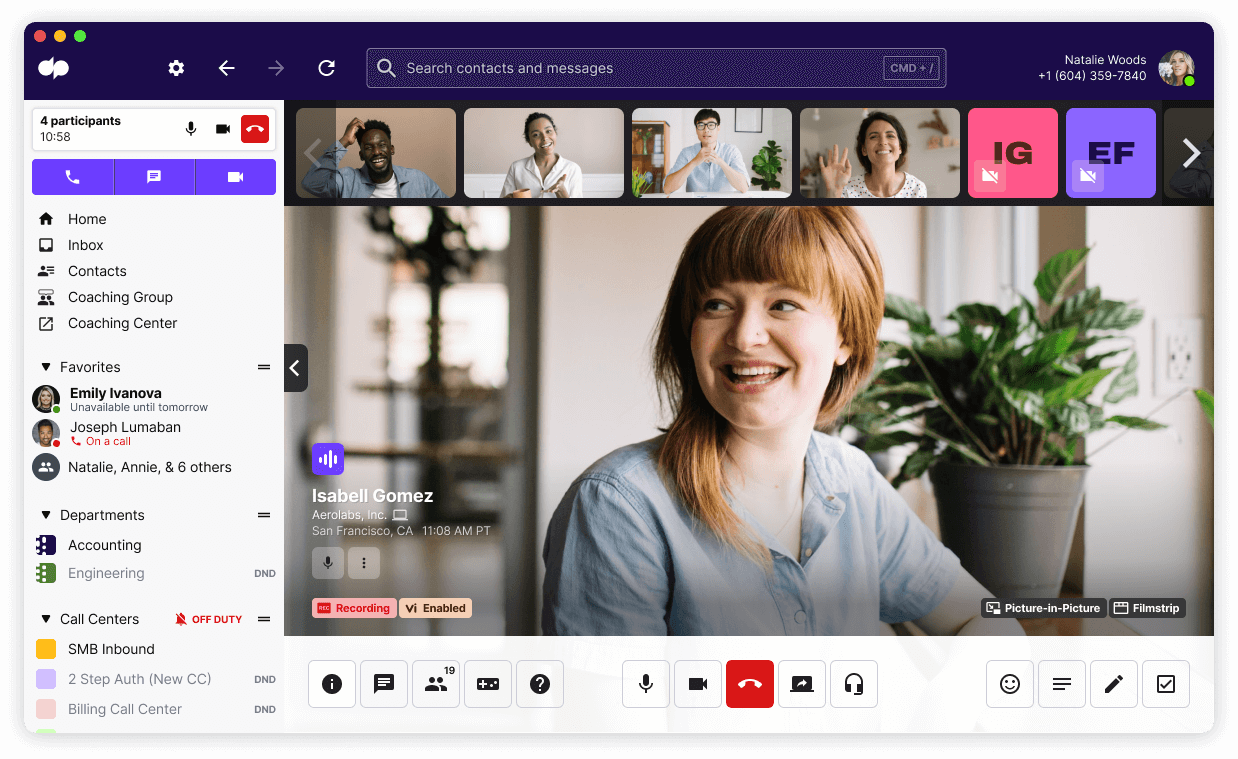 For real estate businesses that communicate with prospects and clients regularly on different channels (like phone calls, texting, and video meetings), you can consolidate everything in Dialpad's all-in-one unified communications (UCaaS) platform.
This way, you get an advanced cloud-based business phone system, video conferencing software (ideal for hosting a virtual open house), instant + SMS messaging, and more, in one intuitive and secure platform.
But don't just take our word for it. After switching to Dialpad, CF Real Estate, a full-service real estate company that manages over 90 communities and 25,000 residents, used Dialpad to help its agents make voice calls from their cell phones while shielding their personal numbers—and ultimately, to work from anywhere.
🏠 Further reading: Learn how to run a smooth virtual open house in this guide by one of the most successful REALTORs® in Vancouver.
One of the best things about Dialpad's app is that it works across PC, Mac, iOS, and Android, so you and your clients can join calls from any Internet-connected device, whether it's a phone or a computer.
Not only that, Dialpad is also browser-based, which means your clients or prospects can join a conference call or virtual meeting with you without having to download any apps. All they have to do is click a link and join from a web browser: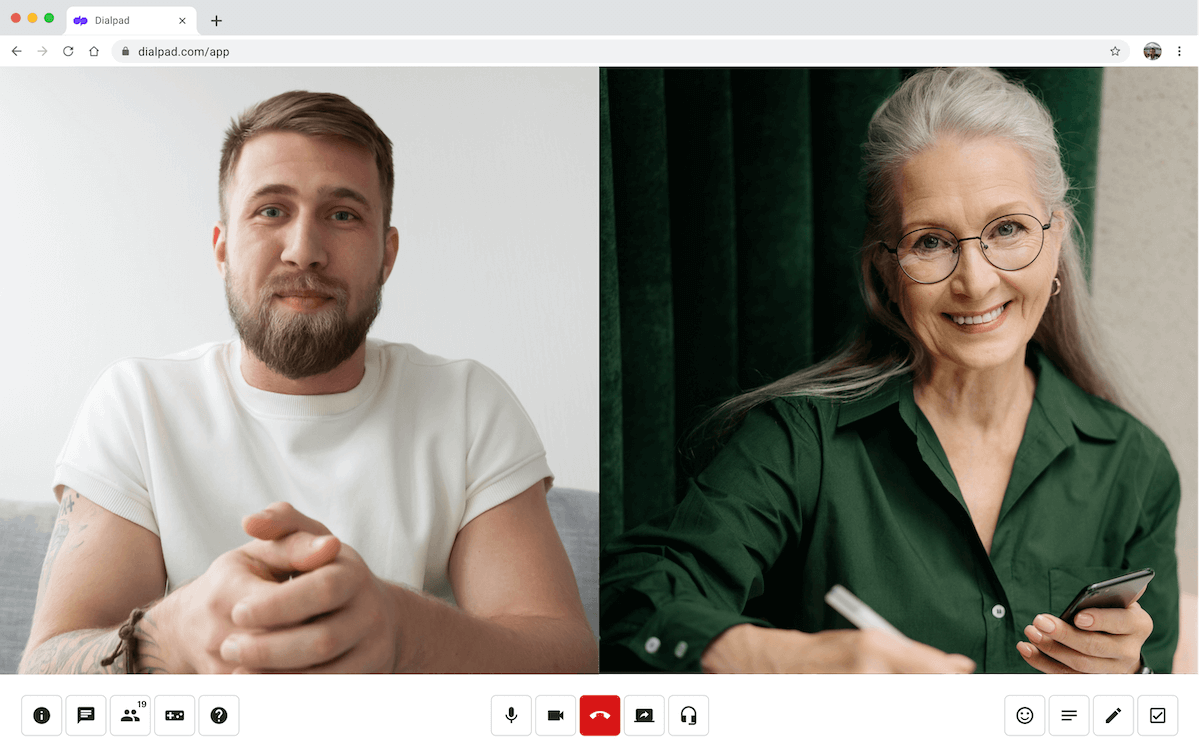 One thing that makes Dialpad stand out even more from other software solutions on this list is its AI: Voice Intelligence (Vi). What does Vi do? Well, it can transcribe calls—in real-time (more accurately than Google!)—and track keywords.
Say you want to track how often certain neighborhoods come up on calls. You can create a "Custom Moment" and set it to track whenever "Neighborhood X" is mentioned by homebuyers or sellers!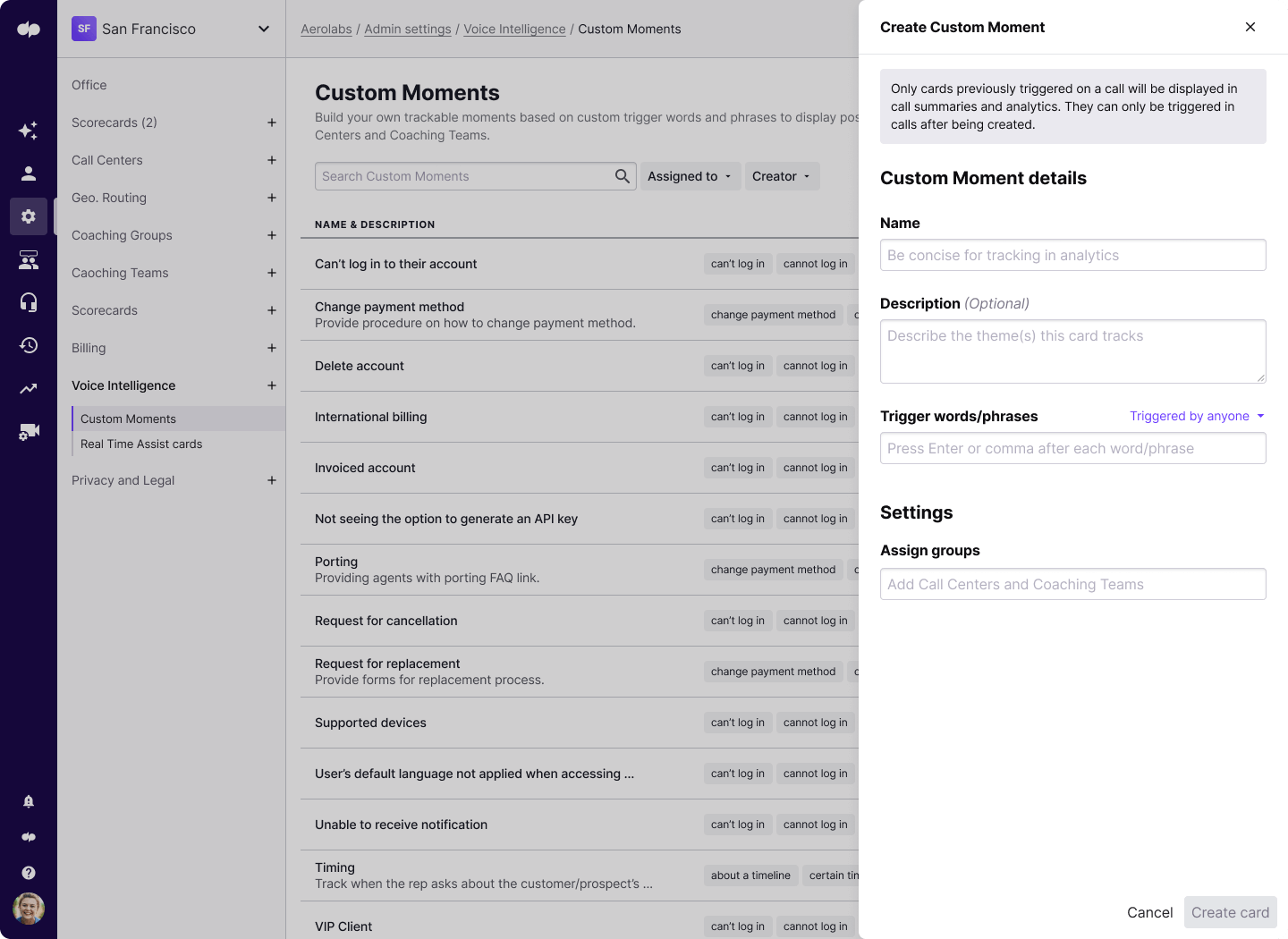 14. Brokerkit
Brokerkit helps real estate brokers automate recruiting, onboarding, and retention to streamline business growth. It's aimed at residential real estate offices, regions, and national brokerages. If you want to scale your team and retain employees, this is a handy tool. You can also integrate it with your daily workflow to handle phone calls, emails, and text messages from a single platform.
15. Homesnap
What Reddit says
"I really wanted the flashback feature. In my market (like many others) homes are selling as soon as, or even before, they list. Many new listings don't have pics, so I use the flashback feature to get a sense of the home. That's easy enough to do from my laptop, but it's been difficult when I'm out on appointments or showings. The app is so convenient, so I upgraded for that. I also signed up for a month of promotional marketing."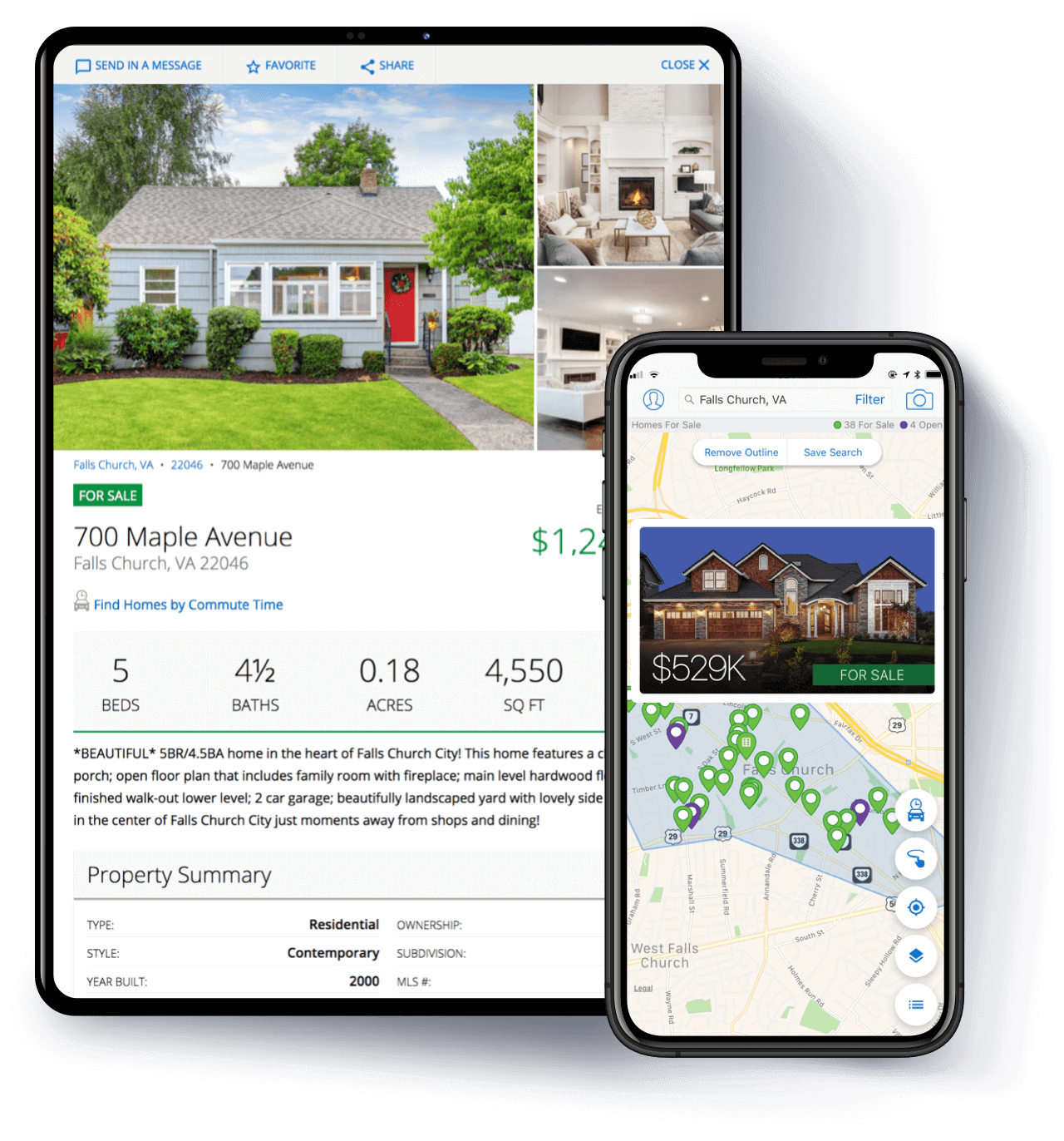 Homesnap is a free collaboration tool that enables real estate businesses to provide a user-friendly search experience to clients. You can also use the platform to obtain and store client and lead information.
Agents can communicate directly with clients through the in-app messaging feature, and on the paid plan you can integrate Homesnap with your Google business profile to manage reviews online.
16. Google Folio
What Reddit says
"On Folio you can share a link to your clients and it will keep them in the loop as well, and show them deadlines and layout the process and next steps to take. And they don't have to download any other app. Just click the link."

Google Folio helps real estate professionals stay organized and manage communications with clients right from Gmail. Connect Folio to your Gmail account to stay on top of all your files, emails, and client/team contacts with Smart Folders.
This way, you don't have to waste time searching for important documents and files—giving you more time to spend on more important tasks.

The best multiple listing services
Multiple listing service (MLS) software is essential to help real estate agents, brokers, and clients verify information about properties in their area. And there are a few options here:
17. MLS.com
What Reddit says
"With MLS access you will get all the data first hand. It will also be easier to search for comps and export data."

MLS.com is a free MLS service used by real estate professionals and clients. Real estate businesses can use this service to generate leads and showcase their properties. MLS.com helps agencies reach a global audience to grow their client base.
18. Apartments.com
Apartments.com uses your local MLS to list properties. You'll receive notifications when leads come in so your agents and team members can reach out to them as soon as possible. It also features screening capabilities to help you make sure you have qualified prospects.
19. Showcase IDX
What Reddit says
"I actually just moved from iHomeFinder to Showcase IDX and so far I'm very happy with my decision to change IDX providers. I want to say I spent a solid 7 months going through and trialing/demoing many IDX providers (I've used iHomeFinder for nearly 3 years now.. I was looking for certain things to work with more than just my website without wanting to pump the money into having it developed for me... iHomeFinder was a great product but I feel as though it didn't scale with my business well enough."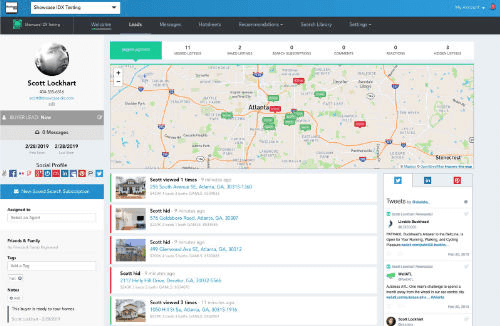 Showcase IDX is an IDX (Internet Data Exchange) plugin for WordPress that allows real estate businesses to integrate IDX listings and search into WordPress. It offers an attractive interface and mobile functionality.
Showcase IDX is one of the best real estate software solutions for small businesses that don't want to spend time and resources on programming a website, as you can simply integrate Showcase IDX right into your website.
20. Zumper
Zumper is MLS software that allows real estate agents to get their properties in front of over 13-million high-quality renters or buyers.

The platform allows you to screen renters with credit reports, run background checks, and handle applications. Agencies can also collect rent online without leaving the app. You can also advertise on Zumper to increase visibility, including virtual tours and featured placements.
21. RealtyMX
What Reddit says
"RealtyMX syndicates your listings to 40 different sites including Zillow. This is actually a huge draw for me because it saves me the time of posting on each site individually."
RealtyMX is a listing management system designed for brokerages based in New York City. It offers MANAR, RLS, IDX, and VOW support. RealtyMX also features an integrated CRM and document management system to streamline business processes.
The best open house and showing software
Open houses are pivotal to the real estate industry. Open house and showing software should help real estate agencies to easily send information to clients while streamlining the viewing process by minimizing paperwork and lengthy instructions.
22. Spacio
What Reddit says
"Get the Spacio App, print a QR code with all the flyer info, but make the clients enter their contact info to get the flyer info."
Spacio is an open house app that integrates with top real estate CRM solutions, such as BoomTown, Top Producer, and more. It enables real estate professionals to send targeted open house information to clients and leads, streamlining the sales process.
23. ShowingTime
What Reddit says
"I use it to get an idea of general activity levels. We're not allowed to schedule overlapping showings anymore because of COVID so it makes it pretty obvious how many showings they have."
Scheduling an open house appointment requires a lot of preparation. ShowingTime automates the process by combining showing schedules, buyer feedback, notes, and listing details. It also integrates with Supra eKEY and Sentrilock lockbox software to keep all the open house information in one place.
24. Open Home Pro
What Reddit says
"This app will help you go paperless while you farm for listings and you won't have to spend hours on end trying to decipher anyone's handwriting. With the Open Home Pro app, guests can easily type in their name and contact information all on your iPad."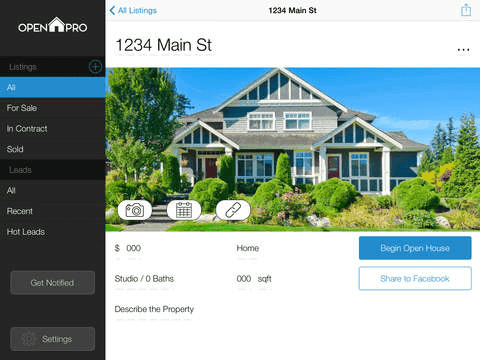 Open Home Pro is popular software for real estate brokerages that run many open houses. It's attractive for visitors as they don't have to spend time filling in sign-in sheets and you won't have to waste time deciphering their handwriting—helping you provide a better client experience and converting more leads. This app also offers basic CRM functionality for lead management, sending follow-up emails, and automating seller's reports.
The best real estate software for marketing and building websites
To stand out from your competition, you'll need to implement an effective marketing strategy and build a responsive and user-friendly website. There are plenty of tools to help market your real estate business, here are some of Reddit's favorites:
25. Canva
What Reddit says
"Canva is great for social media posts. You can add/drop/drag images and texts."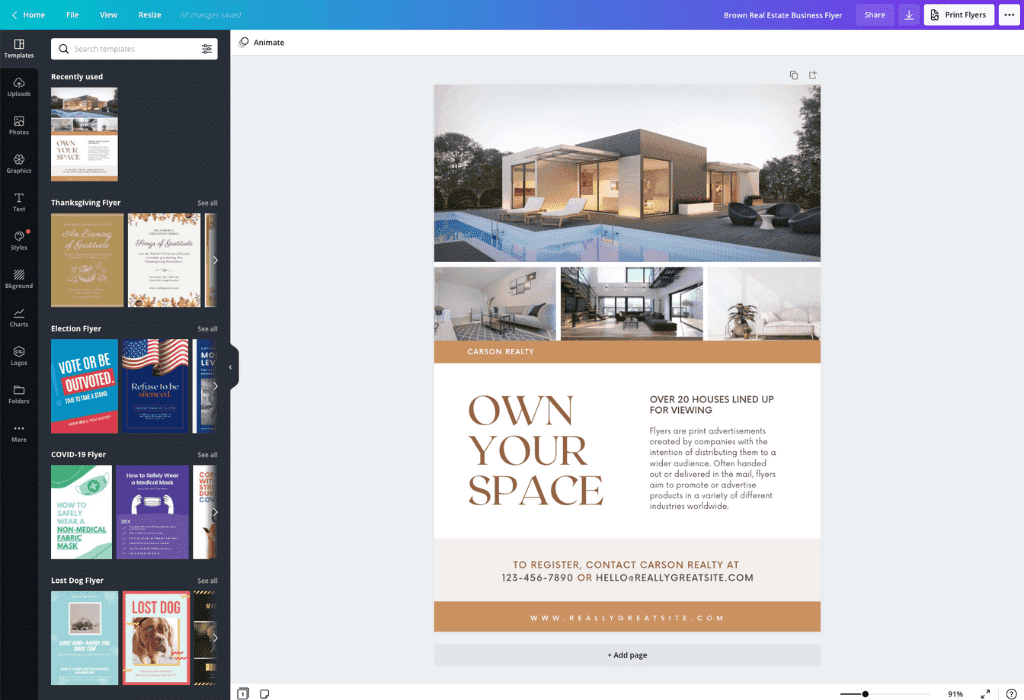 Canva offers a range of templates for the real estate industry that can be used to design brochures for open houses, promotional flyers, social media posts, and anything else in between. Canva designs can be completely personalized to suit your business needs.
Price-wise, it's free to sign up for Canva, making it an affordable tool for small businesses. However, if you want access to premium photos, features, and brand kits you'll need to upgrade to the Pro plan.
26. Loomly
What Reddit says
"My team really digs it, so decided to put my trust in them."
Loomly markets itself as a brand success platform that offers users a content library, optimization tips, post and ad mockups, workflow approval, automated publishing, advanced analytics, and more.
You can collaborate with your team, publish content, and measure results from a single platform. With Loomly, real estate agents can easily control their real estate marketing campaigns and website content.
27. Composer
What Reddit says
"Ascendix Composer (real estate report & property tours generation tool) offers functionality like:

In-built Report Templates to Build the Reports or Brochures

Unsophisticated Generation of Branded Commercial Real Estate Flyers, Property Profile Reports, Brochures, and Lease Comp Reports

Ready-to-Send Reports and Brochures Directly from your CRM or Ready-to-Download in Various Formats"
Composer by Ascendix is real estate software that's specifically for designing flyers and property reports. The solution lets real estate agents create branded documentation to impress prospective buyers, including brochures and flyers, property tour books, and availability reports.
Designed to link up with a real estate business's CRM system, you can produce documents in Composer with just a few clicks from AscendixRE or Salesforce.
28. Parkbench
What Reddit says
"Their model is ''community integration'' where you claim a neighborhood, they set up their platform, and you go make nice with local businesses to become their go-to agent (her words)."
Referral marketing is a key digital marketing strategy for growing a real estate business. But it's not always so easy for agents to find the time to meet and actually get those referrals.
Parkbench is software designed for real estate agents to provide the tools required to build up a referral network. They also train residential real estate agents with one-on-one calls about how to communicate with local clients effectively.
29. Wise Agent
What Reddit says
According to one Reddit user, Wise Agent is "good for creating mail (both email and paper) pieces and integrating with other applications."
Wise Agent is real estate CRM software that offers a range of features for managing digital marketing campaigns, building landing pages, contact management, and more. Create brochures and flyers, leverage drip campaign and email marketing automation, send SMS text messages, and much more from within the Wise Agent app.

30. Cloud CMA
What Reddit says
"I have a custom spreadsheet with details, DOM, LP v SP, OLP v SP, other data points, property descriptions and adjustments, I use Cloud CMA as a visual tool."
Cloud CMA is a comparative market analysis tool that helps real estate businesses to build analysis reports and interactive presentations to create better listings. This tool combines data from multiple listing sources to ensure your listings stand out in front of clients.
The best productivity software
31. DocuSign
What Reddit says
One Reddit user described it as, "The fastest, most secure way to sign, send, and store documents in the cloud."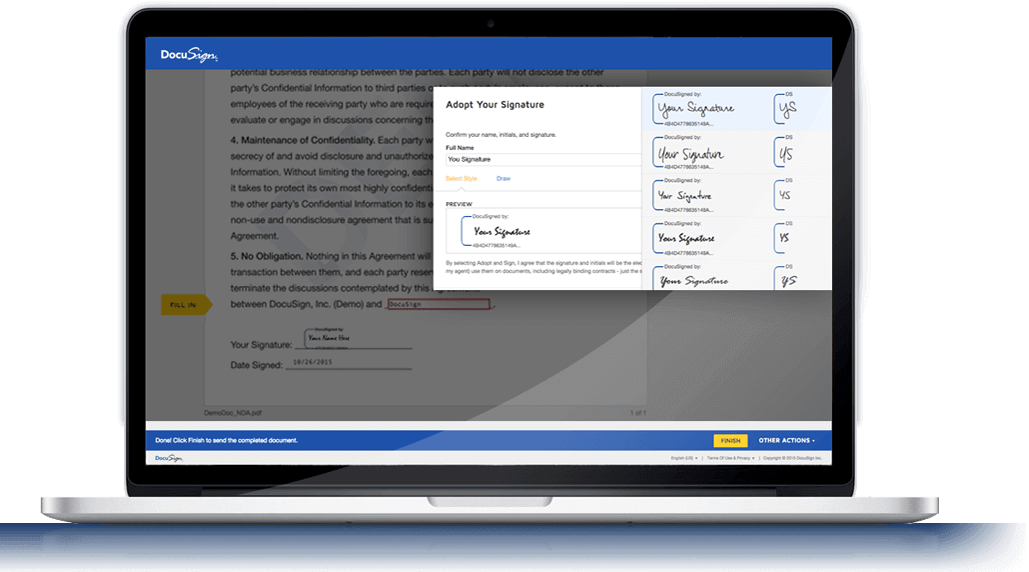 When you close a deal, there's likely a lot of documents that need to be signed. DocuSign is digital document signing software that allows users to request signatures, sign online using their e-signature, request document status, send reminders, and view audit trails.
This software can increase your team's productivity as documents can be sent, signed, and uploaded to the cloud in seconds over the internet, with no paper or back and forth emails necessary.
32. 1Password
What Reddit says
"A fantastic app that helps you keep all your passwords in one secure place. All you have to do is remember one master password and the app will take care of the rest."

1Password is password management software that allows you to store passwords, PIN codes, documents, payment information, and more online. Real estate businesses deal with a lot of important client information, so they need to be secure and ensure data is protected.
Using 1Password can help real estate businesses protect and access their important data and client information in a single click. This reduces the need to sign in to multiple apps individually, so you can streamline your business operations. If your real estate business operates with a remote team, security should be a top priority.

33. CoStar
What Reddit says
"CoStar is like the MLS for commercial properties. In addition to the listings, it hosts TONS of market data. It is well worth the cost if you are doing a lot of commercial deals."
CoStar Real Estate Manager is a platform designed for managing corporate and retail tenants. It combines the benefits of analytics, market data, and management software in one package. Agents can use CoStar to get deeper insights on properties, areas, and markets, in order to better serve their clients.
34. Expensify
What Reddit says
One Redditor describes Expensify as an app that "can help you keep track of all your receipts without having to physically keep them until the end of a business trip."

Expensify is an app aimed at helping businesses efficiently get expenses done in real-time when on the go. It's handy for busy real estate professionals who aren't always in the office.
Empower your team with the best real estate agent software
Real estate software helps agents and brokerages to optimize their business processes across a range of verticals. Be sure the software you choose aligns with your business goals and that it's going to automate manual tasks and help your agents to be more productive, rather than hinder them.
Every business needs a great communications platform. And if you need a unified communications solution that lets you make phone calls, have video meetings, and send instant messages to clients and teammates, then you should look at Dialpad.
With CRM integrations and an extensive range of business phone features, it's loved by real estate businesses like CF Real Estate. Pair Dialpad with other tools for open house management and multiple listing services and start building your real estate business infrastructure.