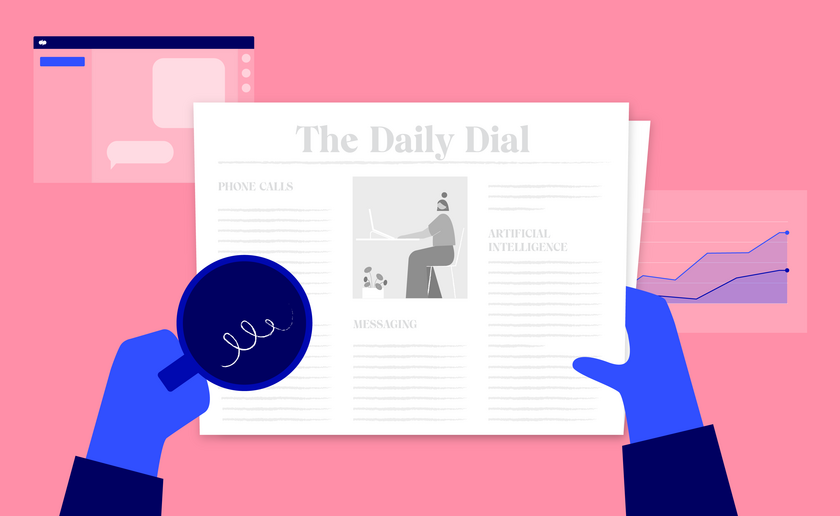 July 02, 2020
This month we're all about making the flow of conversation as smooth as possible with new integrations from Salesforce and Clio Manage plus an easier way to keep track of changes made on your team's account 👀. Let's take a closer look at the features released on the Dialpad platform in June.
Support at scale with omnichannel in Salesforce
Having a single platform to support and interact with customers is a huge gain for any sales or support team. Who wants to toggle between a bunch of different apps? No one, that's who.
Of course, there's a good chance that your team's at least using a handful of tools to get the job done, whether that's a phone + live chat software or a sales engagement tool + CRM. And not all of that tech may be provided by a single platform. In those cases, it's crucial that the tech you've purchased works together to provide a seamless experience for both the end-user and your customer.
Cue in our latest integration with Salesforce. Now you can sync up your Salesforce Omnichannel and Dialpad status to avoid routing calls or chats to agents or reps that are already handling calls or wrapping up.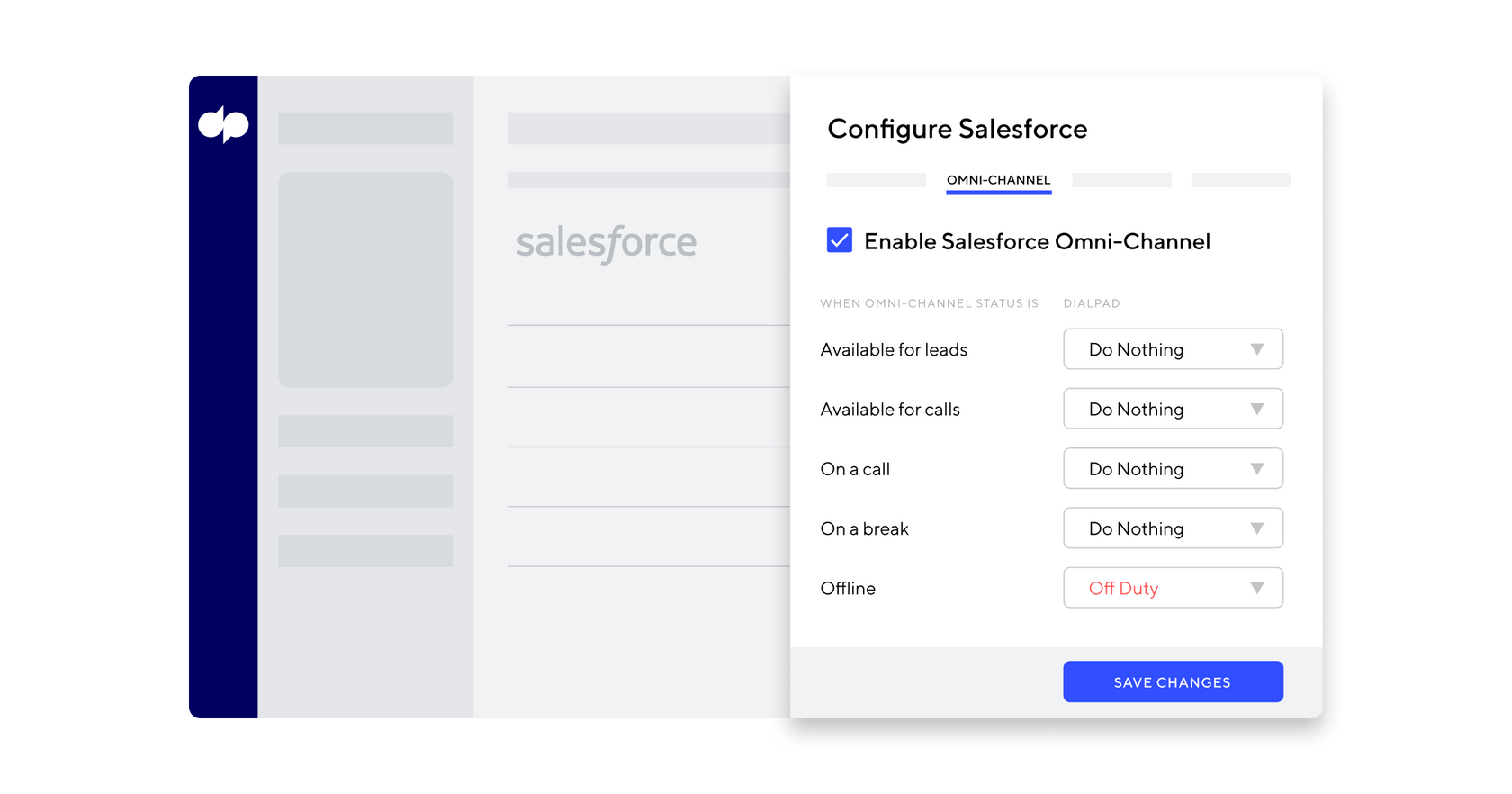 Omnichannel is just the most recent integration between Dialpad and Salesforce. Learn more about our other supported workflows for sales and support teams,
Track client calls with Clio & Dialpad
Clio Manage aims to help take the heavy lift of client management out of the hands of the individual lawyers and virtual law firms, and deliver a cloud-based platform that automates, tracks and slashes the manual data entry woes of teams in half (if not more).
Our latest partnership with Clio helps take even more manual data entry off firms plates with a natively integrated VoIP phone system that automatically logs interactions back no matter what device firms use.
With the Clio Manage & Dialpad integration, firms gain:

A reliable, cloud-based phone system that works across existing devices
Automatic call logging including time stamp, recipient, and single matter matching
Automatic Ai-powered voice transcriptions that save users from having to manually capture key moments on calls
The Clio Manage integration is available for Dialpad Voice Pro and Enterprise plan types. Learn more about the best apps for lawyers in this guide penned by two former attorneys!

Put some ⚡️ behind your dials with Salesforce
No surprise here, but salespeople feel some sort of way about manual processes, whether that's data entry into their CRM (man, do they hate that) or having to dial each... Individual... Number.
Thankfully power dialer technology aims to solve for that last pain point and the beauty of having one built right inside of Salesforce is that your team's already working in there, it's where customer and prospect data lives, and it's a single place to focus.

Since Dialpad already offers a native CTI (computer telephony integration) inside of Salesforce, managers can simply turn on the power dialer functionality for their outbound reps to take advantage of.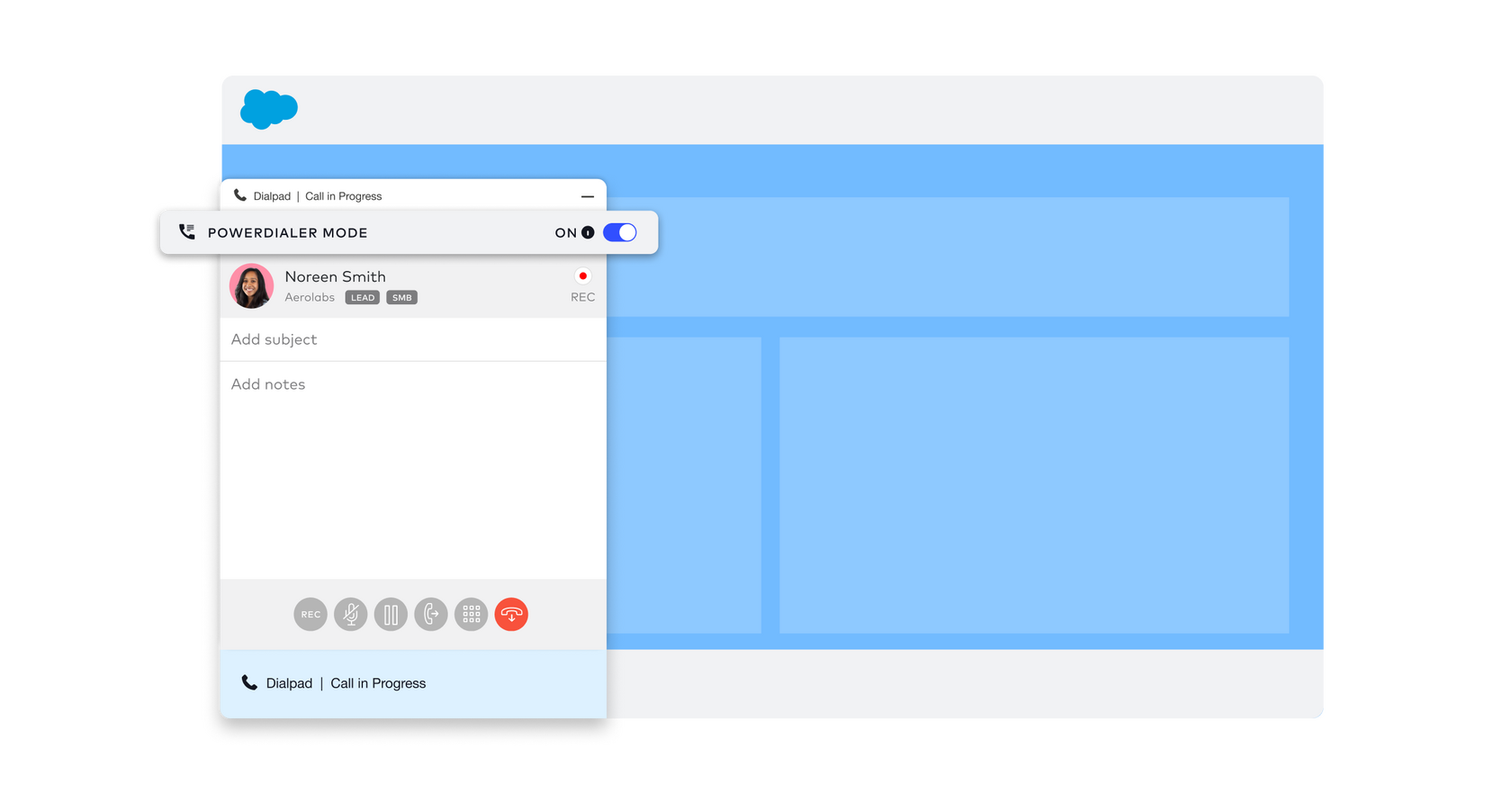 And since omnichannel status via Salesforce is now also supported, managers can sync up statuses so reps are receiving callbacks when they're actively outbounding.

The impact of dialing technology for your outbound reps?
48% more dials (on average)
But wait! There's more…
Have a hard time keeping track of contacts? Now you can add a label to them to make it easier to search and find exactly who you're looking for.


Exporting metrics? Dialpad now supports multi-target (i.e. more than one Department, Call Center, or Coaching Group) export to be pulled at one time. Exports include statistics, statistics by user, call logs, voicemails, and call recordings.


Dialpad Pro and Enterprise plan admins can export a log of user and shared line changes (think adding or removing phone #s, as one example) to their account from their company page within the admin portal.


Toggle Dialpad Ai on or off right on your active call screen, making it much easier to manage from a single place.


In case you missed it... We launched an integration with Outreach to power calls through their platform, including logging call dispositions back to events.
Thanks for catching up with us! We'll be back next month with even more features and workflows that make working from anywhere possible 👌. Happy dialing!