Back to Blog
15 apps for lawyers: A guide by attorneys, for attorneys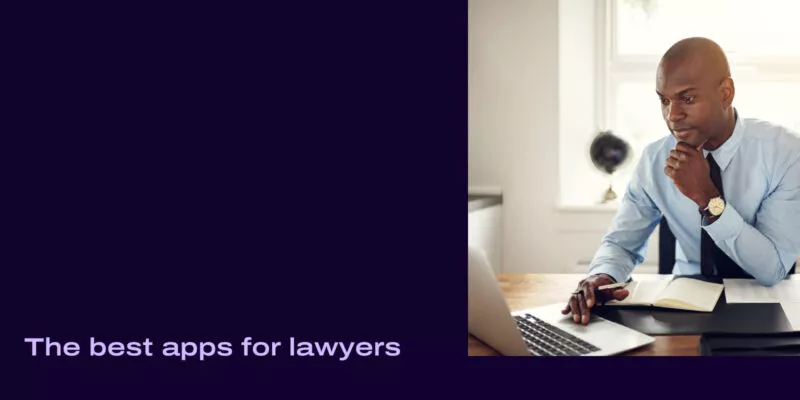 Whether you're just starting to explore remote and hybrid work options or have been working remotely for some time, desktop and mobile apps are becoming an increasingly important part of an attorney's arsenal of tools.
The only problem is: how on earth can law firms choose the right tools among the plethora of apps available to them? It's a tall task—and the legal field is not the fastest to adopt new technology—but many are realizing that familiarity and proficiency with technology is now an expectation:

As former attorneys (who currently work closely with attorneys!), we've used our fair share of legal apps for everything from case management to client communications. We'll be sharing these apps with you in just a bit, so if you're looking to streamline workflows or provide a better client experience (and prevent burnout), keep reading.
We've also broken these legal apps down into categories based on the different aspects of running a legal practice. (Legal research is a whole other ball game for another article, so you won't see tools like Fastcase on this list.)
Keep your law firm running smoothly with these apps
A good phone system
Phone system applications help law firms provide fast response times while offering advanced features such as call-time tracking, customizable call routing, and other features that make it easier to track billable hours.
Having a good phone system or communications platform is especially important if a law firm needs to be able to work across continents and time-zones. Coye Law Firm is a great example (the founder takes cases in the US while enjoying life in France) of how attorneys can manage remote staff and clients, without flying back and forth for in-person client meetings every time.
Dialpad: A truly unified communications platform that's more than a phone system
Dialpad is the ideal modern law office phone system for law firms. With Dialpad, attorneys and office staff can talk, message, and meet from one (fully virtual) workspace.
The desktop and mobile app works across Android, iPhone, Apple iOS, iPad, and of course, Macs and PCs. The big difference with Dialpad is its proprietary artificial intelligence, named Dialpad Ai. It transcribes calls—in real time—which means you don't need a separate note-taking app (learn more about AI for lawyers):

👉 Quick note:
Attorneys of course should carefully consider when call recording is appropriate, keeping in mind confidentiality and privilege rules in their jurisdiction. Thankfully, Dialpad makes automatic pausing of transcription and recording incredibly easy with its API and Chrome extension options. No matter your technical ability, you can make sure you're keeping your customers' data secure. There is also an option for manually pausing recording and transcription. You can turn it off in your Active Call window.
And because all client calls and meetings are taken and logged from its app, it makes it easier to do timekeeping and track billable hours.
That's all on top of Dialpad's basic communication functions, which allow attorneys to make phone calls, start video meetings, and even send instant and SMS messages to clients from the app, while shielding their personal phone numbers:

Cost:
Dialpad's plans start at $15 per user per month. The most basic plan comes with unlimited calling (within the US and Canada), multi level auto attendant, SMS/MMS + team messaging, custom routing options, a desktop and mobile app, and more.
Best features:
HD calls from anywhere

All the usual phone system features like call routing, call transfer, and custom IVR

100% uptime SLA for Enterprise plan customers

The ability to set business hours

Integrations with legal apps like Fastcase and Clio—and also general productivity apps like Google Workspace and Microsoft 365

An open API for custom integrations

Real-time call transcription

Automatic post-call summary (an automation that emails you a transcript and any action items after a call ends)
Client acquisition tools
The heartbeat of a law firm is its clients. And today, the majority of client searches for legal help begin online, which means attracting new clients online is becoming critical for attorneys.
Consumers today are used to a seamless and easy process to find and purchase nearly everything they need, but tremendous friction still exists in the legal industry. That's why we built evident: to help consumers find the legal help they need and empower attorneys to offer their services in the way consumers expect. Easy to find, seamless connections, and no hassle. All completely online.
evident

In five minutes, attorneys can create an account, begin connecting with new clients online, and showcase their firm's brand. Our technology levels the playing field for finding new clients, so attorneys can focus on what they do best: giving great legal advice.
For those in need of legal services, evident makes legal services more accessible. Consumers can access legal advice online, hire lawyers, and get informed with comprehensive information about legal issues. All consumers have to do is create an account and describe their legal needs by answering some simple questions. Then, evident will connect them with the best lawyers for the job within 24 to 48 hours.
At evident, we have one mission: to get people the legal help they need. To do that, we're transforming the client onboarding process and rooting it firmly with foundations suitable for our digital age.
Cost:
Free for those seeking legal advice. Lawyers can contact evident to discuss pricing.
Best features:
A source of new business for attorneys

Saves attorneys time and money connecting with new clients

Simple and intuitive interface, with online consult booking

Opportunities to write content and showcase your firm's brand
A case management system
In the not so distant past, law firms were places heaving with paper-packed filing cabinets. The headaches this causes, though—who wants to be dealing with that anymore?
All firms should be on their way to, or at least thinking about, electronically managing their back-office, including filing legal documents, client management, timekeeping, and billing. And there are some great apps out there to help you achieve this.
Clio
Designed for firms of all sizes, Clio is a law practice management software that simplifies law firm management by centralizing everything onto an intuitive dashboard. From Clio, you'll be able to track time, create contacts, manage cases, and view all of your client information while integrating with a range of third-party apps, including Dialpad.
When you integrate your Dialpad phone system with Clio, you'll be able to automatically create communication records for all of your calls, from anywhere. Clio will automatically make note of phone calls made in the Dialpad Desktop or on a mobile device via the Dialpad app:

Harrelson & Harrelson LLP, were able to transform their call and time tracking with the help of Clio's integration with Dialpad. The father-and-son firm had been using Clio as their software foundation, but wanted to improve the way they were taking client phone calls with flexible calling, time tracking, and billing options.
Dialpad's cloud communications platform was the perfect match. It allowed Harrelson & Harrelson to combine in-office and remote working, while integrating seamlessly with their existing and, much-loved, Clio infrastructure.
Cost:
Trial for free. Plans start at $39 per user per month.
Best features:
App directory

Open API

Set schedules

Manage client information

Organize cases

Create custom workflows
PracticePanther
PracticePanther is law practice management software that specializes in case management, time-tracking, billing, and automation. The app is designed to help legal teams handle and prepare cases, organize and track important documents, and manage invoices and payments.
PracticePanther also integrates with other helpful tools like MailChimp, Dropbox, Zapier and more, which can create efficiencies in your practice and improve your business development efforts.
Cost:
Plans start at $39 per user per month for the Solo plan
Best features:
Case & document management

Legal billing

Calendaring

Legal CRM
MyCase
MyCase is an all-in-one app for case management that includes tools like document management, email, calendaring, invoicing, and contact management. The app is designed to support increased efficiency and help small to medium law firms manage their operations from one easy-to-use dashboard.
With a web and mobile app, and client portal, MyCase allows attorneys to easily share documents, work on the go, and create a better experience for clients.
Cost:
Try for free. Plans from $49 per user per month.
Best features:
Case management

Lead management

Billing cycle

Payments
Smokeball
Smokeball is legal case management software that combines productivity features with automated time tracking so that legal teams can increase their billing while nurturing client satisfaction at the same time. With Smokeball, you can handle everything from client communications, e-signatures, billing, legal document automation, and more.
Smokeball also has a client portal and mobile app that helps attorneys create a seamless experience for clients.
Cost:
Custom pricing based on the needs of each firm.
Best features:
Time tracking

Document automation

Client communication portal

E-filing

Legal calendaring

Automated forms
An e-signature app
An e-signature tool makes everyone's life a whole lot easier. Today's clients expect an easy process. They don't want to be manually signing and scanning through documents all day. Law firms should always try to give their clients the option of using an e-signature instead.
E-signature apps make it easy to sign documents without requiring a wet signature (aka, signing by hand), although wet signatures may still be mandatory in some instances such as will and trust making in some states. Not only does this save a ton of time but, contrary to popular belief, they can actually be more secure than signatures on paper documents.
DocuSign
DocuSign is an e-signature app that lets you sign documents anywhere, and from any device. With DocuSign there's no need to fax or courier documents. All documents are encrypted, making it perfectly safe to email documents directly to their recipients.


Cost:
E-signature plans start from $10 per month for the Personal plan
Best features:
Sign from anywhere

Flexible routing

Integrate with third-party systems

E-signature APIs

Lawful and court admissible
HelloSign
HelloSign is a free document signing app that makes it easy to create legally binding signatures quickly and securely.
Cost:
There is a free plan for use by a single user (though this is limited to three signature requests per month). Paid plans start at $15 per month.
Best features:
Signature requests

Templates

Audit trail

Cloud storage integrations

Signature types

Signer fields

Reminders and notifications
Best apps for maximizing time and productivity
Using a calendar like an app
You might think that a calendar is a bit old fashioned, but hear us out. If you use your calendar like an app it can actually be incredibly helpful for workflow organization!
As an attorney, you know how it feels to have to be constantly pulled in three different directions at once. You're busy and it's all-too easy to get lost in your day.
Time block planning is a great way to streamline your daily planning. Here's how it works: block off a set time each day on your calendar for all of your individual tasks. That way, you actually have a plan for your week and can see what needs to get done. Of course, things might change, but having that initial plan will help you maximize your time during the day.
Fun fact: Dialpad's Google Workspace integration lets you sync and integrate with Google Drive, Google Docs, and Google Calendar, so you can start trying out time blocking right away:


Time monitoring apps
Do you often get to the end of the day and wonder where all that time has gone? You've been busy all day, but you still haven't completed all of the day's key tasks.
Chances are you've swallowed up more time than you might think answering emails, in meetings, or simply dealing with ad-hoc tasks as they come up.
Time monitoring apps are fantastic and are already responsible for leaving many an attorney feeling #blessed. These apps make it easy to monitor exactly where and how you're spending your time (something that's all too easy to lose track of).
Screentime
The Screentime app was developed as a tool to help parents monitor the amount of time their children spend using screens. But the app is equally as useful in professional settings as a way to help you monitor and control the amount of time you're spending on screens.
By setting time limits, schedules, and monitoring app usage, you'll be able to improve efficiency and optimize your personal workflows.
Cost:
Free basic plan. Paid plans start at $6.99 per month.
Best features:
Tasks

Time limits

App usage

Scheduling

Instant pause
Task board systems
Task board systems help manage all of the work coming into your practice and for each of your respective colleagues. Typically, tasks (everything from legal research to routine follow-ups) tend to be communicated via emails and spreadsheets—but this is wildly inefficient.
Because of this, more and more in the legal industry are starting to mobilize task board systems like Asana, Trello, and Legalboards.
These tools offer great features like business card management, task automation, and quick task assignment options, and make it super easy to view and monitor each case. You'll save tons of time following up on emails and keep everything organized under one roof.
Legalboards
Legalboards is a task board app that helps users organize, track, and manage their legal practice day-to-day. Unlike other task boarding apps, and as the name suggests, Legalboards takes a legal specific bent. The app helps legal teams track cases and streamline billing and workflow processes.
Cost:
Plans start at $19 per user per month
Best features:
Notifications & alerts

Set activities, tasks, and deadlines

Track task progress

Automated billing & invoicing

Automated tasks

Time tracking

Connect with third-party apps
Trello
Trello is another task board system that helps teams collaborate and manage tasks via boards, lists, and custom cards. The app is designed to help users set up customized workflows quickly and easily with the help of intuitive features.
Cost:
Trello offers a free plan with basic features. Paid plans start from $5 per user per month.
Best features:
Task assignments

Timelines

Productivity metrics

Calendaring

No-code automation

Integrate with work tools

Asana
Asana is an organization and project management tool that helps teams organize their workflows by bringing everyone's work together in a single shared space. Tasks can be organized as boards or lists and users can set goals, timelines, assign workloads, and more.
Cost:
Asana offers a free plan covering basic features. Paid plans start at $10.99 per user per month.
Best features:
Forms

Portfolios

Timelines

Gantt charts

Set goals

Integrations
Upgrading the client experience
Video conferencing software
Creating better client experiences is a must, and a good way to do this is to incorporate client-friendly communication options like video conferencing and SMS (which Coye Law firm does very well, as we saw above).
Traditionally, law firms and other organizations would have separate tools to handle all of these communication channels. Today, there are many unified communications platforms that can manage all of them, in one app.
Dialpad
Dialpad is an example of one of these communications platforms. As well as having a built-in phone system, it also allows attorneys to host video meetings with clients (and each other) from anywhere.
The best thing is that, again, clients don't need to download the app—they can simply click the link in the invite to join a video conferencing through a web browser:

It's much more convenient, and provides a better client experience for those who don't want to download an app to meet virtually with their attorneys.
There's also a screen sharing feature, if you need to go over a document in real time with a client or other partners:

Cost:
If you only want video conferencing and don't need a phone system or the ability to send SMS messages to clients, Dialpad has a free plan that's specifically for video meetings. You can sign up for free in just a few minutes—get started here.
Best features:
Screen sharing

Browser-based meetings—join with one click, no downloads needed

Security controls (host can lock meetings, remove guests, limit screen sharing, mute participants, and more)
Scheduling apps
There are a variety of tools out there to help automate your scheduling, appointments, and meetings. Oftentimes, it's even possible to integrate these scheduling features with your email platform and into your own website, allowing prospective and existing clients to book consultations quickly and easily.
Calendly
Calendly is a free online meeting scheduling app. The app allows users to create rules, set preferences, share links, and book in designated time slots for meetings. The app only offers times that work with the users' availability across calendars.
Cost:
Calendly offers a free basic plan. Paid plans start at $8 per user per month.
Best features:
Schedule meetings

Meeting notifications

Active events

Group events

Team pages

Workflows
Digital Business Card
Networking is crucial to building lawyers' practice and growing their professional network. Beaconstac's digital business card solution is a powerful ROI-driven networking tool that makes networking more effortless than ever before. With its intuitive interface and advanced features, lawyers and attorneys can create digital business cards that showcase their expertise and make a lasting impression on potential clients and colleagues.
Cost:
A 14-day free trial is available. Paid plans start at $6 per month.
Best Features:
Create custom digital business cards with your photo, contact information, website URL, and much more.

Integration with over 5000+ CRMs, and sales tools for easy lead generation.

Share and save cards through Google or Apple Wallet passes.

In-built analytics apart from Google Analytics integration for analyzing scan data.
What are the best apps for your legal practice?
Law firms have made great strides in recent years. From being more comfortable with having a social media presence, to using cloud communications tools to provide a better client experience, the practice of law has grown much more comfortable with using technology—often to the benefit of both attorneys and clients.
Used wisely, apps like the ones featured above can not only help firms work more efficiently, but also be better connected to their clients, without having to be sitting at a desk all day!
A must-have app for lawyers
See how easy it is for your law firm to talk, message, and meet with clients from anywhere with Dialpad! Try it free with a 14-day trial. Signup takes just a few minutes, and you'll be set up with a virtual business number too. Or, take a self-guided interactive tour of the app first!