January 18, 2017
This is the fourth post in our Life of a Call series by Dialpad co-founder and VP of Telephony and Mobile, John Rector. Previously, John worked at Google as a Senior Software Engineer, building the telephony backend for Google Voice.
Part 1: The Historical Telephone
Part 2: PSTN and Modern Telephony
Part 3: Internet and the Separation of Data and Voice
Today we look at where Dialpad fits in the telecom world.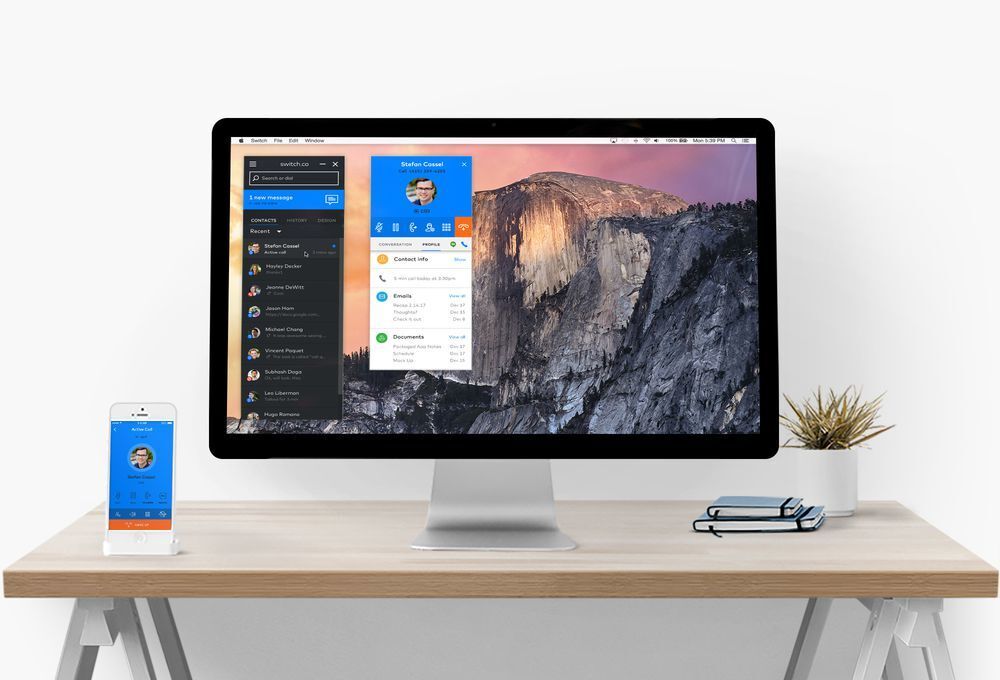 The PBX
Traditionally, business communication was based on the paradigm of every person working out of a single, fixed cubicle. If you wanted to talk to someone in a different department on a different floor of the building, you picked up the desk phone and entered their extension to call.
A list of people and their associated extensions was right next to your phone. This list would have to be updated regularly if people joined or left the company. If you wanted to call a phone number outside the company you would have press "9" or another button to exit and then the external phone number. Similarly, a person from outside would call the company main line first and then the person's extension. Sometimes a receptionist might answer the call and transfer it to the correct person.
This is called a Private Branch Exchange, or PBX. The phrase 'branch exchange' is borrowed from descriptions of early telephone networks. It simply refers to the small group of interconnected telephones. 'Private' refers to the closed nature of this group to the rest of the telecom network.
Typically, a PBX was installed and maintained by the local telecom company. Sometimes it was included as part of the lease for the office building.
Challenges with PBX
The PBX paradigm is established and well-known to anyone who has ever worked in an office. However, with the introduction of the internet there have been several challenges to the dominance of the PBX. These problems are especially important to IT managers, whose job it is to make sure all employees have the tools to function and be productive.
The first challenge is the flexible employee. More and more employees are working from home, traveling for their job, and working non-standard hours. This is chipping away at the paradigm of one person in one cubicle from 9-5.
In addition, employees are using many different electronic devices — their smartphone, laptop, tablet, or personal computer. This can be by need if one device breaks down. It can also be by desire, as some employees want to bring their own devices to work. Although they may want to use the same physical device, it is still necessary and desirable to keep work and personal data separate.
Finally, the unity of voice and data through VoIP poses a challenge. Costs can be saved by using only one infrastructure instead of two. Yet VoIP may or may not have the same reliability as normal PSTN, and rolling out such a change across an entire organization is difficult.
Enter Dialpad
Dialpad is on a mission to make business communications accessible from any device, anywhere in the world. Our main products, Dialpad and Dialpad Meetings (formerly UberConference), are geared towards the Enterprise market as a single cloud-based platform to resolve the pain points that company "power communicators" often face.
Dialpad is the cloud-based PBX solution to your traditional PBX limitations. With Dialpad, the devices and systems your team uses every day are integrated right within a single platform.
Employees use their existing devices to carry on communications across Departments and Offices. Admins can easily scale and manage users from anywhere in the world right from our Admin portal.
Like most unified communications (UC) solutions, Dialpad also offers teams the ability to sync up with their productivity suite, whether it's Google Workspace or Microsoft 365.
Where Dialpad solves the issue of mobility in the workplace, Dialpad Meetings tackles the job of simplifying the video conference call. Dialpad Meetings keeps its commitment to the anywhere worker movement, letting conference hosts launch a call from their customizable URL or right over their cell within seconds.
Dialpad's goal is to take advantage of all the cool and powerful features of browsers and smartphones, yet also retain the ease and reliability of a classic telephone conversation.
After all, voice is the first social network and it's not going anywhere anytime soon.
That ends Part 4 of our series. In our fifth, and final part, we'll look at Dialpad's telephony infrastructure.