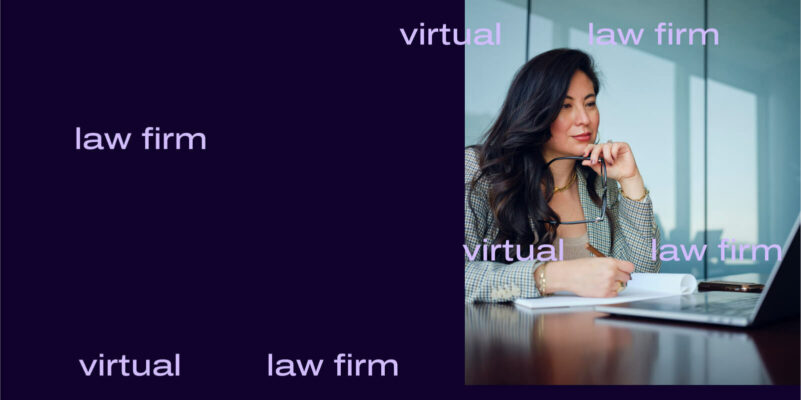 Remote work has been growing in popularity since the COVID-19 pandemic caused a dramatic shift away from traditional office environments.
Going virtual is easier for some types of businesses than others. A tech startup might have no problems transitioning to a virtual office, but this will likely be more difficult for, say, a people-facing hospitality business.
Law firms are quickly catching on to the benefits of remote work for both clients and lawyers, but for the legal profession, the challenge lies in bridging the communication gap between these parties.
As former attorneys who have some experience with using technology to provide a better client experience, we'll walk you through everything you need to know about switching to a virtual law firm. Let's get into it.
What is a virtual law firm?
A virtual law firm is exactly what it sounds like: a law practice that operates virtually. In a virtual law firm, there's often no brick-and-mortar office that employees work from every day. Instead, lawyers can work from their homes or anywhere else, really.
In a virtual law firm, legal services are delivered to clients using modern telecommunications technology as opposed to through in-person face-to-face meetings. Nonetheless, virtual law firms are regulated in the same way as traditional law firms.
According to the eLawyering Task Force of the ABA, a virtual law firm has to have a secure client portal that you can access from its website. This facilitates the sharing of information and documents, as well as communication between lawyers and clients. It must be fully secured and encrypted, and must require users to sign in with a username and password.
This means that regardless of your practice of law—whether it's general practice, intellectual property, real estate, family law, or something else—a client portal is absolutely crucial.
Whether you're a big law firm that's frustrated with the traditional law firm model or you're looking for innovative ways to establish your new law firm, going virtual has its perks, both on an individual and business level.
Let's take a closer look.
The benefits of taking your law practice virtual
Reduced costs
Along with reducing overhead costs associated with renting physical office space, using a secure business communications solution (that ideally integrates with a legal practice management software) to manage your virtual law practice means you won't need any in-house hardware or additional software.
The added perk is that all maintenance and software upgrades are carried out automatically without causing disturbances due to downtime.
In a virtual environment, all your essential business and client data is stored in the cloud. This can reduce costs even more as you won't have to pay for software, local storage, or servers (and the IT professionals to manage them).
For employees, they won't have to commute to the office, which saves them a lot of money in the long run. And of course, this has added environmental benefits, since your firm and your employees can reduce their carbon footprint.
Greater flexibility and work-life balance
And on a related note, according to research, achieving a better work-life balance is one of the main reasons U.S. employees want to work remotely. Burnout is, after all, a serious—and common—challenge in the legal industry. Working remotely not only provides employees with more control over their own schedules, but it also means you don't have to spend hours traveling every day.
The increased flexibility and mobility that a virtual law firm enables can increase productivity and improve work-life balance for remote lawyers and ad hoc practitioners. Having access to an online platform like Dialpad allows you to respond to clients or colleagues with a single click from the desktop or mobile app, streamlining communications so you can get work done faster.
📚 Further reading:
See how legal firm Harrelson & Harrelson LLP used a communications platform that integrates with Clio's practice management software to take their practice virtual. The result: The firm's members achieved a better work-life balance because they could now organize cases, take calls, and receive messages from clients from one place whenever necessary. (And all without having to waste time manually entering data.)
A better client experience
We all lead busy lives. And in reality, many clients do prefer the flexibility and convenience of jumping on a quick voice or video call instead of meeting face-to-face.
That's why it's essential to have a communications platform that makes this possible. There are many out there, but for example, Dialpad lets you meet with clients in real-time via phone calls, instant or SMS messages, and video meetings:

One of the client-centric features that's built into Dialpad is its browser-based functionality. This means clients can either download the desktop or mobile app, or simply join a call or video conference from their browser by clicking a link.

Coye Law Firm, for example, uses Dialpad to do exactly this. The firm's President, who's also an attorney himself, spends part of the year in France.

But of course, he can still take client calls on his cell phone using his business phone number (so that he can keep his work and private life separate). The firm has also found texting to be a key communication channel with clients, who seem to prefer it over email. And it can use all of these channels in one place, with Dialpad.
What to consider when making the shift to virtual practice
Ethics and privacy
Major questions that come up when shifting to a virtual law office relate to ethics and privacy.
For instance, some states require law firms to have a physical office address. Virtual lawyers may wonder if they can work from a location outside their licensed jurisdiction if the client resides in their licensed jurisdiction.
In the virtual world, there's a higher risk of crossing jurisdictional lines, as clients can essentially come from anywhere. It's crucial to be diligent when interacting with new clients to avoid malpractice risks. Rules vary between states, so you must check the requirements for your jurisdiction.
Attorneys in any practice area are under a strong obligation to protect their clients' data and confidential information, so another question arises about the infrastructure and security practices used to protect client data. Your law firm's data must be secure and all channels of communication encrypted.
Technology
Whether starting a fully remote virtual law office or just allowing your attorneys to work remotely part-time, you'll need the technology in place to facilitate your virtual office environment.
Becoming familiar with cloud technology and legal apps will help your virtual law practice to operate more smoothly and provide seamless experiences for clients.
Some key features to look out for when you're thinking about technology, specifically around a communications tool or software:
👀 Interested in remote or hybrid work tips?
Grab the Hybrid Work Playbook, which includes real-life case studies and breaks down all things hybrid + remote, from building and sustaining a hybrid workforce to equipping your team for success.
Communications strategy
We already mentioned that many clients prefer virtual calls because they're more convenient and flexible. Firstly, it's crucial to invest in secure, encrypted communications tools to facilitate voice and video calls.
Rocket Matter's story above is a good example of how to build an effective communications strategy that lets you track calls, coach new team members, and monitor call dispositions with current and prospective clients more effectively.
Your strategy will also depend on the size of your firm. A big law firm with multiple attorneys and clients based worldwide will require a more robust communications strategy than a law firm run by solo practitioners. Ensure that there are open communication channels between lawyers and clients and that everyone involved is aware of best practices for data protection and confidentiality.
Attorneys also have an ethical responsibility to supervise junior attorneys or communicate with non-law team members. You can use Dialpad's live coaching feature to oversee calls and get an insight into client sentiment.
Dialpad's unique AI technology, named Dialpad Ai, provides real-time transcriptions of calls so that you can dispense with dictaphones and allow assistants to focus on more meaningful tasks than transcription. While attorneys should carefully consider when transcription is appropriate, keeping in mind confidentiality and privilege rules, in many cases it can help firms run more efficiently.
Miller Law Firm commented that "with Dialpad's real-time transcription, we're doing really productive work and not spending nearly as much time on administrative duties that would otherwise eat up a lot of our time."
Dialpad Ai also automatically notes any action items and mentions of keywords to help you keep track of tasks and highlight key moments that took place during your call, no pens or notebooks necessary:

Tips for making the transition to a virtual law firm
Create a secure client portal
As we mentioned earlier, a secure online portal that enables you to share information and effectively communicate with clients is vital for a virtual law firm. According to the 2020 Legal Trends Report, 69% of respondents agreed they'd prefer to work with a lawyer who could share documents electronically using an app or online portal.
Without a client portal, it's difficult for lawyers to guarantee their client's confidentiality. These must be secure and fully encrypted. The client portal is where all attorney-client interactions will take place, making it crucial for starting and maintaining the client relationship.
Clients should be able to log into the portal to review documents from a lawyer, upload documents to be reviewed, pay their billable sessions, and initiate communication with their lawyer securely.
Use a good communication software
For a virtual law firm, secure and reliable communications are critical for both internal and external communications. Attorneys need to be able to discuss case files and other critical business matters remotely, and also chat with clients online face-to-face.
Video conferencing tools are crucial for hosting face-to-face meetings with current and potential clients. But to make things easier, try to find versatile software that gives you multiple communication options in one app or platform.
This will help you save on subscription fees and also time, since you won't have to spend as much time managing so many different tools.
For example, Dialpad combines all your business communications, from phone calls to SMS and instant messages to video conferences, no matter where you and your clients are:


Dialpad also offers a vast range of integrations with other business software you might already be using. For example, it integrates with Clio's legal practice management software to allow you to make phone calls right from inside Clio:

This also makes it easier to keep track of billable hours since your calls and meetings are all automatically logged and synced to matters in Clio.
Above all, whatever software you end up choosing should be easy to use. If you ever need to add new attorneys or users, or manage or add new phone numbers, those tasks should be relatively straightforward to do from your online account.
As your law firm grows and scales, that time will add up (and it'll make your office admin's life easier too). As an example, this is what adding a new phone number for an attorney or new user looks like from your online account in Dialpad:

Have a document management solution
Lawyers practicing virtually must be able to access all the documents and client information remotely with ease.
Dropbox and Evernote are two common document sharing and management tools, so make sure your communications solution integrates with them.
Be ready to grow your practice online
Building a virtual law practice has many benefits, but it does present new challenges for growing your client base. With a virtual practice in an increasingly virtual world, attorneys must be prepared to acquire new clients online.
To bring new clients to your virtual firm's website, you'll need to constantly update your website, produce new content, run marketing campaigns, and more, all of which are time consuming and costly. Alternatively, you could use evident, which we've built to help attorneys showcase their brand and easily connect with new clients online, at a fraction of the typical time and cost.
Whether you use evident or meet new clients online in other ways, making sure your firm's brand is visible online is becoming more and more critical to success.
Take your legal practice to new heights and break new boundaries with a virtual law firm
With the right planning and execution, most law firms can transition to the virtual world relatively smoothly.
Whether you decide to work remotely one day or five days a week, you'll need to implement the right tools and software solutions into your tech stack to keep both lawyers and clients connected and their data safe and secure (especially if you're delving into new territory like AI in law).
If you need a collaboration platform that's ideal for virtual law firms and comes with the ability to make phone calls, send instant and SMS messages, do video conferencing, and more, book a few demos of different tools and try them out. (Most also have free trials that you can test drive for a week or two.)

Need a communications solution for your virtual law firm?
Sign up for a free 14-day trial to see how easy it is to make phone calls, send messages, have video meetings, and more with Dialpad. Get set up with a virtual business number in minutes. Or, take a self-guided interactive tour to play with the app on your own first!