March 06, 2020
This month we doubled down on partnerships with integrations from Google Workspace and Front plus added an easier way to make sure VIP customers are reaching your support agents. Let's take a closer look at what was released on the Dialpad platform in February.
Dialpad + Front: An answer to context switching

Dialpad + Front now work together to help make context switching, well, not a thing anymore. Teams can now connect their Front inbox + phone system without having to switch screens.
Available to download from the Front app store, the Dialpad integration allows you to: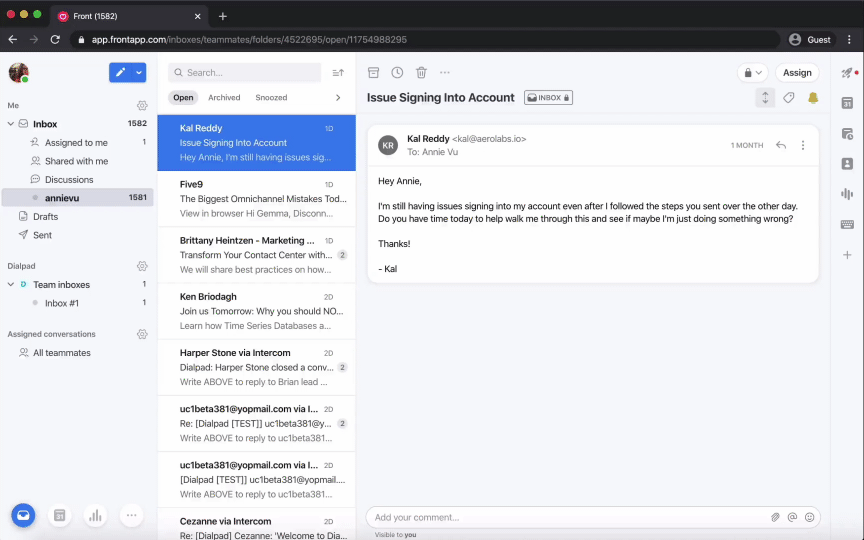 Prioritizing your VIP customers
When VIPs call into your support team you want to make sure they get the treatment they deserve (and probably pay for). With Queue Prioritization, managers can create an ordered list of which Call Centers get first priority when calls come in.
🧠Did you know that you can create a label for phone #s assigned to your Call Centers and have that appear on the inbound call notification?
How Suite It Is: Google Workspace + Dialpad
Dialpad is now an available Google Workspace add-on; Dialpad is available for Gmail and Google Calendar users.
Gives you the option to launch a Dialpad voice call or send a quick message from inside Gmail and to add your Dialpad video conference details to your next calendar invite. When you're ready to hop into your meeting, just hit the Join Dialpad link.

But wait...there's more!

We've made some improvements to both Android search results and your desktop app to make it easier to find what you're looking for a bit easier


Dialpad AI's contact center sentiment analysis triggers have gone through some re-working to be more accurate and capture those extreme moments (both positive and negative)


We've made some tweaks to your transcriptions so we're not including extra filler words like "um" or "uhs"


Sales managers can now see when competitors defined in your company dictionary are mentioned on a call. Track mentions over time in your contact center analytics or drill down on a specific point in the call to learn about what your customers are saying


Improvements to action item suggestions now help you focus on what's important to follow up on. Look out for moments in your call where a conversation around contacting, sending some information or setting up a meeting occurred
---
👋Thanks for stopping by! Interested in learning more about the above-mentioned features? Check out our help center to get your FAQs answered.