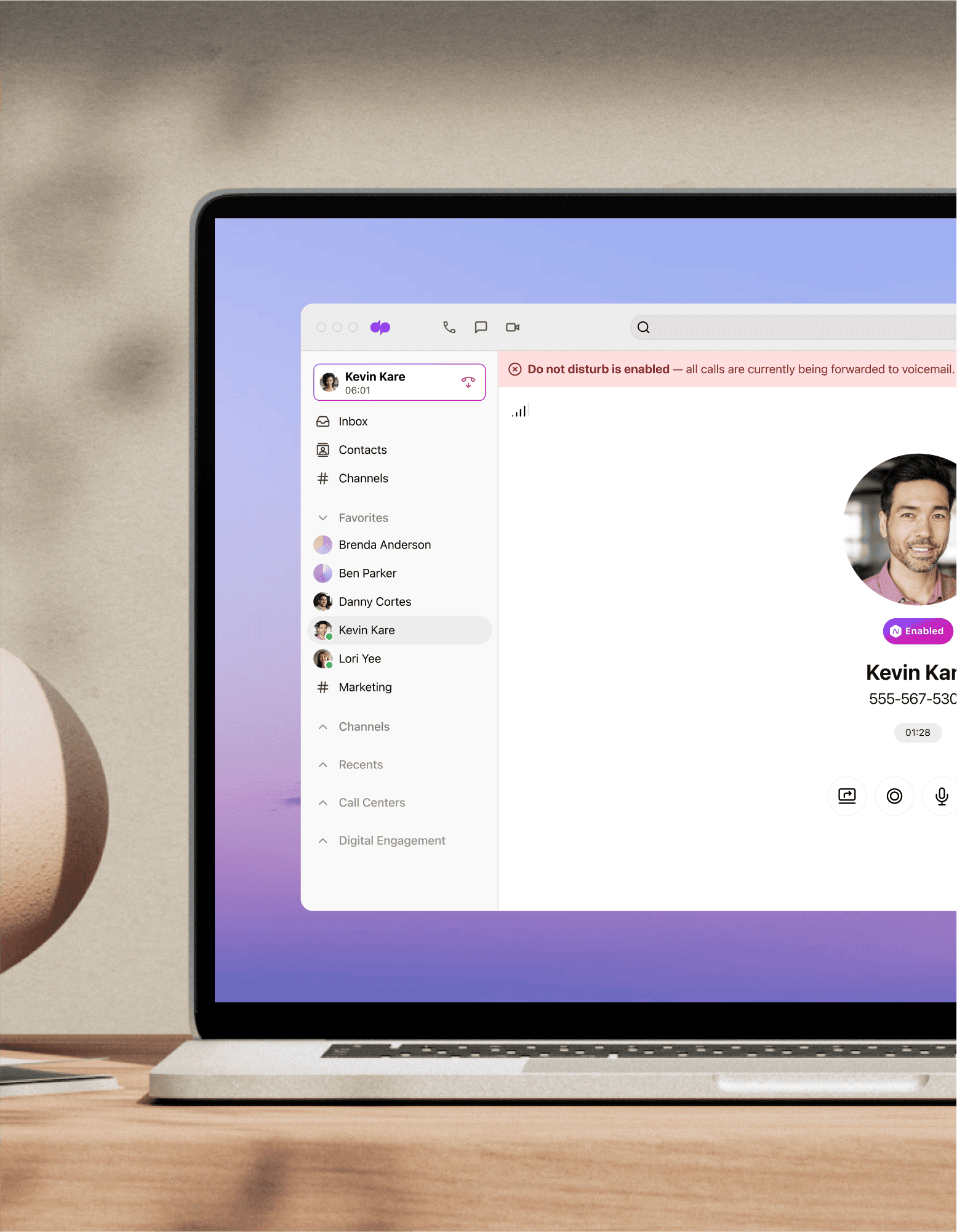 Do Not Disturb
Whether you're out of office or just need some quiet time to focus on work, Dialpad's AI-powered collaboration platform can stop message notifications, send calls straight to voicemail, and let your team members know that you're not available with its easy-to-use Do Not Disturb feature. Try the free-forever plan that gives you unlimited video conferencing!
When you don't want to be reached
A healthy work-life balance is important to the success of any business or enterprise, especially if you have a remote or hybrid team.
Dialpad's Do Not Disturb (DND) feature is designed to make it easier to step away from the constant pings and notifications when the day or week is over.
You can easily turn on the Do Not Disturb setting in both the desktop and mobile app to prevent calls from coming through and send incoming calls straight to your voicemail. (You'll get a notification that you have new voicemails if any were left, once you've deactivated the Do Not Disturb feature and are back at work.)
Spend more quality time with your family and on your hobbies and side projects without the distraction of work.
How Dialpad's Do Not Disturb feature works
Dialpad's Do Not Disturb feature pauses notifications about incoming phone calls, texts, instant messages, and video meetings requests.
By activating it on one device, you'll also apply DND to all of your other connected devices. DND can also be set to a timer, which means you can specify the length of time you want the feature to be activated. When you toggle the feature off, Dialpad will let you know about any calls or messages you missed.

Do Not Disturb can also be activated by administrators at the main company number and Department levels. This is a great option for when companies or departments are at offsite events and shouldn't have to be fielding calls.
How to use Do Not Disturb
Like most settings and features in Dialpad, Do Not Disturb is easy to find, set, and turn off. Here's how it works on both desktop and mobile apps.

DND on desktop
You can get to the Do Not Disturb function by clicking on the dropdown arrow next to your avatar or profile in the top right hand corner of the desktop app. You'll be able to set an auto-SMS reply here too in case anyone tries to reach you while you're in Do Not Disturb mode: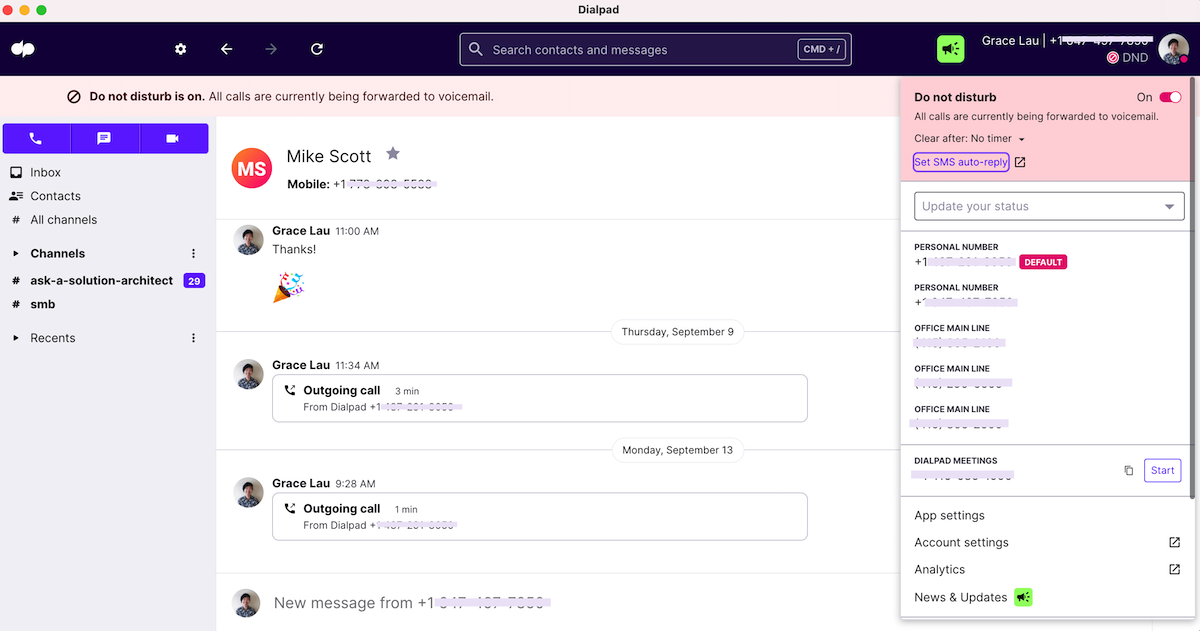 You can toggle this on or off with just a click. There's also an option to set a timer to automatically deactivate Do Not Disturb after a set amount of time.
You'll notice there's now a red bar across the top of your app to remind you that the feature is currently activated:

DND on mobile

On your mobile device, it's pretty similar. Just tap your avatar or photo in the top left-hand corner of the app to access the Do Not Disturb feature. From there, just tap the Do Not Disturb toggle again to turn the function off.
More than just a phone system
Dialpad is a full-on communications platform that lets you talk, message, and meet—all in one place with either the desktop or mobile app. Try it out yourself with a 14-day free trial! It takes just a few minutes to get started, and you'll get set up with a virtual business number too. Or, take a self-guided interactive tour of the app first!
FAQs about Do Not Disturb
Can I use Do Not Disturb on any device?
Yep! You can use Do Not Disturb on any computer or mobile device that's connected to Dialpad. Currently, setting a DND timer can only be done on the desktop app.
Does Do Not Disturb need to be activated on all devices individually?
What do incoming callers experience when Do Not Disturb is activated?
How can I tell if Do Not Disturb is activated?
Is Do Not Disturb an add-on feature with extra costs?
Can I activate Do Not Disturb on every device?