Back to Blog
Looking for a medical office phone system? Tips from 5 practices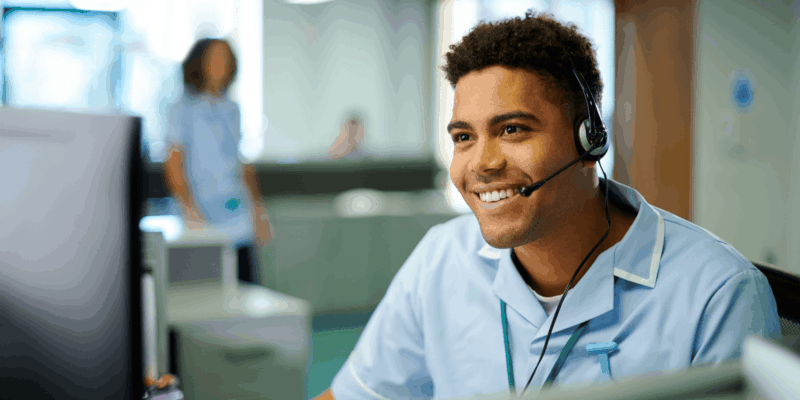 When it comes to medical office phone systems, having the right platform in place is crucial for empowering your practice to deliver the best patient care.
While medical offices can vary in size and the type of services provided, there are a few key considerations that almost all medical practices need to take into account.
In this post, we'll be looking at how to choose the right phone system for your medical office, why a phone system may not actually be the best option, and how five real healthcare practices are managing their internal and external communications platform.
Why the best medical office phone system may not be a phone system
When most healthcare practices think of the best phone system for their staff, they tend to think only in the context of landline or VoIP phone systems and phone calls.
What is VoIP? VoIP stands for Voice over Internet Protocol, and is a telephony technology that lets you make and receive calls over the internet. Compared to PBX phone systems, which needed landlines and copper wires, VoIP is generally easier to set up and has lower maintenance costs. Learn more about VoIP vs landline phones, and about hosted phone systems.
But what if your patients or clients want to communicate through other channels too? For example, what about using SMS text messages to confirm or remind patients about appointments?
What about using video conferencing as a way of doing a therapy session or other type of telehealth appointment?
In these cases, you might want to consider a unified communications (or UCaaS) platform instead. Unlike phone systems, UCaaS platforms—like Dialpad—give you phone calls and these other communication channels in a single app:


5 examples of healthcare providers who needed a business phone system
Below, we'll look at five medical offices and healthcare organizations and how they had different needs when it came to looking for a new business phone or VoIP phone system.
Use case 1: A doctor who rotates between offices
In our first example, an IT manager responsible for organizing a medical practice's phone system turned to Reddit for advice. What was unique was that this doctor worked at three separate locations.
As the original poster explained, with their existing set-up, this medical practice was running a complicated mix of different desk phones, fax machines, and PBX equipment. To make matters worse, they also had contracts with two different providers.
With one of the offices moving location, they were taking the opportunity to upgrade and streamline their medical practice phone system by switching to a VoIP solution and adding extra phone lines to cope with increased patient demand in one of the offices.
Reddit responded pretty much in unison here, with multiple posters suggesting that a hosted VoIP solution was the best phone system for this medical office's use.
This way, they could have as many phone numbers as they needed connected to a single phone line, and all they'd need was a good internet connection at each office.

🩺 Get the guide to healthcare communications
Does your healthcare practice or organization have a distributed team? Download this guide to learn more about best practices for healthcare teams that aren't all in the office!
Use case 2: A blueprint for strategically moving all your employees to remote work
Not every healthcare practice has the luxury of being able to take a slower, considered approach to rolling out new digital tools, but if it's at all possible, take advantage of it.
That was something that really benefited Fenway Health, a federally qualified community health center with a staff of over 600 spread out across 15 locations. Their IT manager had a plan to move the company to a remote / hybrid work environment with a new communications platform, and they were able to do it over the course of a year.
"Dialpad is flexible enough in how they port numbers over that we were able to roll it out site-by-site," says Jon, Fenway Health's IT Director. "Then, we customized training for our clinics and the departments they were working with to best suit their workflows. Every time we rolled out Dialpad in a new site, it kept getting easier and faster."
Because they had a solid plan and chose the right tools for their organization, the contact center team can work remotely—while still getting access to things like call recordings and robust analytics, all digitally:

Use case 3: A small clinic that needs a serious upgrade
In another example taken from Reddit, a clinic with about 30 staff members spread over two locations was looking for the best phone system for a small medical office.
Because some of the healthcare staff likes to contact patients after hours on their mobile phones, the practice wanted the ability for those calls to come from a clinic number instead of exposing employees' personal numbers.
Having looked at the options, their IT manager turned to the r/VoIP subreddit for advice. As the respondents pointed out, the ideal solution for this healthcare center was a cloud phone system that supports a range of desktop and mobile devices across iOS, Android, PC, and Mac.
Fun fact - It works on web browsers too—no downloads needed:


Use case 4: Connecting 42,000 patients across 6 clinics with a distributed team
If you live in Portland and have a child who's ever been sick, chances are you're familiar with Metropolitan Pediatrics. They serve over 42,000 patients and even though their team of physicians are top-notch, their old phone system was in dire need of an upgrade—it didn't let them do even simple things like transferring and routing calls easily.
"What sold me on Dialpad was being able to actually be more involved and being able to make changes in real-time," says Kathy, their Practice Manager. "If we need to close the office for a meeting, add people, get a new phone number, or add a new license, all those things can be done really easily."
Not only that, Metropolitan Pediatrics' team can now work from wherever they want too, with Dialpad's desktop and mobile app. They can take phone calls from their smartphones, desk phones, and even laptops while they're on the go.
"Dialpad is easy to use, and if I happen to be working remotely, I can still access it and call patients from my cell phone and they'll think I'm at the office..."
Use case 5: A doctor who needs two phones?
Last example—this time from r/medicine: A doctor with a single phone for both professional and personal use is worried about mixing their work calls and texts with their personal cell phone use.
This is probably one of the most common challenges that we hear from doctors' offices and healthcare providers who are client-facing and also want to be able to work remotely. And the good news is the solution is actually pretty simple!
Most cloud phone systems or unified communications platforms that have a mobile app should have a feature that lets you choose your caller ID display. Dialpad, for example, has a customizable caller ID feature, which lets healthcare providers choose which phone number they want to display when making a call or sending a text from the Dialpad app on their computer or cell phone. It takes just a simple click—here's what that looks like: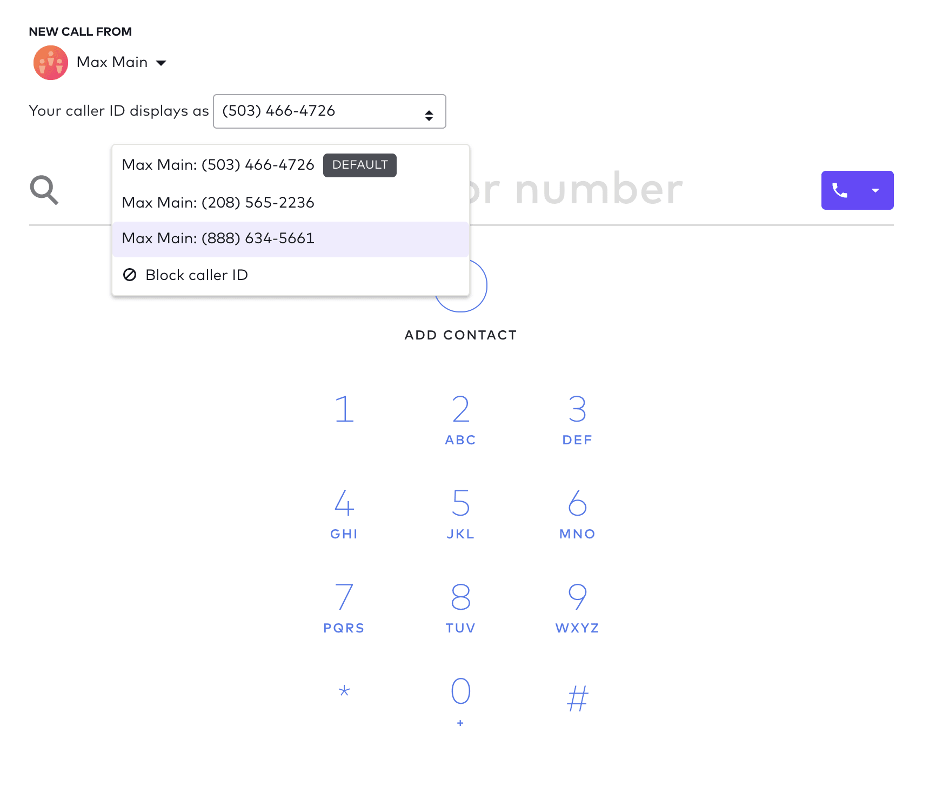 Choosing a phone system for medical offices: 6 features to consider
1. Unified communications
From team chats to SMS appointment reminders through to telehealth appointments via video conferencing, today, most healthcare providers use a range of channels for both internal and external communications with patients and staff members.
If this sounds like your medical office, it may be a sign to consider to look into a unified communications solution that gives you all these communications channels in one place:
For example, with Dialpad, you can make phone calls, have video meetings, and send instant + SMS/MMS messages, all from the same desktop or mobile app:

2. Auto attendant
Modern auto attendants can do so much more than just simple call forwarding. Dialpad's IVR system, for instance, interacts with your callers and lets them route themselves to the right department or person:

🔌 Shameless plug:
Dialpad's least expensive plan comes with multi-level auto attendant and call routing functionality, along with a ton of other call management features. If your medical office or practice gets a lot of incoming calls on a regular basis, this is an essential feature.
3. Built-in analytics
A good VoIP phone service or business phone system should have built-in call analytics that tell you things like call volume patterns, number of missed calls, and so on.
This is an important one to look for, as some phone systems make you contact Customer Support or IT or wait hours or days to get that data pulled. (Dialpad, for instance, has all of this data built right into its intuitive dashboards.)

4. Easy setup
This isn't technically a feature, but it's still an important element to look for in any healthcare communications platform. Think about your day-to-day tasks, like adding users, managing phone numbers for offices, or adding toll-free numbers. Your medical office phone system should make all of that easy to do.
Here's how adding a phone number looks in Dialpad:


5. Voicemail transcriptions
An important feature to look out for in medical phone services is voicemail transcription. In a busy clinic or practice, it's not always possible to answer every call and listen to every voice message right away.
With voicemail transcriptions (sometimes called visual voicemail), physicians and staff can read voicemails instead. With Dialpad, you can get voicemail transcriptions in real-time:

6. Enterprise-grade security and HIPAA compliance
Your business phone system should protect your patient communications with enterprise-grade security and help you stay HIPAA-compliant.
For example, Dialpad has in-meeting security controls built right in, like the ability for the video conference host to mute and remove guests, block screen sharing, and more:

(There's also an API that automatically pauses its call recording functionality when sensitive information is being discussed!)
The best medical office phone system isn't a phone system
If you work at a doctor's office or healthcare practice, a good phone service is essential because it's the main channel of communication between you and patients (and prospective patients).
With Dialpad, you can communicate with staff and provide a better patient experience on the phone, through telehealth appointments on video, and text messages too—all at a small business-friendly price.
Try it for free with a 14-day free trial!

Looking for the best medical office phone system?
Try Dialpad's unified communications platform free for 14 days. It takes just a few minutes to get started, and you'll be set up with a virtual business number too! Or, take a self-guided interactive tour of the app on your own first!