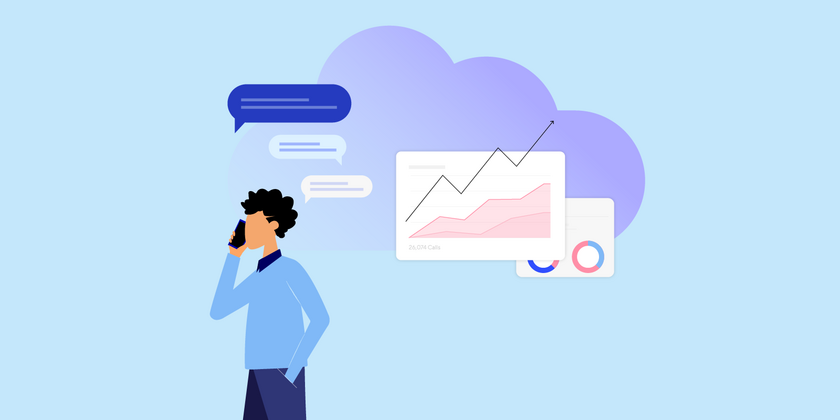 February 25, 2021
Voice over Internet Protocol (VoIP) consists of various technologies that deliver voice communications and multimedia sessions over Internet Protocol (IP) networks. As a phone system, VoIP uses an internet connection instead of a more old-fashioned landline connection.

VoIP allows businesses to limit the amount of hardware they have to buy and maintain for professional calls and other correspondences. The low cost and advanced nature of this technological advancement make it an excellent choice for most companies. Along with its affordability, the system provides high definition clarity no matter where a call comes from.
What Are the VoIP Trends of 2021?
As technology continues to move forward, so do the advancements and trends related to business VoIP. These include the growing use of AI, video conferencing services, and the new 5G.
With the digital age meeting the on-demand era of internet use, VoIP for businesses has become even more critical. The VoIP market is expected to grow up to $55 billion by 2025, as the recent increase in remote employees' solutions adds to the demand. Being aware of the latest trends can help your business get the most out of VOIP technology.
5G
With the business world becoming more fast-paced, the way businesses communicate needs to adapt as well. 5G networks help them do just that—and have become one of the most anticipated and talked about trends today. 5G does the following:
Enables faster communication speeds and response rates
Eliminates call jitter and reduces dropped calls
Allows for a better mobile broadband connection for internet users
The latter also gives rise to lightning-fast browsing speeds and increased network capacities for all. 5G for VOIP will undoubtedly increase customer expectations—but if you're willing to dive in headfirst on 5G adaptation, it can help you keep up with your competitors.
VoIP Assistants
VoIP assistants are getting smarter. Alexa, Siri, and Google Assistant all help consumers search the web, order products, and more.
People today tell artificial intelligence (AI) systems what they need to make their lives easier. Virtual assistants can now respond to more complicated questions and take over mundane tasks that previously required manual actions—such as sending calls to voicemail. VoIP assistants such as Dialpad Ai's features can also help record and transcribe meetings for you, saving you time and money.


Mobile Unified Communications
With the rise of mobile unified communications (mobile UC), phones are no longer just phones. Mobility allows you to carry around a mini-computer. On top of making calls and texting, you can check social media, email, and shop from your mobile device. Essentially, you can conduct all matters of personal and professional interactions from your phone.
Due to mobility, companies can gain an advantage over their competitors if they play their cards right. It has allowed businesses to optimize productivity among their teams and serve customers faster. With mobile VoIP systems' functionality increasing, companies need to take advantage of app-based conferencing, team meetings, and business calls.
Video Conferencing Services
The competition from video chat services has hit VoIP service providers hard.
Video chat has helped connect teams during the work-from-home surge and helps improve close rates for sales. But VoIP is more capable now of handling multiple communication channels. VoIP systems also provide an all-in-one solution to business communication. Now, video chat services and VoIP solutions can integrate and allow businesses to use both to their advantage.
AI
The growth of AI has carried over into the business VoIP world, as well. AI is often used for customer service. It's responsible for finding suitable shows to recommend on your streaming services or showing you the best ads on your social media feeds. Websites use AI to automate their chatbots when you visit their site.
In 2017, IBM predicted that 85% of all customer interactions would be handled without a human agent by 2020. AI startups and AI advancements have boomed since 2018—in part due to predictions like this—and businesses are seeing the benefits of using the technology, like improved customer satisfaction due to faster service.
The Decline of Analog
Fewer and fewer people are maintaining residential landlines. Analog telephone systems are making their way out of offices, as well. In 2004, 90% of households had a landline. Less than half of that have them today.
From smartphones to computers, there are numerous better ways to communicate in the digital age. But there is an issue with accommodating all the options, as people needing to connect may not use the same applications or technologies. VoIP can provide a holistic way to solve the problem due to its ability to support many available modes of modern communication.
VoIP in More Places
Today, more businesses are adopting VoIP, including schools.
Schools not only use VoIP for communication efforts with parents and businesses but also adopt the technology to enhance online learning. Class collaboration has been essential recently, and VoIP has made it more feasible. With increasingly widespread use in businesses, homes, and schools, VoIP is becoming more mainstream than ever.
Security Issues
Security has always been a concern with internet use, and the best VoIP providers know how to offer secure avenues for their services. But there will always be a risk of cyberattacks and integrity breaches.
Businesses that are aware of the risks and work to decrease them will have their customer's trust. These brands will have more people willing to jump on the VOIP trend. Companies that prepare themselves for a service rollout by being mindful of best practices and using the right vendors can provide VOIP with the least risk.
Want to Get Started with Business VOIP?
Getting in on the continuing benefits and advancements of VOIP is easy.
Dialpad wants to help make your business communications great. Our product suite is built on the Google Cloud Platform—giving users unmatched security, reliability, and scale. Dialpad covers the full range of business communication needs with a business phone system, cloud call centers, web conferencing software, and sales dialer powered by ialpad Ai .
With over 60,000 businesses using Dialpad and its seamless integrations with other products like Google G Suite and Microsoft Office 365, there's no reason your business shouldn't be benefiting from the same offerings. Sign up today!