Back to Blog
Telepresence vs video conferencing: The differences and use cases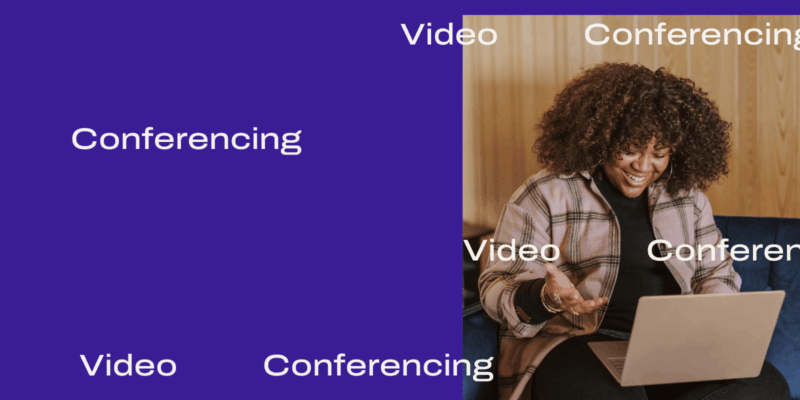 One of the best ways to talk to colleagues remotely is through video calls—few things can emulate the experience of speaking face-to-face the way like a video call can, after all.

For larger businesses and organizations, telepresence has historically been considered a more advanced web conferencing solution because it's a more sleek and lifelike virtual meeting experience.
But what exactly is telepresence? And how is it different from your typical video conferencing software? Is its high cost justified? In this post, I'll walk you through how the two compare.
What is "telepresence," exactly?
What comes to mind when you read the words "video-based virtual meetings?" If you're like most people, you're probably thinking about a familiar scene: someone sitting in front of a computer, looking at a screen filled with the faces of fellow meeting attendees.
Now, try to picture a more immersive version of virtual meetings—one that focuses on creating a more realistic and powerful video conferencing experience. That would be closer to telepresence.
Telepresence is a type of video conferencing technology—taken to the next level. Generally, it boasts HD video, high-quality audio, more endpoints, and an overall sharper, crisper, more true-to-life user experience.
Unlike video conferencing, it also typically needs things like a codec (a device or computer program that compresses data for faster transmission), multiple monitors or screens, and an advanced sound system. Telepresence systems are also typically deployed in a physical room in an office or headquarters. With Dialpad, for instance, you can move a call from your cell phone to your conference room TV with just a tap: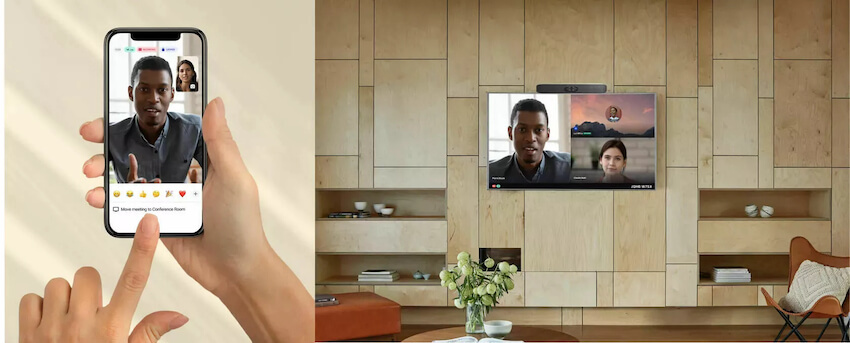 Picture your average video meeting, with more expensive technical equipment and better audio and video quality. That's the main difference between high-quality teleconferencing experience and basic video conferencing.
Video conferencing in the era of remote and hybrid work: A few things to know
The idea of being able to work from anywhere is particularly compelling for a significant proportion of workers today, and video conferencing systems have enabled this, bringing all remote employees together—including those scattered across different countries (or even continents).
But to communicate effectively and run meetings smoothly, at a global level, requires a robust video conferencing solution.
Many service providers have only one or two data centers, usually on the same continent. This means they have to employ third-party carriers to send traffic overseas and route it back to complete global calls through their platform.
Not only is this expensive, but sending traffic long distances greatly reduces the call quality and causes the frozen, erratic videos and static-filled audio we're all (unfortunately) familiar with.
📹 Did you know?
With data centers across six continents, Dialpad provides best-in-class quality and reliability, ensuring crystal clear HD audio, high availability, and low latency from anywhere by keeping traffic local.
Telepresence vs video conferencing: 6 core differences
Let's explore a few of the core differences between telepresence and video conferencing to help you figure out which is the best fit for your business.
1. Cost
Perhaps the biggest difference: telepresence solutions are significantly more expensive than their video conference counterparts. Even if you're already equipped with the hardware you're going to need, the difference in pricing can be very steep.
Consider, for example, the monthly cost of Dialpad Ai Meetings' Business plan: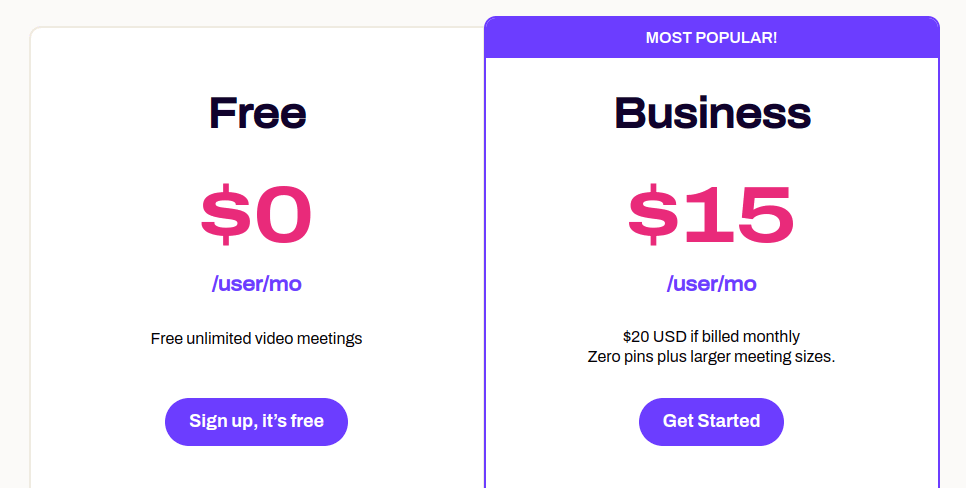 Very affordable, even for the smallest of operations.
In comparison, for just a taste of the telepresence experience, Ohmni's "competitively priced" telepresence robot costs around $2,700. At only a fraction of the cost of setting up conference equipment and creating your own HD telepresence room, it provides only a fraction of the full telepresence experience.
More well-known providers like HP and Cisco charge over $340,000 (which every end-user would have to pay!) to create a networked connected telepresence room with all the bells and whistles, and operating costs range from around $8,000 to $20,000 a month.
Of course, there's plenty of variety in both cases. And you'll be able to find more expensive video conferencing software too. But, if you're looking for a much cheaper telepresence option, you might have to lower your expectations.
2. Software and hardware
Both forms of conferencing rely on hardware and software to provide their service. Usually, you can't join a conference without access to some kind of device that connects to the Internet and has a screen and webcam.
The difference between video conferencing and telepresence lies in the degree to which each depends on specific hardware.
Dialpad, for example, works on the devices that you and your team already own and use every day, so there's no new hardware to buy or lease, no infrastructure to maintain, and no advanced IT expertise required to manage it all.
That means your employees can have video conferences across different mobile devices and computers:


Dialpad also works on web browsers—which means you don't even have to download any software!
With telepresence, before you even begin to consider the high-definition video cameras and large, flat-panel monitors that display participants in life-size, there's a ton of other hardware to arm yourself with.
The minimum required hardware that makes up Cisco's telepresence system, for example, includes a TelePresence Exchange System (requiring six servers), ASA firewall, Application Control Engine, Cisco Switch, Cisco TelePresence Manager, Cisco TelePresence MSE 8000 Series (4 different machines)... the list goes on.
Its software must be downloaded across every one of the system's six servers—this is estimated to take anywhere from 240 minutes—and also isn't compatible with older operating systems or any browsers beyond the newest versions of Windows Internet Explorer and Mozilla Firefox.
Video conferencing just doesn't have these incredibly high demands.
📹 Did you know?
Because telepresence requires more hardware components to manage, each may have different release cycles (meaning more IT overhead needed to update each one), and if one piece of hardware breaks, the whole system breaks.
Dialpad Ai, our unique built-in artificial intelligence, also transcribes meetings—in real time. No more note-taking needed:

3. HD video and audio quality
The priciest telepresence systems with their multi-microphone, high-fidelity speaker setups, and carefully tempered acoustics can provide spatial audio to rival real-life meeting rooms and interactions.
But even these systems will face the same video and audio issues that affect standard video conferencing software if they don't have one thing: connectivity.
Connectivity is probably the greatest hurdle to achieving HD video and audio. High-speed Internet has the required bandwidth to handle HD calling, but it's not always possible to get that level of connection.
Dialpad has not only the functionality to allow you to enable HD calling and video meetings, but also a collaboration with T-Mobile that gives you the speed and reliability of 5G connectivity so that your employees can work from anywhere and have high-quality virtual meetings.
4. Improved access across devices
Interoperability refers to how good a device is at communicating and working with other systems or products. A phone with great interoperability, for example, will work easily with third-party hardware. One that doesn't have great interoperability will require you to get all the hardware from its provider.
As it happens, video conferencing is (usually) device-agnostic.
📹 What is "device agnosticism?"
It's basically when a piece of software or hardware can work across different devices without needing any special plug-ins or adaptations. For example, Dialpad's unified communications and cloud contact center platform is device-agnostic—it works across PC, Mac, Android, and iPhone.
Whether you're using a phone, laptop, iPad, desktop computer, or another device, video conferencing software like Dialpad will allow you to join and host video calls. This is especially crucial in companies where employees are all using different devices.
This isn't quite as easy with telepresence. Telepresence systems have lots of moving parts—and also require interoperability between all these parts to work.
Often, even high-quality telepresence equipment from different companies might not be compatible with each other, so neither will be able to take advantage of their advanced tech.
Dialpad prioritizes interoperability in its products and features, allowing you to switch between devices with no interruptions or activity loss for more efficient and smoother workflows..
You can even switch seamlessly between devices on active calls without interrupting or dropping the call. Is it the end of the workday, but you're still on a call and ned to take your call from your computer to your mobile phone? You can do that with Dialpad's app:
And, the fact that we leverage our global data centers to route calls and media through the Google Platform means that the Dialpad user experience and access to user data remains the same—no matter where you are and what device you're using.
5. Emulating face-to-face interaction
With telepresence, you can get as close as humanly possible by beaming yourself into a conference room with your fellow meeting attendees.
No other technology can emulate face-to-face interaction between two digital endpoints quite the way telepresence can—including video conferencing.
But perfect emulation of real-life conference scenarios isn't the be-all and end-all of business video calls. For many businesses, it may be enough to simply have a way to collaborate effectively. In other words: can you get your work done with video conferencing? If so, then you may not need telepresence.
6. User experience
Video conferencing software is easy to set up. Telepresence systems… not so much.
With video conferencing, you can easily jump on a video meeting with any device, use calendar integrations to send invites to others, and join a meeting in your web browser without downloading an app every time.
Telepresence has multiple components to "switch on," requires you to constantly be training users or have them read through a 10-page manual every time they need to start up the system. And often, telepresence users fall into one of two buckets:
This can lead to an overpriced system that never gets fully adopted—which leaves your business with a negative ROI.
When is it better to use telepresence?
Let's have a look at a few situations where telepresence systems do deliver.
Internal meetings across global offices
Large companies often have multiple bases of operations. They'll also be the only kinds of companies with the funds and space available to supply all their sites with the necessary and consistent equipment telepresence systems demand to function.
Investor meetings
What's one thing you really don't want to have to deal with during virtual investor meetings? There might be a few, actually, but one sticks out above all the others: patchy connections and low-quality audio or video.
Telepresence helps with that, meaning that you'll be able to pitch to investors and have shareholder meetings without having to worry about bad connections, standard definition video, and so on.
Large-scale virtual business demonstrations
Every business comes up with something really cool that they're eager to show off once in a while. And what better way to do that than via telepresence?
If your organization is planning a large-scale virtual or hybrid event, or a big product reveal, you'd probably go for telepresence over video conferencing.
General meetings or sessions that involve a larger group
Executive board rooms, training sessions, classroom settings… There are a ton of scenarios where you'll need to involve a large group of people who can't all be in the same room. In these cases, telepresence is your friend.
How to know if your business should go with video conferencing instead
One of the biggest indicators is budget size. If your business can't afford the initial cost of the equipment that telepresence relies on, you'll also struggle to maintain that hardware. That's a pretty clear indicator that video conferencing is the better choice.
👉 Dialpad tip:
Need to adjust your plan to suit a budget change? No problem. Our flexible pricing plans make it easy to choose the option best suited to your business and its needs.
Generally, startups and small businesses are more likely to need video conferencing over telepresence. These organizations won't usually have a ton of capital left over at the end of the month to allocate to resource-intensive new technologies like telepresence.
If you're managing a remote team, you'll also probably want to go for video conferencing since it's more agile and better for one-on-ones than telepresence.
To telepresence, or to video conference?
The answer to this question depends on your priorities. If you're looking for a system to replicate an in-person conference or hold virtual events or webinars, and budget is no issue, then telepresence technology is for you.
If your aim, though, is to find an affordable, scalable, and accessible communication platform that equips you with video conferencing along with plenty of other useful features to facilitate collaboration, video conferencing is probably the way to go.
The good news is choosing between these two systems doesn't have to be the trade-off between cost and quality that it once was. The best video conferencing tools bridge the gap between video conferencing and telepresence for HD video and practicality in the remote working world.
Looking for a telepresence or video conferencing platform?
Dialpad's unified communications platform is designed for remote and hybrid teams to meet face-to-face online. Sign up for the free plan and try it out, or take a self-guided interactive tour of the app first!