Back to Blog
The 14 best sales productivity tools: A guide by an SDR Manager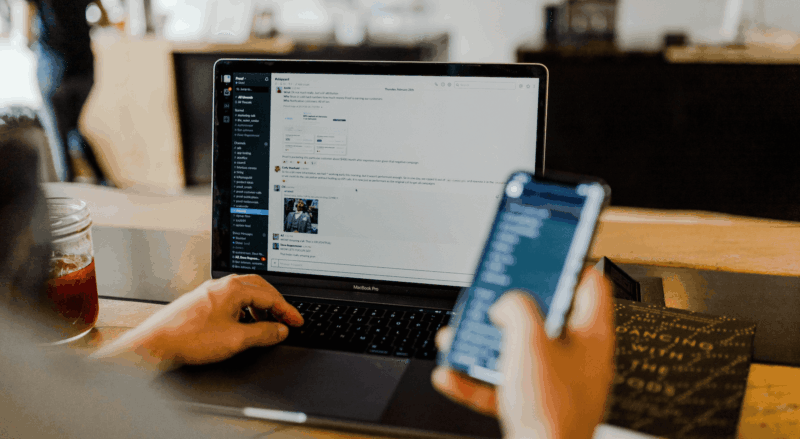 As an SDR Manager, I spend a lot of my days looking for ways to get our sales team ramped, doing their follow-ups, and closing deals as efficiently—and effectively—as possible. One thing that makes our jobs much easier is having the right sales productivity tools in place.
So, whether you're looking for solutions to help handle sales data, boost productivity, or make your day-to-day busywork better, I've got some tips based on my past experiences.
In this guide, I'll walk you through some of the best software that's made me more productive day-to-day.
What is sales productivity software?
Essentially, sales productivity software is all about streamlining. It's there to increase your sales efficiency and help you make more sales with less effort (and in less time).
Sales productivity software tools can help sales professionals improve the way they perform at every stage of the sales cycle, from outbound lead generation all the way to the actual transaction.
We'll take a closer look at specific types of sales productivity tools in the next section.
What types of sales productivity tools should you consider?
Thing is, there isn't just one type of sales productivity tool. This term is a huge umbrella that encompasses a variety of different apps. Some will automatically populate meetings with prospects in your calendar, while others will automatically pull contacts' information from your CRM to your phone system. I'll go through a few of the most important types of sales productivity tools, and which ones are must-haves vs. nice-to-haves in just a bit.
Communications platforms
Phone calls and messages are some of your most important sales activities. And any salespeople, whether they're SDRs or AEs, need a good business phone system or cloud contact center platform that let them have those conversations.
Calendar meeting/booking tools
Your sales team members have to be able to schedule meetings with prospects, whether those are in-person or video meetings. Most prospects are using either Google Calendar or Microsoft 365, and some sales teams can get away with just using one of these two tools, but if you want to step it up a level and let prospects choose a time directly from a rep's available time slots, then you'll need an actual calendaring tool.
(I'll give a few examples of these below.)
Sales engagement tools
Sales engagement is essentially the process of guiding your prospects through each step of your sales process and leading them toward an eventual purchase.
Sales engagement tools typically refer to apps or software that help salespeople plan out these interactions with prospects. They're slightly different from a communications platform in that these tools let sellers plan out, say, email sequences to prospects—as opposed to being the video conferencing platform or phone system that powers those communications..
One major benefit of the sales engagement apps that I'll show you below is their ability to automate some of the more repeatable sales tasks (like sending meeting reminders).
Customer relationship management (CRM) tools
Whether you're prospecting or closing, you need a one-stop-shop for all that important customer data. You don't want to be scrolling through your entire inbox to remember who your contact is or what products or services they were interested in.
This is why a CRM is essential for sales teams. It helps with everything from everyday administrative tasks, to sales pipeline management, to personalizing your communications, and more.
Sales intelligence tools
We're way beyond the Rolodex days when all your customer info and sales data could fit on an index card. Today, there's a ton of sales intelligence that you have at your fingertips, including things like their contact information, their annual revenue, and recent company news.
A good sales intelligence solution will help you find all this information quickly without spending hours Googling your prospects.
E-signature tools
Most sales teams today have moved over to using electronic signatures or e-signatures instead of paper contracts. Unless you're in a highly regulated industry that for some reason still requires paper documents, this is pretty much the go-to for most businesses now. There's less paperwork to carry around, and you don't need to travel or mail any documents—all you need to do is email the contract to them using an e-signature tool.
The 14 best sales productivity tools, by category
A quick note before we dive in: I grouped this list of sales productivity tools according to the categories I outlined above, so you can see what types of apps your sales team should consider and how you can start building your tech stack.
You definitely don't need all 14, and I'd say for most sales teams, you should be okay building a sales tech stack with one tool from just categories A, B, C, and D. If you're in SaaS or high ACV (average contract value) industries with longer deal cycles, then you may need an app from categories E, F, and G too.
Category A: Sales-productivity focused UCaaS platforms
A UCaaS, or Unified Communications as a Service platform, is a must-have for most sales teams, whether they're based in the office, or work remotely, or are on the road.
You can't get away from needing to make phone calls, have video meetings, send instant messages / texts. And with a UCaaS platform, you can streamline all those communication channels into one app (instead of having one business phone system software, a separate video conferencing app, and so on).
Speaking of which, the UCaaS platform that our sales team uses is Dialpad.
1. Dialpad Ai Sales Center
This is pretty much the only communications platform our sales team needs. Yes, it gives us calling, video conferencing, and messaging all in one app, but that's just scratching the surface.
Dialpad Ai is the real secret sauce here (we have our own AI and machine learning teams)—not only does it transcribe our calls and video conferences in real time:


It also lets our sales team track keywords and phrases that come up on sales calls (in addition to other call metrics). Say we want to see how often "Competitor X" comes up—we can create a "Custom Moment" to track that:
If we do notice any spikes in our analytics, we can dig into those call recordings and transcripts to better understand how and why prospects bring up those competitors (which helps with training our reps on how to handle objections in sales calls).
But Dialpad Ai can go one step even further, with Real-Time Assist (RTA) cards. These are essentially screen pops with tailored notes on specific topics. So, to take the Competitor X example I just mentioned, we can create RTA cards with talking points about how Dialpad is better than Competitor X, what features to highlight, and so on:


And that's all without our sales leaders having to personally coach every call. It's like training and sales management—on a massive scale. (Learn more about sales AI use cases.)
Another sales-specific feature that our sales reps love is the voicemail drop feature, which lets you pre-record a message that you can just "drop" into a call when you hit a prospect's voicemail, instead of having to recite the same message every time. For high-volume outreach teams like SDRs, this can save hours in a week: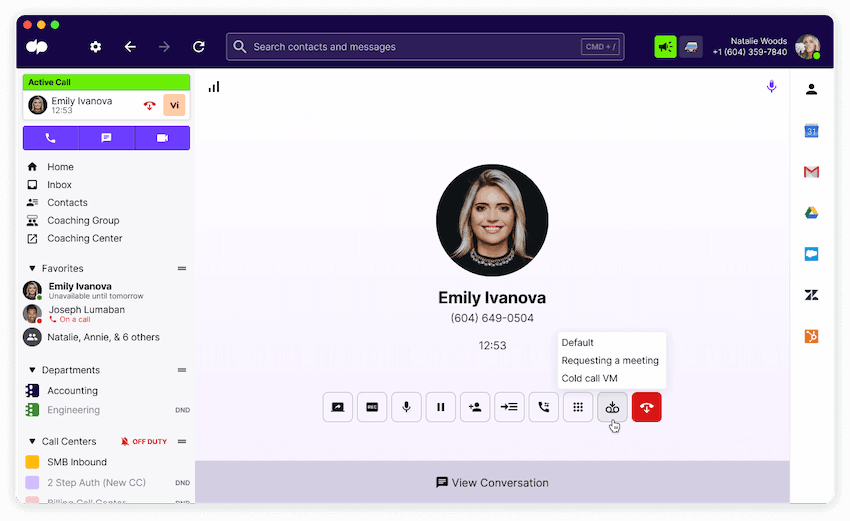 Finally, Dialpad integrates with most of the software that salespeople use on a daily basis, including Microsoft 365 and Outlook, and Google Workspace (formerly known as G Suite and including Google Calendar and Gmail). These integrations automatically sync your contacts and populate your video conferencing invites with the meeting link, for example.

It also integrates with CRMs like Salesforce, HubSpot, and Zoho CRM. (More on these below in our CRM section.)
And fun fact: Dialpad's contact center platform is designed for inbound teams like customer support agents too. It has all the same built-in Dialpad Ai functionality, and also service level notifications, leaderboards, and real-time call data to help supervisors optimize their contact center operations:


How can Dialpad give your sales productivity a boost?
From voicemail drop to real-time coaching for sellers, Dialpad has a range of features designed specifically to help sales teams book more meetings—and close more deals. See how it works with a product tour!
Category B: Calendar and/or meeting booking tools
Whether you have team members or prospects in different regions or time zones, you'll be able to coordinate meetings with them (and manage your own calendar) much more easily if you have a calendar tool.
Here are a few good ones.
2. Calendly
When it comes to user-friendly scheduling tools that save time and streamline processes, Calendly is one of the best out there.
It's a simple app that's designed specifically to handle meeting scheduling. Calendly basically lets you add a link to your email (it can be in your signature or the body of your email itself) to let prospects book your calendar directly.
When someone clicks your Calendly link, they'll be able to see a full overview of your availability, which pretty much gets rid of all the back and forth emailing that we used to have to do when booking meetings with prospects.
Pricing:
Calendly's basic model costs $8 per user per month, while the higher tier is priced at $12. If you choose this tier, you get access to some more advanced features, like a PayPal integration.
3. Chili Piper
Chili Piper is kind of a competitor to Calendly, and also has a one-click booking link feature. It does essentially the same thing as Calendly's—someone can click a link in a sales rep's email and book a time with them right away.
What's unique about Chili Piper is it also has a good website feature, which lets prospects book meetings with your sales team by clicking a link on your website.
Pricing:
Starts at $30 per user per month.
Category C: Customer relationship management tools (CRMs)
This category doesn't need too much introduction—CRMs are one of the most important sales tools when it comes to making sellers more productive, forecasting, and more. And there are literally hundreds of CRMS out there like Salesforce and Pipedrive (not to mention lots of companies build their own homegrown CRMs).
Here are some of the popular CRM options.
4. Salesforce
Salesforce is a popular CRM platform that helps companies track customer interactions across platforms and communication channels, giving sales teams a holistic overview of each prospect and customer and their past sales activities with your company.
Salesforce has a wide range of integrations—for example, it integrates with communications platforms like Dialpad to automatically log calls from Dialpad and other activities, and also allow reps to make phone calls from right inside Salesforce:


One unique thing about Salesforce's Dialpad integration is it works great on mobile app too. (Most Salesforce integrations with other UCaaS or CCaaS platforms only work on desktop, or have very clunky mobile experiences.)
Pricing:
Salesforce's pricing varies pretty widely depending on what specific product or suite you need—you can learn more about it here.
5. HubSpot
HubSpot is another CRM software, and it's part of a larger product suite that has customer support and marketing features too (think building landing pages and other marketing automation functionality).
HubSpot also integrates with Dialpad. Like the Salesforce integration, this one auto-logs activities for reps, embeds a CTI dialer inside HubSpot, and can also create contacts in HubSpot from a call in Dialpad, which really streamlines workflows:


Pricing:
HubSpot's Sales Hub starter plan begins at $45 per month and includes two paid users.
6. Zoho CRM
Zoho CRM is another CRM software that is part of a product suite with software for marketing and customer support in addition to sales teams.
Again, Zoho integrates with communications platforms like Dialpad to streamline workflows for sales reps and let them communicate directly with prospects right from Zoho CRM and see contact information from the call screen in Dialpad: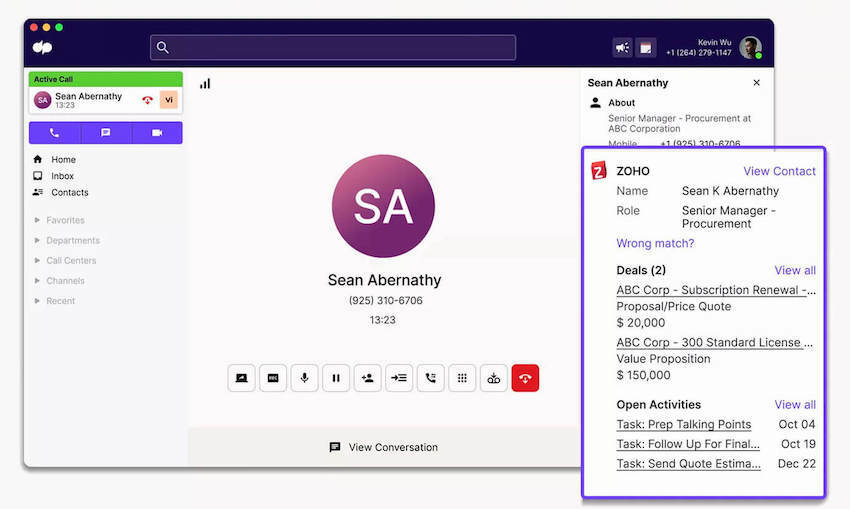 Pricing:
Starts at $14 per user per month.
Category D: E-Signature tools
A good e-signature tool is a must-have sales productivity tool because it makes it easy to get the right documents to the right people and shortens response times when it comes to signing contracts. Most sales teams use one of these two.
7. DocuSign
If you're like most salespeople, you're probably familiar with DocuSign. It comes with an audit trail and customizable templates to help you save time when you're generating contracts.
DocuSign is available as both a desktop and a mobile app, which is nice because you can use it on the go and close deals from pretty much anywhere on any device.

Pricing:
DocuSign's pricing starts at $10 per user per month for the least expensive plan.
8. HelloSign
The other most well-known e-signature tool is HelloSign. Like DocuSign, it's designed to let you sign contracts virtually, has an audit trail feature, and also time-saving templates. They're honestly pretty comparable other than the fact that HelloSign is a bit more expensive, and it's really up to your personal preference.

Pricing:
HelloSign starts at $15 per user per month.
Category E: Sales intelligence tools
Next is our first category that isn't a must-have for every sales team, but can be very helpful if you're in certain industries: the best sales intelligence tools. They can save a ton of time for sales reps, especially if they have to do a lot of outreach.
9. LinkedIn Sales Navigator
LinkedIn is the social media platform for businesses, and it was really just a matter of time before they expanded their professional business networking features into a sales intelligence tool.
With LinkedIn Sales Navigator, sales reps can leverage and grow your existing network to generate more leads, segment prospects, and save leads and companies that they want to keep an eye on if the time isn't right to reach out right now, and more.
Pricing:
Plans start at $79.99 per user per month.
10. ZoomInfo
ZoomInfo is a competitor to LinkedIn Sales Navigator, and is most known for letting sales reps pull up contact details of prospects to do cold outreach with.
With ZoomInfo, you also get details about a given company's competitors and how much revenue they're bringing in. It's kind of like having another salesperson who's helping you dig up research.
Pricing:
ZoomInfo doesn't have any pricing listed—you have to get in touch with them to get a quote.
Category F: Sales engagement tools
If your sales reps use email sequences and video clips as part of their sales engagement, then check out the apps in this category.
11. Outreach
Outreach.io is a sales engagement app that lets sales teams plan their, well, outreach to prospects. You can create email and phone outreach sequences, save email templates for sellers to use, and yes, it integrates with Dialpad too to let reps make phone calls directly from Outreach.io:


When it comes to productivity and reducing the project management burden on your sales reps, automation is one of the best things you can do.
Pricing:
Reach out to them for a quote.
12. Loom
Loom is a video engagement platform. Essentially, it's meant to help sales teams personalize their outreach to prospects with recorded video clips.
This is not something every sales team would use, but if you work in a SaaS company, for instance, this is a great way to introduce how your product works and what your company does in a more engaging way.
Pricing:
You can sign up for a free trial version of Loom that lets you test out the software for two weeks. After that, if you'd like to keep using it, you'll need to get in touch with Loom's sales team to work out a pricing plan.
Category G: Sales enablement tools
13. Highspot
Highspot is a sales enablement tool that lets you store any content that your sales reps might need during their day-to-day self-guided learning and outreach work.
You can upload marketing content (like case studies and templates), embed videos, hyperlink to blog posts or web pages—pretty much any type of content you want.

Pricing:
You'll have to reach out to their team to get a quote.
14. Showpad
Similar to Highspot, Showpad is a sales content management tool that lets you house all of your sales organization's content in one place, and also filter content by role, portfolio, geography, or other factors.
Most sales orgs in B2B SaaS companies will probably use one of these two.
Pricing:
You'll have to reach out to their team to get a quote.
2 ways to boost your sales productivity
Here's the thing. Just because you have the right collaboration tools doesn't mean you're home free when it comes to sales productivity. The good news is there are two easy things you can do to be more productive as a salesperson.
Schedule your time proactively
As a seller, it can be tempting to feel like you should be jumping on as many calls as possible to maximize the number of deals you close. In reality, though, that's not always the most productive way to prioritize tasks and schedule your time.
In my experience, allowing too many things to pile up on the calendar just makes things frantic and actually makes you less productive. Instead, it's sometimes better to take a longer view and set time aside to invest in yourself too in order to make sure I'm a good resource for your prospects and staying fresh.
For example:
Practicing sales demos is a perfect example. Doing a lot of demos may feel like you're being productive, but it doesn't necessarily sharpen your technical knowledge—which is what actually makes you more useful to prospects. If anything, spending all your time on doing only demos can turn you into just a tour guide instead.
On the other hand, if you regularly schedule time to go over the latest functionality in the product and keep your technical knowledge sharp, it means you can pivot away from a predetermined script to anticipate questions and tailor the demo to what prospects are most interested in—and be more productive on the call.
Automate as much as you can
Sales is a numbers game. You have the same number of hours in a day as everyone else, which means time is one of the most important variables you need to control. Can't close deals if you don't have time.
This is a big reason why there are so many sales automation tools. They help sellers save time, reduce human errors, and streamline workflows so they can focus on only the truly high-value tasks instead of things like data entry and manual call logging.
As a starting point, look at your communications platform, whether it's a phone system or a sales dialer app or contact center software. All of these tools should have automations or integrations with your other business software that free you to focus on closing deals.
Help your sellers win with the right sales productivity tool
There are a ton of different ways to empower sales reps to be more productive with the right software, from lead generation tools to sales management tools.
Most businesses will need some combination of these sales tools to help sellers get more done with less effort, depending on what your unique sales process looks like.
If you're looking for a versatile communications platform that lets your sales team handle all their internal and external communications, why not take a product tour of Dialpad to see how it works?
See how our own sales team uses Dialpad to be more productive
Book a demo, or take a self-guided interactive tour of the app on your own first!