Back to Blog
Top 7 sales intelligence software for revenue orgs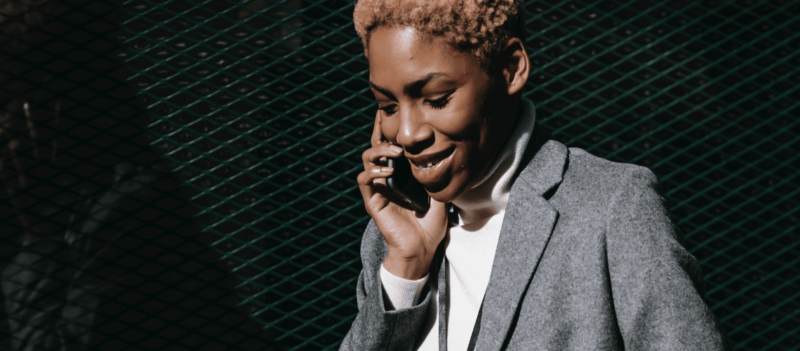 Is your sales orgs just using a phone system or basic dialer software?
What if your communications platform could tell you which competitors are coming up in sales calls, which features prospects are most interested in, and the most common objections that your sales reps are facing every day?
If that sounds like something that would be helpful for your sales org, it might be time to start thinking about upgrading to sales intelligence software.
I know what you're thinking. "Another tool to add to our tech stack? No thanks."
But what if I told you that you could get all of this sales intelligence right in the communications solution that you're using to make phone calls, have virtual meetings, and message your teammates?
Yes, these tools do exist. And yes, they're not only more cost-effective, but they also make life easier for reps and managers because every conversation and call is in one centralized place.
I'll show you how.
What is sales intelligence software and how does it work?
Sales intelligence software is an app or platform that gives sales teams valuable data and insights about prospect feedback, behavior, and ultimately, sales performance. It can help you identify common objections on sales calls, coach reps more effectively, and even report on KPIs, like outbound calls and close rate more easily.
Depending on the type of sales intelligence software you're using, it may collect data from various sources such as your communications platform or outbound contact center software, your CRM, and so on.
Some sales intelligence solutions can then analyze this data to automate lead scoring, prioritize leads, and even identify patterns that can be used to inform decisions about how best to train reps to overcome objections and help drive pipeline and topline revenue for the business.
What to consider when looking for the best sales intelligence software
Whether your sales org is struggling with accessing analytics or reporting on sales conversations, or even ensuring continuous pipeline and win rate growth, there's a sales intelligence tool that can help you.
Sounds too good to be true, but it really is true!
That being said, if you're interested in sales intelligence software, there are a few things to keep in mind.
Know what you want to solve
There is an endless selection (literally endless) of sales AI tools, sales enablement tools, and just sales apps in general out there.
If you don't have a clear idea of what specifically you want your sales intelligence software to do, you'll get overwhelmed pretty quickly by all the choices.
This is especially true because now, there are often multiple tools that can help you tackle a particularly complex challenge. For example, one of the biggest things that sales leaders struggle with is forecasting and reporting.
You could use a revenue intelligence tool like Clari (which we'll talk about below), but you'd also probably want your sales contact center solution or phone system to integrate with your CRM to track activity and pipeline associated with calls and other activities.
Know if you want real-time or post-call intelligence
You'll also want to know what kind of data analysis capabilities your chosen software has. Do you want real-time insights into rep activities, like the volume of outbound calls being made?
Or do you want to gather feedback from prospects and see what they're saying about your competitors and product offerings? Both of these examples count as "sales intelligence," but may require different types of tools.
How user-friendly is it?
One thing that many people forget to consider is how user-friendly a particular piece of sales intelligence software is. Whether it's an AI call center or sales forecasting software, if you're expecting your reps and/or sales leaders to be in this software and checking it every day, it's a lot easier to encourage adoption of the tool if it's actually easy to use.
I've seen way too many bloated sales tech stacks where maybe 80%+ of the tools are just sitting there with old data because reps aren't actually bothering to go in there and update activities and pipeline stages. Not only does this create poor data hygiene, it's also a waste of budget for your sales org to buy software that no one ends up using.
7 top sales intelligence platforms to consider
1. Dialpad: Gather conversational intelligence from every sales call
At most companies, sales and revenue leaders have little visibility into actual seller conversations. Sure, they've maybe got a phone system, and maybe they'll even have call recordings.
But to get insights from this call data, a manager would have to listen to all the recordings from beginning to end, which is really time-consuming.
Our team uses Dialpad, and one neat thing that Dialpad Ai can do is transcribe calls (in real time) and generate an AI summary that gets emailed to attendees after the call. More importantly, the call summary includes the recording with a searchable transcript, key moments highlighted, and more:


This makes it easy to quickly jump to a specific part of the sales call, which saves us a ton of time.
Not only that, Dialpad Ai also gathers conversational intelligence for us by tracking keywords and topics that come up on sales calls. For example, if I wanted to see how often "Competitor X" gets mentioned by prospects, how often prospects object based on price, I can just create a "Custom Moment" to track every time these keywords are spoken:
This is incredibly helpful sales intelligence because not only can it inform marketing strategy (for pricing, product positioning, and competition), it also helps managers coach reps more effectively, decrease sales cycle lengths, and increase overall win rates.
How?
Well, say we can see that reps are struggling to handle pricing objections. We can update sales training materials, but Dialpad's Ai Agent Assist feature also automatically searches all connected knowledge sources for answers and provides them to reps in real time:

It's like coaching at a massive scale, without sales leaders having to personally coach every single call.
On top of that, Dialpad Ai also analyzes calls for sentiment—also in real time—which means that managers who are overseeing large teams of reps can quickly see if someone needs help:

After the call, Dialpad's sales intelligence helps us do QA too. Often, sales managers just don't have the time or bandwidth to review sales calls for quality, especially if you're managing a high-velocity sales team. Dialpad Ai can speed up the QA scorecard process, since it can review the calls for whether sellers did everything listed on the scorecard.
It's pretty simple—sales managers and admins can easily create a QA Scorecard from their online dashboard, and as sales reps are having conversations with prospects, Dialpad Ai listens to each interaction and automatically suggests when the scorecard behavior is met.
On a discovery call, for instance, did the seller ask the prospect about the biggest challenges they're facing? Did they remember to ask about budget and decision-makers? Say you've added "Rep asked the prospect who the decision-makers are" to scorecard criteria. If the agent asks about decision-makers, whoever grades that call will immediately see that the activity was completed, without having to listen to the entire call recording or read the transcript:

Dialpad Ai can also automatically detect if sellers are following your sales playbook methodology (think BANT, SPICED, or SPIN). It automatically pops up the required questions the rep has to run through on the sales call, then uses speech recognition to understand if the rep is asking those questions, and checks off the task on their list so they know that they've successfully executed the playbook, all in real time.
This allows sales teams teams to scale QA reviews across a much wider range of calls than would otherwise be possible—in turn, this means more effective sellers, and more deals closed.

A good AI-powered sales intelligence tool can save managers a ton of time by helping to analyze calls and making sure reps are following your sales process.
Of course, being a sales team, I can't forget to mention that Dialpad integrates with a wide range of CRMs (like Salesforce, HubSpot, and Zoho CRM) and sales outreach tools (like Outreach and Wingman). The CRM integrations are particularly helpful because they embed Dialpad's sales dialer right inside the CRM, so reps don't have to toggle between different windows to make calls, and everything gets logged automatically:


And the best part of all this? It's built right into the collaboration platform that we're using to make phone calls, have video meetings, and send team + SMS/MMS messages, every day.
Sales intelligence for every call, at your fingertips
See how sales and revenue leaders are using Dialpad to coach reps in real time, uncover hidden insights from prospects, and close more deals, more quickly. Book a demo, or take a self-guided interactive tour of the app on your own!
2. 6sense: Reach the best accounts, faster

6sense is a sales intelligence tool that's designed to help businesses identify and engage potential customers. Using AI, 6sense analyzes customer data from multiple sources, such as CRM systems, marketing automation tools, and web analytics. This helps 6sense provide businesses with valuable insights into the buyers' journey and enable them to reach out to their target audience at the right time with personalized messages.
With 6sense, companies can get a full picture of each buyer profile, including contact information, product preferences, purchase history, and more. This data enables sales teams to create targeted campaigns that are tailored specifically for each prospect. 6sense also allows users to generate hyper-targeted lead segments based on demographics or buying behavior—allowing them to reach out to highly qualified leads only.
Pricing:
Get in touch for a quote on their website.
3. LinkedIn Sales Navigator: Find prospects through the biggest business social network
Most sales teams, especially B2B sales teams, are probably already familiar with LinkedIn Sales Navigator.
With LinkedIn's vast database of over 500 million professionals, Sales Navigator is a pretty powerful sales intelligence tool that helps businesses gain deeper insights into prospective customers and access different audiences for their products or services.
You can save searches and easily monitor activity from specific accounts, and more importantly, filter through data in order to find ideal prospects as well as view insights such as job changes, titles, industry, and more. Additionally, sellers can also create lists of contacts based on multiple criteria including geography, seniority level, company size and more. These contact lists can be used to send out targeted emails or messages in order to start conversations with potential clients.
Pricing:
Get in touch for a quote on their website.
4. ZoomInfo: Find out everything about your prospects

ZoomInfo's come a long way since just being an email address database. Today, it's a sales intelligence platform that helps users gain insights into prospects and customers, with access to over 30 million contacts and 360 million business profiles. This lets sales teams easily search for leads by company name, industry, job title, and location.
ZoomInfo also offers tools such as Lead Builder and Sales Accelerator which allow users to build targeted lists of leads based on specific criteria. This can be useful if you're trying to find new prospects or target existing customers with personalized marketing campaigns.
Pricing:
Get in touch for a quote on their website.
5. Clari: A more accurate way to forecast

Clari is a sales intelligence software designed to help organizations gain visibility into their sales processes and pipeline health, with automated task reminders and real-time analytics to track the progress of deals from start to finish. This can be especially useful for remote teams as it helps them stay on top of their tasks and view all customer interactions in one place.
With its predictive analytics, Clari lets sales orgs forecast by team, product, geo, and revenue stream. If you're having issues with tracking predictable revenue and spotting at-risk deals ahead of time, Clari is an option to consider.
Pricing:
Get in touch for a quote on their website.
6. Leadfeeder: B2B lead generation from your website

If you have a website, Leadfeede helps you discover new leads who've visited your website but haven't engaged with you yet. It tells you their company names, which pages they viewed, and what keywords they used during their search. This helps sales teams better understand customer interests and tailor their approach accordingly.
Pricing:
Lite plan is $0, and gives you data from the last 7 days, with a cap of 100 companies identified. The Premium plan starts at $139 per month, with no limits on either.1

7. Anaplan: Better sales and financial reporting

Anaplan is a sales intelligence platform that helps businesses identify and manage key performance indicators, automate sales processes, and gain invaluable insights into customer behavior.
What makes it a bit different from the other sales intelligence tools is that sales teams typically use Anaplan in collaboration with Finance, Marketing, and Supply Chain teams to track deal progress and KPIs (key performance indicators).
The type of sales intelligence involved here isn't necessarily qualitative feedback from prospects on conversations, but rather insights that help sales orgs design and optimize territories, quotas and targets, capacity plans, and account segmentation strategies.
Pricing:
Get in touch for a quote on their website.
What's the best sales intelligence software to scale your org?
There are so many different options when it comes to sales intelligence tools.
Depending on what your revenue leaders need, you'll likely find a mix of some of the tools above helpful for tackling different challenges, whether it's coaching reps more effectively in real time, uncovering customer intelligence from sales calls, or forecasting more accurately.
If you're interested in how AI can help your leaders uncover more real-time insights and provide coaching for reps, check out a product tour of Dialpad Ai Sales Center!

There's a ton of sales intelligence hiding in your everyday calls
Uncover them with Dialpad Ai Sales Center. See how it works with a demo!
FAQs about sales intelligence software
How will sales intelligence software help my business?
Sales intelligence software is an extremely valuable asset for any business looking to decrease sales cycle times and ramp times for new reps, and ultimately, close more deals, more predictably.
For example, with the right data analysis capabilities, sales orgs are able to segment prospects more accurately and empower sales teams to target specific customers with more tailored pitches, resulting in higher conversion rates.
Predictive forecasting capabilities are another benefit of using sales intelligence software. By providing accurate predictions of future demand, businesses can adjust their strategies in order to meet changing needs and capitalize on new opportunities before they arise.
Do small businesses need sales intelligence software?
How many businesses are using sales intelligence software?