Back to Blog
Dialpad and Zoho: An integration made in CRM heaven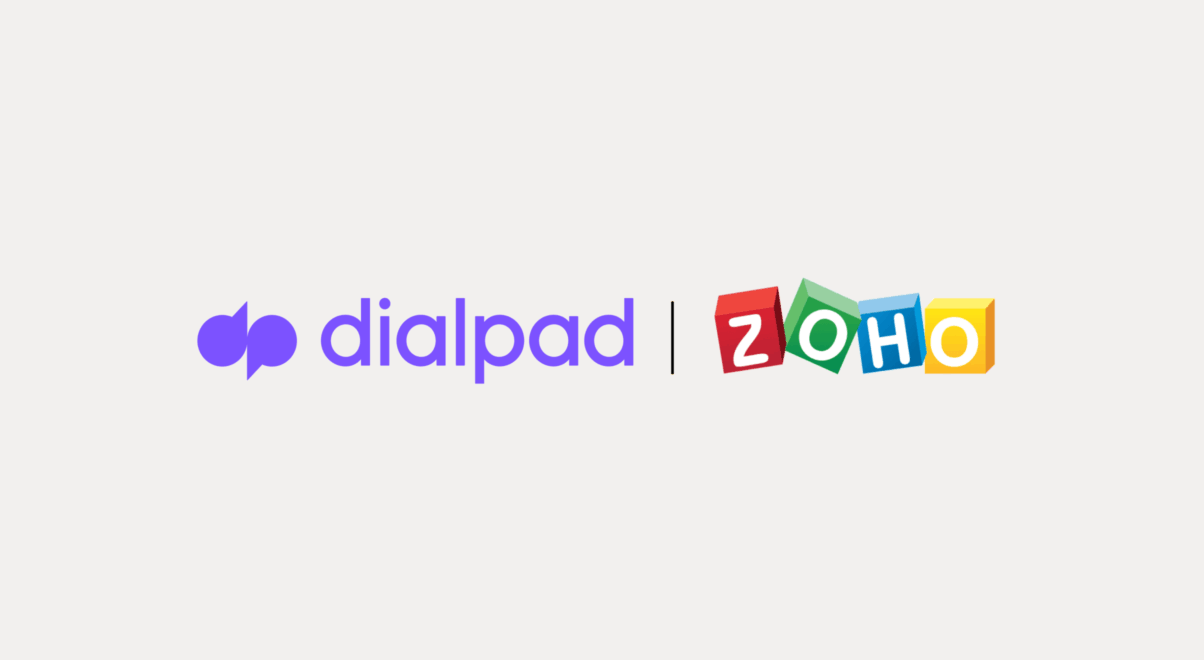 You asked for it, we delivered. Small, mid-sized, and growing businesses have been asking when we'll integrate Dialpad with Zoho CRM, and, yep, it's happened.
Our latest partnership brings you a new out-of-the-box integration, so if your team uses Zoho CRM, all you have to do is activate it, log in, and start dialing.
What is Zoho?
If you aren't using Zoho, but are curious about it, allow us to explain. Zoho CRM is a platform that brings sales, marketing, and customer support activities together while streamlining work.
Zoho is used for everything from lead management to marketing automation, and now Dialpad is making that even easier.
How? We're glad you asked. Drumroll, please…
Dialpad + Zoho
With the Dialpad + Zoho integration, we're empowering teams to provide a more personalized experience for customers and prospects and improving productivity while working from anywhere. This is made possible thanks to:
A native integration for quick access to Dialpad from inside Zoho CRM without all the tab switching—just one app to tap

Automatic call logging

Instant profile syncing

So, how does it do all that? It's simple, really.
Once you integrate Dialpad and Zoho, your Dialpad contacts will automatically sync with the matching contacts, leads, vendor, and account records in your existing Zoho CRM. They'll match the numbers and profiles, so you don't have to worry about connecting the dots yourself.
From there, any inbound or outbound Dialpad calls are automatically logged against the matching customer records in Zoho CRM. This means no more manually logging down everything, which saves call center agents and sales reps a ton of time (if you think you just heard a massive sigh of relief from your team, that's not your imagination).
And it doesn't stop there! Agents can also easily view recent activity with quick links to Zoho CRM from Dialpad, and have quick access to deal tagging and call notes:

What about calls to or from unknown numbers? Don't worry, we've got that covered, too. Agents can turn that call into a new Zoho CRM contact or lead record with a click, so those unknown callers won't stay unknown for long.
In short: teams using Zoho will be able to log their calls more quickly, make calls more easily, and work more efficiently. What's not to love?
Are you ready to start dialing? The Dialpad + Zoho CRM integration is available now. You can set it up in minutes and connect your accounts immediately.
See how Dialpad Ai Contact Center works!
Get a personalized walkthrough of how Dialpad can help agents and supervisors communicate with customers and prospects, from anywhere.