Back to Blog
The 14 best Otter.ai alternatives for business transcription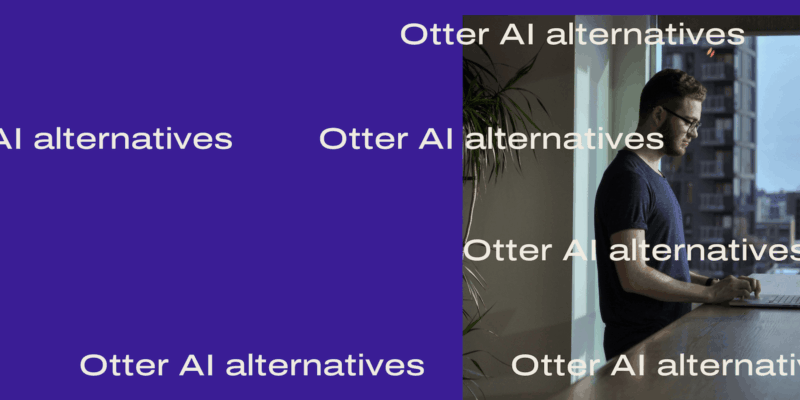 If you're in online meetings and phone calls all day, note-taking is likely one of those tasks that someone on the call has to do, but isn't really a very good use of that person's time.
Well, if you're thinking of using Otter.ai, you've probably already decided that you'd rather not spend your time jotting down memos and meeting notes.
But for whatever reason, maybe you're wondering what other note-taking automation tools are out there. If the question on your mind is, "Is there a better alternative to Otter.ai?", then we'll be a little bold here and say "yes"—if your business is looking for two things in particular.
If your business doesn't care about these two things, then Otter.ai may very well be a fine choice for your team.
So, what are these two things? Keep reading to find out.
What is Otter.ai?
Otter.ai is essentially a note-taking software that transcribes voice conversations. (Learn more about AI transcription accuracy and why it can be so challenging.)
The goal is to free you from manual note-taking during meetings. To do this, Otter.ai uses speech-to-text technology, artificial intelligence, and machine learning to generate transcriptions. This is how many other similar apps do transcriptions, as we'll see in just a bit.
Otter.ai became much more well-known after it announced a partnership with Zoom, which adds its transcription abilities to Zoom's video conferencing software. (However, you only get a few free transcriptions—unless you pay for one of the more premium plans.)
Why might you want an alternative to Otter.ai?
Though Otter.ai is one of the better known note-taking tools out there and is generally a good tool, there are a few reasons why some businesses may want an alternative.
Here are the three main reasons.
You don't want to pay for a separate tool
One key reason why you might want to look for an Otter.ai alternative is because you want a fully integrated business communications platform.
Otter.ai is still a separate tool that has to be bolted on or paid for separately, instead of a feature that's built right into your business phone system or communications platform.
And it's not only about the additional expense. As well as spending more, it also adds an extra step to your workflow and means you have to maintain and manage yet another tool in your tech stack.
With some UCaaS (Unified Communications as a Service) solutions, though, live transcriptions are built right in, meaning you don't have to take all these extra steps to set up transcriptions.
Dialpad, for example, includes its Dialpad Ai technology, which does the real-time transcriptions for you, in every tier of its paid plans.
That means you can get real-time transcriptions baked right into your cloud phone system or contact center, starting at $15 per user per month. (And even the least expensive plan comes with pretty much everything your average business needs in terms of communications—more on that in a minute.)
You want better support
According to their website, Otter.ai only has email support1 whereas most communication solutions providers provide other ways to get support too, like by live chat and phone. Admittedly, for some providers, you'll need to be on higher pricing tiers to really unlock the "full suite" of support (basically 24/7 support across phone, email, and live chat), but at least you have the option. It looks like you don't have that option with Otter.ai (and the website doesn't show if you get 24/7 or even 24/5 support for any of the plans either).
You want the best value for money
If you're like most people, you want to get the best value for money from your investment. Otter.ai does have a free plan that gives you 600 minutes of free transcription per month1, but you only get a maximum transcription duration of 30 minutes per meeting. Which means if you have longer meetings than this… you're going to have to bump it up to the paid plan.
Of course, you could opt for one of Otter.ai's paid plans, which include more advanced features. But, it's important to note that their paid plans start at $8.33 per month and go up to $20 or more per month. That's half of what you would pay for something like Dialpad, which starts at $15 per user per month—and gives you a full-fledged communications platform and built-in cloud phone system.
For that small-business-friendly $15 a month, you get:
It's a slightly higher price tag at first blush, but it essentially lets you cover all your communication channels in one simple plan.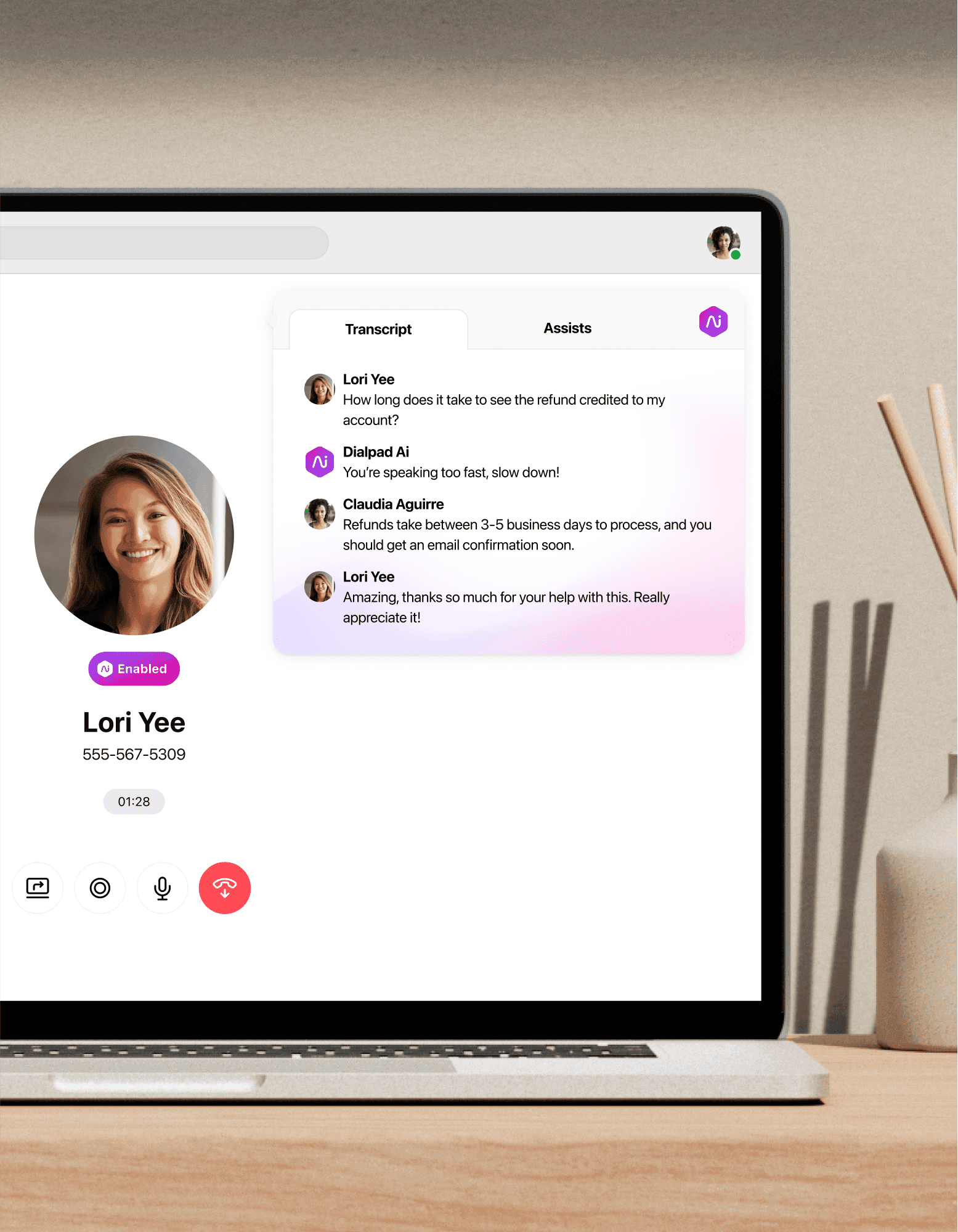 "We love the transcription service with Dialpad. We transcribe calls, find opportunities for improvement, and have been effectively doubling the demos-to-calls ratio with better analytics and more sophisticated analytics."
Scott Hansen
Founder and CEO at LeadSigma
👉 Did you know:
Transcription services and apps don't necessarily need voice recognition technology to distinguish between speakers in your calls or meetings! They can differentiate between speakers in a transcript simply by detecting which attendee or user in the meeting was speaking.
The 14 top Otter.ai alternatives, categorized
To make the list a little easier to digest, I broke down these Otter.ai alternatives by category: best overall, best pay-as-you-go plans, and best free plans (the caveat being, of course, that features and quantity of transcriptions will likely be very limited for any free plans).
If you literally have $0 budget or just have one or two meetings per week or per month, Category C (the free plans) may end up being a good fit, but really, many of the options in Category A are also very affordable.
Category A: The best overall Otter.ai alternatives
When we say "best overall," we mean that taking into account the overall pricing and IT admin / management experience, these transcription services and apps give you the most robust feature sets and best user experience. Let's look at Category A.
1. Dialpad: A unified communications platform with fully integrated transcriptions

Okay, yes, you're reading this on the Dialpad blog and we're a little biased.
But if what you're looking for is a simple app or platform that automatically transcribes your meetings and calls—in real time—then Dialpad is objectively a great option.
The main reason is it's a unified communications platform that gives you phone calls, video conferencing, and messaging all in one desktop or mobile app—if you mainly want to transcribe your meetings and calls, then Dialpad can do exactly that.
And the most important thing: its transcriptions are built in. Dialpad has its own artificial intelligence team of engineers, analysts, and linguists (which is surprisingly pretty rare!) that's constantly working on improving its automatic speech recognition and AI—or as we call it, Dialpad Ai. You can also add jargon-y or niche words to your company dictionary so that Dialpad can pick them up as it transcribes.
This is a big difference compared to most other communications platforms and business phone systems because they tack on transcription services as an add-on, which means it's probably not integrated into your active call screen or designed in the same consistent user interface.
At the end of every call, Dialpad Ai automatically generates a call summary with a short recap in natural-sounding, language:

All the meeting attendees will get an email with meeting notes including this summary, a searchable transcript, and action items.
And beyond just transcribing calls—and voicemails!—Dialpad Ai does other things too—which contact center teams would especially appreciate…
For example, it can pick up on keywords and phrases that you want to track. Let's say you want to see how often customers are asking for refunds. You could create a "Custom Moment" in Dialpad that tracks whenever phrases and words like "refund" or "money back" come up:

Now, let's say you notice a spike in those occurrences, but you don't know why. No problem—you can click into the transcripts for those calls to get more context.
But that's not all Dialpad Ai can do! To go a step further, you can also create Real-Time Assist (RTA) cards that pop up automatically when those keywords are said. Got some new hires and agents who aren't familiar with your refunds policy? Just create an RTA card with tailored notes and set it to trigger on agents' screens when "refund" or "money back" is said on a call!
And then there's the live contact center sentiment analysis… Again, Dialpad Ai can not only transcribe but also pick up on keyword indicators that show if a customer is happy (or not).
What makes Dialpad a good alternative to Otter.ai?
One of the biggest advantages of going with a solution like Dialpad over Otter.ai is that you're getting a truly unified communications platform that works across iOS, PC, Mac, Android, iPhone, Microsoft, iPad, you name it. Phone calls, video conferencing, messaging, transcriptions—everything is included in one simple package.
No need to toggle between different apps constantly, no need to keep track of multiple invoices or manage multiple tools (which will keep your IT team happy).
All that being said, if you are considering switching up your phone system or streamlining your tech stack, Dialpad is one of the best alternatives to paying separately for Otter.ai. (And if you have a customer support or contact center team, that's an even bigger benefit of going with Dialpad since it also has a fully integrated cloud contact center platform.)
For certain industries like law and real estate, this is especially important. "Our brokers are on the phone all day," says Carmen Perkins, Executive Vice President at CIVITAS, a commercial real estate business. "Dialpad makes it easy to screen, track inquiries on listings by property, log every touchpoint into Salesforce, refer back to transcripts for critical property details, and quickly set up lines for new team members or offices."
What you get with Dialpad that you don't get with Otter.ai:
Better support: Dialpad offers 24/5 (at the lowest tier) and 24/7 (at every other higher tier) phone, live chat, and web support—worldwide. Otter.ai only offers email support (no business hours availability info provided).
Fully integrated platform: Dialpad's transcriptions are built right into its communications platform and come included with every paid plan. Otter.ai is best known currently for being an add-on to Zoom, but still limits your usage and isn't an integrated part of the software.
No limits to transcriptions: Even Otter.ai's more premium pricing plans have caps on the number of transcriptions and minutes. Dialpad doesn't cap your transcriptions—you can transcribe as many meetings for as many minutes as you like.
More integrations—Dialpad offers a wider range of integrations with third-party apps (like Dropbox, Salesforce, and so on) compared to Otter.ai—and it also has an open source API if you want to build your own custom integrations.
Pricing:
Dialpad plans are charged on a SaaS subscription basis with prices starting at $15 per user, per month for a Standard plan.
🤖 Fun fact:
Ever wonder how artificial intelligence tools know how to punctuate their transcriptions? Here's one of Dialpad's Applied Scientists on the AI team to show you how. How cool is that?
Looking for the best Otter.ai alternative?
Why not take Dialpad's unified communications platform for a spin? Book a demo with our team or, take a self-guided interactive tour to play with the app first!
2. Rev
Rev is a pretty well-known speech-to-text service (I've actually used it in previous companies where we needed to transcribe things like customer interviews and YouTube videos) that converts video and audio files into text.
From my experience, Rev has been pretty great, but the thing to note is that Rev is a service, not a software or app like Dialpad.
With Rev, you can choose between manual and automated transcription capabilities, alongside additional features like:
Timestamps

Verbatim transcription

Rush transcription
What makes it a good alternative to Otter.ai?
Rev has many features in common with Otter.ai including annotations, automatic transcription, file sharing, text editor, speech recognition, and more. But if you're looking for more in-depth training and support may prefer Rev to Otter.ai, since it has video-based training resources in addition to in-person, online, text-based, and webinar training.
Pricing:
Prices start at $1.25 per minute for Rev transcription services. Larger organizations can also opt for a Pro package based on custom pricing and volume discounts.2

🗒️ See what IT leaders look for in a communications platform
Grab the CIO Buyer's Guide, (written by our own CIO, who's done a lot of phone system shopping in her time!), which will walk you through what features to look for, nuances to pay attention to when comparing providers, and more!
3. Trint
Trint is another audio recording transcription software tool that converts speech, audio, and video to text. Some of its top features include:
Automated Speech Recognition (ASR)

Follow, verify, and edit your transcript using the Trint Editor

Real-time transcriptions
What makes it a good alternative to Otter.ai?
LIke Otter.ai, Trint can be added on to Zoom and is a separate transcription tool that you will have to pay for and manage in addition to your phone system or conferencing platform. Also similarly to Otter, Trint doesn't have a very wide selection of third-party integrations. It's not a dealbreaker, but it means that it might not always be possible to use Trint alongside your existing business apps.
Compared to Otter.ai, Trint does offer a greater range of options when it comes to customer support. As well as email support, Trint also gives you the option of a designated business hours support service. If you need translations, Trint has that as well, which is something that Otter.ai doesn't have.
Pricing:
Trint pricing plans start at $48 per user, per month, billed annually for a starter package, which is a pretty hefty price tag especially because it still has a cap on the amount of transcriptions you can have.3
4. Amberscript
Amberscript is an audio and video transcription service that converts speech to text, and that has a desktop and mobile app. Amberscript also offers a subtitling service (which you can pay for as a separate product) and what's cool about the company is it works closely with people who have hearing impairment to ensure that they are offering accessible services.
Top features include:
Automatic transcription

Manual transcription option

Automatic subtitles

Manual subtitling
What makes it a good alternative to Otter.ai?
Again, Amberscript offers better support services than Otter.ai, which provides only email support. With Amberscript, you'll have access to an online support team as well as business hours support, and it also has translations, unlike Otter.ai.
Pricing:
Amberscript offers both prepaid and subscription-based pricing plans. Pre-paid plans start at $15 for one hour of uploaded audio or video, while subscriptions start at $40 per month.4
Category B: Best pay-as-you-go plans
If you won't be needing to use transcriptions regularly and are just looking for one-off options, then the Otter.ai alternatives in Category B might be a better fit.
1. Sonix
Sonix is an automated audio and video conversion software solution that converts audio and video files to text using speech-to-text algorithms. The software can be used to transcribe calls, lectures, speeches, interviews, podcasts, and more. Again, like Otter.ai, it's a stand-alone transcription software, meaning that you'll need to purchase and manage it in addition to whatever phone system or video conferencing tool you're using.
Top features include:
In-browser transcript editor

Speaker labelling

Word-by-word timestamps

Text exports

Notes and comments
What makes it a good alternative to Otter.ai?
As with most of these Category B alternatives, if you're just looking for a one-off, pay-as-you-go transcription option, then that would really be the main reason why you'd choose these over Otter.ai.
The other factor is price, of course, but beyond that, many of the features are similar and you'd have to go line by line if you wanted to do a more granular comparison.
Pricing:
Sonix offers a pay-as-you-go transcription service charged at a rate of $10 per hour. Those looking for more frequent transcriptions and collaboration tools may benefit from the premium service, which costs $5 per hour plus an additional $22 per user per month.5
2. Happy Scribe
Happy Scribe is another automatic transcription and video subtitling platform offering automatic and manual transcription services.
Other functions and services include:
Voice recognition

Machine translation

Cross-platform imports

Collaborative workspace

Custom APIs and integrations
What makes it a good alternative to Otter.ai?
Unlike Otter.ai, Happy Scribe is also adapted for subtitles and captioning, which means that you can convert transcripts into closed captions and export them to a range of different formats.
And again, if you're happy to pay on a pay-per minute basis, then Happy Scribe can be an option for you, but it can add up quickly—the automatic transcription costs $0.20 per minute.
If you're planning on using transcription regularly for your conference calls and team meetings, it's probably going to be more cost-effective to just use a communications platform like Dialpad, which has unlimited transcription and note taking features built in.
Pricing:
$0.20 per minute for automatic transcriptions, $1.70 per minute for manual, human-authored transcriptions.6
3. SpeechText.ai
Speechtext.ai is an AI-powered audio and video transcription service that uses speech recognition technology.
With Speechtext.ai, you'll be able to generate speech-to-text conversions as well as direct audio transcriptions. Just upload an audio or video file, select a domain, generate a transcription, edit, and export using the in-house editing tools.
Top features include:
Speech-to-text technology

Speaker identification

Export transcript

Editing tools

Audio search engine
What makes it a good alternative to Otter.ai?
Both Otter.ai and Speechtext.ai offer very similar feature sets. The main difference is the pricing. Speechtext.ai works on a pay-as-you-go pricing model, meaning that there are no set monthly fees.
You just pay for what you use. Like with Otter.ai, if you're mainly looking to generate transcriptions from your calls and meetings, you'll need to also consider the additional expense that comes with purchasing a communications platform.
Pricing:
Pay-as-you-go starting at $10 for 180 transcription minutes.7
4. Temi
Temi is a speech-to-text transcription tool that uses advanced speech recognition software. To use Temi, users have to submit an audio or video file (any file type accepted). After five minutes, the transcription will be ready for review and editing with timestamps and speakers as standard.
Once you're ready to use Temi you can simply download, save, and export your transcript in your preferred file format.
Top features include:
Automated closed captioning

API builder

Transcribe notes automatically

Time-saving dashboard tool
What makes it a good alternative to Otter.ai?
Temi and Otter.ai offer very similar features, but Temi offers some integrations that aren't currently available on Otter.ai, including with Rambox and Shift.
One thing that's somewhat unique about Temi is that it's very DIY—it's not the flashiest tool out there, but you can edit your transcripts and get the transcriptions back within a few minutes if your audio is short. If you're looking for a bare-bones, super basic option, Temi might be a good option for you.
Pricing:
Temi is another pay-as-you-go style service. There's a free trial that gives you up to 45 minutes of free transcription, and after that, you'll pay $0.25 per audio minute.8
Category C: Best free plans
Is affordability your top priority? Here are the top $0 transcription software tools out there that stack up well against Otter.ai's limited free plan.
1.Fireflies.ai
Fireflies is a free meeting recording and transcription service, and compared to the other free-plan options out there, it's probably the most similar to Otter.ai in terms of the feature set.
Like Otter.ai, Firefly does not offer conference calling and video conferencing features, so you'll need to use it alongside a separate communications tool.
Top free features include:
Can be integrated with Zoom and other video conferencing software

3,000 minutes of team (not individual) storage
As you'd expect, though, the more interesting and unique features, like integrations with tools like CRMs, custom vocabulary terms, and searchable meeting transcripts are only available on the paid pricing plans.9
What makes it a good alternative to Otter.ai?
If for some reason you don't want to try Otter.ai's free plan, then Fireflies is the closest alternative. The transcription limits or caps are slightly different, so it's best to compare the pricing yourself and see which one fits your team's needs better.
Pricing:
Pricing starts from $0 per user, per month for the free plan. Paid plans start at $10 per user, per month when billed annually or $18 per user, per month paid monthly.9
2. Descript
Descript is all-in-one audiovisual editing software that allows you to collaborate on and edit recordings and scripts. One thing to note is that the tool is mainly designed for making podcasts and covers things like recording, transcription, and editing, with automatic and human-powered transcription capabilities.
Top features include:
Screen recording

Screen capture

Editing

Podcasting

Multi-user collaboration

File sharing
What makes it a good alternative to Otter.ai?
If you mainly want transcriptions for your podcast or video series, then Descript is hands down a better free alternative to Otter.ai. Because it's created specifically for a podcasting audience, its features are likely much more tailored to podcast-specific uses, like audio and video editing.
Pricing:
Plans start at $0 per month for Descript's free plan, including three hours of transcription plus full audio and video editing. Paid plans start at $12 per editor per month.10
3. Airgram
Airgram is a (currently) free meeting productivity tool that lets you transcribe, document, and record your communications. Like Dialpad and some other options on this list, Airgram works across Windows and Mac, desktop and mobile devices.
Top features include:
Integration with Google Meet and Zoom

Discussion timers

Action items

Note taking

Live transcription

Generate meeting highlights
What makes it a good alternative to Otter.ai?
Airgram may be a good free alternative to Otter.ai if you're looking for translation capabilities too. It's actually pretty similar to Otter.ai in that it's an add-on to your video conferencing software, but it does handle other "meeting productivity" tasks too like an agenda feature.
That said, if you have phone calls or conference calls in addition to video meetings, then you can really streamline your tools by choosing a communications platform that has transcription services built in.
Pricing:
Airgram is a free service that will soon introduce an additional tiered pricing model for teams and individuals looking to mobilize upgraded services.11
4. oTranscribe
oTranscribe is a free web application that transcribes pre-recorded audio and video files. With oTranscribe, you can pause, rewind, and fast forward, generate interactive timestamps throughout your transcript, and automatically save your transcripts to your browser storage instantly.
Top features include:
Pause, rewind, and fast forward

Interactive timestamps

Auto save

Export to Google Docs, Plain Text, or Markdown

Video file support with an integrated video player
What makes it a good alternative to Otter.ai?
oTranscribe is a much more affordable option since it's, well, free—and its use case is very straightforward. Want to transcribe a recording? Use oTranscribe for it. It's basic, but that also makes it very simple and uncomplicated.
One downside is oTranscribe only works on desktop computers, meaning that it's not quite as flexible as other tools offering the same transcription services. (Meaning if you want to transcribe calls and video meetings on iPhone, iPad, or Android, you might want to consider Dialpad or Otter.ai instead.)
Pricing:
Free
5. 360Converter
360Converter is very similar to oTranscribe, and it got edged out by one spot on this list because oTranscribe's user interface is a little cleaner and more modern. As you might expect, 360Converter is extremely bare-bones (even more so than Temi above) compared to some of the Category A and B tools, and its website basically lets you upload video, audio, and speech files, which it'll use to create the transcriptions.
Top features include:
Video transcription

Audio transcription

Speech and voice file transcription

Works with local files, internet files, and cloud storage
What makes it a good alternative to Otter.ai?
Unlike Otter.ai, 360Converter looks like it's a fully free transcription tool, and also provides a YouTube converter and an offline transcriber for local video, audio, or YouTube files. The offline version of the software can be installed locally on any device and means that users don't have to wait in any transcription queues.
This is again, fully dependent on your use case. If you just want to transcribe existing audio or video files, 360Converter can work. But if you want live transcriptions of your meetings, then Dialpad or Otter.ai would actually be the better option.
Pricing:
Free
6. Dictation.io
Finally, Dictation.io is a free online dictation tool that also offers real-time multilingual transcription and voice-to-text features. What is unique about Dictation.io compared to the other options on this list is that it's mainly a voice dictation tool—not a meeting transcription tool, though you can twist the use case for it if you really wanted to force it.
Top features include:
Add paragraphs, punctuation marks, and special characters through voice commands

Accurate speech recognition (which Dialpad actually outperforms)
What makes it a good alternative to Otter.ai?
If you're looking for a simple voice dictation tool that works on Windows, Max, and Linux, then Dictation.io might be a good option. You'll also have access to online support and online training when using the platform.
Again, if you have a super narrow use case like this, then Otter.ai may be overkill and you could probably get away with a free tool like Dictation.io
In most cases though, an option from Category A or B might be better, especially for business use.
Pricing:
Free
What's the best Otter.AI alternative for your transcription needs?
There are tons of transcription tools out there that can help you turn your meetings and calls into text-based resources. The best one for your team or business will really depend on what you're looking for.
Try to consider your daily communications and workflows holistically. Do you need to transcribe prerecorded video and audio? Do you need translations?
If you just need something that can transcribe your calls and online meetings in real-time, then Dialpad and Otter.ai are probably two of the best tools out there for this.
And if you'd rather have a transcription feature that's built directly into your phone system or video conferencing platform, then Dialpad's pricing plans are affordable enough for small businesses, and robust enough for enterprise-size organizations. (Check them out here.)
Real-time transcription, built right into your video meetings and conference calls
Sign up for a 14-day free trial to see how it can work for your team! It takes just a few minutes, and you'll even get set up with a virtual business number. Or, take a self-guided interactive tour of the app first!
1otter.ai/pricing
2​​enterprise.rev.com/plans
3app.trint.com/plans
4amberscript.com/en/pricing/
5sonix.ai/pricing
6happyscribe.com/pricing
7speechtext.ai/#pricing
8temi.com
9fireflies.ai/pricing
10descript.com/pricing
11airgram.io/pricing