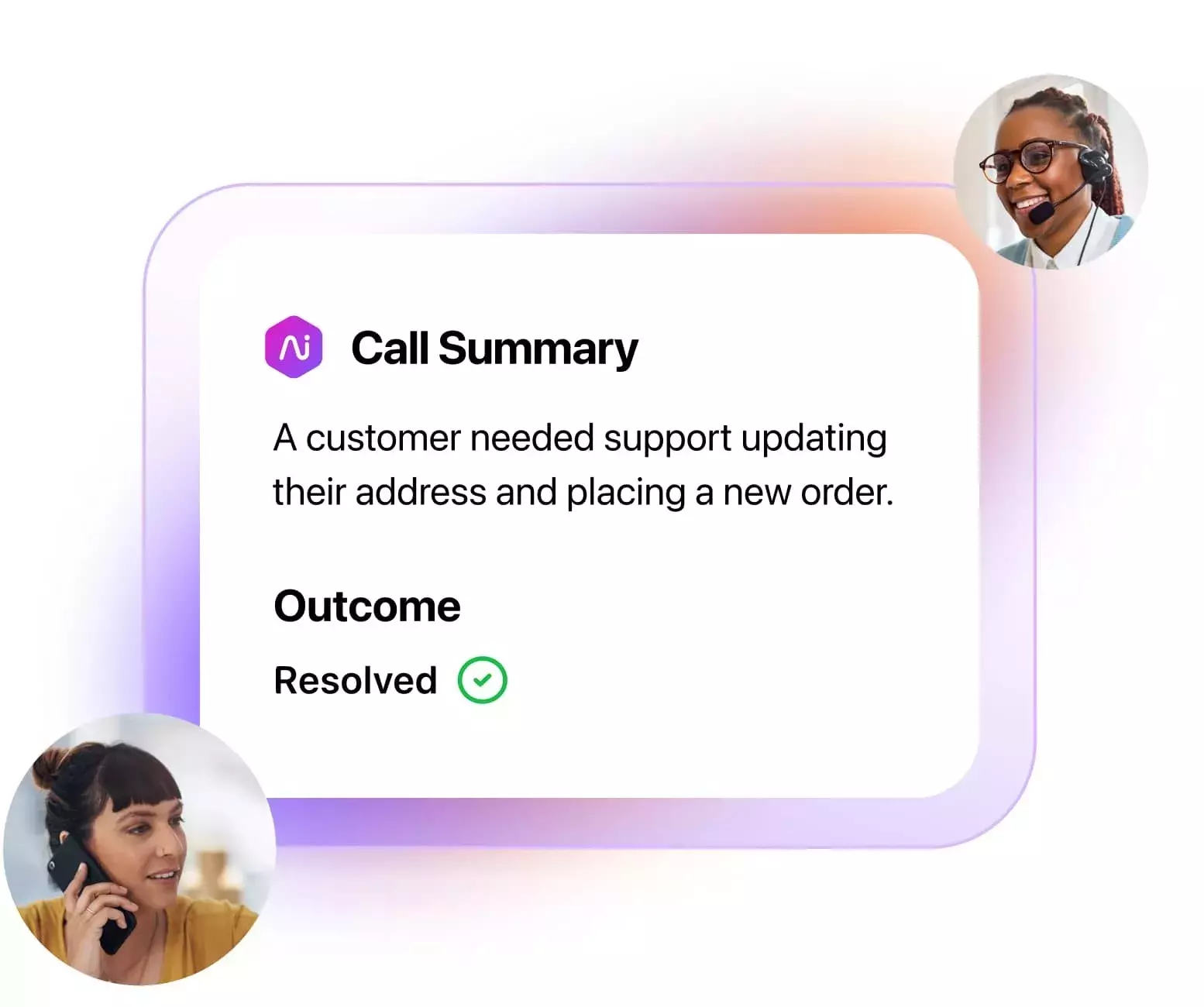 Meeting notes app
Looking for a meeting notes app? Why pay for a separate tool when your business communications platform can take notes for you? That's exactly what Dialpad's AI-powered collaboration platform can do. It takes just a few minutes to try it free with a trial, and you'll be set up with a virtual phone number too.
Sign up for a 14-day free trial!
How do conventional meeting notes apps work?
Whether you're taking part in face-to-face or virtual team meetings, it's useful to have some way of keeping track of what's been said. It lets you keep a record of what was discussed and what decisions were made, and also helps your team collaborate and follow up after the meeting. That's where a meeting note-taking app can be very handy.
Conventional meeting apps typically let you type notes into them while your meeting is happening. Some of the good ones will have cute organization functionality that lets you sort through your different meeting notes files.
But that's the thing. You still have to write down / type those notes yourself.
What if your meeting notes app could transcribe what's being discussed—in real time—and even log action items for you?
What if the "best meeting minutes app" wasn't just a meeting notes app?
More than just a meeting notes app
Dialpad isn't just a note-taking app or business phone system. It's a collaboration and customer engagement platform that is powered by industry-leading AI and lets you handle pretty much any communication channel you use for work, no plugins or add-ons needed. Here's just a taste of what it can do.


Real-time transcription
Even the fastest typist who doesn't slack at all during meetings is probably still not quite as fast as a real-time voice transcription feature. And Dialpad can transcribe meetings—and customer calls—for you with a click or tap.
Instant post-call summary
The best part? Dialpad automatically sends an AI-generated post-call summary to all the attendees, along with a transcript, follow-up action items, and the audio recording (if you turned on call recording). The best part? The transcript is searchable, so even if you only remember a specific word or phrase, you can just plug it into the search bar and skip to that part of the transcript or recording in seconds.

Works across desktop + mobile
Not every team member uses the same devices. With Dialpad, you can work from anywhere, no matter what computer or smartphone you're on. From Android to PC, to Mac to iOS devices like iPads and iPhones, it works on all of them.

All your communications in one place
Make phone calls, have video meetings, and send SMS/MMS and instant messages, all from Dialpad's desktop or mobile app. Or, just log in on a web browser—no downloads needed.

Robust security
Dialpad's customers range from healthcare practices to law firms and higher ed institutions. And a big reason for that is its in-meeting security controls and compliance certifications. HIPAA? You got it. GDPR? Of course.
Start having more productive meetings
Take Dialpad for a test drive now! It takes just a few minutes to sign up for a 14-day free trial, and you'll be set up with a virtual business number too. Or, book a personal walkthrough with our team!
"
If I know I'm going into a long conversation with a client, I can focus on the conversation because Dialpad will send me a transcript with highlights after the call. It saves me time, because typically with every client call, I'll go in and start dictating notes. Now I have the whole conversation available in text.
"
Steve Miller
Owner and Attorney, Miller Law Firm
A few more things businesses love about Dialpad
Integrations with your favorite tools
From meeting note apps like Evernote to everyday tools like Google Docs, Google Calendar, and Microsoft Outlook, Dialpad has a wide range of integrations that'll reduce the amount of data entry you have to do and streamline your workflows. Want to build your own custom integration? You can do that too with the API.
Easy setup
Whether you want to buy more phone numbers, add new users to Dialpad, or manage your voicemail settings, it's easy to do all of it right from your online dashboard. No need to contact a customer support team, no IT help needed.

Works around the world
Get excellent call quality, no matter where your team members are located, thanks to Dialpad's unique dual-cloud architecture and global voice network.
👉 But what does it actually do?
Learn more about what Dialpad Ai is doing for businesses and organizations across industries like healthcare, real estate, and higher ed.
Dialpad: Not just your average meeting minutes generator
Whether you're a startup or a global enterprise, Dialpad can make your meetings more productive and let you focus on the conversation instead of on taking notes, thanks to its meeting notes Ai and other advanced collaboration features.
Not only are all your communications gathered in one convenient place, it also gives you a robust digital workspace that connects you with team members, clients, prospects, partners, and more—around the world.
With a range of pricing plans that are cost-effective and flexible, Dialpad is designed for both nimble small businesses and Fortune 500 corporations. It's easy to use, easy to customize—and massively scalable. Try it out now!

Focus on the meeting, not meeting management
Book a personal walkthrough or take a self-guided interactive tour of the app first!
FAQs about meeting notes software
What is the difference between call notes and call summaries?
It really depends on who you ask, but for the most part, call notes and call summaries are pretty much the same thing.
If you're using Dialpad, for instance, your automated post-call summary will give you a convenient overview of everything that were discussed in a meeting—including a searchable transcript, the meeting recording (if recording was turned on), highlights and excerpts, action items, and more.
Most people would consider these your call notes.
Some folks do think of call notes as summaries written by humans, who took time to interpret things that were discussed and offer their own commentary and insights as well. Of course, this is a little different (and much harder to automate). But even if you prefer this type of manual note-taking, it's still helpful to have a meeting notes or transcription tool like Dialpad, which will let you review the recording and transcript as you draft up that summary. (Unless you're a very fast typist and don't need it at all, but that's pretty rare, even if you're working with templates.)

Do meeting transcription apps record entire conversations?
Will my privacy settings affect how meeting notes work?
What is included in Dialpad's meeting minutes?
Can I share the meeting notes with my team?
How do I keep track of my meeting notes?
Does Dialpad have integrations with other meeting transcription apps?
Can I create meeting minutes using any recording software?