Back to Blog
The best real estate dialers and how to choose the one for your business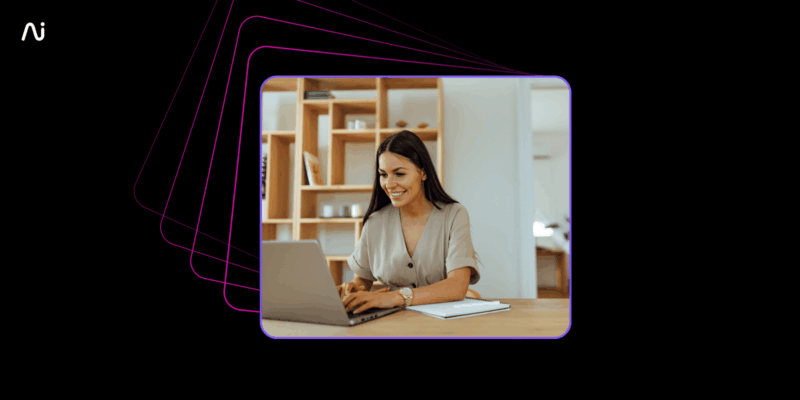 If you're a real estate agent who needs an efficient way to reach out to prospects and new clients, you need a good real estate dialer to do that. Otherwise, you're spending a ton of time manually dialing every day—time that you could be spending on an actual conversation with a new lead.
But what types of dialers are out there, and which ones should you use? In this blog post, we'll walk through what a dialer is and what it does, the different types of dialers available, key considerations when choosing the best dialer for real estate, and break down some of the top options for real estate dialers.
Let's get started.
What is a dialer?
A dialer is a type of software that's used to automate the process of making outbound calls. Besides real estate agents, there are many industries and roles that regularly use dialers, such as insurance, telemarketers, and other inside sales teams.
How it works: The dialer will automatically dial phone numbers from a list (usually this is your list of prospects), which allows the agent to reach out to more potential leads more quickly since they don't have to manually dial every single phone number.
If you're a busy agent and you've exhausted your door-knocking and email tactics, a dialer can be a useful type of real estate agent software because it lets you reach so many more people in less time than more traditional methods. Some dialer software will also let you track the progress and history of each call, which makes it easier for you to hone your approach, check back in on leads who didn't pick up, and improve your sales.
The different types of dialers
There are a few types of dialers—you'll likely come across power dialers, predictive dialers, progressive dialers… The list goes on. Let's look at some of the more common ones:
Power dialers can dramatically speed up your calling tasks by sequentially calling down a list of contacts one by one in rapid succession, until it reaches someone who answers the phone. If a number is busy, disconnected, or there's no answer, the power dialer immediately moves to the next call without any input from the agent.
Camino Financial, for instance, used Dialpad's Salesforce power dialer to reach a significantly higher number of leads than they used to.
"Prior to power dialing, we were only able to reach 25% of our leads fast enough," says Tania, their Senior Sales and Operations Manager. "It was taking too long, because it was a manual process. Then we got [Dialpad's] power dialer, and all of a sudden, we were able to start calling 80% of our leads within five minutes."
Predictive dialers are another type of automatic dialer software that uses algorithms to predict when an agent is available to make a call, and then automatically connects them with a prospect. The difference with a predictive dialer is that it can start dialing as the agent is finishing up their current call so that they can immediately start their next conversation as soon as they hang up. This is arguably even more efficient than a power dialer, but it can be stressful and overwhelming for agents who have no downtime between calls.
Progressive dialers are quite similar to power dialers—they won't dial multiple phone numbers simultaneously like predictive dialers, and will typically only start dialing once the agent is actually free.
Key considerations when choosing the best dialer for real estate
When it comes to choosing the best dialer for real estate, there are a few key considerations to keep in mind.
Price
First, consider your budget. Different dialers can have different price points and features available depending on how much you are willing to pay.
More importantly, though, real estate brokerages often overlook one factor when they're comparing the prices of software: the versatility of the software.
For example, if you're using a robust communications platform that comes with a dialer included, then you won't need to purchase a separate sales dialer. That would be less expensive, and also means less admin work for your IT team and less training for your team since they won't have to learn to use another piece of software.
Features
Second, think about what features you require from your real estate dialer. Do you need an automated system or would you prefer more manual control over your calls?
Will you need basic customer relationship management (CRM) tools or will more advanced ones be needed? Knowing what features are necessary for your business will help narrow down the search for the right dialer.
Integrations
On a related note, look at the integrations offered by each potential dialer. Many of them will offer integrations with CRMs and other business applications, making it easier to keep track of leads and customers across multiple platforms.
Dialpad, for instance, has a Salesforce power dialer that integrates its built-in AI features (like real-time voice transcription and call pops) with the CRM:


In fact, LemonBrew, a real estate insurance business, used Dialpad's dialer to make 57% more calls. "Dialpad saves us hours per day of just pure data entry time, because we can see in Salesforce who we called, access the recordings, and see exactly what we spoke about," says Jordan, Senior Product Manager at LemonBrew. "Having the power dialer and being able to more efficiently make calls helps us reach thousands of clients every day."
Compliance
Finally, make sure that your real estate dialer is secure and compliant with industry regulations you have to adhere to, such as GDPR and PCI DSS.
Real estate isn't quite like healthcare or law, but security is still a crucial factor when choosing a new tool for your business. Always check what measures each provider takes to protect data and ensure contact center compliance before committing to a contract.
4 top real estate dialers to consider
1. Dialpad Ai Sales
Dialpad is an AI-powered customer intelligence platform that comes with all your essential communications features included.
Need to make phone calls, have video meetings, or send SMS/MMS + team messages? You can do all of that from Dialpad's desktop or mobile app:


And of course, the Salesforce power dialer lets agents make calls much more quickly. You can even set up different dial lists depending on how you want your team to do outreach.
Education First, for example, has its managers set up dial lists containing Leads, Contacts, Opportunities, or Accounts and assign them to reps. Reps can then dial through these lists automatically without bringing up each record individually.
"We're making more outbound calls and more connections with people, and wasting less time dialing a number from a sheet of paper or Excel sheet," says Mike, their Senior Manager of People Operations. "We're easily saving 10 hours a week."
But beyond the basics of outbound dialing, what sets Dialpad apart is its industry-leading artificial intelligence: Dialpad Ai. Having analyzed over five billion minutes of business conversation data, it's purpose-built for business use.
Not only can it summarize your meetings in post-meeting call summaries:

It can also help your outbound agents by popping up helpful notes as they're talking to prospects on calls! The Ai Agent Assist feature can automatically search all your connected knowledge sources (including FAQ pages, Help Center articles, and even unstructured sources of information like PDF documents), and pulling helpful content for agents:

2. JustCall
JustCall is a cloud-based dialer system that helps real estate agents connect with more leads quickly and efficiently. It includes features such as automatic call distribution (ACD) which routes calls to your agents for you.
However, if you want a unified communications solution, you might want to skip JustCall because it doesn't have video calling or team messaging functionality—you'll have to pay extra for a separate app to communicate with teammates or prospects through those channels. (Learn more about the best JustCall alternatives.)
3. Kixie
Kixis is a bit unique in that it's a dialer solution that's marketed specifically toward sales teams, like the ones in real estate.
While it does have features such as call routing and call recording, like JustCall, it does not have video conferencing or screen sharing. So, if you sometimes need to show clients homes over a video call, you'd be out of luck with Kixie.
(Learn more about the top Kixie alternatives.)
4. CallHippo
CallHippo is a virtual phone system with a power dialer. Again though, there's no video conferencing feature, and you don't get call recordings included until you get on the second-most expensive pricing plan. More importantly, you don't get the power dialer feature until you're on the most expensive Platinum pricing plan.1
Generate more (and better) leads with the best real estate dialer
If you're doing a ton of outbound lead generation, then you should be using a real estate dialer because it will save you and your team hours potentially, every week.
This is an especially important consideration if your team is using a variety of disparate tools and apps for their daily communications. Instead of using one app for video calls, another for conference calls, and another piece of real estate dialer software, why not use a single platform that lets you do all of those things in a single window?
See how Dialpad lets you do exactly that!

Need a dialer for real estate?
See how you can reach more prospects and leads in less time with Dialpad Ai Sales. Book a demo with our team, or take a self-guided interactive tour of the app first!