Back to Blog
Kixie alternatives: Which is the best communication platform?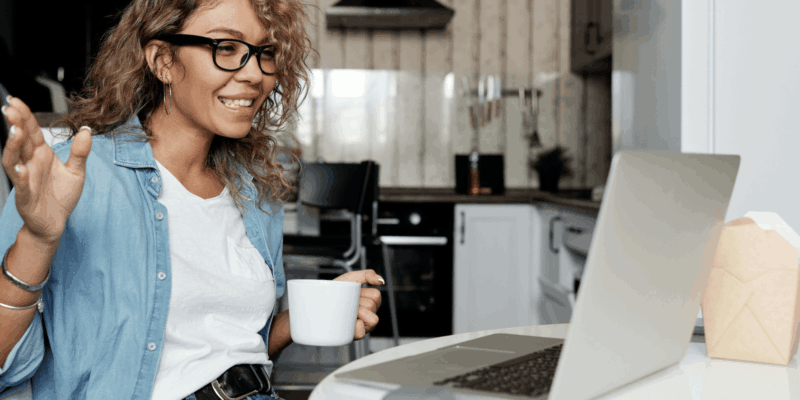 If you're in the market for a communications platform for your sales team, you might've heard of Kixie. Founded in 2013 and aimed specifically at small business sales teams, Kixie prides itself on its integrations with multiple customer relationship management tools (CRMs), ease of use, and attractive price points.
But is it right for you?
Personally, I think there are better Kixie alternatives on the market. In this post, I'll go over what exactly Kixie is, why sales teams might be better off with a different business communications provider, and what I believe the best alternatives are—along with my top pick (bet you can't guess what it is).
What is Kixie?
Kixie is a communications platform that offers small business sales teams a phone service, sales dialer, SMS messaging, and a contact center.
Its contact center features include call routing, lead management, auto-callback, and IVR. Kixie also supports several integrations, including HubSpot, Slack, and Salesforce.
Why might you need a Kixie alternative?
Sure, Kixie plans come with a decent amount of features. But you won't find everything your growing business needs—not even on their Enterprise plan. (And if you do need an Enterprise-level platform? Then you're definitely out of luck, feature-wise.)
That's because the technology Kixie's built on isn't mature enough, and its—although seemingly appropriate—small business focus won't give you the scalability your business needs as it grows.
Below, I'll go over some common scenarios where Kixie falls short:
You want a communications platform for your non-sales teams
Kixie makes no secret of being for sales teams. But what if other teams in your business need a reliable, feature-rich communications platform, too? (Spoiler alert: They do.)
If you've chosen Kixie for your sales team, you'll have to select (and pay for) something else for your other teams. Who needs that extra hassle and expense? The alternative: Use a platform like Dialpad that'll help streamline communications across your entire org:


It's not just the ease and convenience of only having one solution, either. Being purely sales-focused, Kixie is also missing some pretty important features. Most notably, there's no video conferencing. That's huge for most teams in your business—including Sales.

The ability to screen share and have video meetings is important to sales reps because it helps them create closer connections with prospects. And with Dialpad, it's possible with just a quick text. You can simply SMS a meeting link and the prospect can join your virtual meeting room from their smartphone browser—no download required. Kixie can't do that.
You want something that's more cost-effective
Obviously, it's more financially viable to have one communication platform for your whole organization than multiple. But that's not the only reason why opting for Kixie may not be the most cost-effective choice.
For example, on top of the subscription fee starting at $35 per month for the Integrated plan, Kixie also charges for outbound texting ($7 per 1000 texts).1
You want to scale your business
As your business grows, you'll need to make changes and upgrades, especially when it comes to your unified communications platform.
For example, as your company increases in size, you'll need to hire more salespeople. Onboarding new hires can be difficult, but you can provide real-time support to new team members with live call coaching.
Kixie offers live call coaching, but only on their higher-tier plans, which start at $95 a month.2 For comparison purposes, Dialpad offers real-time speech coaching on all plans, with the Standard plan starting at just $15 per user per month.
Scaling up doesn't have to mean spending more—it just means you have to spend smarter.
You need to enhance your overall processes with AI
Artificial Intelligence (AI) is changing the way everyone does business. AI tools unify business solutions, making everyone's jobs easier and more efficient.
Kixie has some AI tools, focused mostly on scheduled automation and auto calls. However, these features, including custom automation, are only available on its higher-tier plans. And to be frank, Kixie's AI doesn't really power the platform in any meaningful way.
With Dialpad, on the other hand, our built-in AI is woven throughout the software to benefit every function. Call routing, call tracking, and power dialers can transform your contact center, sales team, and rep productivity.
Real-time call transcripts? Check.
The ability to track sentiment trends to see how your customers feel about specific topics? Check.

You need more integrations with popular tools
This is an easy one—you want the tools you already use and the opportunity to use new ones. So the unified communications system you choose needs to offer a lot of integrations, no matter your price point.
Kixie offers 30+ integrations with popular apps like HubSpot, Pipedrive, Salesforce, and Zapier. But you don't get access to apps like Google Workspace and Microsoft 365, not to mention a host of other popular apps.
Dialpad's App Marketplace gives you access to Google Workspace and Microsoft 365 (even on the most basic plan) and dozens of other apps that teams outside of Sales would use, including Evernote, Azure, Front, Playvox QM, HappyFox, and OneLogin.

Basically, if you need more integrations, there are better options than Kixie.
5 Kixie alternatives and how they measure up
So what are your options? Here are five potential Kixie alternatives (starting with my top pick):
1. Dialpad: Robust unified communication platform with built-in Ai

What makes Dialpad an excellent alternative to Kixie?
Dialpad gives you everything you need in one platform. Backed by its powerful Dialpad Ai, Dialpad gives you dozens of features in addition to a phone system that can help you transform your workflows.
Best of all, Dialpad can be used from anywhere, on any device—whether it's on the mobile app, desktop app, or your web browser—making it perfect for today's hybrid workforce.
You can set up a contact center for a support team or sales team of any size, take advantage of chat, SMS, click-to-call, speech analytics, and free video conferencing, and set up popular self-service options.
Kixie gives you a power dialer and some additional features and integrations, but with Dialpad, you're getting a more holistic communications solution.
What you get with Dialpad that you don't get with Kixie
Easy call routing
Call routing can save your business a lot of time and money. What used to be done by a person can easily be accomplished with a decent call routing system.
With Dialpad, you have a number of different options when you set up your call routing. You can set it up according to a rep's skill level, who's been idle longest, or in a fixed order. You can set up rules for specific departments and even create custom greetings detailing routing options for customers.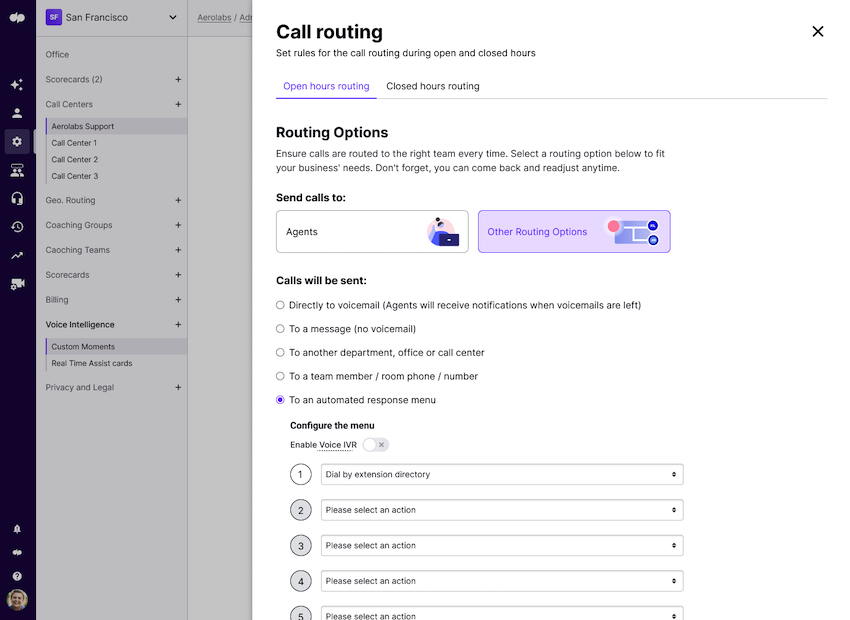 24/7 support, globally
For $35 a month, you get email support from Kixie. For $65 a month, you get phone and email support. That's a lot of money for basic support options.
When you sign up with Dialpad, you get 24/5 support through chat and web right out the gate and 24/7 coverage with phone support when you sign up for the Pro and Enterprise plans—with the Pro plan priced at $25 a month per user.
Prefer to figure it out on your own, or need help outside of support hours? Dialpad has you covered with its robust Help Center, filled with guides and how-to videos.
Ai-powered features—Real-time transcriptions, meeting recaps, and more
Kixie isn't powered by AI. Dialpad Ai, meanwhile, adds a whole host of invaluable features to your communications platform. Foremost among these are real-time transcriptions, an informative post-call summary straight to your inbox, and sentiment analysis as a call progresses:


Dialpad's real-time transcriptions are more accurate than almost all competitors out there and, in combination with call recording, can prove a godsend for training. Post-call summaries are packed with useful insights like action items and keywords. And sentiment analysis lets you stay across how calls are going in real-time and decide if you need to offer your staff more support or even barge in and take over.
Custom caller IDs
With Dialpad, you have the option to choose which caller ID to show when you're making a call. This lets you use multiple numbers with different purposes on almost any device, including iOS and Android phones. For example, if you want to call a prospect you've been talking to, you can use your department's phone number, even if you're making the outbound call from your personal cell phone.
You can toggle between different numbers at your convenience and even block your caller ID if needed.
2. JustCall
What makes it a good alternative to Kixie?
With JustCall, you get a number of features you can't get with Kixie. JustCall is a contact center system that includes a phone system, local presence package, and power dialer. In contrast to Kixie, JustCall also claims to have speech analytics and sales AI features, though it's not clear how sophisticated its AI technology is or whether it's built in-house (or tacked onto the platform through a third-party provider).
Keep in mind though, JustCall doesn't have built-in video conferencing or team messaging, so any team collaboration will be limited and will require additional software for a unified communications system.3 (Learn more about the best JustCall alternatives.)
Pricing
JustCall's pricing starts at $24 per user per month for the Standard plan, then goes up to the Premium plan at $48, then an Enterprise plan with custom pricing.4
3. CallHippo
What makes it a good alternative to Kixie?
CallHippo, like many of the other alternatives to Kixie, provides a virtual phone number that can be used in conjunction with existing phones or softphones, eliminating the need for additional telephone services.
CallHippo includes a number of features like call recording, call transfer, and custom messages. CallHippo also offers built-in CRM integrations with Zapier, Slack, Zoho, and others.
At the same time, CallHippo lacks some features you may be looking for in a phone system. CallHippo has no video conferencing functionality and its collaboration tools are limited. Unfortunately, that means you'll need to sign up for additional services and toggle between multiple apps to get work done. Occasional low voice quality on calls is also a gripe of some CallHippo users.5
Pricing
CallHippo has three office phone system tiers: Starter, Professional, and Ultimate. The Starter plan is priced at $30 per user per month, the Professional plan is $38 per user per month, and the Ultimate is $42 per user per month.6
4. Aircall
What makes it a good alternative to Kixie?
Aircall bills itself as "call center software for customer-centric teams." Its platform includes a phone system, collaborative tools, and of course, call center features. Among other features, Aircall has call scripting, a predictive dialer, and campaign management, which Kixie doesn't have.
Other Aircall features include toll-free numbers, call monitoring, call queuing for inbound calls, and CRM software integrations.
There are some significant features Aircall is missing, however. For example, there aren't any video conferencing capabilities, so you can't click from a phone call into a video conference, limiting your remote and hybrid work options. There's also no AI, which means none of the real-time transcription or sentiment analysis features I mentioned when discussing Dialpad.
A big one for sales teams, too, Aircall is also missing a voicemail drop feature. If salespeople want to leave a voicemail, then, they have to do it the old-fashioned way. Not a big deal for leaving one message, but a real-time drain if you're having to leave dozens a day.
Pricing
Aircall has a three-tiered pricing plan that includes the following plans: Essentials, Professional, and Custom. The Essentials plan is $30 per user per month, the Professional plan is $50 per user per month, and the Custom plan bills itself as a customized package for your business needs and to call for details.7
5. CloudTalk
What makes it a good alternative to Kixie?
CloudTalk is cloud-based call center software that has a leg up on Kixie in many departments. CloudTalk, like several of our other alternatives, features a predictive dialer that will automatically dial the next contact. Kixie requires users to click on their next call when using their sales dialer.
In addition to that difference, CloudTalk also features several tools that Kixie lacks, including conference calling, a dedicated onboarding and support manager, skill-based routing, and advanced analytics.
However, if Azure, Evernote, or Zoom are integral to your workflow, you don't want to choose CloudTalk. CloudTalk, as I write this, only offers 37 integrations, which means some of your favorites might be missing. If you're often on the move, too, CloudTalk may not be your best option as some users have found the mobile app to be considerably less user-friendly than its desktop counterpart.8
Pricing
CloudTalk's pricing plans feature four tiers: Starter, Essential, Expert, and Custom. The Starter plan is $25 per user per month, the Essential plan is $30 per user per month, the Expert plan is $50 per user per month (all when billed annually), and the Custom plan specifies to contact CloudTalk for a "tailor-made offer."9
Dialpad: The best Kixie competitor
All in all, you could go with Kixie, CloudTalk, or Aircall and be perfectly satisfied with your choice. But if you want to equip your sales reps with powerful Ai features and also have a communications platform for the rest of your company's teams, you need to choose the Kixie alternative that gives you everything you're looking for now—and what you'll need in the future—at the right price.
And by that, I mean Dialpad.
With Dialpad, whether you're a small business or a worldwide enterprise, you have access to a truly unified communications system that allows your team to communicate in one workspace. Not to mention the only provider to be named a Leader in G2's UCaaS, VoIP, CCaaS, and conferencing categories.

Try the best Kixie alternative (that's still affordable)!
Make phone calls, have video meetings, send instant + SMS/MMS messaging, and handle all your outbound sales communications too—all in one beautiful platform. Try it free for 14 days! Signup takes just a few minutes, and you'll be set up with a virtual phone number too. Or, take a self-guided interactive tour of the app first!
1, 2kixie.com/pricing/

3, 4justcall.io/pricing/

5g2.com/products/callhippo/reviews/callhippo-review-4717470
6callhippo.com/pricing/
7aircall.io/pricing/
8g2.com/products/cloudtalk/reviews/cloudtalk-review-5018108
9cloudtalk.io/pricing/