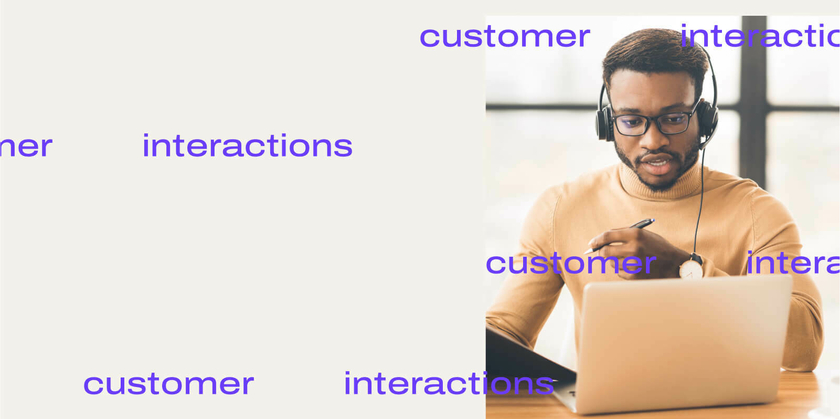 September 08, 2021
If your business has customers and prospects, then you're likely also having customer interactions.
But are you tracking these customer interactions, measuring them, and using them to improve your customer experience (and earn more money in the process)?
Often, we interact with customers every single day—and each of these conversations can hold valuable insights into what our customers want and don't want, how they perceive our brands, and more.
So, how can we make sure that not only are these interactions pleasant and efficient for our customers—but also valuable for our own learnings and improvement?
That's what I'll walk you through in this guide. Skip ahead if you like:
But first…
What is a customer interaction?
A customer interaction is pretty self-explanatory—it's any conversation or communication you have with a customer. There are a ton of different types of interactions including when customers reach out to your business with questions, complaints, praises, suggestions, and so on.
Customer interactions can also be proactive on your part. It doesn't always have to be the customer reaching out! For example, you emailing a customer to fill out a survey could also count as a customer interaction.
Customer interactions span every part of the customer journey
Awareness of the product
For example: The customer becomes aware of your product and uses their preferred channel to get more information about your company.
Evaluation by the customer
For example: Once the customer is aware of your company, they'll evaluate the suitability of your product and compare it to your competitors. (Maybe they'll ask for a demo.)
Investment
For example: At this stage, the customer has completed their evaluation and is ready to commit to your product. If it's a more complicated service or product, your Legal or Finance team might get involved.
Post-purchase experience
For example: After the customer has purchased your product, how can you make sure every interaction is positive and helps them get the most out of your product? Do you have a clear onboarding or setup process?
Upsell and cross-sell
For example: Do you forget about a customer after they've given you their credit card information? Or do you send them regular emails and surveys to stay in touch, or offer discounts to get them to make a repeat purchase? Maybe you have a referral program that rewards them for telling their friends or colleagues about your business.
The 5 most common customer interactions—and how to handle them
The good news is, most of the time, your customers will interact with you in pretty predictable ways. Specifically, these interactions will probably fall under one of these situations.
Questions from potential customers
Potential customers interested in your product will often reach out with questions before they commit to a purchase.
How to handle these interactions
Work with your sales team to understand your most frequently asked questions.
This one is pretty low pressure. No one is mad—people are just curious about your company and want to learn more about your products or services.
Having a good unified communications or contact center platform can be really helpful here.
For example, we use Dialpad Contact Center, which can transcribe all our customer conversations—in real time: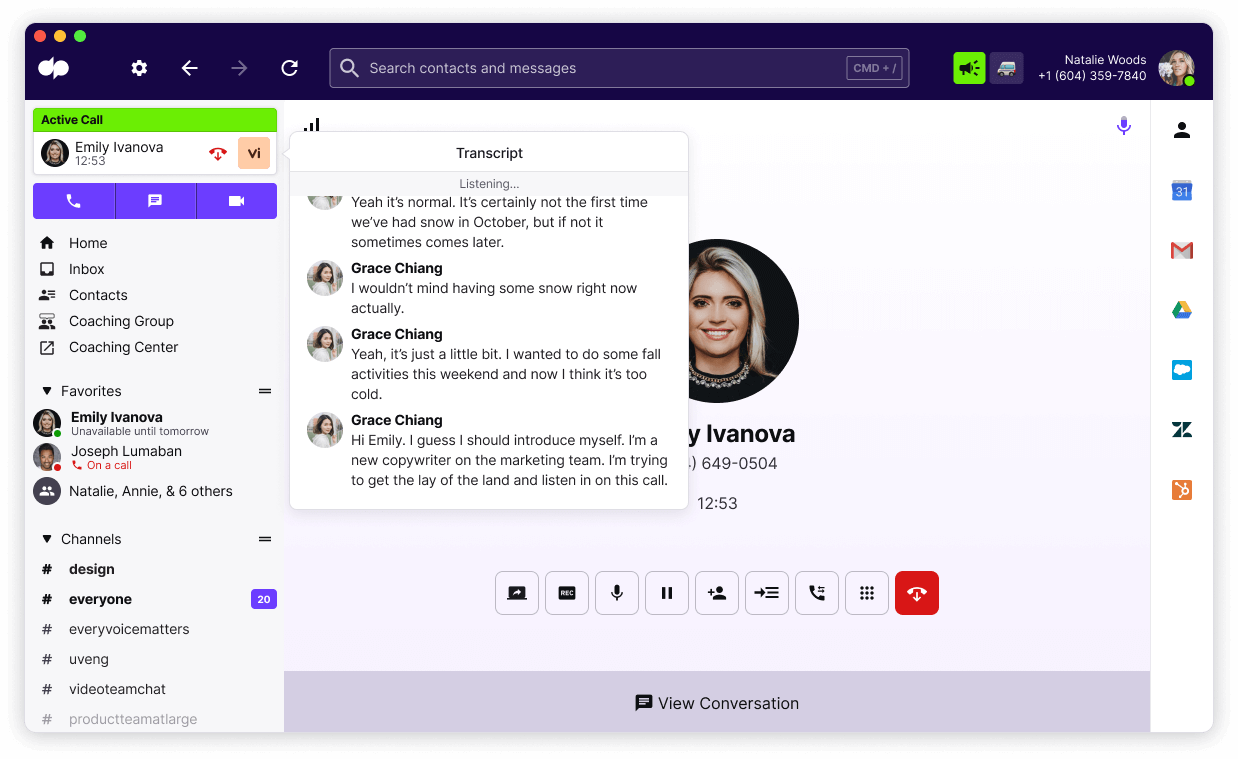 But not only that, it can also pick up on common phrases or words that come up in our customer interactions. For instance, if we wanted to understand why customers are asking for refunds, we can set up a "Custom Moment" in Dialpad to track every time "refund" or "money back" comes up in a conversation: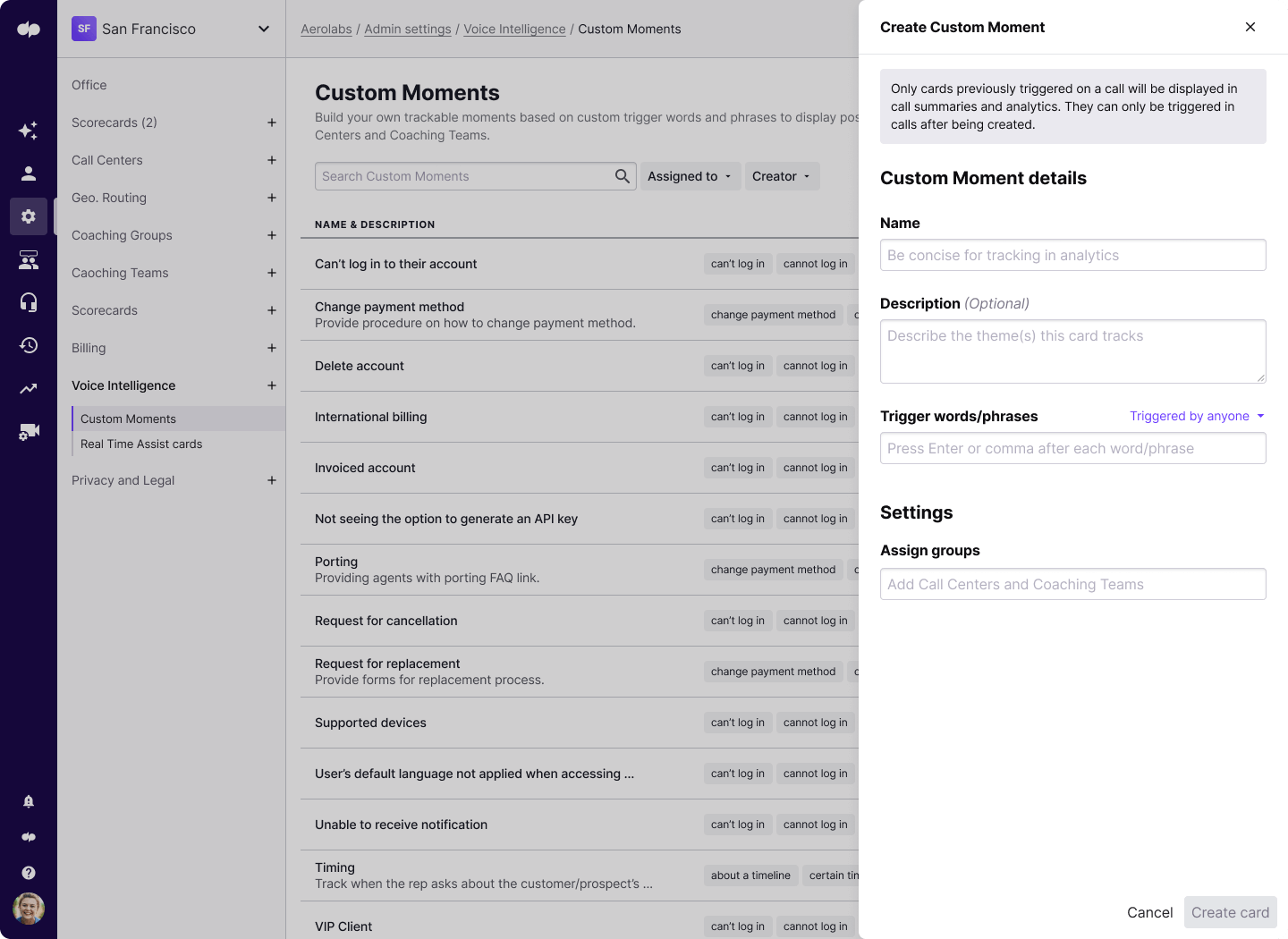 Make sure your website content is up-to-date
There are few things more frustrating than visiting a company's website, only to find their phone number isn't right or their product information hasn't been updated in two years.
If you're going to have a website, make sure that things like your contact, product, and pricing information are up-to-date.
New (and existing) customers who need help
New customers will often need help getting started with your product or service. And these first interactions are a great opportunity to make that user experience as easy for them as possible and start building those customer relationships.
How to handle these interactions
Make sure your support agents know everything about the product
If agents can answer customer questions without hesitation and get them the answers they need, customer relationships will flourish.
And if an agent doesn't have the answer at the tip of their tongue? Put it at the tips of their fingers with cheat sheets that pop up in real-time. Dialpad's real-time assist (RTA) cards can be set up to help agents with any tricky questions a customer may have: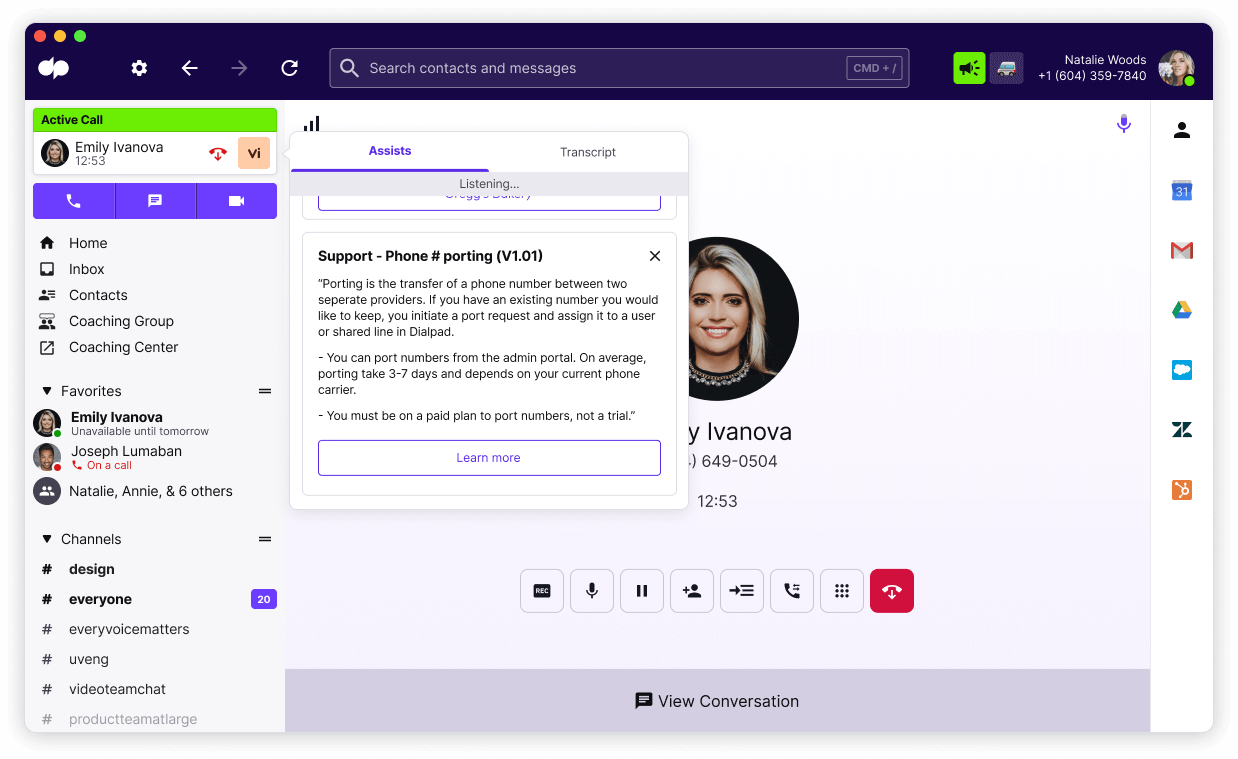 This way, they always know how to talk about every little tricky thing—without me having to personally coach every call!
Offer a combination of live chat and voice calls for customers
Chatbots are fine, but sometimes you just need to talk to a human. Often, customers will hit up live chat first to try to solve their issues—but what if it ends up being a more complicated problem?
Dialpad has an integration with Intercom that handles this kind of situation really well. If an agent is live chatting with a customer on Intercom, but needs to take it to a voice call, the integration lets them switch the conversation to a call instantly: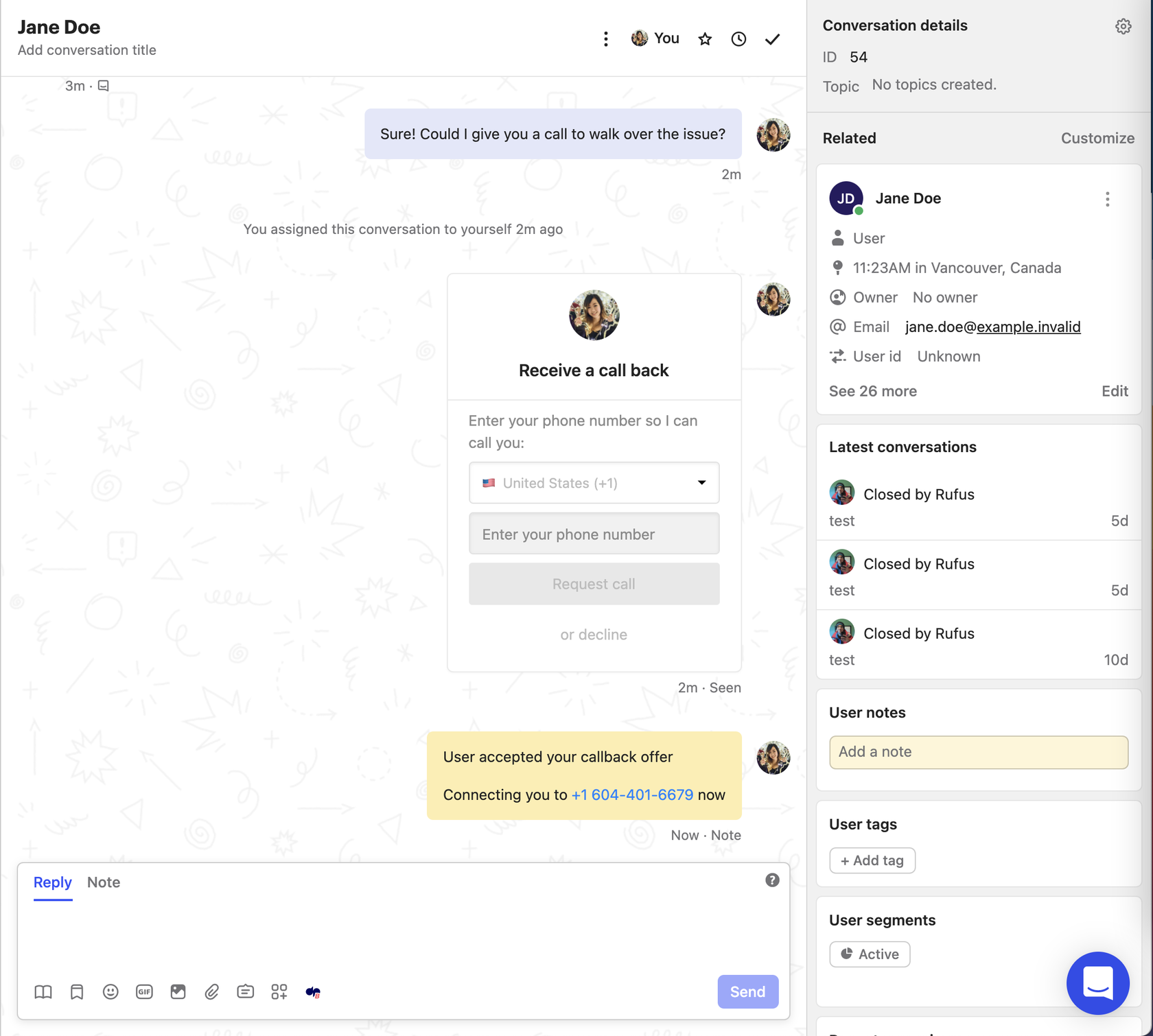 If you have a bit of a complicated product or service, it's always good to have different touchpoints that customers can use to communicate with you.

Suggestions for new features and functionalities
Make the most of customer feedback, especially when it comes to suggestions for your products. Your customers are likely using your product or service every day, which means they have deep knowledge about what works—and what doesn't.
How to handle these interactions
Know which suggestions to prioritize
Taking on a lot of suggestions can feel overwhelming. You don't want to disregard any customer ideas, but you probably won't be able to implement them all.
Prioritize suggestions based on their value and timeliness. For example, a request for new color combinations is probably not as urgent as a suggestion to update an out-of-date how-to page.
Organize the requests and take note of similar ones
Say you're getting lots of suggestions and requests every day. And many of them are about very similar things. How can you tell at a glance how many of these are "repeat" suggestions (and therefore, more popular and possibly more important to prioritize?
Custom Moments, of course! I mentioned this feature earlier but again, this can be handy for keeping track of customer concerns because I can see how frequently a certain suggestion is coming up over time: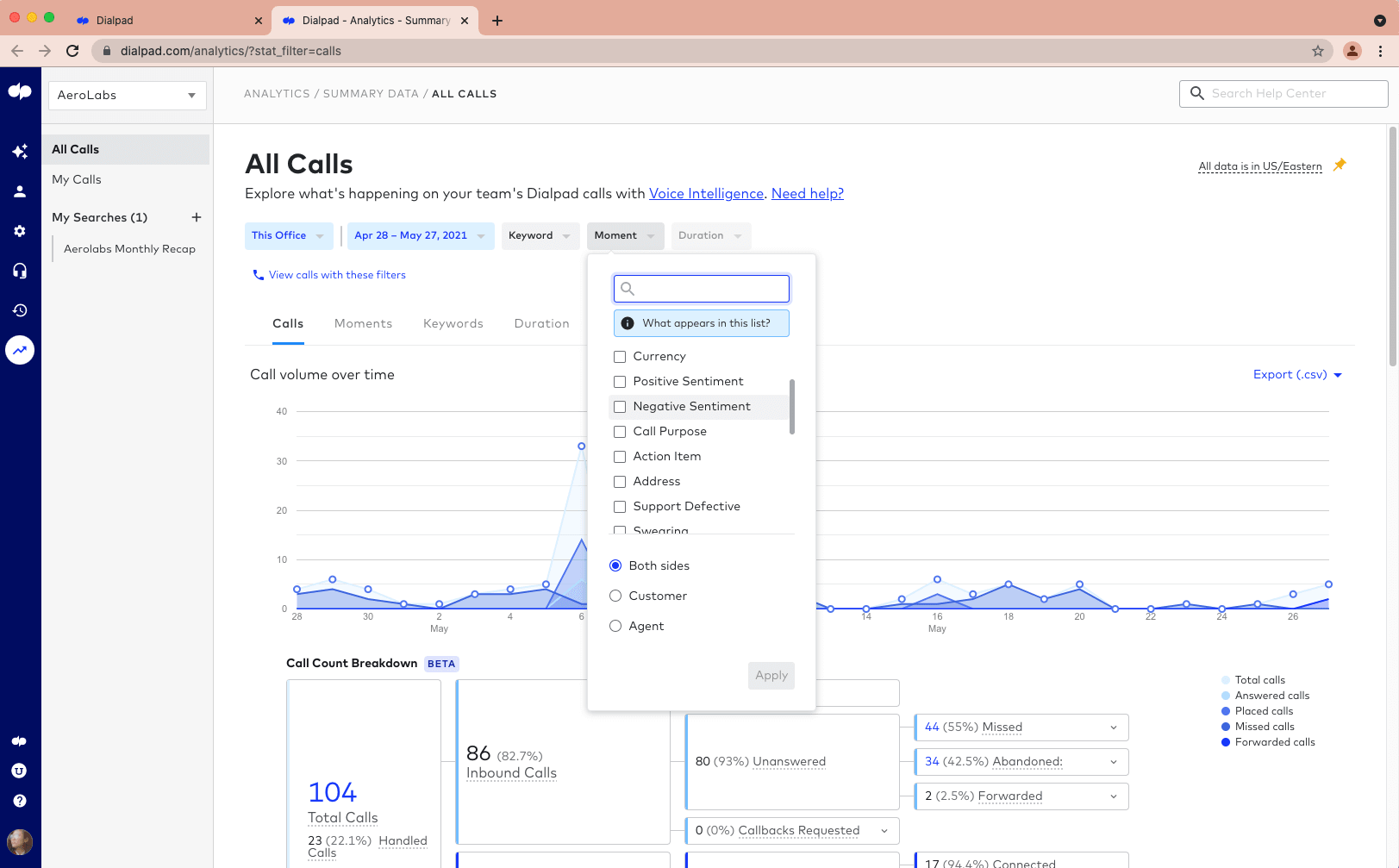 Keep the customer updated on their suggestion
Keeping customers in the loop about their suggestions will encourage more customer engagement. As their suggestion moves through the pipeline, follow up with customers and let them know.
Of course, you won't use every suggestion. When you table a customer suggestion, reach out and let them know why—"closing the loop," even if it's not the answer they necessarily wanted, is key to the customer experience and is generally better than just ghosting them or leaving them hanging because you're afraid of saying no.
Unhappy customers airing their complaints
No matter how well you run your company or how skilled your support team is, you're going to have unhappy customers who reach out to complain.
Make sure your agents are well-versed in handling negative client interactions. An employee who is short with a customer or doesn't show empathy will only make things worse. Set your employees up with training and help them build their active listening skills.
Other than the automations I mentioned above, Dialpad also has a neat customer sentiment analysis feature that shows me how calls are going in real time. If you're a contact center supervisor, this can be a lifesaver.
How it works: I can't listen in on every single customer call to make sure it's going well, but I can see a running list of active calls and the sentiment of each one.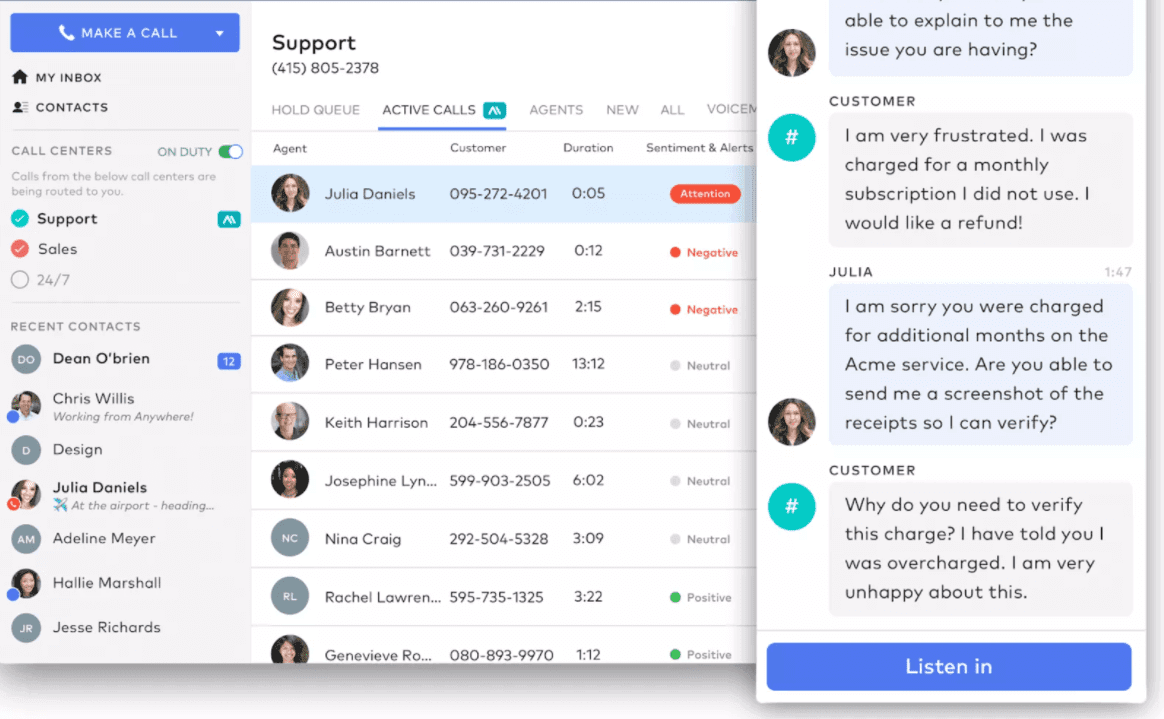 This way, I can see which calls have a negative sentiment, read the transcript (which gets updated in real time as the call is happening), and jump in if I'm needed.
How to handle these interactions
Show empathy and try to alleviate their frustration
Resolving any issue will require attentiveness, patience, and empathy. Before they even begin to solve the problem, a good customer support agent should be able to empathize with the customer's situation. This will go a long way towards calming an angry customer.
After the customer has aired their complaints, then you can begin to gauge the situation and determine a solution.
Offer to restore any losses incurred
Restoring losses with a refund or redo will show the customer you're genuinely interested in making things right. Saying all the nice things is, unfortunately, not always enough.
Sometimes a customer just wants to vent their frustrations. In other cases, compensation, like an upgrade to a higher-tiered plan can help to relieve the frustration. In the end, you just want to make sure your customer feels like they're being heard and action is being taken.
Let them know what efforts you are making to address the issue
Make sure your customer knows you're working on the problem, but if you can't offer them a solution right away, or it's a problem you need to investigate, be honest and let them know you'll follow up with them as soon as you have a solution.
It might be tempting to give a vague answer in these cases, but I find that customers usually find that unhelpful—if you really can't help them right now, tell them why and give them your best estimate for a resolution.
Loyal customers telling you they love you
And finally, my favorite: sometimes your customer interactions are easy and positive. If you've built strong customer relationships, your customer satisfaction scores will reflect it.
But that doesn't mean that you can just sit back and do nothing!
How to handle these interactions
Use customer data to personalize interactions
Customer expectations are always changing, and you should always be thinking about ways to make the experience better for your customer base. This is "behind the scenes" work, but it's essential for maintaining the customer lifecycle—and growing it over time.
For example, your customers might prefer interacting with you on certain channels or really love certain products. You can use that knowledge to nurture them over time and send them new products or deals based on what they like. (Ecommerce businesses have really mastered this.)
Establish a rewards program for loyal customers
10 stamps and you get a free ice cream, 20% off your purchase on your birthday—rewards programs are the ticket to any customer's heart.
You don't have to be in retail or hospitality to offer your customers something special. Here are a few types of rewards ideas to consider:
Birthday rewards

Customer anniversary rewards

Loyalty program with exclusive benefits

Points program
Your chances of getting a loyal, happy customer to upgrade a product or service are generally much higher than if you asked a first-time buyer to go with a more expensive option.
Encourage brand advocacy on social media
Encourage reviews on trusted sites and social media. Make it super simple for customers. Email them links to pages where they can fill these out, invite them to interact with you on social media channels, and consider a referral program to reward loyal brand advocates.
5 tips for creating a more positive customer experience
1. Choose transparency over inaccuracy
If you've (either you or your team or your company as a whole) made a mistake, it's generally best to be honest about the error and explain what happened.
Every successful business has made mistakes before. It's how they respond to the mistake that matters, and your customers will see through any white lies or partial explanations.
2. Be receptive—and responsive—to feedback
Whether you ask for customer feedback or get it unsolicited, be receptive and appreciative of what your customers tell you. (Even a seemingly small interaction counts!)
Customer surveys are a very useful tool to hone in on what your customers want. We can create customer satisfaction (or CSAT) surveys in Dialpad in just a few clicks: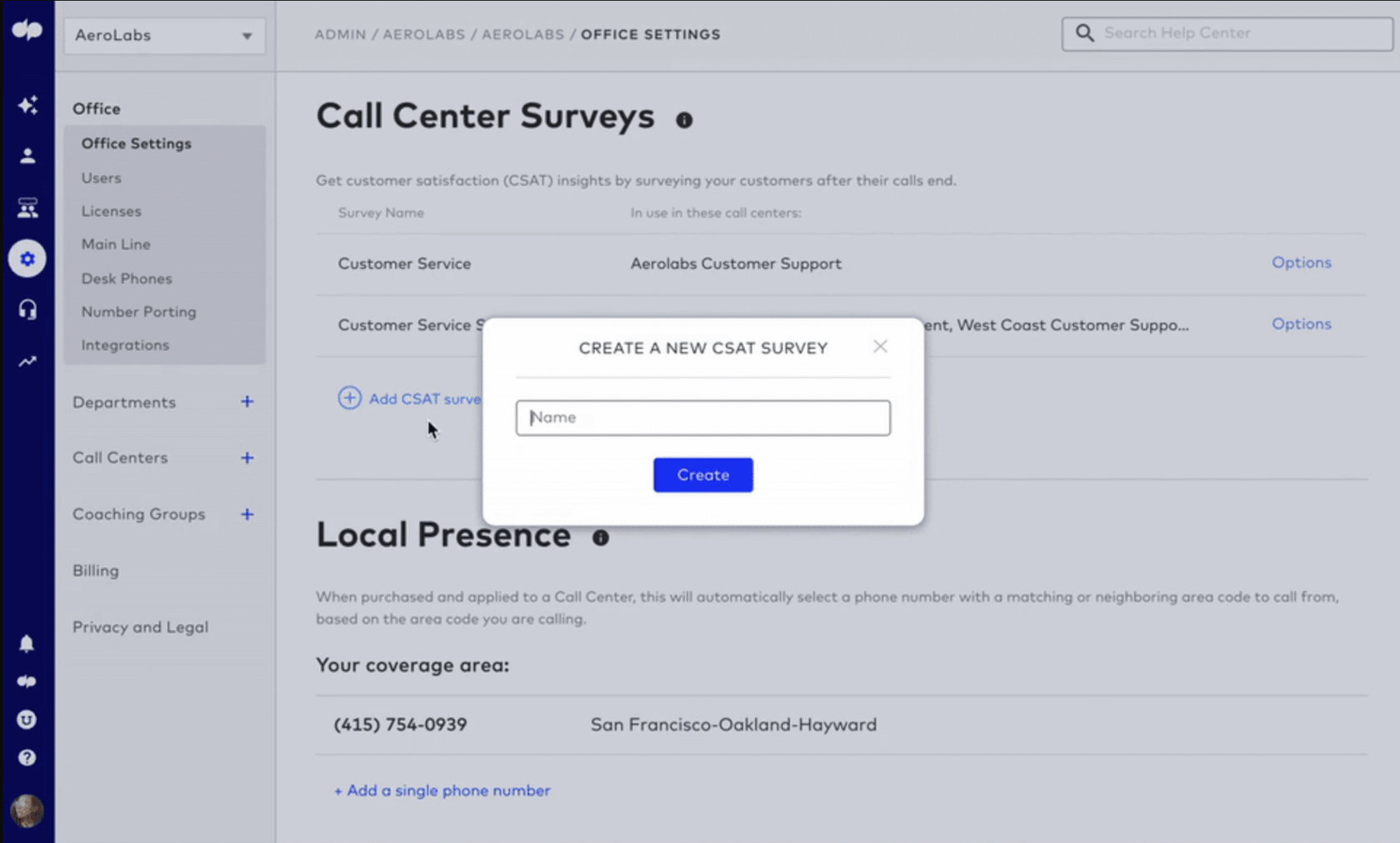 And we can even customize them to ask a customer to elaborate on why they gave us a certain rating: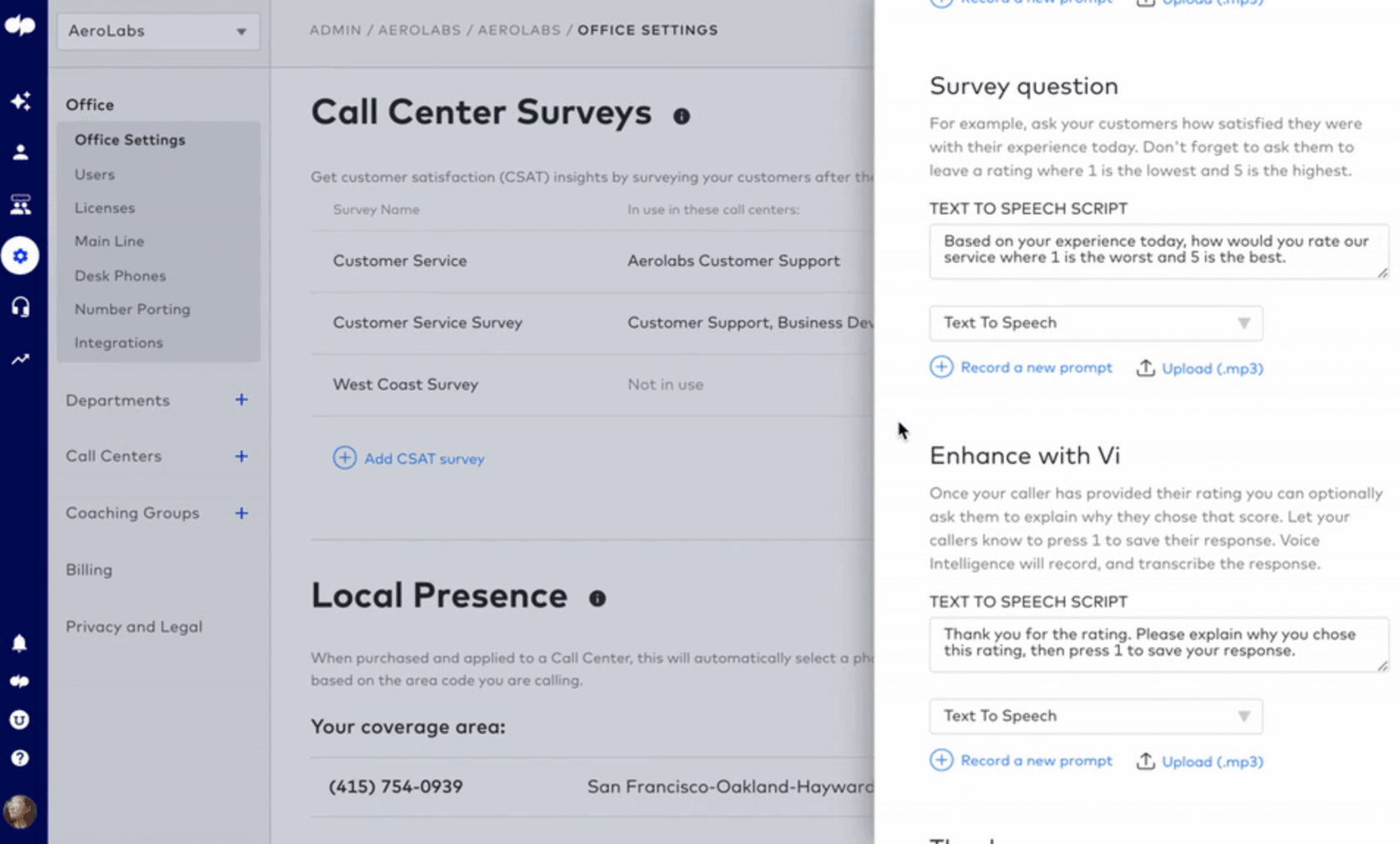 3. Meet the customer on their desired platform
Customers should be able to reach you from their preferred platforms (some folks call this a multichannel or omnichannel approach).
Regardless, have all the options clearly listed on your website and social media—phone numbers, email addresses, messaging options, and so on. Of course, the issue with so many different channels is that it can be difficult to manage them all.
Having a good contact center platform will help you handle these customer interactions more efficiently. One great thing about Dialpad is that it has integrations designed specifically for this.
I mentioned Intercom earlier, but Dialpad's Contact Center platform also integrates with Zendesk—your agents can handle tickets and also have phone calls with customers, right from inside Zendesk: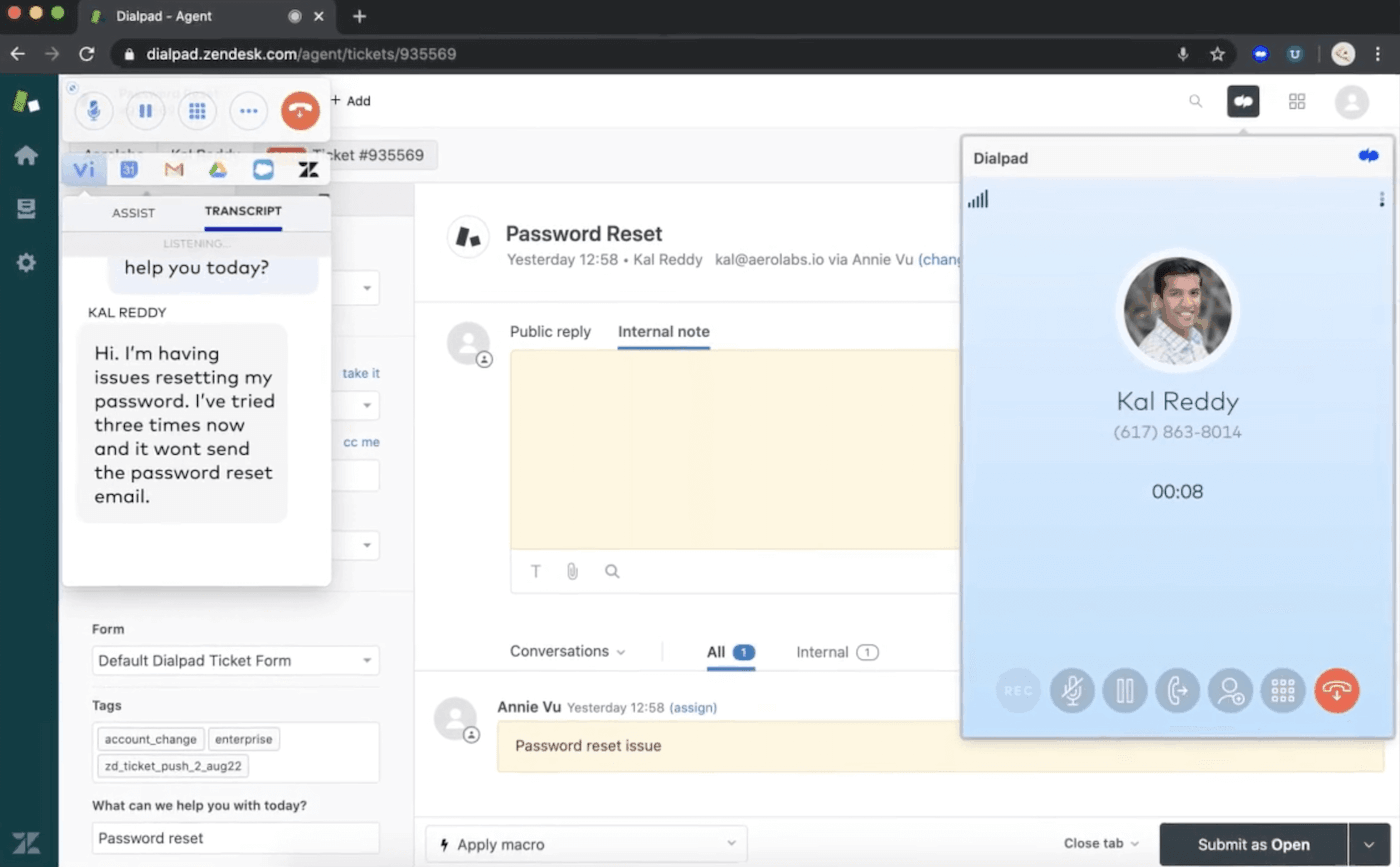 Same thing with Front, only it's with emails and a shared inbox instead of tickets: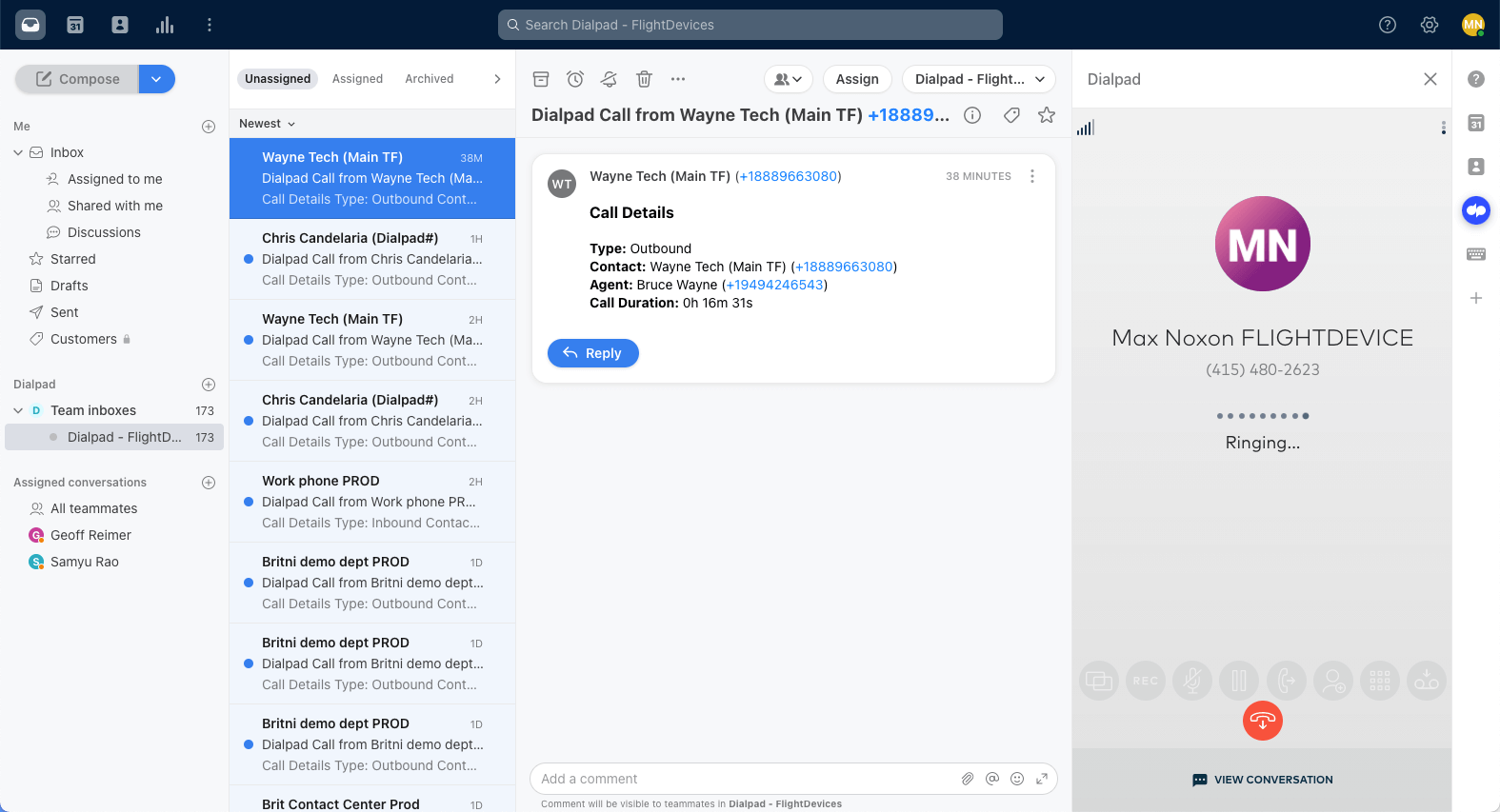 That's the power of automation. No more toggling back and forth between windows, no more copying and pasting information.
And beyond integrations of course, we can handle all of our own communications (phone calls, SMS and instant messaging, video meetings, and agent / supervisor interactions)—in one app: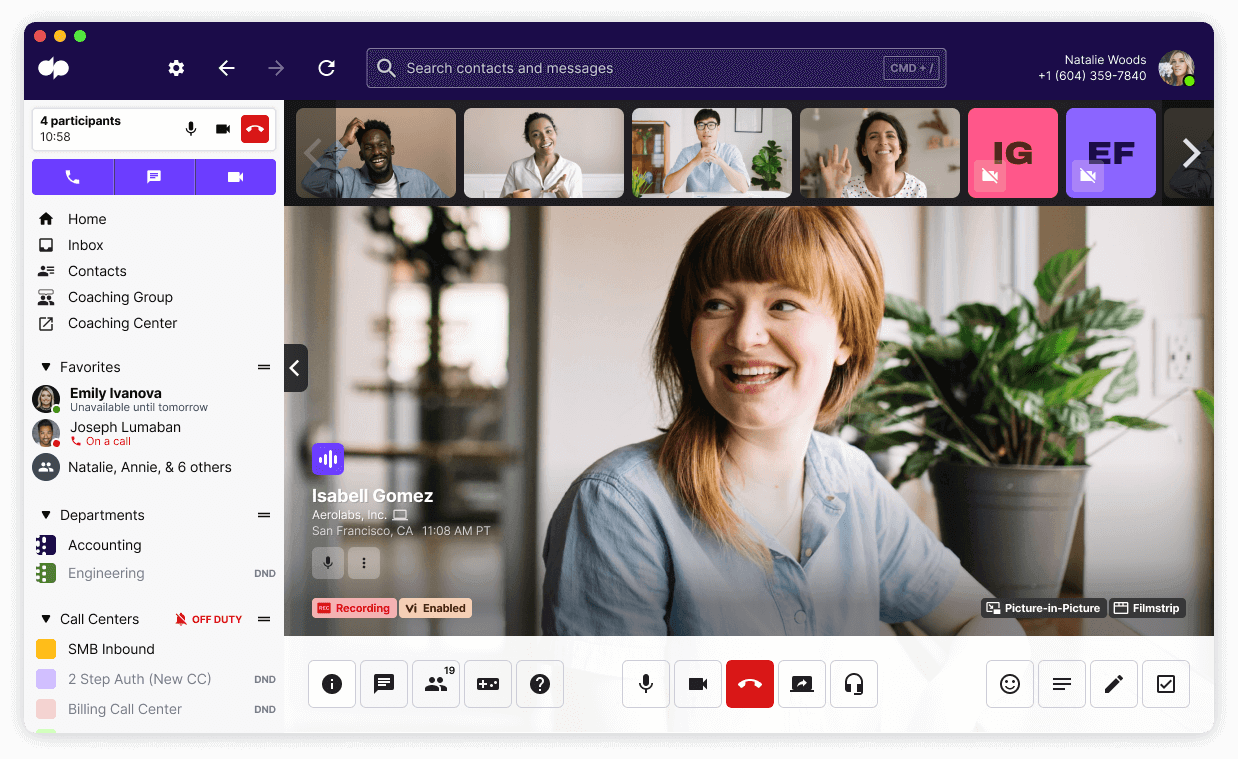 4. Map out the customer journey
Think about all the stages your customer will go through, from awareness of your product to purchase and beyond. How long does an average question or interaction take? What steps are involved? Look at your interactions in the context of the customer journey to create a better holistic experience.
5. Be proactive with customers
Proactive customer service means anticipating what a customer might need before they need it.
And to be proactive, you need to offer self-service options. An Interactive Voice Response (IVR) system can route your customers to the right departments and get them to the answers they want more quickly.
Dialpad's intuitive IVR is not only easy to set up, it also gives us analytics that show you which IVR menu options customers use most. This allows us to direct customers to self help, create fast lanes where customers can get to the information they need—and more importantly, reduce hold times: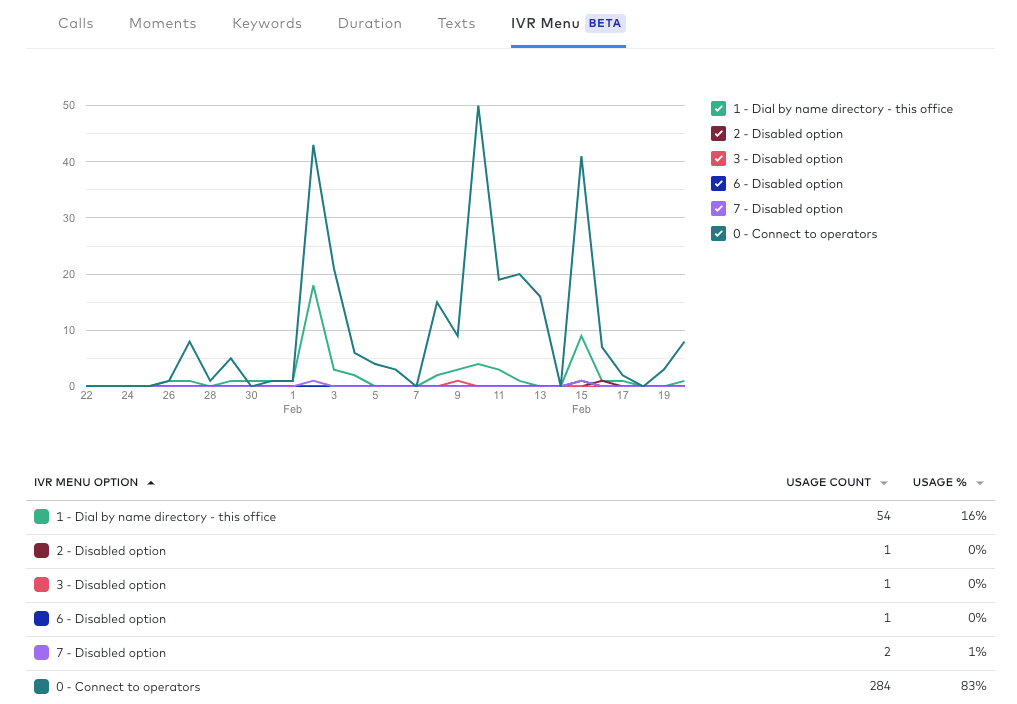 The other key piece of being proactive is training. I mentioned using Custom Moments and RTA cards earlier and how my team uses these to train large groups of agents at scale, and I really can't overstate the importance of this.
For many growing businesses, they're not just having one or two customer interactions a day. We're talking about tens, or even hundreds, of conversations and interactions on a daily basis. How can one person or manager oversee a large team of agents and still make sure that customers are getting what they need?
That's the question you have to answer.
Ready to have better customer interactions?
If you've ever wondered about things like how to improve customer loyalty or how to satisfy customer needs, you need to first look at your interactions.
That's the first step, and these are the building blocks of a more consistent and personalized experience. Whether you're a small business that's growing quickly or a global enterprise that's trying to increase retention, don't let one bad experience be a setback—use every interaction as an opportunity to learn and to coach your agents better.
Customers will appreciate the attention to detail, and they'll keep coming back.
Want to have better customer interactions? Get a product tour of Dialpad Contact Center and see how it can work for your organization!
Book a demo