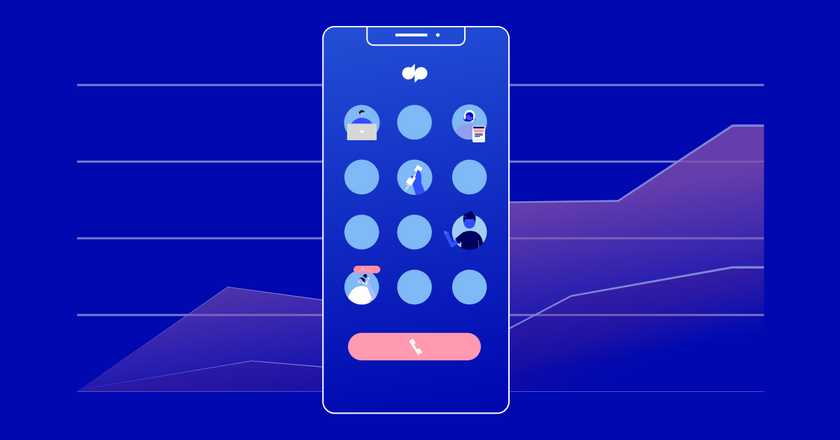 January 22, 2021
Needing to manage a high call volume for your business is a great problem to have. It's also an important opportunity to capture customer leads and convert them into sales, retain them as future customers, or both.
What is IVR?
Interactive Voice Response (IVR) is a voice call technology that allows users to navigate a menu of options, thereby segmenting and routing calls to the appropriate team or representative in your organization. It offers a simple and effective way to increase efficiency within your business and improve customer experience.
Implementing an IVR program allows your callers to interact with a back-end automated system, either by pressing keys that emit dual-tone multi-frequency (DTMF) tones or by speaking words that are processed by a speech-recognition system. The IVR system then uses that collected information to route the call.
Interactive Voice Response has been around since the 1970s, but technological improvements combined with its ease of use make it a continued favorite for organizations of all sizes and scales.
6 benefits of implementing IVR in your business
1. It automates calls and reduces call volumes
Using call center IVR, you can automate both inbound and outbound calls and reduce the overall call volume directed through various teams in your contact center.
You can configure and pre-record personalized messages that connect customers to frequently accessed information about your business or information tailored to their specific needs.
Because customers can self-serve through the IVR menu, those with straightforward information requests can access what they need without being directed to a representative. Those with more complex needs can be directed to the right team to support their issues.
As a result, your contact center spends less time and resources managing internal traffic — and more time serving your customers.
Interactive Voice Response can also collect data about each call request so that when a customer is connected to a support representative, the employee already has all the relevant information about that customer and their issue. The customer spends less time having to repeat this information over the call, resulting in a much shorter time frame for resolution.
2. It can increase customer satisfaction with call routing
Just about everyone has a nightmare tale about being redirected through a company's automated call menu. IVR can help prevent these aggravations and increase your customer satisfaction score (CSAT).
IVR will direct customers to the representative or team that is most equipped to assist them, avoiding the frustrations and wasted time with redirection. Because the representative on the other end will have the relevant information about each caller, your customers will have their needs addressed efficiently and without having to repeat themselves several times.
Even with high call volume, callers will either be directed right to the appropriate representative or be able to request a callback from that representative once they become available.
You can even use IVR to prioritize calls based on the caller's value. VIP customer calls will be routed to the most qualified representative or team and moved to the front of a waiting queue. This can help you avoid losing high-value customers to slow response time because they will always receive a quick and helpful response from your support center.
3. It helps you improve First Contact Resolution (FCR)
You can significantly improve your company's first contact resolution (FCR) rate by implementing an IVR system because callers will always be routed to the representative or team that is best equipped to handle their issue.
If your customers' needs are too complex to be self-served through the automated menu or pre-recorded messages, they are directed right to someone with the knowledge and expertise to help. That agent is far less likely to have to transfer the call elsewhere because they will already be vetted as the right person to help the caller.
Your agents will also be equipped with information about customer profiles and needs through the IVR. Having a complete picture of customers and their needs empowers your employees to provide the best support possible and resolve the issue on the first call.
4. It helps with professionalism
Voice calls are critical touch points between your customers and your brand. If the call experience is efficient and helpful, it strengthens that relationship. On the other hand, if the call experience is frustrating for your customer, it weakens your brand credibility and loyalty.
No matter the time of day, customers who call your business are always greeted consistently, warmly, professionally, and in line with your brand messaging with Interactive Voice Response. It's a simple, automated way to project the image of a company that is organized and capable of handling a high volume of customer needs without sacrificing personalization or attention to detail.
5. It saves you time and money
IVR helps you save both your time and your customers' time by improving FCR and reducing the number of internal redirects required to meet customers' needs.
Because it allows customers to self-serve through an automated menu and pre-recorded messages, IVR also helps you move routine transactions off representatives' desks, allowing them to focus more time and energy on serving higher-need callers.
Thanks to the professionalism, efficacy, and ease of using an IVR system, you also retain more customers and drive up conversions, boosting your bottom line and allowing your organization to scale seamlessly.
6. It lets you provide 24/7 customer service
Because most of the heavy lifting through IVR is automated, your customer-facing service infrastructure is always available to provide support, no matter what time of day it is or where in the world your customers are.
Even if you don't have representatives staffed outside normal business hours, customers can still interact with the IVR and self-serve through the automated menu. You increase your company's credibility by being available to your customers at any time of day — even on weekends.
Leverage the benefits of IVR with Dialpad
Dialpad's mission is to make business communications great. With the security, reliability, and scale capabilities of the Google Cloud Platform and a full-range product suite, Dialpad powers your communications with Dialpad Ai.
More than 60,000 of the world's most innovative businesses use Dialpad and benefit from its seamless integrations with Google Workspace and Microsoft 365 to maximize productivity.
Dialpad can help your business use IVR to leverage the benefits of automated calling and reduced call volume, higher customer satisfaction, faster FCR, increased professionalism, and 24/7 customer service, while also saving you time and money. Learn more about what our cloud contact center platform has to offer and set up your contact center within minutes.