Back to Blog
Enterprise communication tools: Which are truly enterprise-grade?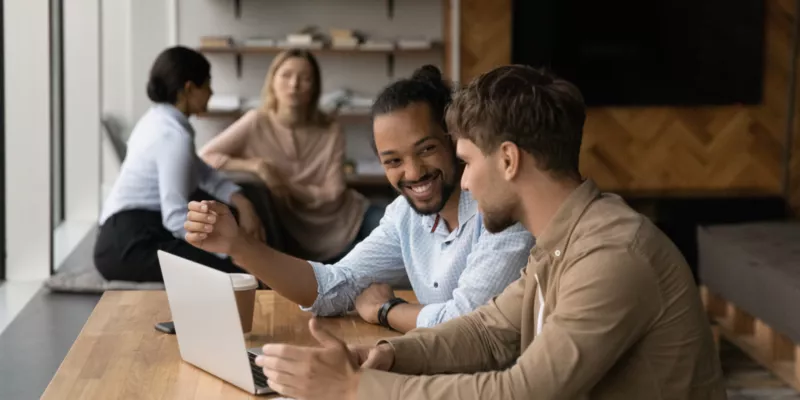 The larger a business is, the more difficult it will be for employees to communicate effectively—both with customers and each other—because of the sheer number of tools and apps in enterprise tech stacks.
This is where a good enterprise communication tool can step in and assist.
Enterprise communication tools not only help your business by having a range of collaboration features to help your teams communicate wherever they're located, but, in certain cases, can also streamline processes by automating manual tasks.
As a company that deals regularly with enterprise-level organizations and their communications needs, we're happy to share what we've learned and walk you through what makes a good enterprise communication tool for our customers (and what to consider when reviewing the most popular options).
What makes a communication tool "enterprise-grade?"
If you've ever tried looking up what "enterprise-grade software" actually means, you've probably seen a variety of half-baked and conflicting definitions.
So when we asked our CIO, who actually deals with vetting and managing enterprise-grade software on a daily basis, what her concise definition of enterprise grade is, this is what she said:
"Enterprise-grade software is essentially software that is able to support complex business processes, and is scalable and supportable over multiple locations across the globe."
For instance, Unified Communications as a Service (UCaaS) platforms, which provide a multitude of internal and external communication channels, should be able to support all internal teams in communicating and collaborating. A good enterprise UCaaS solution should also be able to be deployed by a single IT team to remote workers and locations around the world.

👉 Dialpad tip:
Enterprises often have to comply with HIPAA, GDPR, and other regulations. For instance, Dialpad can help you maintain HIPAA compliance and comes with Data Processing Agreements (DPAs) to help you meet GDPR requirements.
An enterprise tool should also be able to scale, meaning it can comfortably accommodate the needs of hundreds or thousands of new users around the world. Reliability, performance, and user management are all considerations when evaluating a tool's ability to grow with an organization.
Contrary to popular belief, enterprise-grade communications tools don't have to be clunky and hard to use. In fact, some enterprise apps (like Dialpad!) place a high focus on user experience, and so can be used simply by logging in through their internet browser—no downloads required and nothing for IT to install:


The 9 best enterprise communication tools
Now you know a bit more about what to expect from an enterprise communication solution, let's look at our top picks for the best enterprise communication tools. We've put them into two groups based on how they're used: first is all-in-one communications tools, and the rest are niche tools with a narrower focus.
Group A: All-in-one solutions for enterprise communication
1. Dialpad

Dialpad is a fully integrated UCaaS + CCaaS platform that's perfect for both external and internal communication. It has all the communication tools an enterprise business needs to foster a productive and collaborative environment, on top of a wide range of integrations and APIs.
Price: Dialpad offers custom pricing for the Enterprise Plan
Truly unified communications
The great thing about Dialpad is it's far more than a business phone system. It integrates phone, video conferencing, SMS/MMS + instant messaging, screen sharing, and contact center functionality in one simple, intuitive interface.

With Dialpad, you can communicate with colleagues and customers at any time on the channel of your choice—from the same app. If your enterprise also runs a contact center, we have a solution for that as well. Dialpad Ai Contact Center incorporates UC and CC functions in such a way that your agents will always have ready access to a full history of their interactions with a customer across all channels, whether that's voice, video, or chat/SMS.
Robust security
Dialpad uses enterprise-grade security to protect your communications. In fact, it's certified annually according to the latest ISO standards.
If you're concerned about meeting security, the platform also comes with a range of in-meeting controls to help protect the privacy of your call. Hosts can remove unwanted guests, automatically lock rooms after the meeting begins, and choose which attendees to admit:


24/7 customer support
Dialpad's Enterprise Plan offers global 24/7 support on phone and live chat channels. There is also an online Help Center that includes guides, FAQs, and other handy resources.
So whether your team is located in multiple cities in a single country or scattered across the globe, your employees will always be able to get the support they need.

👉 Dialpad tip:
Dialpad offers a 100% uptime SLA for Enterprise plan customers so that you can always have the advantage of good call quality and reliable connections.
Industry-leading AI
One of Dialpad's biggest advantages lies in Dialpad Ai, its proprietary artificial intelligence that has analyzed an incredible four billion minutes of business conversation data and is designed to improve your enterprise contact center's performance. Dialpad Ai can:

Transcribe calls in real-time

Annotate call recordings for important questions and keywords

Trigger Real-Time Assist (RTA) cards to supply your agents and sales reps with timely information

Analyze customer call sentiment live so supervisors can step in and support agents if needed
Visual voicemail
Dialpad's visual voicemail feature transcribes your voicemail messages into text in real time. This is useful for when you or your team are in back-to-back meetings and can't step away to listen to the message. You just read the message on the phone or desktop app without interrupting the meeting:

Integrations with popular tools
For a communication tool to be really called an "enterprise-grade" app, it has to be able to work effectively as part of a larger tech stack. This is why Dialpad integrates with a range of the most popular apps used by enterprise businesses today, including CRMs like Salesforce, visual brainstorming tools like Miro, and even other communications platforms like Microsoft Teams and Slack (though Dialpad has its own robust team messaging features):
👉 Dialpad tip:
Good enterprise software should also offer APIs so you can build custom integrations.
Need a better enterprise communications solution?
Book a personal walkthrough of Dialpad and see how its industry-leading AI can drastically improve team communications and customer service. Or, check out the CIO Buyer's Guide to learn about what to look for!
2. RingCentral
Price: $59.99 per month for the Ultimate Plan, plus add-ons, such as for additional toll-free numbers, etc.1
Key features: Unlimited calling in the US & Canada, business SMS, team messaging, document sharing, video meetings, and CRM integrations.
RingCentral is a business communications solution with plans to suit both smaller and enterprise-level businesses.
Many of RingCentral's features and functionalities—at least at the enterprise end of their pricing scale with the Ultimate plan—are similar to those offered by Dialpad. However, there are some notable shortfalls.
For instance, Dialpad's native transcription service is available to all users. But transcription is only available to RingCentral users via a third-party service and with an extra fee.
The same thing goes for call recording and Salesforce integration. All of these require additional cost investment for something that comes free with Dialpad.
One of the biggest potential issues, however, is that RingCentral's CC product is actually whitelabeled from NICE.2 (You can tell because the UIs for the two products are different). While this doesn't seem like much of a problem on the surface, it has implications for support and feature growth, as RingCentral does not have full control over that part of their product.

3. Avaya
Price: Starts from $19.99 per month per user3
Key features: Inbound and outbound calling functionality, real-time reporting, call recording, video meetings
Avaya is a unified communications brand that previously specialized in on-premises solutions, but have grown to offer digital solutions as well. They offer voice and video call solutions, as well as call handling functions like call recording and auto attendant.
When you're considering Avaya, be aware that voice and video calls are split into different tiers and price points based on the current pricing model, and that call handling and online meetings are only available at the higher tiers. (More on the best Avaya alternatives.)
4. Microsoft Teams
Price: $22.00 user/month for Business Premium.4 Telephony available for an additional fee.
Key features: Meeting and webinar tools, team chat, live captioning, file sharing, shared channels, Microsoft Whiteboard, Teams Rooms.
Microsoft Teams is an enterprise VoIP solution that combines video conferencing and team collaboration. What sets it apart is its integration with the rest of the Microsoft Office 365 suite. For instance, you can share files with OneDrive and manage meeting notes with PowerPoint.
But, some people find the UI overly complex and the mobile app has less functionality than the desktop version.5
It's a great internal communications solution, but Microsoft Teams won't let you call external numbers or benefit from other telephony features out of the box. For that you have to subscribe to one of the paid Microsoft Teams plans and integrate with a separate third-party service (which you'd also have to pay for), as well as work with a technician to set up direct routing.
Group B: Niche enterprise communication tools
While the four tools above enjoy a broad set of communications functionalities, the following are enterprise communication tools that each have a narrower focus. If you're not looking to streamline your tech stack or are looking for very specific functionality, these might be good options.
5. Slack
Price: Custom pricing for Enterprise.6
Key features: Private and public channels, messaging, Slack Connect, meeting booking, file sharing, automated workflows, enterprise key management
Slack is a popular business messaging tool that comes with integrations like Outlook, Google Calendar, and Asana.
With Slack, you can chat with colleagues one-to-one or as a group. It doesn't have video calling, but it does allow for voice calls—not phone calls though, just audio calls to internal team members.
One of the considerations of using Slack is that it needs to either be integrated with or used alongside other tools in order to provide full communications capability. That drives up your costs and makes for a larger (possibly more finicky) tech stack, which will be a challenge for enterprise admins to manage.
6. Zoom
Price: Basic (free), Pro ($149/user/year), Business ($199/user/year).7
Key features: File sharing, recording, private and group chat, waiting room.
Zoom is a video conferencing service that allows users to meet through online meeting rooms in both a one-on-one and group setting. All users can share screens with each other, and the higher subscription tiers have a whiteboard feature that helps people to brainstorm in-meeting.
Although quite popular, Zoom is still best known, and we'd argue best suited for, video conferencing. If you're looking for a robust cloud contact center platform or telephony functionality, Zoom has those but is still not quite there—mostly because it's much harder to start as a video meetings platform and then build in telephony features, as opposed to the other way around (starting with telephony and then building video conferencing features).
Transcriptions of Zoom meetings are handled through an integration with Otter.ai, which may limit the recording based on meeting length unless you pay extra.
7. Chanty
Price: $3 user/month for Business.8
Key features: Audio and video calls, code snippets, file sharing, pinned messages, task management, social media sharing, workflows.
Chanty is a business communication tool that offers a range of collaboration tools to aid workplace productivity. It's more task-focused than the other options on this list, as it's largely pitched at software developers and other project-based teams.
Chanty gathers all your conversations in one place called Teambook. Here, you can view your message timelines, find team members, and pin messages.
It integrates with popular apps like Google Drive, Trello, OneDrive, and Mailchimp. The downside? Like Slack, Chanty doesn't let you make or receive outgoing calls (again, telephony is the hardest piece of the communications puzzle to build into a piece of software), which means you're going to have to find another communications platform to talk to anyone outside of your team.
Bonus category: Project management tools
In addition to your basic communications platforms, many enterprises will also need some type of project management tools to supplement their daily communications.
The benefit of having these tools is that you can centralize all your project tracking, due dates, and assignees in one place, which is much more effective than just relying on scattered communications and messages to track progress of tasks.
8. Asana
Price: Business at $24.99, Enterprise prices available upon request.9
Key features: Kanban boards, workflow builder, desktop and mobile apps, enterprise-grade security and data control features.
Asana describes itself as a workforce management platform. Essentially, it's a project management solution that allows teams to collaborate internally and externally. Teams set up project tasks and set deadlines, and use in-app message boards to post updates and submit deliverables. It offers integrations with many other enterprise-grade platforms like Salesforce and Microsoft 365, and can connect to even more apps thanks to an open API and services like Zapier.
So while you can communicate asynchronously in Asana, it's not a dedicated communications platform.
9. Trello
Price: $5.00 per user per month for standard tier.10
Key features: Trello boards for project management, Butler automation bot, single sign-on and other accessibility controls, central admin dashboard.
Trello is a project management tool like Asana, but handles tasks in a different way. Here, each task is represented by a card. Cards can be organized into columns, each of which could represent a specific stage or category. For example, open tasks can go into a "To Do" column, and ongoing tasks can go into a column marked "Active." It's totally up to you.
Users communicate in Trello via message board, like Asana, and the higher tiers allow guests to participate in one or multiple boards, where they can communicate and engage with team members.
What's the best enterprise communications tool for your team?
Enterprise communication tools are a must for companies that want to increase employee productivity and team cohesion in the digital age. UCaaS platforms like Dialpad accomplish this by offering multiple communication channels packaged in a single platform that is designed to be as simple to set up and use as possible.
If that weren't enough, it's easy to scale Dialpad as your business grows. You'll enjoy perks like 24/7 customer support and 100% uptime SLA for enterprise customers. What's not to love?
FAQs about enterprise communication tools
What are enterprise communication tools?
Enterprise communication tools are hardware or software solutions that help large organizations talk to each other and their customers. Examples include phone systems, video conferencing, and email.
What are the modern tools of communication?
What is the most effective tool for communication?
1 ringcentral.com/office/plansandpricing.html#office
2 channelfutures.com/telephony-uc-collaboration/ringcentral-nice-extend-partnership-to-offer-ringcentral-contact-center
3 avaya.com/en/products/ucaas/cloud-office-pricing/
4 microsoft.com/en-ww/microsoft-teams/compare-microsoft-teams-options?market=af
5 capterra.co.uk/reviews/168668/microsoft-teams
6 slack.com/intl/en-gb/pricing
7 zoom.us/pricing/zoom-phone
8 chanty.com/pricing/
9 asana.com/enterprise
10 trello.com/pricing