Back to Blog
Enterprise meeting software: The 6 best video conferencing solutions for enterprises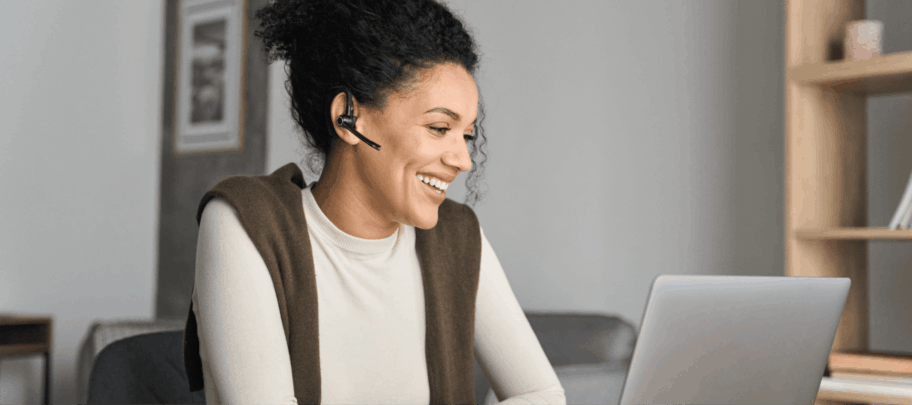 Many businesses have ditched the traditional workspace. Virtual meetings and remote work are now the norm, and enterprises need a sophisticated solution to facilitate this.
Below, we explore the many benefits of video meetings and give you some tips on what to look for in your enterprise meeting software, and then present our choices for the top six platforms.
You might be thinking, though; "why should I be interested in your list, when you're clearly going to say Dialpad is the cream of the crop?" That's a fair question, and we can't lie: we do rate Dialpad highly. But that's not just our bias talking.
We've curated and ordered our list of video conferencing solutions with enterprise organizations in mind. We know that you need a platform that works with a diverse array of tools, has features that can meet the needs of an enterprise team, and can scale with the best of them.
Note: for this list, we've excluded apps like Google Meet, which is more appropriate for personal use and not corporate use, and Slack, which is more of a webchat app that has video calls as a side benefit.
How enterprises benefit from remote meetings as opposed to in-person meetings
Let's take a look at the benefits of conducting online meetings. Sure, there are still occasions when only an in-person meeting will do, but those times are getting fewer and farther between.
For enterprises particularly, remote meetings are a workplace staple. They allow organizations to draw from a global talent pool when hiring, safe in the knowledge that employees can collaborate with ease, wherever they are.
That's not all. Video conferencing offers other advantages you just don't get with more traditional face-to-face interactions. For example:
It's more cost-effective
Video meeting solutions are typically affordable and priced according to a monthly subscription model. With cloud-based unified communications software, you don't have to fork out cash for servers, recording equipment, or a transcription service—this is all built-in.
Remote meetings also eliminate travel expenses (and real estate, since you won't necessarily need conference rooms). For enterprises with thousands of employees scattered across offices around the world, this can represent a huge cost saving. What's more, it makes it possible to bring together teams that never would've otherwise met.
Experiential marketing agency HUGE provides a great example. It saved more than 80 percent in annual costs related to conferencing technology simply by using Dialpad's video conferencing features.
It creates greater collaboration equity
Collaboration equity is when all employees have the ability to contribute and communicate equally, regardless of location, role, experience level, language, or disability.
Enterprise meeting software makes this happen. People can join from anywhere, and nobody gets left out—including people who find it difficult to attend physical meetings because of mobility problems or childcare responsibilities.
Some video conferencing software, like Dialpad Meetings, comes with real-time transcription , making it accessible for those with hearing impairments.
It makes scheduling easier
In addition, organizing a recurring meeting is less complicated than getting people together in the flesh (especially if everyone's in different time zones). You don't have to set up a conference room, find out who's in the office that day, or manage travel arrangements.
When people's calendars are integrated with meeting software, it's easy to see who's free. All you have to do is create an invite through Google Calendar or Microsoft Outlook, add attendees, and send. You can also launch ad-hoc meetings with a click or two (and Dialpad lets you easily turn a chat or phone call into a meeting as well):


Bonus: It reduces your carbon footprint
As well as reducing the stress associated with commuting, going remote is also good for the environment. It means fewer vehicles on the roads, while participants from overseas can participate without the need for air travel. When you have thousands or tens of thousands of employees worldwide, this adds up.
If most of the work can happen online, you may even be able to do away with having a central workplace entirely. Your organization can save thousands on rent, electricity, fuel, and other infrastructure-related costs.
5 factors to consider when choosing an enterprise collaboration tool
The size of your enterprise
Large enterprises tend to have company-wide town halls that have a lot of attendees, which means an enterprise meeting software has to be able to accommodate plenty of people as a basic requirement.
Lots of meeting software platforms only allow 10 or 20 people, but enterprise organizations need solutions that can handle hundreds or thousands.
Budget and pricing plans
Budgeting for an enterprise is all about efficiency. And a robust, consolidated communications platform that gives conferencing, messaging and phone calls (along with contact center functionality) provides that efficiency from multiple angles.
The platform's flexibility and broad capabilities are cost-efficient, since you no longer have to purchase multiple solutions to do the same thing. It's time-efficient to not have to switch between different apps throughout the course of a day, and because all of the data is in one place.
Software capabilities and features
Think carefully about which features you need and how they'll fit with your workflows. Ask for input from the people who'll be using this software the most.
It's a good idea to choose something that works well on mobile devices, as New Zealand-based finance broker One Partner found. Even with 80% of their employees back in the office, they're still using Dialpad's mobile app to stay connected.
Customer support
Most enterprise plans should come with 24/7 customer support across phone, email, and live chat channels, so this should be a relatively simple item to check off when you're vetting options. The thing to note here is that some enterprise meeting software providers charge for tech support, either per ticket submitted, or based on the amount of time they spend with you, so make sure to check the fine print.
👉 Dialpad tip:
Dialpad has you covered 24/7 when it comes to customer support on its Enterprise plan, across phone, email, and live chat—worldwide, not just in the US. There's also a detailed knowledge base in case you want to find answers at your own pace.
Security
As an enterprise, cybersecurity should be high on your agenda. After all, you've got more customers and data to protect.
When choosing a video call solution, look for things like GDPR/HIPAA compliance, single sign-on (SSO) options, and meeting controls for the host. For example, Dialpad's video conferencing platform comes with these controls built right in:
👉 Dialpad tip:
Although PIN-less meetings make it easier for guests to join, Dialpad gives you the option of setting a PIN for extra security in confidential meetings.
5 features to look for in an enterprise meeting platform
Integrations with other tools
You'll want your meeting platform to integrate easily with other enterprise systems so that all tasks, conversations, and data are in one place.
For example, Dialpad enables you to schedule meetings from your Microsoft or Google Calendar and log activity in Salesforce, as well as integrating with other useful apps like Miro and more.
You can also go beyond pre-built integrations and build your own thanks to APIs. That means your meeting platform can blend seamlessly with any other business-critical tools. For enterprise companies, where there's likely to be many of these tools, that's a game-changer.
Call recording and transcription
Recording and transcribing video calls avoids any ambiguity over what was said and enables you to share important information with non-attendees. Certain enterprises may require this for industry compliance, and it's also useful for monitoring and coaching.
Dialpad Ai gives you live transcription, which is more accurate than closed captioning and picks up on highlights and action items that are compiled into a post-meeting summary:


Screen sharing
Screen sharing is the ideal way to collaborate on visual content. You can present to a client, talk through complex data, or provide online coaching to remote staff.
It ensures everyone's looking at the same thing at the same time, and you can even annotate files in a group. You usually have the option to share either your whole screen or just a window or tab.
In-meeting chat
In-meeting chat is also useful for those times when you need to hold a side conversation. You can ask a question or make a comment without interrupting the speaker or point out if there's a problem with someone's webcam or mic.
With Dialpad, for example, attendees can exchange real-time messages with other participants or the presenter in both one-to-one and group chats:


You can use emoji reactions too. If needed, you can also access a log of chat conversations—just in case that great insight came in the side chat rather than the main call.
HD audio and video
Enterprise meeting software needs to support a lot of people dialing in. That makes audio and video quality critical. Better quality ensures you present a professional appearance with no time wasted on "Can you hear me now?" or "Sorry, I didn't quite catch that."
High-quality video and audio will help you pick up on body language, facial expressions, and tone of voice, and anything you share on-screen will be clearly visible to all attendees.
The 6 best enterprise meeting software options
So, which are the best enterprise meeting software options? We've ranked these below based on a combination of the breadth of features offered, pricing, and enterprise-friendliness.
1. Dialpad Meetings: The best overall collaboration with built-in AI

Dialpad Meetings is available as a standalone tool or part of a full unified communications package (you get a VoIP phone system, SMS, instant messaging, and group chat).
You get unlimited meetings and audio recordings even with the free plan, but for enterprises, the Business plan allows up to 150 participants and provides advanced features and 24/7 support.
Cost
Dialpad is available to try for free for 14 days, and the Business plan starts at $15 per user per month.
Features
Dialpad Meetings allows you to meet for up to five hours (you'd definitely need some snacks for that!) and includes AI-enabled features like real-time transcription. You also get unlimited video recordings, post-call summaries, and custom hold music for your waiting room.
There's international dial-in access for more than 50 countries, plus toll-free numbers. The dial-out feature automatically calls invitees when your meeting starts, in case they got distracted or forgot the time.
With no PINs or downloads required, you can start or join meetings from any device (Mac, PC, iOS, Android) or from a browser. If your sales team has video meetings with people outside your company, like prospects, they can send an invite via email or even text message, and those external stakeholders will be able to easily join a Dialpad meeting with a click—no downloads needed:


HD video and audio come as standard, and Dialpad automatically adjusts video resolution based on available bandwidth. Advanced host controls include meeting lock, mute-all, and guest removal. Then there's picture-in-picture mode, screen sharing, and in-meeting chat.
The National Juneteenth Observance Association used Dialpad to great effect, with over 100 people on their first annual online conference. Their President Steve Williams said, "When we were talking to people on Capitol Hill and other dignitaries on Dialpad, they could easily dial in—which they loved. They loved Dialpad. They were like, 'Man, you just click a link and you're in?' It was such a smooth operation."
Dialpad also integrates with Miro's whiteboard platform to let distributed teams brainstorm together virtually as if everyone were in the same room.
Dialpad Rooms also lets you easily set up meeting rooms, whether they're large conference rooms or huddle rooms, through its partnership with Poly which also gives you all the hardware you need to run in-office meetings:


Dialpad also has integrations with Google Workspace (formerly G Suite), Microsoft 365, and more. If you want to build a custom integration, you can do that with its open API.
2. Microsoft Teams
Cost
Teams (free); Essentials ($4 /user/month); Business Basic ($6); Business Standard ($12.50); Office 365 Business Premium ($22). You can have a month's free trial of Basic and Standard.1
Features
Microsoft Teams, which has now completely replaced Skype for Business, is included with a 365 Business or Enterprise account. You'll get the most out of Teams if you're already a Microsoft customer.
The free version of Microsoft Teams is only good for internal messaging and meetings, however. You can't make or receive calls to outside numbers unless you're on a paid plan AND integrate the software with another UCaaS service.
Other features like recordings, transcription, and analytics also only kick in once you reach the paid Basic plan, as does integration with full desktop versions of OneDrive, Outlook, Excel and the rest. In the top tier, the Live Events function allows you to host up to 10,000 attendees.
According to some users, Teams can be slow to load and the chat feature has room for improvement.2 Other reviews mention it can take a while to figure out the compartmentalized design, and the desktop and web apps are easier to navigate than mobile.3
3. WebEx
Cost
Basic (free), Meet + Call ($25); Enterprise (custom quote). There's a free 30-day trial for the paid plans.4
Features
Cisco WebEx offers a free plan with some good features, including screen share and breakout rooms, but you only get a single host, 50 minutes of meeting time, and a limit of 100 participants. You can only save recordings to your own computer, not the cloud.
The Business tier is a suite that includes calling too. It increases the maximum host count to 100, the duration to 24 hours, and the attendees to 200. You also get recording transcriptions and in-meeting file-sharing.
If you don't need calling, the Meet plan offers pretty much the same features as Business (minus the calls). With both options, you get 10GB of cloud storage, which seems a little miserly. The only way to increase this is to choose the Enterprise plan.
Users praise the easy-to-schedule meetings and high-quality video but mention that pricing is a little steep and functionality can drop when there's a large number of participants.5 Other reviewers point out the chat window doesn't have the expected level of functionality.6
4. Lifesize
Cost
Standard (free); Lifesize Plus ($14.95 /host/month); Enterprise ($14.95); Organization (custom quote). A free 30-day trial is also available for Plus and Enterprise.7
Features
Lifesize is a unified cloud software and meeting room system platform, with standard features such as call recording, screen sharing, and webinars. It's accessed through downloadable apps and your browser.
All meetings have 4k video quality and unlimited duration across all plans. The free Lifesize Go mobile app gives you unlimited meeting length for up to eight participants. With the Plus plan, you get unlimited meetings with up to 300 participants, as well as Microsoft 365 integration and one hour of cloud recording storage per host.
Reviews say the system is easy to use but doesn't have many team collaboration features like breakout rooms or annotation during screen sharing. Some users also mention connectivity issues and poor audio quality.8
5. Zoom
Cost
Basic (free); Pro ($14.99 /license/month); Business ($19.99); Business Plus ($25); Enterprise (custom quote).9
Features
Zoom Meetings is generally simple to use, and it's relatively easy to set up and get going. It features both a desktop and a mobile app.
The free version, with 40-minute meetings for up to 100 participants, plus unlimited one-to-one calls, is okay for small businesses, but if you want things like transcription and advanced host controls, you'll need a paid plan.
But the thing to note with Zoom is that the main concerns are about security and Zoom-bombing.10 Zoom became pretty well-known during the pandemic, and one of the byproducts of that publicity is that it became a target for Zoom-bombers, where people would join a meeting uninvited and disrupt it with irrelevant and offensive messages. Zoom's popularity has also revealed further security flaws other that business-focused video meeting software didn't have, like allowing hackers to bypass security and install malware.11
6. BlueJeans
Cost
Standard ($9.99 /host/month); Pro ($13.99); Enterprise ($16.66); Enterprise Plus (custom quote). There's a 14-day free trial available too.12
Features
All BlueJeans video conferencing plans come with Dolby voice audio and HD video, plus 24/7 support and the essentials you'd expect. The standout feature is the Smart Meetings functionality, which lets you capture meeting highlights and tag discussion points.
The Standard plan accommodates up to 100 participants for unlimited one-to-one and group meetings of unlimited duration. You get five hours of recording, but there are no integrations (except with calendars) and no analytics.
For those, you have to upgrade to Enterprise, which includes unlimited recordings and real-time transcription. If you want to host webinars and events, there's a different package that's priced separately.
On the downside, there's no file-sharing capability and a lack of advanced screen-sharing options. When you invite non-BlueJeans users to a meeting, they have to sign up and download the app.13 Reviewers praise the simple user experience but mention that BlueJeans consumes more bandwidth than other similar software.14
Empower businesses of any size with the best enterprise meeting software
As we've seen, there's no shortage of video conferencing solutions to choose from. If you're an enterprise, you'll need the most advanced features, but even a growing business can benefit from enterprise meeting software, especially when it's affordable like Dialpad.
Dialpad's fully integrated UCaaS and CCaaS tech stack mean your business has all the tools it needs to succeed, providing real-time communication and collaboration wherever your team is based. (That's probably why it's a regular in Gartner's UCaaS Magic Quadrant).
Isn't it time you selected suitable enterprise meeting software for your business?

The best video conferencing solution in the market
Sign up for a free plan of Dialpad Meetings and get unlimited video meetings.
1 microsoft.com/en-us/microsoft-teams/compare-microsoft-teams-options
2 g2.com/products/microsoft-teams/reviews
3 sea.pcmag.com/video-conferencing-software/14520/microsoft-teams
4 pricing.webex.com/
5 g2.com/products/webex-meetings/reviews
6 sea.pcmag.com/videoconferencing/14515/cisco-webex-meetings-review
7 lifesize.com/en/pricing/
8 g2.com/products/lifesize/reviews#reviews
9 zoom.us/pricing
10 forbes.com/sites/kateoflahertyuk/2020/03/27/beware-zoom-users-heres-how-people-can-zoom-bomb-your-chat/?sh=5c6772e4618e
11 theguardian.com/technology/2022/aug/16/users-of-zoom-on-macs-told-to-update-app-as-company-issues-security-fix
12 store.bluejeans.com/
13 trustradius.com/products/bluejeans-meetings/reviews?o=recent#faqs
14 getvoip.com/blog/2021/03/03/enterprise-meeting-software/#bluejeans