Back to Blog
The problem with "customer experience platforms"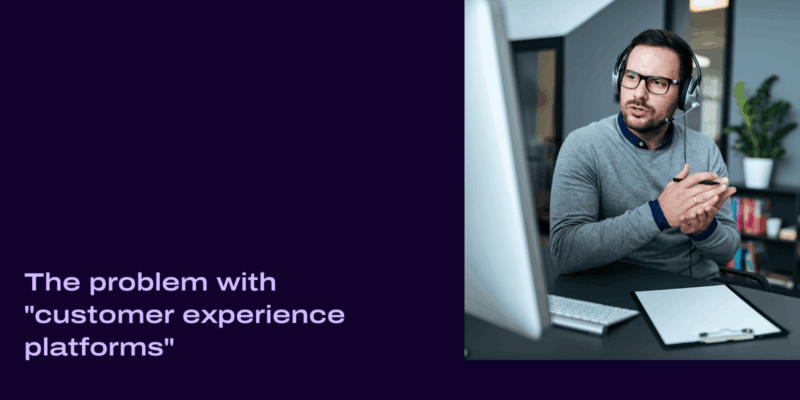 Looking for a customer experience platform? Whether you're leading your company's customer experience (CX) team or an IT leader who's vetting solutions, there are a ton of details and considerations to be aware of.
Having worked at a few of the biggest companies building these types of CX platforms over the years, I've gathered a few insights and observations that may be useful for teams that are shopping for a CX platform.
If you want to keep customers happy, retain more of them over time, and ultimately deliver the best customer experience, here's what you should know.
What is a "CX platform?"
"What is a customer experience platform" can be a tricky question answered differently depending on whom you're asking. First, let's look at what customer experience itself entails.
"Customer experience" encompasses every step and aspect of a customer's relationship with a company or organization, across every buying and support journey. This includes all customer interactions involving every touchpoint across all the channels your brand uses (including in-person), every employee and every product.
At a high level, a "CX platform" is a software or technology solution that empowers your businesses to improve that experience for your prospects and customers.
The biggest problem with "customer experience platforms"
What do customer experience platforms, customer journey management platforms, customer engagement management (CEM) platforms, and customer relationship management (CRM) solutions have in common?
There's a ton of overlap between them in terms of functionalities and use cases. And if you're not careful, you may find yourself using those labels interchangeably when the situation isn't quite right.
The tough thing about "customer experience" is that it's so all-encompassing that you could easily have different CX software platforms that each handle a separate and distinct part of the customer experience—and very few CX platforms (I don't think there are any, to be honest) will be able to cover every single customer touchpoint across every single step of the customer lifecycle.
If you think you need a "CX platform," here's what you might actually be looking for…
If you're monitoring customer behavior, that might require a different tool than if you're mapping out your customer journey. Same goes for managing your e-commerce customer experience versus managing your customer experience while delivering support through your contact center. Most CX software is niched down in some way, and you should be aware of those differences.
Here are a few of the most common types of customer experience management software that fall under the general umbrella of "customer experience."
Contact center platforms
A contact center platform lets you manage operations and communications for inbound customer support, proactive outbound service, outbound sales and simple call centers.
If you manage any of these types of teams, you'll need software that lets your agents and supervisors receive or make high volumes of phone calls, live chat sessions, and social media messages.
For example, Dialpad Ai Contact Center is designed to do exactly this. Agents can make phone calls, have video meetings, send SMS/MMS + team messaging, and handle customer interactions across multiple digital channels, all from Dialpad's single TrueCaaS app:


The advantage of having a robust solution that covers all these different missions and communication channels is, of course, that you can streamline workflows into one place, and train all employees on a single platform. That means agents and supervisors don't have to keep toggling back and forth between different systems to pick up an incoming call or log an activity, or message a teammate with a question.
A few things to look out for in a contact center platform:
Analytics. Ideally, your contact center platform has good analytics and dashboards built in, so you don't have to contact professional services or support to help you pull data or reports. Dialpad, for instance, has a dashboard that shows real-time and post-call analytics like missed and abandoned calls, and even heat maps that show daily call volume activity patterns and average speed to answer:

CRMs
A CRM solution is kind of like a customer data platform, and it's a must-have for any customer experience team, whether it's Sales, Customer Support, or Customer Success.
They store all the important details about your customer relationships, from segmentation to past interactions with you to their contact details, to past purchases and literally everything else.
If you want to be able to deliver personalized experiences for your customers, you need to know everything about them, and nine times out of 10, that knowledge will live in your CRM.
Customer self-service platforms
This is one of the most important types of solutions that'll help your agents and supervisors be more productive and efficient. If you're like most businesses, the majority of the customer questions that come into your contact center are straightforward and don't actually need an agent to answer it.
(For example, a customer trying to look up account information or find out what your store hours are.)
In these situations, it can be very helpful to have self-service automations like a chatbot or IVR (interactive voice response) system.
One simple way to tell if you should be considering self-service tools? Look at data analytics for your website. Ask your contact center agents. How many people are trying to contact you by submitting a form on your website? How many of your agents are getting lots of repetitive, basic questions on a daily basis?
How can you create a better digital experience that can deflect these types of inquiries to a chatbot or automation that can give your customers the answers they need?

👉 Dialpad tip:
While self-service tools are useful for businesses and organizations in almost every industry, you have to be strategic about how you implement them. Not every question can be answered by a chatbot, and there should almost always be an easy way to escalate a live chat or chatbot conversation to a human. Otherwise, you run the risk of automating human-ness out of your customer relationships, which can tank your customer satisfaction and retention rates.
Help desk or ticketing systems
When it comes to customer experience platforms for industries like IT and hospitality, businesses often use some type of help desk or ticketing system to manage and track incoming customer requests.
Ticketing systems are helpful because they let you quickly assign inquiries or requests to specific agents, track which tickets have been resolved and which are still in a queue, and ultimately, optimize your processes over time.
Customer feedback management or voice-of-the-customer (VOC) solutions
Being able to gather—and use—customer feedback is critical. The old way of doing this was to have little customer survey slips at the register in your store, and you might even have called customers to get that feedback.
Today, though, there's a different way to do this. Many customers have a voice of the customer (VOC) program, and other more automated ways to gather data about your customers' opinions on your products or services.
There are also different metrics you could use, beyond just collecting qualitative customer feedback:
NPS (net promoter score) surveys

CES (customer effort scores)

Churn rate
✨ UPLEVEL YOUR CUSTOMER EXPERIENCE
Grab the Contact Center Playbook, which breaks down everything you need to know, from setup to improving customer satisfaction—with examples from real contact center teams across different industries.
4 questions to ask when looking for a customer experience platform
1. What are your business goals? What does your customer experience platform need to help you accomplish?
Are you looking to increase your customer retention rate? Upsell and cross-sell more effectively? Every company has different goals and metrics when it comes to their customer experience, and you should know what yours are before you invest in a customer experience platform.
2. Which channels does your customer journey cover?
What do your industry's or business' customer journeys and lifecycles look like? Again, every business is unique. Depending on the size of your business, preferences of your customers, and so on, you may need to optimize for different touchpoints like social media messages, live chats, and phone calls.
For instance, if your customers don't really use social media to get in touch with you but prefer to call instead, then you should probably prioritize your phone experience over your digital experience.
3. How does your platform integrate with our other tools?
Integrations are important, but ideally, your customer experience platform should be robust and versatile. And this is true regardless of whether you're talking about a CX platform or any other type of software. The more versatile a solution, the more tools you can consolidate. For many businesses that are paying for (and managing) hundreds of different apps, this can add up to huge cost-savings.
That being said, your software should integrate with each other. For example, your contact center platform should integrate with your CRM and help desk software. This reduces data entry and automates repetitive busywork, and can ultimately give your employees time back in their day that can be better spent on more valuable tasks.
💡 Fun fact:
Dialpad Ai Contact Center not only has a variety of integrations, it also has APIs for building automations to niche or homegrown tools.
4. What's your budget?
Although there are certain solutions that are very enterprise-focused—and more expensive—like Adobe Experience Manager and Qualtrics (which is a type of customer experience management software), there are many cost-effective solutions for smaller businesses as well.
There's a huge range of CX platforms at almost every price point imaginable. The good news is, whether you're a price-sensitive startup or global enterprise, there will be a solution for you. The bad news: it can take a bit of time to find the right one.
Take advantage of free trials, product demos, and if you're in a niche industry, run a proof of concept if you can to really make sure that whatever platform you're interested in will work for you.

👉 Dialpad tip:
Most cloud-based solutions today have SaaS (Software as a Service) pricing, which means you can pay on a monthly or annual basis instead of having to make a heavy investment upfront.
A few examples of different types of customer experience management platforms
Quick note: This list is by no means exhaustive, but it covers the key categories of CX platforms I highlighted above.
1. Dialpad: An omnichannel customer experience platform
If you're not familiar with Dialpad, it's a fully unified communications and contact center platform.
What this means: Your team (including agents and supervisors) can make phone calls, have video meetings, send SMS/MMS + team messages, and handle all your customer communications (across voice, video, and digital channels)—in one place.
Dialpad has a desktop and mobile app that lets your team essentially provide omnichannel customer service—from anywhere.
Dialpad is easy to use right out of the box, and there's no coding needed to configure it. You can manage user accounts, answer social media messages, and add phone numbers for new hires, all from your online dashboard: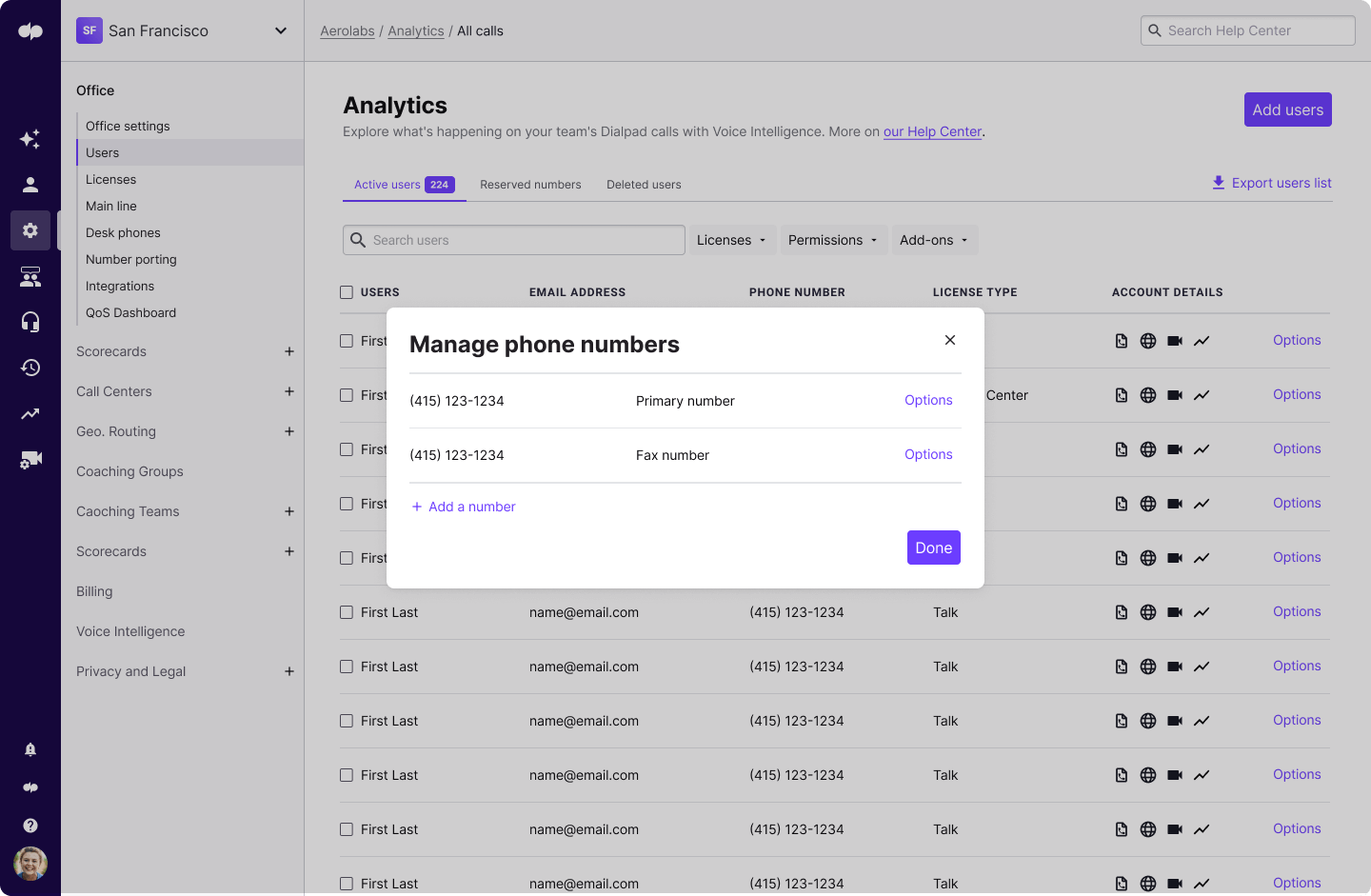 Side note: What's important to note here is that while there are many similar software solutions that say they have "unified communications," almost all of them are unified through third-party partnerships. For example, many are UCaaS (Unified Communications as a Service) solutions that have agreed to whitelabel or resell another company's CCaaS or Contact Center as a Service solution (or vice versa) in order to market a "unified" platform. The end result, however, tends to be a disjointed experience with an inconsistent user interface and sometimes confusing customer support experience.
Built-in AI
Another unique thing about Dialpad Ai Contact Center is that it has built-in artificial intelligence that can:
A closer look at how RTA cards work: Say your contact center has been very busy and you've just hired lots of new agents. You also noticed that lots of customers have been asking about a new product, "Product X," lately—which these new agents aren't super familiar with yet. So, you create an RTA card with talking points about Product X, and set it to trigger whenever "Product X" is spoken on a customer call:


Now, your supervisors don't have to personally coach every call, but your agents can still get the information they need to help customers!
Self-service functionality
Chatbots have gained a bit of a bad rap, but I'd argue that's because most chatbots up until now have been built poorly. They could only provide the most basic of scripted answers, and they also couldn't pull data from different sources effectively—which in turn also limits the variety of answers they could provide to customers...
These are the things that we are solving with Dialpad Ai CSAT. Not only can contact center teams drag and drop conversational workflows (no coding needed), they can also create a truly helpful self-service experience, because Dialpad's chatbot can pull data from so many sources. We're not just talking about a chatbot that pulls basic answers from an online Help Center—this is a chatbot that can also search unstructured data like PDF documents and even past conversations with customers on the same topics to find the best answers.
Ai CSAT
Dialpad also has CSAT (customer satisfaction) functionality to help you collect customer feedback.
You can easily set up a CSAT survey with a few clicks:


And Dialpad's Ai CSAT feature can even predict CSAT scores with a high level of accuracy using text analytics. One of the biggest shortcomings of CSAT surveys is not that they're bad, but that many customers don't bother filling these surveys out! This also leads to an inaccurate view of performance, since usually only the most irate and most satisfied customers actually take the time to fill out these surveys.
With Dialpad Ai CSAT's ability to glean customer satisfaction levels from conversations, you can solve both of these CSAT disadvantages!
Built-in analytics and reporting
If you want to track call center metrics like missed and abandoned calls, call volume patterns, and average speed to answer, you can find all of those in Dialpad's clean, built-in dashboards:


No need to contact customer support or wait for them to pull this data for you.
2. Salesforce
A CRM is another key type of customer experience platform. And Salesforce is a great example of a robust CRM that lets you keep track of customer data including segments, past interactions, and more.
Because it's such a commonly used CRM solution, one of the advantages is that you'll find there are many integrations with Salesforce. For example, it integrates with Dialpad to automatically log activities and reduce data entry for your reps.
The integration also embeds a dialer inside Salesforce so that reps can make phone calls without leaving the CRM:


3. Zendesk
If you need help desk or ticketing software, Zendesk is a good platform that can help you provide a good support-focused customer experience.
Like Salesforce, Zendesk integrates with Dialpad to automatically log calls back to customer profiles (including voicemails and recordings) and embed a dialer inside the platform, letting agents make phone calls from inside Zendesk: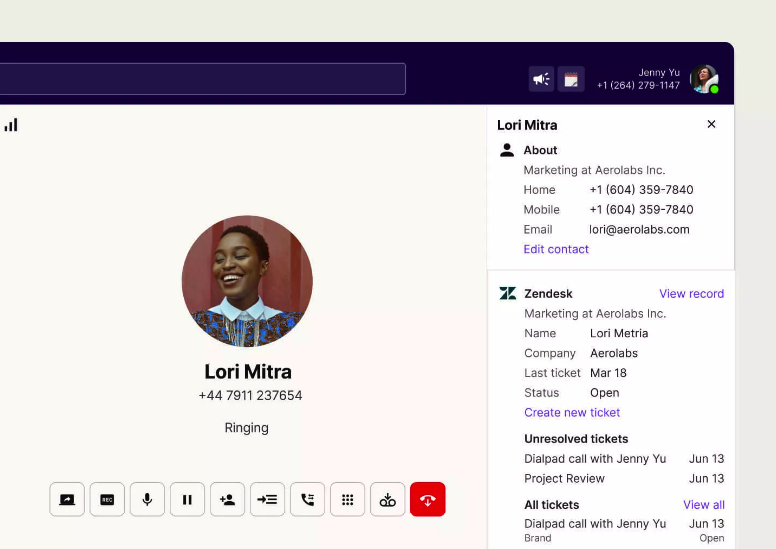 4. Adobe Experience Platform
This is a customer experience platform that's more for mid-to-enterprise-size organizations, but if you need a customer data solution, Adobe Experience Platform is a solution you can consider.
Adobe's platform is useful because it can ingest large amounts of customer data, organize and sort that data, then as they describe it, "activate that data anywhere" in real time.
For example, imagine you have a ton of customer data in Salesforce, but it's not easy to see where your customers converted, the paths they took, what segments they're in, and so on. Adobe Experience can help you sort through and make sense of all this data as you look for ways to improve your customer experience.
Unlike the other solutions above, this type of CX platform doesn't help manage actual communications with customers—it gives you insights to make those communications better.
5. Qualtrics
Similarly, Qualtrics CustomerXM calls itself the "ultimate listening engine," and gives you functionality like predictive analytics, real-time feedback capturing across channels like social media, and more. Ultimately, it's meant to help you get a more holistic view of—and optimize—your customer experience.
There are CRM and other integrations too, that let you automate actions and triggers in those tools from Qualtrics.
What's the best customer experience platform(s) for your business?
For most businesses and organizations, there won't be just one "best customer experience platform."
Depending on whether you need to manage high-volume communications with your customers or collect customer insights more effectively (or both), there are a few possible CX platforms that businesses may need.
And in many cases, you might use a few of them integrated together.
If your Customer Experience, Customer Support, or Sales team does need a cloud contact center solution that's robust and can handle all your communication channels, why not get a product tour of Dialpad Ai Contact Center?

Want to provide a better customer experience?
See how Dialpad Ai Contact Center can help you agents and supervisors keep customers happy—across all channels. Book a demo, or take a self-guided interactive tour of the app on your own first!