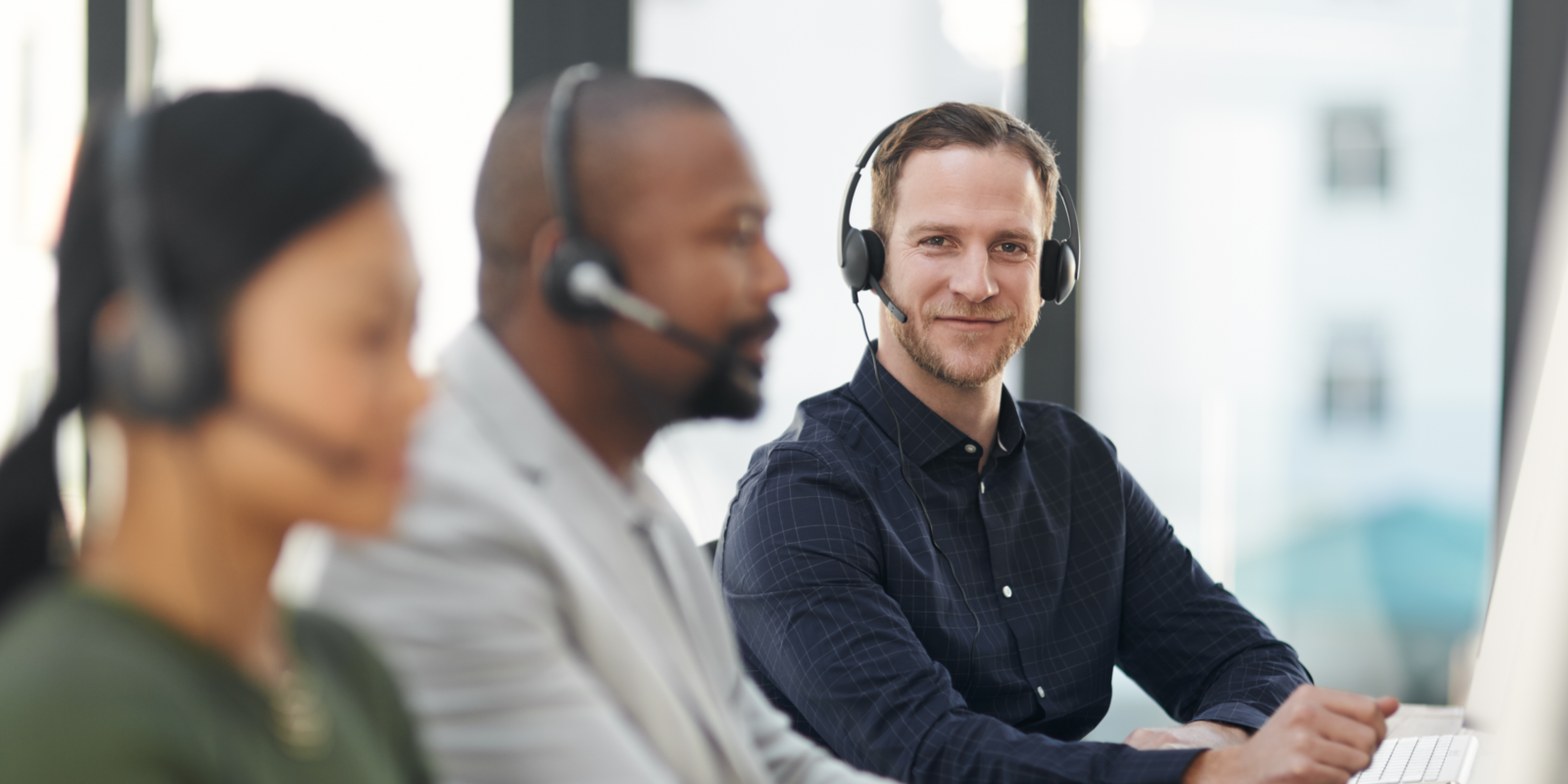 If you're running an outbound or inbound call center, then you know how important it is to have a good CRM system and contact center solution in place.
In this guide, you'll get a breakdown of key functionality to look for, like omnichannel communications and artificial intelligence—and also a quick overview of some of the top providers available today.
But first...
What is a call center CRM software and how does it work?
If you're looking for CRM call center software, you may already know that typically, CRMs and call center software are two different types of platforms.
There are CRMs that act as a central database for customer data like Salesforce, and then there are cloud-based contact center solutions like Dialpad Ai Contact Center. And while there are "CRM call center software providers" that say they do both, generally it's on a very lightweight level—if you want full-featured, robust CRM and contact center functionality, it's generally better to have two separate, specialized tools.
Contact center solutions need some kind of built-in telephony to let reps make phone calls (along with other communication channels like video meetings if you run an omnichannel contact center), and both CRM and contact center technology tend to be quite specialized. You won't really find CRM systems that come with built-in telephony—it's more likely that they'll integrate with a phone system or virtual call center solution to add that outbound and inbound calling piece.
For this blog though, since you got here by searching for "CRM call center software," we'll run through some options that will give you a mix of both types of functionality, either natively within the solution, or through a CRM + contact center integration.
Key features that the best call center CRM solutions should have
Omnichannel capability
Customers are no longer satisfied with dialing into a 1-800 number and waiting for 10 minutes to talk to someone. They need more options for interacting with businesses, which can be a challenge for smaller companies.
Ideally, the call center software you go with will allow you to manage all of your communications in one place. This means customers can reach you on whichever channel they choose, and enjoy a much smoother customer experience.
Built-in artificial intelligence
This is a key feature that is still flying under the radar for some companies. But if you like the idea of real-time transcriptions, live sentiment analysis, and agent assists, this is something to keep an eye on as you're vetting vendors.
Call routing
An intuitive, well-designed call routing and IVR (interactive voice response) system is essential because it lets you easily route calls to the right agents based on certain criteria, such as skills or availability, right from your online dashboard.
Some advanced contact center solutions, like Dialpad Ai Contact Center, even give you omnichannel call routing, meaning a customer on your website's live chat can be instantly routed to a voice call with an agent without needing to manually dial your company if they had a tricky question.
Workflow automation
Workflow automation helps you automate repetitive tasks so that your agents can focus on more important tasks. For example, some CRM call center software can automatically log rep activity (like calls and SMS messages) in the CRM after the customer interaction. No need to manually add anything, and it makes for a more agile workflow too.

✒️ Vetting contact center solutions?
This RFP checklist covers the essentials to be aware of as you're shopping for a contact center platform.
Ease of use
With cloud-based solutions, this is generally less of an issue, since you can add phone numbers and users, and adjust call routing settings, all from an online dashboard.
Advanced call analytics
The best call center and contact center solutions should have built-in call analytics and dashboards that help you track team performance and key metrics like average call durations, incoming call volumes, handle times, and more.
Call recording
Call recordings are one of the most important agent coaching and quality assurance tools you have. As you're checking out different providers, make sure to check if call recordings are included. Some will let you have a certain number of hours of recordings, while others will limit by the amount of cloud storage space.
Flexible SaaS pricing
This one's pretty self-explanatory. Gone are the days of huge capital expenses required to get started with contact center software. Look for providers that have month-to-month and annual plans to give your business the flexibility it needs.
Top 8 best CRM call center software
1. Dialpad Ai Contact Center
Whether you're leading a support team or sales team, or just receive a high volume of inbound calls and outbound calls on a daily basis… Dialpad Ai Contact Center is one of the top CRM call center software solutions out there.
It connects with a wide variety of CRMs like Salesforce, Zendesk, and Zoho CRM to centralize all customer intelligence and interactions in one place which can be accessed by agents in real-time:
But there are a few key features that really set Dialpad apart:
Built-in Dialpad Ai
Dialpad Ai is Dialpad's proprietary artificial intelligence technology, which can do quite a few useful things. First, it does real-time transcription for your calls and meetings (and voicemails!) in real time—more accurately than almost all competitors out there:


Beyond that, Dialpad Ai can also help contact center and sales teams track keywords that come up often on customer calls. For example, sales reps might find it helpful to know how often a competitor's name comes up on sales calls, while a customer service team might want to track how often complaints about a certain feature gets mentioned.
You can create "Custom Moments" to track these keywords and phrases:


Not only that, supervisors can even go one step further with Dialpad Ai and create Real-Time Assist (RTA) cards, which are a whole new way of looking at scripting. RTA cards are essentially tailored notes about specific topics that pop up automatically on agents' screens—when those topics come up on calls. For example, if new agents aren't familiar with all your pricing packages, you can create an RTA card with notes on pricing and set it to trigger when "cost," "price," or "pricing" are said on a call.
The Ai Agent Assist feature can also automatically search all connected sources of knowledge (even unstructured sources like PDFs and past customer conversations) to pull information for call center agents in real time:


It's like automated coaching—on a massive scale—and can both improve both the customer experience and the agent experience.
Ai CSAT (Customer satisfaction)
CSAT surveys are valuable feedback tools that can tell you a lot about what customers think of your services, and how your operations can be improved—if people would just fill them out, that is.
The thing is, CSAT survey engagement numbers tend to be rather low, and even then, the customers who bother responding are either extremely happy or extremely unhappy, creating a skewed view of the data.
Dialpad's Ai CSAT changes that. Not only can Dialpad Ai transcribe calls in real time, it can also infer CSAT from the transcript and use it to predict a highly accurate CSAT score—even if the customer didn't fill out the survey. Your supervisors can then dig into call recordings and transcripts to understand why certain agents are getting low CSAT scores and identify coaching opportunities:


Omnichannel communications
Of all the platforms on this list, Dialpad is the only one that can be considered a truly unified solution. That's not just marketing talk—Dialpad TrueCaaS combines UCaaS (phone calls, SMS/MMS messaging, team messaging, and video meetings) and CCaaS on a unified platform powered by AI, to provide a seamless and cohesive user experience in a single application.
That means you can provide a truly omnichannel customer journey that spans voice, video, messaging, live chat, social media, and yes, even chatbot and self-service.
For instance, a customer support agent talking to a customer on social media or on a phone call might need help with troubleshooting a certain issue. Using Dialpad, they can send a message to their supervisor or to an expert in any other part of the business without having to open a different application.
Or, maybe you want to let customers easily escalate from a support chatbot conversation to a live agent, or need to create a new conversational AI flow. You can do both with the no-code drag-and-drop builder:
Voicemail drop for sales reps
A big time-saver for outbound call center teams is the voicemail drop feature, which lets sales reps record a voicemail message and "drop" it into a call if the prospect doesn't pick up:

For sales teams that have to make hundreds of cold calls a day, this can add up to hours saved every week.
A wide range of CRM integrations
Dialpad integrates with a huge library of apps, including many help desk and CRM (customer relationship management) platforms like Zoho CRM, Salesforce, and Zendesk. The CRM integrations can automatically log activities and embed a CTI dialer right inside them to streamline workflows and let reps make phone calls directly from the CRM:
Other features
Dialpad Ai Contact Center's lowest tier comes with:
Pricing
Two tiers: Pro and Enterprise. On the less expensive Pro plan, you still get 24/7 customer support on phone calls and live chat, while on the Enterprise plan, you also get custom data retention policies and an incredible 100% uptime SLA. Get in touch with our team below to learn more about pricing!

See how Dialpad Ai Contact Center works!
Check it out, dig into the unique Ai-powered features, and learn more about pricing info. Book a demo, or take a self-guided interactive tour of the app on your own first!
2. Zendesk Suite
Zendesk is another top CRM call center software that offers agents a central database for customer information. What's cool about Zendesk is it covers ticketing, messaging, help center, and voice, which is quite robust.
Fun fact: It integrates with Dialpad's cloud contact center solution to automatically pull contact details on calls:

Features
Zendesk Suite's lowest paid tier comes with features like:
A help desk ticketing system

Email, chat, voice, social media messaging support

AI-powered bot responses
Pricing
Paid plans start at $49 per agent per month1
3. Freshdesk Contact Center
Part of Freshworks' cloud-based PBX suite, which is more popular with small businesses, Freshdesk Contact Center and Freshsales CRM software can be combined to give you CRM call center functionality.
Some features, such as the power dialer, omnichannel call routing, and callbacks, are only available in the two most expensive tiers.
Features
Freshdesk Contact Center's lowest paid tier comes with features like:
Basic call queues

Voicemail

Call recording

Phone number porting support
Pricing
Paid plans start at $15 per agent per month, pay-per-minute calling.2
4. Zoho CRM
Zoho CRM is an all-in-one CRM software that includes functionality such as sales force automation, marketing automation, and social media integration. Zoho CRM also offers a mobile app so you can manage your customer relationships on the go—you can integrate it with a contact center solution like Dialpad to get the best of both worlds:


Features
Zoho CRM's least-expensive Standard plan comes with features like:
Sales forecasting

Email templates

Scoring rules
Pricing
Zoho CRM's plans start at $14 per user per month.3
5. RingCentral Contact Center (/NICE)
RingCentral is a telephony provider that markets both unified communications and a call center solution. The company has been around for a few decades, since the early days of on-premises phone systems.
One thing to note about RingCentral's contact center software, however, is that it's currently whitelabeling NICE's contact center product4, which is why their contact center app looks different from the rest of their communications platform.
Through their partnership with NICE, RingCentral can provide features like real-time agent coaching and advanced call analytics.
One of main drawbacks of any provider whitelabeling another company's contact center software, though, is the implication for their product development roadmap and troubleshooting, as well as potential hidden professional services and support costs. In this case, since NICE is the company in control of their contact center product, it could mean that RingCentral has less control over the CC product roadmap and other support issues.
Features
RingCentral Contact Center's lowest tier comes with features like:
IVR functionality

5 GB of active recording storage

Click-to-call

Note: Lowest tier does not include integrations with tools like Salesforce, Microsoft, and Zendesk
Pricing
Has four tiers; get in touch with their Sales team for a quote.5

6. Bitrix24

Bitrix24 is a CRM call center software that has a certain degree of functionality for both of these tools.
Bitrix24 is a bit of an interesting one, because it's a mish-mash of very different tools in one platform. There's a project management tool, CRM, and even a website builder feature. This might be an option for some small businesses that would rather have all of these tools in one place, but to be honest, there's a reason why you don't typically see this—how well everything actually works together is another question.
The other red flag is that if you want customer support, there's no phone support.
Features
Bitrix24's lowest paid tier comes with features like:
Unlimited contacts

Telephony

Kanban board for projects
Pricing
The lowest paid tier starts at $49 per month for five users.6
7. EngageBay
Like Bitrix24, EngageBay has a few products in its suite for small businesses, including CRM and help desk functionality. While it does have some nice CRM and marketing functionality like a landing page builder, email marketing, and SMS marketing, the one glaring thing it's missing is the telephony and omnichannel piece.
Features
The least-expensive "Basic" tier of the All-in-one suite comes with features like:
750 contacts

Email templates

Lead scoring
Pricing
There's a free plan in the "All-in-one" suite, but it's a bit limited. The next step up is the Basic tier, at $12.74 per user per month.7
8. Cloudtalk
CloudTalk is a cloud-based CRM software that's a good budget alternative, with functionality like live chat and VoIP calling, but their website doesn't go into much detail about any artificial intelligence-powered features like real-time transcription or live sentiment analysis.
Features
Cloudtalk's lowest paid tier comes with features like:
Automated call distribution

Unlimited call queues

Voicemail

Mobile app
Pricing
Starter plan pricing starts at $25 per user per month.8


What's the best CRM call center software combo for you?
By now, you should have a good idea of the options out there for both CRM and contact center functionality.
Remember, the best way to really understand if one of these options is the best fit for your business is simple: get a firsthand look at it with a product demo or free trial!
Either way, if you think your support and/or sales team will benefit from powerful call center AI features that can coach them in real time, provide live insights to your leaders, and improve productivity, why not check out Dialpad Ai Contact Center?

See how easy it is to set up and use Dialpad Ai Contact Center!
Book a demo, or take a self-guided interactive tour of the app on your own first!
CRM call center software FAQs
Can I transition easily to Dialpad if I have an existing CRM?
Yes! Dialpad integrates with a variety of CRM systems like Salesforce, HubSpot, Zoho CRM, and more. There's also an open API if you have a homegrown CRM that you want to integrate into Dialpad!
Do I need a CRM call center software for my small business?
1zendesk.com/pricing/
2freshworks.com/freshcaller-cloud-pbx/pricing/#
3zoho.com/crm/zohocrm-pricing.html
4channelfutures.com/telephony-uc-collaboration/ringcentral-nice-extend-partnership-to-offer-ringcentral-contact-center
5ringcentral.com/office/plansandpricing.html#cc
6bitrix24.com/prices/
7engagebay.com/pricing/all-in-one
8cloudtalk.io/pricing/