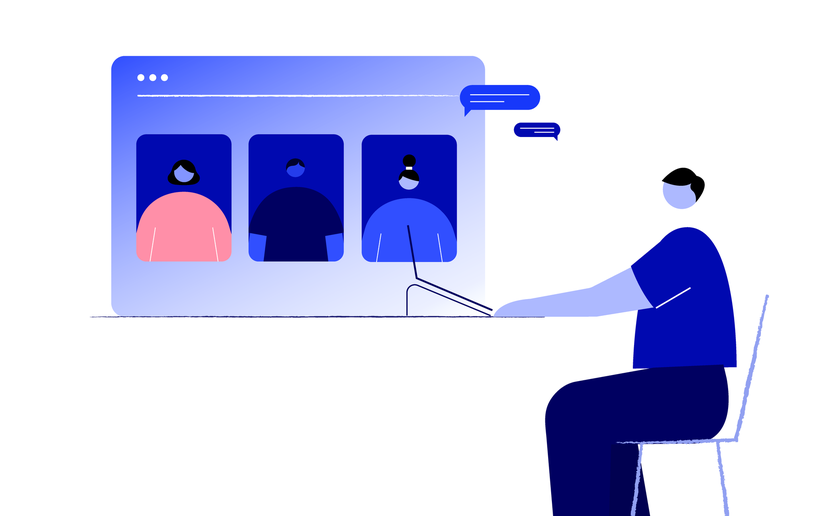 September 15, 2020
2020 has become the year of virtual work meetings, with companies worldwide discovering the benefits of transitioning to remote work. However, this is also the year that many executives have learned the challenges of scheduling a virtual meeting.
If you can't see your associates, clients, or qualified leads through video conferencing, your online meeting won't have the same impact as an in-person conversation. That's why businesses invest in video conferencing software to keep their sales and productivity growth for the rest of 2020 and beyond.
Why should a company use video meetings over audio-only? There are plenty of advantages.
Read Your Audience Better
If you're presenting important information to your team, how will you know that they're even paying attention if you can't see them? Audio-only conferences make it too tempting for participants to multitask during a call because there's no way for anyone to know.
Likewise, what if they are paying attention but are confused? Not everyone feels comfortable interrupting to ask questions. With video, you'll be able to read facial expressions to see if they're not understanding you. You can read your audience and pivot when necessary to keep everyone on the same page.
Improved Attendance
Any business leader knows it's tricky to schedule a meeting when everyone is available. But when the entire team can be seen on the same screen, your team will make sure to be prepared for the conference call.
Even when juggling different time zones, remote meetings let some people connect at the end of the day while others are sipping coffee as they log in. The best video conferencing software offers native integrations that allow you to schedule meetings with just one click through Google Calendar or Office365.
Fewer Travel Expenses
With more remote workers located throughout the nation and even throughout the globe, it can be very costly for companies to pay for in-person meetings. Video conferencing helps reduce travel spending, providing a similar experience to a face-to-face meeting at a fraction of the cost.
Ensure More Engaged Participants
Top video conferencing software offers the ability to use artificial intelligence to take notes on behalf of meeting participants, so your team or clients can pay closer attention to your presentation instead of juggling listening and notetaking.
Plus, video allows you to include slides, images, video streams, polls, and other engagement tools to keep participants active and interested.
Better Productivity
Video conferencing saves the time it takes to travel to meetings, whether they're across the building or town. The time that used to be spent traveling from one conference room to another (or trying to find an open one to use) can now be spent productively. Not to mention, you're never in danger of double-booking your video conferencing software or running over and impacting the next team that needs to use a space.
To save even more time, you'll want to look for a software service that doesn't require sharing a PIN or forcing your team to download additional software that may make them late for a meeting.
Video meetings should make it easier to work, not cause headaches. Look for software services that let you seamlessly integrate your video conference calls into your CRM or other existing marketing and productivity tools.
Better Rapport
As great as voice technology is, there's no substitute for seeing another human face. Seeing people's faces helps build a better rapport among co-workers who may miss the social interactions from in-office communications.
Audio-only meetings also prevent participants' ability to share their desktop screens or applications to collaborate efficiently. Video conferences make teamwork just a click away.
Clearer Communications
A leading cause of lower morale and isolation in remote workers is a simple breakdown in communication. But with video conferencing, people can pick up facial cues and body language that helps them better understand their co-workers and customers.
While a video conference is underway, the best software allows team members to send instant messages or chats to participants. They'll know who's on the call, who's speaking, and even have the ability to mute distractions that threaten to override productivity.
More Structured Meetings
With video conferencing, organizers can share agendas by merely sharing their screens. Knowing what a meeting needs to cover will help ensure everyone sticks to the schedule and discuss the necessary topics.
Improved Employee Morale
Remote work is gaining popularity throughout industries in the United States and beyond. Employers find it helps reduce operating costs and increases efficiency. The flexibility of online meetings makes it easier for employees to juggle remote learning for their children and other personal tasks while also being a part of the team.
However, audio-only meetings can lack some of the human interaction that people need to boost morale. Video conferencing software solves that problem by providing ample face-to-face interactions. Seeing someone smile can help people come together and work toward a common goal, no matter how difficult the situation is to handle.
Video conferencing also allows teams to enjoy team-building exercises and games in a way that audio calls can't. You can also consider having a remote meeting that is a happy hour, a virtual visit to a museum, a photo contest, or other challenges to improve morale and have fun.
Use Video Conferencing to Improve Your Remote Meeting Culture
Business leaders who embrace the modern-day digital workforce with video conferencing software have a clear advantage over those who fear adapting to new technology. Video calls can make it easier for your team to accomplish the tasks at hand, no matter where they are.
When looking to integrate remote video conferences as part of your productivity tools, look for software that streamlines the process and integrates with your existing platforms. You'll want to be able to quickly use technology to your advantage rather than spend extra time on complex configurations. With the right system, you'll discover that video communication with your team is easy and effective.