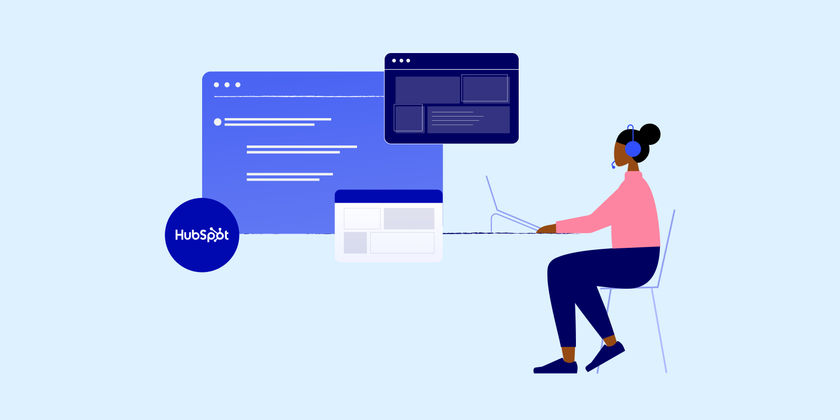 March 11, 2021
If you integrate HubSpot CRM with a business VoIP calling solution like Dialpad, you have a match made in telephone sales and customer support heaven.
Business VoIP with HubSpot integration provides significant business value through increased efficiency and productivity. VoIP offers crystal-clear calling from any device that accesses the internet. HubSpot is a broad, deep CRM solution that supports marketing and sales initiatives. Together, they form a solid foundation upon which to grow your business through automated data handling. Dialpad simplifies the union with native integration with HubSpot to help you attract leads online and convert them to customers with less effort.
Access your business phone and CRM from the same platform. Your reps no longer need to spend time switching between applications, duplicating input, or looking for information in two systems. Integration not only increases efficiency but also improves customer experience, data analysis, and management.
Increased Efficiency/Productivity
When they answer a customer call, how many steps do your reps need to take to begin engagement? Customer information is often the first request. Then the representative must look up information on two separate platforms. The platforms may duplicate some data, but they don't speak to each other.
Switching between the platforms to look up information and modify data takes up valuable resources from customer engagement. No caller likes repeating information the company already has or waiting for your sales or support agent to find the correct files.
By integrating Dialpad with HubSpot CRM, the information is retrieved and displayed from when someone picks up the customer call. The representative has everything they need on the screen, so the customer doesn't need to wait to catch up. The agent can move back and forth between platforms to streamline workflow.
All calls are logged automatically, whether it is inbound or outbound, regardless of the device. Then you retrieve a full call transcript, voicemails, and call notes.
There is no need to spend time entering information into the system during or after the call. Your reps can spend their time conversing with your customers without distraction.
Dialpad and HubSpot can quickly expand to meet your needs as the business grows. There is no need to purchase more hardware, and your communications remain secure. VoIP uses encryption and improved identity management to control threats.
Much of the efficiency is realized via unified communications.
Unified Communications
Integrating VoIP with HubSpot allows the systems to seamlessly sync call activity with sales data. With real-time data, you have visibility into how a particular sales promotion is working. From there, you get a better forecast into deal development and what to change for better engagement.
Unified communications also include the ability to use the platforms with any device. Maintain productivity and efficiency gains even when your people are not in the office. Remote work is simplified with CRM-VoIP integration.
Creating contacts is more manageable, too. Dialpad provides the ability to develop new HubSpot contacts directly from the VoIP application. The system matches existing customer profiles through the phone number, email, or name of the caller in HubSpot to the contacts in Dialpad. Data moves freely between the platforms, shaving off precious time that is better spent with the customer.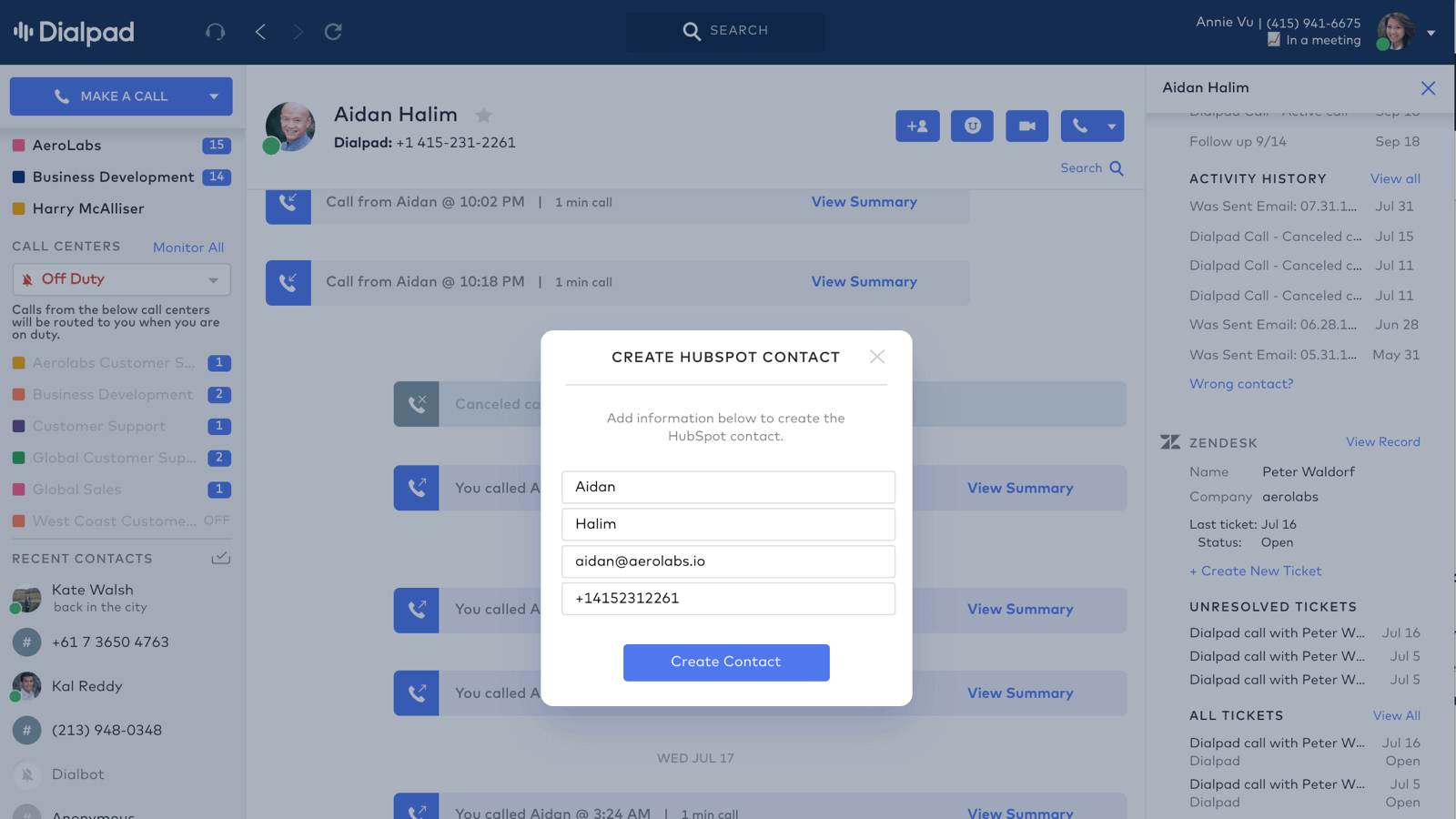 With VoIP, you never have to change phone numbers when changing your location. If you travel, you are never out of touch with your office or customer base.
Unified communications lead to streamlined customer profile availability.
Customer Profile Availability
HubSpot automatically displays contact profiles within Dialpad, allowing the agent to use a quick link to jump into the HubSpot platform directly during the call.
The agent has quick access to dispositions, deal tagging, and call notes and tasks. All contact information is automatically displayed once matched. Recent HubSpot activity also shows on the Dialpad sidebar.
The agent can click on View Contact to open a page in the HubSpot sales hub. After the call is complete, the user logs notes or tasks against that contact.
Automated logging and the simple addition of notes and tasks improves the customer experience.
Improved Customer Experience
When contact information is so easily accessible, marketing and sales can anticipate customer needs in real-time. An incoming caller's profile is automatically directed to the answering agent. The agent can now give the customer their full attention and reduce the time spent asking repetitive questions at the beginning of every call.
The agent can see what the prospective customer has already viewed online, how often they visited the company website, and what that person bought previously. With that information in hand, the agent not only anticipates the customer's needs but can also quickly begin cross-selling and upselling offerings that are of most interest.
When handling customer service and support calls to troubleshoot problems, the pertinent information is available to the representative without spending time searching through open tickets or asking the customer to keep a ticket number.
All past troubleshooting history and support tickets are available immediately. The customer feels taken care of and experiences fewer delays.
Easier Management
Pairing Dialpad and HubSpot can provide call data analytics for quick feedback to your agents. The system offers critical metrics for individual agents, such as the number of calls taken per day, the number of hang-ups, average call time, and average wait time.
Use the data to coach a single agent to improve performance, or use the information to help your entire team.
With real-time monitoring, you can assign someone to help an agent who seems stuck on a call. You can reduce designated agents during slow times and allow them to complete other work or support a different product line.
Each agent can prioritize a daily call list using engagement and contact property data from HubSpot to make the most critical calls a priority when setting up the queue. The agent then quickly and efficiently works through the list to maintain productivity while maximizing sales and support.
Conclusion
Integrating your business VoIP calling solution with HubSpot provides a host of benefits that the individual solutions cannot deliver separately. A VoIP solution such as Dialpad has native integration with HubSpot, making it easier than ever to share data between your contact system and your customer relationship management platform.
Merging the two platforms significantly boosts productivity and efficiency with automated caller ID matching, call logging, and call transcript. Agents can add notes and tasks directly to the customer record, use stored data to anticipate customer needs, and improve upselling and cross-selling opportunities.
Eliminate all the busywork of logging information during or after the call, where you can lose data and introduce errors. Give the customer your attention when it counts. Then use the data to monitor and improve customer service metrics for individuals and teams.
Watch your productivity soar by joining two powerful business platforms into a sales and service-oriented solution.