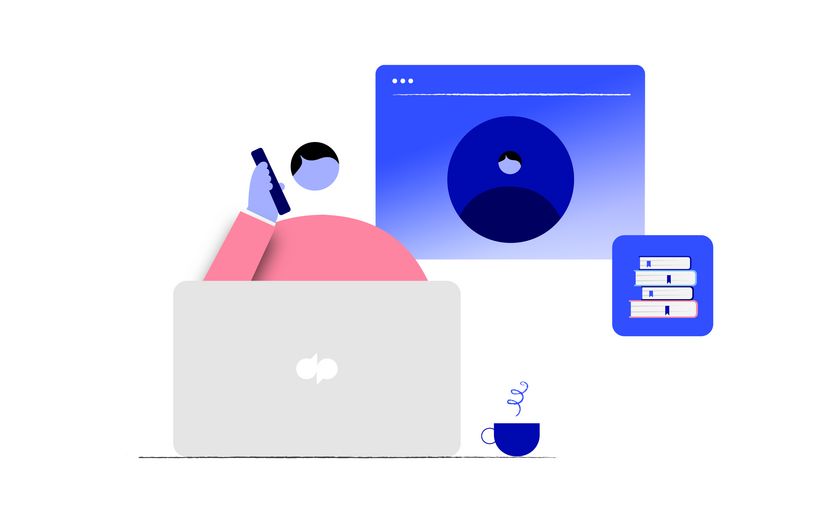 October 12, 2020
Phones are constantly ringing in the administrative offices of all academic institutions, from preschools to universities. But being able to answer endless parent questions isn't the only reason why phones are so important for the world of education.
Today, academic administrators are using virtual phone systems for education in innovative new ways. As remote and distance learning gain popularity, educators recognize the benefits and services that a cloud-based communication platform can offer.
These virtual or cloud phone systems, powered by artificial intelligence and hosted online, can connect many users, no matter where they are in the world. From a desk phone to a laptop to a mobile phone or tablet, all kinds of devices can be used.
By improving efficiency in the administrative office and providing a platform to teach students anywhere globally, a cloud-based phone system can make the educational experience better for students, teachers, and administrators alike. Let's look at some ways that academic institutions of all sizes can increase enrollment, improve the learning experience, and more with a better phone system.
Implement virtual learning classes
With more students than ever taking classes online, many academic administrators search for an effective video conferencing solution.
With a cloud-based communication system, video conferencing for virtual learning can be as easy as making a phone call. State-of-the-art video technology and HD audio make it possible to use a virtual phone system to organize academic schedules and classes online.
Dialpad, a leading cloud communications platform, has not only a built-in phone system but also a video conferencing feature that letst schools have straightforward, browser-based virtual classes. You can get HD audio and video without the need for any technical intervention, pin codes, or passcodes.
Improve call routing
While new virtual learning has moved to the forefront of administrators' agendas, it's still vital for the office to run smoothly as calls from concerned parents and students still fill the day. With a VoIP phone system, calls can be handled more easily.
Streamline your administrative process by customizing call routing for different departments. With Dialpad, each call can be automatically recorded, transcribed, and logged. Whether members of the school leadership team are having conference calls or there is a legal issue, you'll also be able to easily review the call summaries—no secretaries needed.
This not only frees up the time for assistants to perform other tasks, but also facilitates staff collaboration no matter whether employees are in the classroom, in the office, or at home, which makes it easier to get questions answered and improves overall student satisfaction too.
Create a modern campus
Another way to increase student satisfaction is to create a feeling of community, even off-campus. A cloud-based communication system allows for a virtual campus feeling by connecting staff, faculty, and students no matter where they are living and learning. This can be especially important when administrators need to share information about business continuity plans, emergency preparedness processes, and other system-wide notifications.
Communication through a cloud-based platform should also be FERPA/HIPAA compliant. This means that data captured and stored within your administrative network is encrypted both when it's in transit and when it's in your cloud-based files. Parents and students won't have to be concerned that a breach will impact their privacy.
Add BYOD opportunities
Academic institutions may have once shunned mobile phones, laptops, and tablets when they were first gaining favor among young families. But now, digital connectivity is part of everyday life. Schools are recognizing the need to compete for attention and enrollment by integrating technology.
Beyond virtual classrooms, teachers can use a cloud-based communication platform to encourage students to BYOD or bring your own device. With a secure platform, educators will create a more robust syllabus that incorporates technology and improves the learning experience. They can share directly with parents from any device too.
Integrate with other apps
Many administrative offices already have dedicated productivity tools, such as Google Workspace or Microsoft 365, that they use daily.
If administrators have introduced technical tools like these for staff, they'll want to make sure that a new cloud-based phone system seamlessly integrates with these other cloud-based platforms.
When you integrate natively with other apps directly into your daily workflow and office communications systems, your staff can communicate quickly and easily from any device, anywhere in the world. Conversations can be transcribed with highlighted action steps that are necessary for the task. That way, there will be less confusion and greater efficiency.
What's more, you can analyze the communication. Faculty members can receive valuable feedback, and it's possible to use data for employee reviews and when addressing concerns.
Try Dialpad before budgeting
Academic administrators have more complex issues to address than ever before, and communication is at the heart of every solution. That's why you should look for a cloud-based communication platform that's easy to use and offers support for common problems in educational environments.
It can be challenging to decide which platform is the best, so don't be afraid to try a few out and see which one offers the best benefits for your school.
Dialpad provides services to many higher ed institutions and schools, such as Blue Cliff College and Los Angeles Pacific University.
All paid plans come with unlimited calling in your own country, as well as the United States and Canada. It's even possible to use a local number, so there is no confusion when parents or students wish to connect. Try Dialpad's VoIP solution for schools for free with a 14-day trial!