Back to Blog
How to create B2B customer experiences that will keep buyers coming back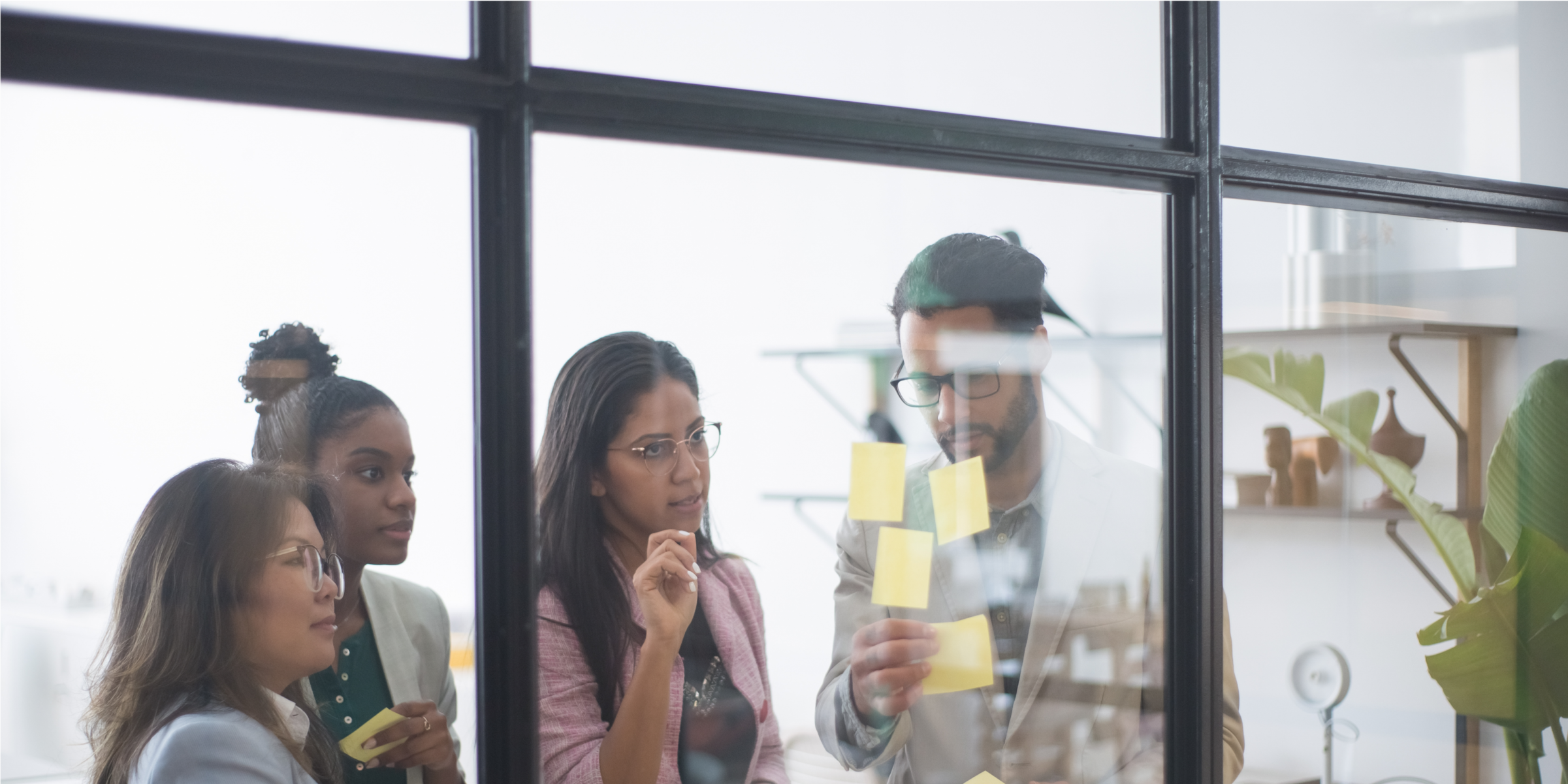 Think about a B2B business that stays on the top of its game year after year. Perhaps HubSpot or Salesforce made an appearance at the top of your list.
But what do these B2B companies have in common?
Well, they both provide a strong customer experience (CX). In this increasingly competitive landscape, stellar CX is more important than ever for B2B.
Enhancements in B2B customer experience can:
Reduce customer attrition

Increase offer win rates

Reduce customer service costs
B2B customers can be as meticulous as B2C customers, and perhaps more so. If you're failing to meet their expectations, they'll find a business that will.
It's not easy keeping up with ever-expanding customer expectations. Still, there are some steps you can take to ensure your business delivers an outstanding experience to clients every time they engage with your brand.
In this post, we share the ins and outs of creating a successful B2B customer experience for long-term business success.
Let's get started.
How to create the ideal B2B customer experience for your business
1. Segment your customers
Segmenting your customers is the first step in understanding how to create a customer-centric experience that aligns with their wants and needs. A customer journey map can help you know what your buyers are looking for, how they buy, and what makes them return.
Once you're aware of these common characteristics—the "why" behind your customers' actions — you can craft an experience that caters to those needs and build loyalty over time. The result will be happy customers who keep coming back.
The buyer's journey is complex, but it's not just about the end result. It's about the process of reaching that result, so it's crucial to understand your buyer as they move through each stage of their journey.
When you're looking at how to create a B2B customer experience that will keep buyers coming back, here are some key considerations:
Understand what motivates your buyer: The first step in creating a customer experience is understanding what motivates your buyer. What do they want? What are their needs? Why do they make the decisions they make? Understanding this is crucial because it helps inform the entire experience you'll need to deliver throughout their journey.

Know how you can help them: Once you understand what motivates your buyer and why they make the decisions they do, then it's time to figure out how you can help them get from point A (where they are now) to point B (where they want to be). You need to understand what specific needs or pain points exist on this journey to identify opportunities for yourself as an organization.
You can create "Custom Moments" in Dialpad to help you easily track your prospects' motivations. Simply enter the trigger words that you want to track:


For example, if prospects are often talking about how frustrated they are with the existing tools, you can keep track of the commonly mentioned tools (which are most likely your direct competitors), understand what customers are saying about them, and use that infromation to your advantage when talking about your product's strengths.
2. Personalize the customer experience
When you're working with a client, set goals together. Don't only look at what they want or plan to achieve — focus on their pain points and how your business can solve those problems. When you have this kind of mindset, it's easier to stay focused and not get sidetracked.
Your goal is to improve your client's ability to sell products or services in their industry by helping them solve a specific problem that will make them more profitable or productive as a business owner.
So before you start thinking up solutions, define the problem as precisely as possible: What is stopping your client from being successful?
Then, break down each part of that question into more detailed questions:
Why do clients want to buy from you instead of your competitors?

What are some ways you can make yourself stand out from those competitors?
Once you've defined your client's problem clearly and concisely, find ways to solve those problems and add a personal touch.
Providing personalized experiences for your customers is a requirement nowadays. Take Samsara as an example. When purchasing any of their video-safety equipment, whether a dash cam or in-cab audio alerts, they encourage customers to do a quick and easy survey to better understand their individual needs.

Failing to offer tailored experiences to your B2B buyers will most likely result in losing out on potential clients. What works for one company might not work for another, and that's okay.
The only thing that matters here is solving those root issues head-on, so everyone involved wins in the end.
3. Don't overpromise
All customers want to do business with trusted brands. If B2B companies make a promise and don't deliver, they will lose credibility and the trust of customers.
Be realistic about what you can deliver. For example, don't promise a photo editor that removes background and turns ordinary headshots into cartoons if that feature is still in the development stage. Always keep your promises so that your customer stays confident in their decision to work with you. If unforeseen circumstances prevent you from making good on your word, explain why in detail and offer an alternative solution.
Be transparent about what you can and can't do, including any limitations of your products or services that may impact their decision to buy from you. If a customer asks for something outside the scope of your core offerings, say so—and don't try to sell them something they don't need anyway. Customers will know if you are not being honest with them.
4. Keep them in the loop
The most important thing you can do for your customers is to keep them in the loop. Using the right business communication channels are essential here. Ensure your buyer is comfortable with how and when you reach out.

Be proactive with your communications rather than waiting for something to happen first. If a client has provided an emergency phone number or email address, this is valuable information, so make sure to leverage it when needed. It's also worth noting that some people may prefer phone calls over email (or vice versa), so consider how often you reach out and how you do so:


Do your best to get things back on track promptly. You should notify your customer if there's ever a delay or if a project is falling behind on deadlines. It's best to be honest and upfront about the situation rather than let it spiral out of control.
Communication doesn't stop after the initial purchase. Creating a great customer experience is not only about landing the sale but also focusing on all the potential touchpoints you might have with your users or buyers, including self-service or automation initiatives.
Create thoughtful email marketing campaigns that provide value to your users and entice them to return consistently to your product or platform. Use these emails as the go-to form of communication to share progress updates, promote new product launches, and ask for customer feedback.
Streamline the purchase process
Your clients have a lot on their plate, and your job is to make it as easy as possible for them to do business with you. Don't make them jump through hoops, wait around or fill out lengthy forms.
For example, if you have an online submission form requesting information about your product or service, don't require that they fill out the same information twice or provide unnecessary details that aren't relevant.


Regarding B2B experience, buyers expect a certain level of professionalism. But beyond that, when you can, go above and beyond expectations.
Provide your customers with the information they need upfront to help them make a quick and easy purchasing decision. Be transparent about pricing, contracts, and the scope of work. This simple tactic will result in less back and forth, making your customers' lives easier and increasing customer retention.
Remember, the buyer's primary goal is finding a solution to their problem. If you can achieve this goal, some will see that you care about their success and want to do everything you can to help them overcome their challenges.
It's not enough to just sell to customers, you need to educate, inform, and inspire them.
This is especially true for B2B organizations that sell a complex or highly technical product or service. To do this, create educational content for potential (and existing) customers. There are a variety of content formats you can use, such as FAQ pages, eBooks, blogs, and a YouTube channel filled with educational videos.
Remember that B2B buyers want more than just a product or service — they want a digital experience. They want to know how their purchase will positively affect their business or the lives of their customers. B2B marketers can provide this value by educating buyers on your product or service and providing them with information to help them make better decisions about using it for their specific needs.
Whether you share your content via a podcast, webinar platform, YouTube video, or online course, make sure the content is high-quality and entertaining, and leaves consumers wanting more.
6. Provide real-time updates
Real-time updates are the best way to stay on top of your customers' expectations.
A real-time update is any message that lets customers know where they are in the process, whether it's an order confirmation email or a notification that their package has shipped.
Send these messages whenever there's new information available, as they help keep customers engaged. When creating these messages as part of your B2B customer experience strategy, keep them short and sweet. Don't overwhelm buyers with too many details at once.
In today's world, there are plenty of ways buyers can contact companies: text messages, social media chats, and direct emails are just some options available. That means businesses need more than one way for customers to reach them—so we recommend having multiple channels available: live chat, email, phone, etc.


When someone reaches out using one of these methods, they should always be able to speak directly with someone who is an expert in that area. Don't always rely on an automated response system or a customer service rep who is not well trained to handle that issue or guide the customer on the best approach to resolution.
Analyze the metrics associated with your real-time response initiatives. Focus on the providers producing solid customer satisfaction results and part ways with the methods that are not improving the B2B experience.
For example, if your chat bot works well, stick to it. If you notice an increase in complaints about long hold times on the phone, it is probably best to consider how you can make improvements in the area.
7. Cultivate customer delight
The most significant difference between a B2B customer experience that will keep buyers coming back, and one that won't, is the ability to cultivate customer delight. Delight can be the difference between customer loyalty and churn.
But what exactly is delight?
Delight is about exceeding expectations when you do something memorable for your customers.
It's rarer than you think, but if account managers do it right, your B2B buyers will tell their colleagues and friends—and hopefully bring more people into your funnel with every share on social media or in-person conversation they have with someone new who wants to try your product or service.

Don't take it for granted that they will continue doing business with you just because they are buying from your company. You still need to build customer relationships and trust among buyers if they will continue engaging with your brand in the future.
8. Better experiences for your customers
People are people no matter what they do or where they work. When working to improve your B2B CX, you have to think about it differently compared to B2C companies.
For example, in the B2B sales cycle, the stakes are higher, contract values are more material, and stakeholders' expectations are greater — which means your approach needs to be your differentiator and competitive advantage.
It's crucial to know your customers well by analyzing all customer data: Their goals and objectives, where they're coming from, what's important to them in the user experience, how they operate in their day-to-day workflows, and their roles as decision-makers for purchases of your product or service.
Understanding how things change along the customer journey — from when an opportunity arises until after a sale has been made and delivered as expected — is essential for improving customer satisfaction.
Keeping B2B customers happy requires getting to know customer needs and gathering customer feedback throughout their journey so that you can manage, meet, and exceed their expectations at every step.
Find at least one way to go the extra mile with customer support to prove to your customers that you genuinely care about them. Happy customers drive loyalty and brand credibility, the winning formula to long-term customer success for business-to-business companies and an undervalued competitive advantage in the ever-changing business world.
B2B customer experience examples: How these companies are improving their customer journey
How Rocket Matter provides 7-time Stevie Award-winning service
Rocket Matter is a leader in legal practice management software that serves thousands of law firms. Their old phone system had not-so-great call quality, and was constantly dropping calls. It did not make for a good customer experience when they were providing technical support for their customers (lawyers) or when their sellers were on sales calls.
On top of that, law is a regulated industry which means they also had compliance standards to think about. So, they switched to a better communications platform for their critical customer-facing team.
"Dialpad is secure and compliant which is a must, but it's also so easy to use," says Jeff, their CRO. "This allows us to offer our attorneys the ability to easily, securely, and effectively reach us no matter where we are. That's so important. Because of Dialpad and Salesforce, our team is able to pack up our laptops and continue providing the 7-time Stevie Award-winning service no matter where we are."


AccessPay raises their NPS score by more than 200% in two years
AccessPay is part of SmartGroup, a leading provider of employee benefits programs to the not-for-profit sector, including salary packaging, fleet management, and payroll administration services. Mark Valana, their Customer Service Manager, raised their NPS (Net Promoter Score) from 15 to an incredible 53.
By identifying the NPS drivers first through reading customer comments and direct feedback, Mark was able to figure out the main areas where they needed to make improvements, like average speed to answer and more consistent answers to customer questions.
Code42 enables better customer relationships with an international team
A global enterprise SaaS provider, Code42 helps over 39,000 organizations protect their most important assets: their user data. Yet communications at Code42 formerly depended on traditional, on-premises infrastructure, inhibiting growth and requiring IT staff to resolve outages around the clock.
After switching from desk phones to cloud communications, not only did Code42's IT team benefit, but their sales and service teams also are able to build stronger customer relationships more easily. Whether they need to help customers through voice calls, video conferencing, or messaging, they're able to provide a more responsive communication experience.
Better B2B customer experiences start with Dialpad
Get the tools to call, meet, and message your customers from a single app to support them at every step of their customer journey. Start your 14-day free trial to get set up with a virtual phone number in minutes! Or, take a self-guided interactive tour of the app.
Frequently asked questions about B2B customer experiences
What is a B2B customer experience?
A B2B customer experience encompasses all the ways in which a company's customers (in this B2B case, this would be other companies) interact with them at every touchpoint, from initial awareness through to purchase and retention. This includes everything from your website and social media presence to the way your sales team interacts with prospects.

What are the differences between B2C and B2B customer experiences?
How do B2B businesses measure customer experience?