Back to Blog
On customer service chatbots (and how to get the most out of them)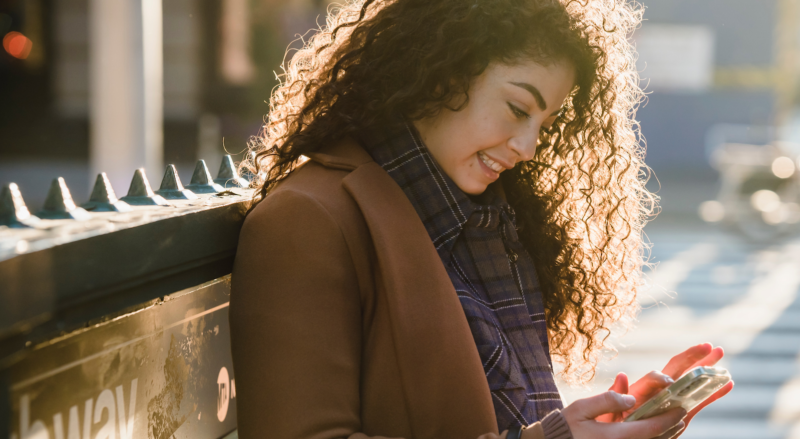 Having worked in this space for over 25 years, I've seen my fair share of changes in AI and customer service technology.
One exciting example is the customer service chatbot, which is empowering even small businesses and teams to provide a good customer experience, even outside of regular business hours.
But there are some nuances to these chatbots—and there's definitely a wrong way to use them. In this guide, I'll walk you through what customer service chatbots can do, examples of use cases, and easy ways to implement a customer service chatbot for your business if that's something you're interested in.
What is a customer service chatbot?
A chatbot is essentially a piece of software that can mimic human conversations (many people may think of virtual assistants like Alexa). It does this by using several different technologies like artificial intelligence, machine learning, and natural language processing (NLP) to understand spoken language, and then respond by approximating how people talk.
AI chatbots don't usually speak out loud like virtual assistants do, but tend to help customers and answer questions through a live chat or texting format. You may also hear some people call these virtual agents, which are very similar in functionality to chatbots.
In customer service, a chatbot can answer customer queries or even help make sales on e-commerce websites. A good AI chatbot can do this by gathering customer information, handling routine tasks, or answering questions. These automations free up more time for your human agents to address more complex questions or handle customer interactions that need a person to be involved.

👉 Dialpad tip:
You don't have to buy customer service chatbot software separately! Some contact center platforms, like Dialpad Ai Contact Center, come with conversational AI functionality (aka. a chatbot) built right in. If you want to provide omnichannel customer service across apps and messaging platforms like WhatsApp and Facebook Messenger in addition to SMS and voice channels, then you can get all of that in one convenient platform with Dialpad.
Live chat vs. chatbots
If you've ever bought anything or tried to get customer support on a company's website, you've probably used both live chat messaging and chatbot before.
(And if you've done this a lot, you can probably tell pretty quickly whether you're talking to a chatbot or an actual person on the support team.)
So, do companies actually need both? Or is it possible to get away with just having a chatbot on your website so you can save even more on staffing?
Live chat
Many contact centers will have agents managing live chat. When a customer or prospect opens that little chat window on your website and says "Hey I need help," someone from your customer service team is there to respond.
The benefit is that you can provide personalized help for a variety of issues. The downside of course, is this can get expensive. You're spending more on hiring and staffing, and it's not very efficient. If most of your chat messages are about basic things like "How do I log in" or "How do I get a refund," it's not a great use of time and resources to have someone just copy and paste information from an FAQ page or knowledge base all day.
Chatbots
You could also have a customer service chatbot. A basic chatbot can answer a limited list of simple questions with preset answers, but there are some very advanced AI chatbots today that can do much more than that.
Dialpad Ai Contact Center, for example, has a powerful conversational AI that can search unstructured sources of information to help customers, including PDF documents and even past customer conversations.
The other benefit of having a chatbot is that it's available 24/7, and can deal with an unlimited number of questions at once, in real time. For many resource-strapped teams, it's an essential piece of customer engagement software.
MIT even did a study on customer service bots, and found that it decreased customer service time by a whopping 90%.
But ultimately, as great as customer support chatbots are, you shouldn't rely on them alone if you truly care about customer satisfaction. Sure, AI is always learning and can optimize answers on its own over time, but it still can't solve every question efficiently. People may word things in really weird ways, or ask specific questions about very niche features—there are always edge cases when it comes to automations.
And ideally, your AI chatbot will complement your human agents and make their lives easier. They shouldn't replace humans altogether in your customer service experience. At Dialpad, at least, that's our philosophy as we build our conversational AI functionality.

👀 Want to provide a better customer experience?
Grab The Contact Center Playbook, which includes real-life case studies and learnings from five contact center leaders!
The advantages of using customer service chatbots
Now, let's look at a few use cases and benefits where a customer service chatbot would be helpful.
1. They can handle customer questions that don't need an agent's help
While human interactions will always be essential to customer service, there are lots of queries that don't require human input. In fact, many people do prefer to find answers via self-service rather than having to talk to a customer service rep. Chatbots also tend to provide answers much faster. (provided you've designed your chatbot to have a good user experience and it can answer questions accurately).
Crucially, having chatbots handle these common questions frees up your live chat agents to focus on the issues that are more worth their time.
2. They're highly customizable and easy to update
This is fully dependent on the actual chatbot software you're using, but if you've got a good tool, it should be easy to use and create automations.
For example, with Dialpad Ai Contact Center, you can build conversational flows just by dragging and dropping:


You can add questions to the bot, answers, and even choose to attach content like videos or files in the builder—no coding needed.
3. They reduce your customer service costs
This is one of the key customer service chatbot benefits: they give you a much more cost-effective way of helping your customers. (Not to mention the cost savings of faster response times.)
Instead of hiring more support agents (especially with the high turnover rates that customer service teams commonly experience), implementing a chatbot tends to be more affordable because it really only costs whatever the monthly or annual software subscription fee is.
This way, you could maintain a smaller customer service team specialized for certain types of queries—and leave the rest to a chatbot.
Possible drawbacks to be aware of when using a chatbot for customer service
1. They can't be your only customer service channel
While there's clearly a place for AI in customer service, chatbots typically work best in tandem with live chat. This is because they can struggle with super niche questions, and some customers may prefer to live chat with a person. (Hey, we all still need human interaction.)
2. You have to put in time and care to design a strategic chatbot experience
You can't just drop a chatbot into a website and expect it to solve your problems. Every business is different, every industry is different, and you need to tailor your chatbot to address your customers' specific questions.
It's not just about copying your FAQ pages' content into a chatbot builder—there are opportunities to be proactive, anticipate issues, and build a conversational AI or chatbot flow before an issue comes up.
This is one of the biggest benefits of Dialpad Ai Contact Center as a unified platform. Everything you need to handle customer communications, including chatbot flows and conversational data, is in one place. Here's an example of how that works.
Say your company just put out a new product or feature—let's call it Feature X—and you've been getting lots of calls about it, but you don't know exactly if these are complaints or if they're just general questions about Feature X.
In Dialpad, you can track mentions of keywords like this by creating a "Custom Moment" (powered by Dialpad Ai) to track every time "Feature X" is mentioned on customer calls:


You can see that data right in Dialpad's built-in analytics, and if you notice any spikes or anomalies, you can click into those call recordings and transcripts to get more context about those conversations: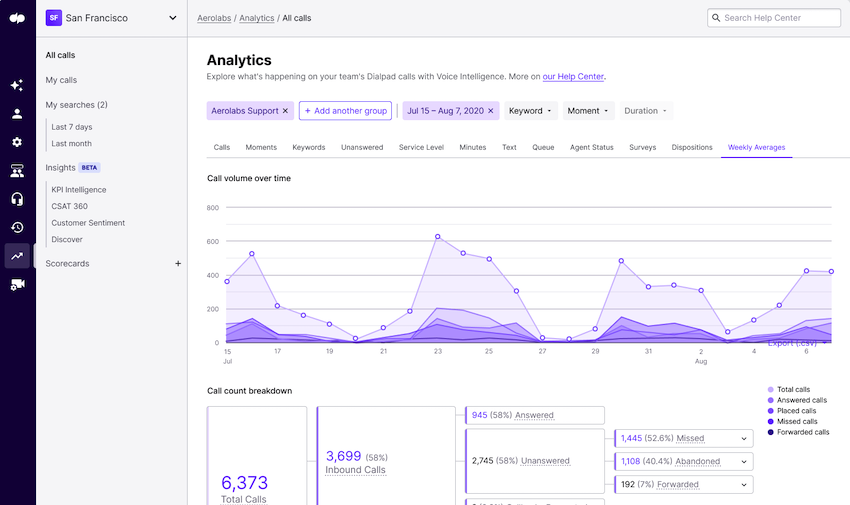 If you see that these mentions are about a bug or issue with Feature X, you can build a chatbot flow that tackles that question so that you can reduce the burden on your human agents. Because Dialpad is a truly unified platform, you can do all of that in one place—without going through third-party vendors and Frankenstein-ing different communication channels together.
3. Some chatbot tools are very limited
Finally, all of these benefits are dependent on the chatbot software you're using.
Some are very simple and don't have advanced AI, which means they can't do things like searching unstructured information for answers. Others may be clunky and not easy to use—do you need a developer to make even small changes to your workflows?
Always, always try the free trials and sign up for product or sales demos where you can. It's hard to get a feel for the user experience of different chatbot software just by looking at pricing pages and marketing websites, so don't skip this step.
4 signs a chatbot could improve your customer service
I won't just say that every single company needs a chatbot—because it's not true, as much as we might want it to be—but if any of these apply to you, then it might be time to start looking at chatbot software.
Your team spends a lot of time answering common questions
If support agents encounter a lot of customers with a lot of repetitive, simple questions, it's likely you can resolve them very easily with a chatbot (which can help shorten wait times since your live agents are free to take the harder questions, which hopefully are fewer and farther between).
You want to manage all your customer communications in one place
You'd be surprised at how many businesses are using tens or even hundreds of apps in their tech stacks. From a customer service standpoint, it's common for teams to have a call center or contact center solution, a helpdesk or ticketing tool, a chatbot solution, and so on, and so on.
Not only can that get expensive with so many vendors, it also takes a lot of resources (from both IT and support teams) to maintain and update all those tools.
With some platforms, like Dialpad Ai Contact Center, you can get chatbot functionality that's fully integrated into your communications platform. That means your customer service agents can message a supervisor, handle a live chat message, and have video meetings—all from the same desktop or mobile app:


Your customers are abandoning calls and/or carts
This is another common sign that a chatbot can be useful.
Pay attention to metrics like abandoned shopping carts (if you have an e-commerce site) and abandoned calls. If you notice large numbers of these, it could be due to a couple of reasons, such as unreasonably long wait times or an unclear user experience on your website's checkout process.
A chatbot can take care of some of these customer needs up front, like asking the person if they have questions about shipping and delivery, or if they're calling about issue X.
Your call center team is overwhelmed
This is the clearest indicator that something is wrong: your agents being deluged by customer questions. Make sure to pay close attention to the nature of the calls. If many of these are just simple questions, a chatbot can be a great solution.
How to build the best customer service chatbot experience in 3 easy steps
Ready to invest in a chatbot for customer service? They're actually relatively simple to set up. Here's how to start building in a few steps.
1. Create a knowledge base
Having a knowledge base is an essential first step. Not only can a chatbot pull answers from this source, it's also useful for human agents who might not have the answer to a specific question handy!
To come up with content for your knowledge base, you could just make educated guesses here. How someone can buy your products, common troubleshooting questions, and other similar questions are natural starting points.
Include as much relevant information as you can—the more thorough and detailed you can be, the better answers your chatbot and support team will be able to find for your customers.
2. Map out logical sequences
When you have an idea of discussion points and business goals, you can start laying out the paths a customer might take. You can start by visualizing this as a series of information or context-gathering questions, with customer answers resulting in different paths.
Even though chatbots used to be limited to questions with a yes or no answer, today they can handle a much greater variety of questions.
There are different ways you can do this—one way is to just use a conventional spreadsheet to lay out each step of your customer journey and see where a chatbot can be helpful.
3. Choose the best chatbot platform for your needs
Now it's time to actually create your customer service chatbot experience. Now, depending on the platform you're using, this can be a simple (or harrowing) experience.
In Dialpad Ai Contact Center, this is pretty easy without any coding knowledge needed. From your online dashboard, you'd just go to the "Knowledge" tab and select "Create a new response."
Then, just think of a customer question that you want your chatbot to answer, like "Where do I sign up for a new account?"
You'll then be able to add a few variations of that question (up to five)—since, of course, some questions can be phrased slightly differently, even though they're asking the same thing. As an example, one variation you might add for the question above is "How do I sign up?"
After that, you can add answers to your questions in text form, image form, and so on. You'll also be able to add an escalation option so that a customer can easily escalate their issue from the chatbot conversation to a human agent through a voice call or video call.
With Dialpad, you've got the best customer service chatbot software built in
If you want to be able to provide a good customer experience across not only your website but also other voice and video channels, a chatbot is an important piece of the puzzle.
Not only does it give your customers an alternative to talking to a person (which not everyone wants to do), it can also streamline workloads and take some of the burden off your live agents. See how it works with Dialpad Ai Contact Center!

Don't lose the human touch in your customer interactions
See how easy it can be to implement a customer service chatbot! Book a demo of Dialpad Ai Contact Center, or take a self-guided interactive tour of the app on your own!
FAQs about customer service chatbots
What are some real-life customer service chatbot examples?
One of the most successful customer service chatbot examples is ecommerce giant Amazon's Alexa. Customers can use Alexa to check the status of their orders, shop for products, and get help with any issues they may be having with their account or purchases. Amazon also provides a series of interactive games and activities to keep users engaged while they wait for assistance from a customer service representative.
Another great example is IBM's Watson Assistant. This AI-powered chatbot offers comprehensive answers to complex customer inquiries by using natural language processing (NLP) technology to understand user queries and provide accurate responses. Businesses can customize Watson Assistant's interface with branding options such as logos, colors, themes, and more.
Even banks are now using chatbots as well for tasks like account maintenance and balances inquiries. One example is Capital One's Eno bot which gives customers access to their account information from text messages or emails without having to log into their accounts on computers or mobile devices.
What's the easiest way to set up chatbots for customer service?