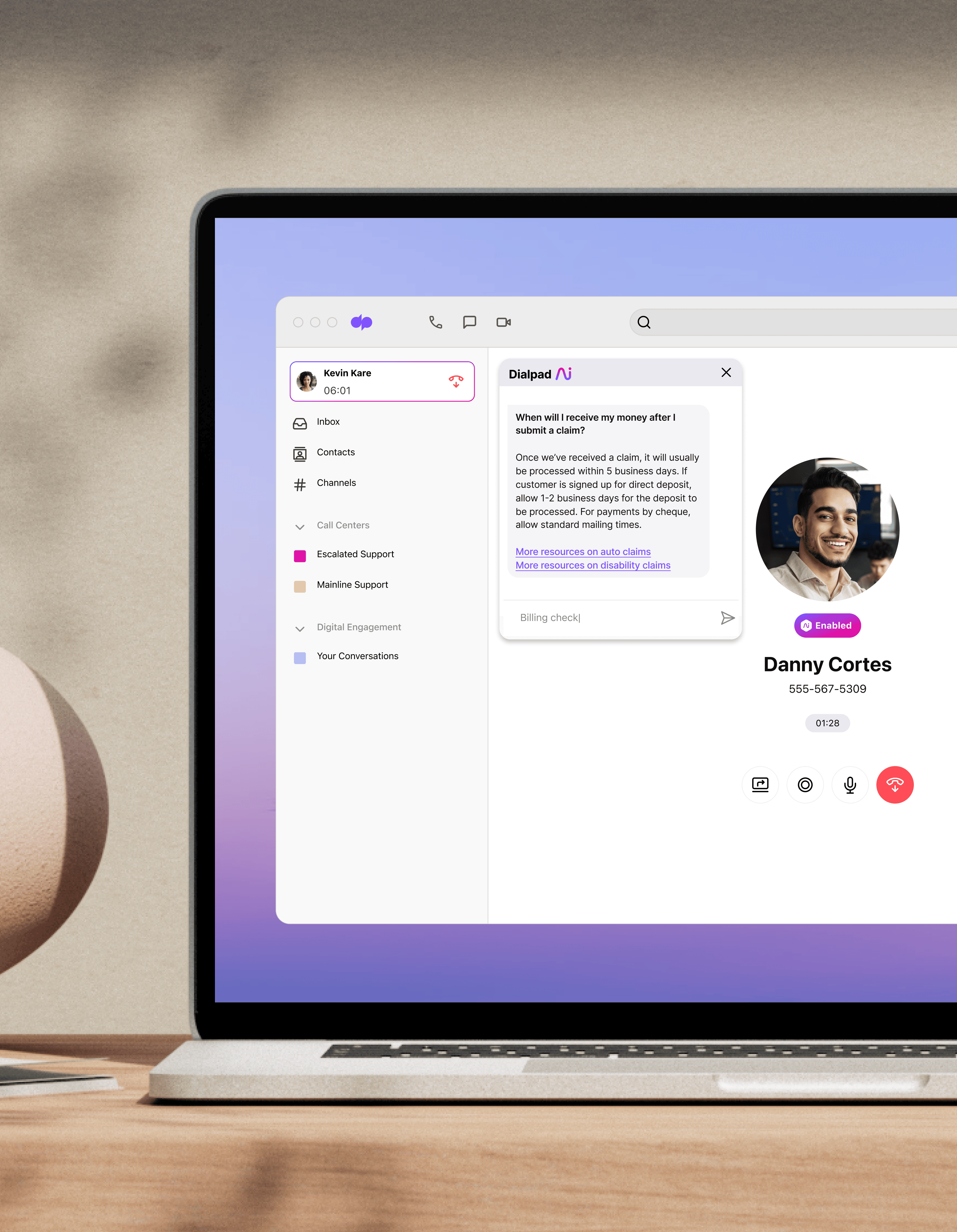 AI in insurance
How is AI being used by insurance companies? From improving customer experiences to fraud detection, there are many interesting use cases. Learn more below, or check out a demo of Dialpad's AI-powered customer engagement platform to see how some of today's top insurance companies are providing an excellent customer experience with distributed teams!
Artificial intelligence is making its way into many industries, with constantly improving AI algorithms being designed every day. And the use cases are as diverse as they are exciting. From detecting fraudulent claims to creating more efficient underwriting processes, there's seemingly no limit to what these new technologies and machine learning models can do.
In this guide, we'll look at how the use of AI solutions have changed things in the insurance sector across a range of sub-industries like healthcare and property insurance. Whether you're an insurance executive wondering how you can leverage big data to win new business and process claims more efficiently, or an adjuster at a startup negotiating with policyholders, you can learn more about how AI solutions might impact your work below.
The role of AI in the insurance industry
Risk and fraud detection
Insurance fraud is a significant challenge for many firms, and AI and data science can play a large role in detecting fraud and improving decision-making. Uncovering patterns is what machine learning is built for, and AI's role here could be as an extremely confident second opinion. Using AI automation to highlight suspicious claims or those with a higher likelihood of liability takes human error out of assessments and helps to uncover problems before they arise.
Improving the digital customer experience
Customers today are used to holistic customer experiences, where the information they provide on a support chat carries over to a phone call with a representative. AI helps insurance companies manage all their conversations across voice, digital, self-service, and social channels in a single place.
Not only does this help agents see all contextual information and customer relationship history more easily, it can also pull conversational insights into data sets so that business leaders can determine which services to implement and which products will increase profitability.
Dialpad Ai, for example, can track keyword topics. Just create a "Custom Moment" for every topic or keyword that you're interested in—say, "pricing" or competitor names, and Dialpad will track how frequently they come up in customer conversations:


To take this a step further, you can also create Real-Time Assist (RTA) cards in Dialpad with tailored notes on tricky topics for agents. For example, you can create an RTA card with talking points about your pricing, and set it to pop up on agents' screens every time "price" or "pricing" is spoken:
The result: higher customer satisfaction, and happier employees.
Smarter and faster claims management
Claims processing is the primary task of insurance carriers, but the work can be tedious and ripe for human error. With machine learning algorithms, there's the potential for firms to process claims faster, with greater accuracy—along with better forecasting.
Better policy recommendations
Rather than offer a standard policy to every type of customer or prospect, insurance companies taking advantage of AI technology can use the increased data to provide customized solutions.
What about conversational AI in an insurance setting?
Conversational AI is a form of artificial intelligence that can interact with humans (for example, by answering questions or providing information) through NLP (natural language processing) and NLU (natural language understanding) technology.
This is especially useful in the insurance industry because it can help streamline customer service operations, reduce costs, and improve customer satisfaction.
One of the most common applications of conversational AI in an insurance setting is something that many people are familiar with: the website support chatbot. Chatbots are computer programs that are designed to simulate conversations with humans, and they can be placed on a website or over messaging platforms like WhatsApp or Facebook Messenger.
They can provide customers with instant answers to commonly asked questions, and even do other tasks like scheduling appointments or closing accounts. Not only does this reduce wait times for customers, but it also frees up agents' time so they can focus on conversations that actually need them to be involved.
With Dialpad, for example, you can easily set up conversational AI on your website using the drag-and-drop builder—without needing to know how to code:


Conversational AI can also be used on the agent side, to empower agents with the information they need to answer tricky questions from customers.
Traditionally, contact center leaders could create "call pops" with information on different topics, and set them to pop up in real time on agents' screens when certain keywords are spoken on customer calls.
Today, some AI-powered contact center solutions have a more evolved form of this feature, which can automatically search connected knowledge sources for information and present that to agents in a conversational way—without any supervisor intervention. (Dialpad's Ai Agent Assist does exactly this.)

AI trends shaping the future of insurance services
Much has been said about AI trends like IoT (Internet of Things) and wearables, but how do the benefits of AI for insurance specifically fit into the upcoming trends forecasted by industry experts?
More useful self-service options
Automation is the name of the game when it comes to deep learning and machine learning. This deep learning "connects artificial, software-based calculators that approximate the function of brain neurons. Neural networks, formed by these calculators, receive, analyze, and determine inputs and are informed if a determination is correct."
How does that translate to customer service? One example is in the fact that the more logical your self-service options are, the better customer experience you'll be able to deliver. An AI-powered self-service chatbot, for instance, has the ability to search all connected knowledge sources to find answers to questions, as well as build context about a user's history with your carrier. With the many complex, personalized aspects of insurance at play, AI for insurance can be your first line of defense.
That's exactly what Dialpad Ai Agent Assist is designed to do:

According to the Harvard Business Review, 81% of customers prefer to work issues out on their own without engaging a representative. Help customers achieve that goal while still providing a high level of service, and save your company time and money while you do it.
More flexible and smarter insurance products
According to McKinsey, "technology trends, tightly coupled with (and sometimes enabled by) AI, will reshape the insurance industry over the next decade." Something like an AI-powered risk-assessment tool has the power to improve underwriting for specialized cases and ensure that insurance customers are getting the best product for their use case.
The standard blanket policy isn't a fit for everyone, and in a world where every service is personalized, customers want that same option in their insurance. For some, it could mean paying for unnecessary coverage—for others, it could mean filling in gaps.

By allowing AI for insurance to play a role in the foundational stages of a policy, the result may be more flexible coverage that's attuned to a customer's specific needs.
Most robust risk management
Insurance sales are getting faster as technology improves, and there are many sales AI use cases in insurance that not only decrease the ramp time for new reps, but also shorten sales cycles. Contracts are already being priced, purchased, and solidified almost instantaneously. Part of that speed comes from having an improved IT infrastructure and a more streamlined tech stack.
Amalgamating tools into a more omnichannel experience not only allows for data to cross departments and desks seamlessly, but also avoids bottlenecks that slow distribution down and reduces the chances of human error.
The benefits of AI in insurance workflows
Improved efficiency
One of the benefits of using AI in insurance workflows is improved operational efficiency. Conversational and generative AI tools can automate time-consuming tasks such as searching through large amounts of data or verifying claims information. This saves time for both insurers and customers, while allowing contact center agents and supervisors to focus on more important tasks. AI can also help insurers identify trends in customer behavior that can be used to create more effective marketing campaigns or develop new products tailored specifically for customers' needs.
Higher customer satisfaction
Another benefit of using AI in insurance workflows is increased customer satisfaction. By using chatbots and conversational AI to deflect calls and reduce wait times, insurers can provide faster responses to inquiries or complaints.
More customer insights
AI can also be used to uncover valuable insights from customer conversations, whether those happen over the phone or messaging channels.
As we highlighted earlier, features such as Dialpad's Custom Moments can track how often different topics or keyword phrases are brought up on calls.
This means that insurers can track the popularity of their product offerings, their competitive landscape, and common complaints—without having to listen to hours of call recordings and taking notes to find this information.
With AI, insurance providers can make use of a treasure trove of customer intelligence to provide more personalized recommendations, stay ahead of competitors, and ultimately, convert more prospects successfully into customers.

AI-powered software already being used in the insurance industry
Dialpad
Using machine learning and natural language processing, Dialpad's customer intelligence platform helps insurance firms provide an excellent customer experience—no matter where the conversation starts. Agents and supervisors can work from either the desktop or mobile app, or even just on a web browser, no downloads needed. (More on useful insurance agent apps.)
When customers have questions about policies and claims, many of those discussions can be handled by Dialpad Ai—if the chatbot can't answer a particular question, the customer can easily escalate the conversation to a live agent.

Dialpad's conversational AI is a step above an average chatbot, and for issues that are complex and personal as they are in insurance, this is an important consideration. Dialpad Ai can do other things too—including helping with Medicare call recording compliance, and even inferring CSAT scores—without customers needing to fill out any surveys:


For insurance firms that are looking to undergo a digital transformation in the near future, this is just a taste of how AI can empower employees and improve processes.
Lemonade
Full-stack insurance companies like Lemonade are shifting the insurance world with their no-fuss approach. Their AI bot "Maya" makes everything instant, from getting insured to getting paid. The move has made a traditionally arduous process fast and easy, which is why it's a fast-growing company with plenty of media attention.
Oura Ring
This wearable technology uses AI to not only track personalized health insights of its users, but it goes so far as to make informed suggestions about lifestyle changes. As the popularity of this kind of technology rises, it becomes all the more clear how the insurance industry must advance in order to keep up.
Interested in what AI can do for insurance companies?
If your insurance company needs to provide a good customer experience, while empowering customer support agents and sales reps to handle a variety of conversations with customers and prospects, why not try Dialpad's customer engagement platform?
Not only does it let you handle all communication channels—both internal and external—in one place, its unique proprietary AI can also help uncover insights from a source of customer intelligence that you already have: the conversations and calls you're having every day with customers. If you're managing an insurance call center, this will not only improve live agent coaching, it'll also help you provide better customer service. See how it works!
See how insurance companies are using Dialpad Ai
Book a demo with our team, or take a self-guided interactive tour of the app on your own first!
What is conversational AI?
Conversational AI is a type of artificial intelligence that basically lets a computer, app, or machine to understand and respond—in other words, to have a conversation—with a person in natural-sounding, human language.
Whereas traditional chatbots interacted with people through preset questions and preset questions (usually multiple choice), conversational AI can take a wide variety of questions worded in different ways, understand the intent, and provide the relevant answer with a high success rate. You'll most often find conversational AI on a company's website or digital channels (like WhatsApp).

What are some use cases of AI in the insurance industry?
Can we substitute actual agents for AI?
Does Dialpad offer AI features for insurance companies?