Back to Blog
9 best insurance agent apps: A guide from an insurance customer care manager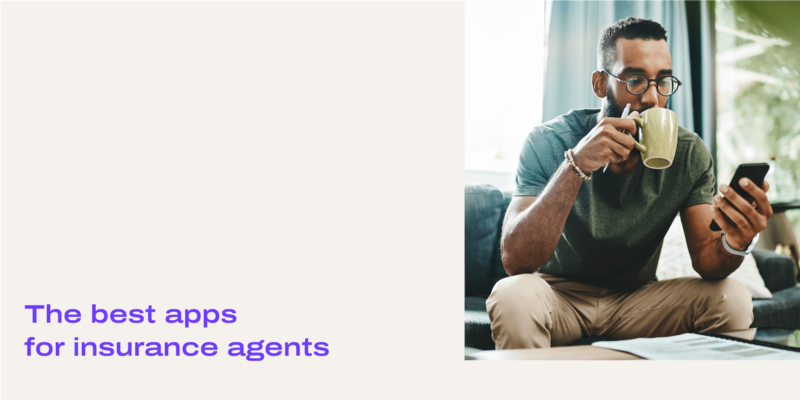 Insurance agents have a tough job. As well as selling policies, processing claims, and attracting new prospects, they're battling against negative public perceptions of the sector (financial services is the least-trusted industry in the eyes of consumers).
It's a good thing, then, that modern technology can help with all of the above. Insurance companies and independent agents now have a wide choice of software that will speed up time-consuming processes and improve customer relationships.
From a crowded field, I've picked out nine of my favorite apps to help you save time and empower your team to provide a good insurance customer experience.

Here's why it's important for insurance agents to have mobile apps
Faster responses to client inquiries
Contacting an insurance provider is usually not the most fun activity. A customer might need urgent help because they had a car wreck or a health issue on an overseas vacation, and they want reassurance that you'll process their claim fast.
Or customers might call to renew a policy, pay a bill, or find out more info before deciding to use your services. Either way, insurance agents have to keep them onside by responding as quickly as possible.
Mobile applications allow you to communicate with customers over multiple channels, so you can use whichever is fastest or most convenient. And with easy access to client information, you can instantly send documents or work out what's the best deal for them.

👉 Dialpad tip:
Don't keep customers waiting—offer self-service with a well-designed IVR menu, or an online Help Center that has answers to common questions.
More responsive customer relationship management
With a mobile app at your fingertips, crucial customer data is right there when you need it. A CRM, or a good integration with one, lets you keep all those details in one place and provide a personalized customer experience.
When a customer gets in touch, or when you contact them, you'll see records of past interactions as well as insurance policy info. This helps you to tailor your response and spot opportunities for cross-selling and upselling.
Insurance apps offer extra convenience to customers (such as the ability to sign documents or make instant payments digitally), which means agents can conclude a deal swiftly and increase the chance of customer retention. Learn more about digital transformation in insurance.
Easier to communicate with teammates
If you're working remotely or traveling to see clients, it's important that you keep in touch with your team. Mobile apps make it easier to do this since they're—y'know—mobile! You can access documents from anywhere, take calls on the road, or quickly ping a colleague with a question.
Automating manual processes
Insurance agents have to complete time-consuming processes, such as data entry, logging phone calls, and making or receiving payments. But most of these can be done with automation, which improves productivity, reduces costs, and lets you focus on tasks that require a human hand.
For example, you could set up your agency management system to send out automatic renewal notices or schedule appointments, saving time and avoiding errors and delays.
How these mobile apps were evaluated
Features
I looked at apps with strong functionality and plentiful features, including those that let you handle multiple tasks in one platform. Your take on what's essential will differ from business to business, but the main thing is to ensure the app does everything you need it to do.
Cost-efficiency
There's no point spending top dollar when you don't have to, especially if you're a small firm. But, as with so much in life, you do get what you pay for! The apps we've chosen represent good value for money, and the subscription-based pricing means you'll only pay for the features you use.
Ease of use
Mobile apps should be simple to deploy and use so that the whole team can get going right away. You need a low learning curve to help newbies onboard easily—and customer-facing features should be especially intuitive.
For total convenience, the app must work across different platforms (iOS, Android, Mac, PC) so you can do business from anywhere.

Integrations
It's likely you'll need separate apps for different processes (finance, marketing, task management), and it'll really save time if they all work together, so mobile apps with multiple integrations and the opportunity to build your own with APIs are important.
What makes it a great mobile app for insurance agents
While most apps have features designed to help a wide range of businesses, I also considered functions that particularly benefit the insurance industry—such as seamless communication, professional document creation, and automated processes that let you spend more time with clients.
9 essential apps for insurance agents
1. Dialpad: AI-powered all-in-one business communications platform

Insurance agents need to keep existing customers happy and convince new ones to use your services. Dialpad makes that a whole lot easier by offering a range of communication channels and centralizing them all in one app.
Our leadership teams use Dialpad's app most heavily—we've seen a lot of growth in the past two years and our staff is now spread out across the country so the executives are traveling a lot and having the mobile app allows them to receive their calls while on the go!
You can interact with clients and prospects via voice, video conferencing, SMS and group messaging, and even virtual fax (and use all of the above to collaborate with colleagues, too). And because the app works across devices, your team can work from anywhere, any time. Clients can even join your conference calls and virtual meetings via any browser, with no download required:


A bonus is everyone who's downloaded the app has been able to quickly and effectively set up basic things like voicemail and call forwarding. They didn't even need our help desk!
Tools like call transfer, auto-attendant, and call routing mean you'll never miss a call from a client. There's also IVR, which gives customers a self-service option. And when dialing out, agents can choose which phone number or caller ID they want to display—making it easy to use personal devices with a business phone number.
Best features:
Video conferencing includes one-click screen sharing, in-meeting chat, and robust security settings. You can also go from chat to a video call like that *snaps fingers*

Hundreds of handy integrations with everything from Salesforce and HubSpot to Microsoft 365 and Google Workspace, so you never have to toggle between windows and apps again.
Pricing: Business comms package: Standard ($12/month), Pro ($20/month), Enterprise (custom)
Try Dialpad for free
It takes just a few minutes to sign up, and you'll be set up with a virtual phone number. Or, take a self-guided interactive tour of the app first!
2. PandaDoc: Comes with variety of pre-built templates

PandaDoc aims to improve productivity by streamlining the creation, editing, and signing of documents. Customizable templates, electronic signatures, and standardized workflows will speed up your processes, with all contracts and agreements kept in one place.
It's easy to upload and sign PDFs, Word docs, and other file types—much faster than printing off a document, mailing it to the client, and waiting for them to return it! And better for the environment, too.
You'll also reduce document errors and omissions, as PandaDoc automatically pulls customer data from your CRM.
Best features:
Legally binding eSignature technology allows documents to be signed from any device—ideal for agents working remotely.

Document creation is easy with the customizable template library (themes, colors, fonts), drag-and-drop editor, and reusable templates.

The real-time analytics feature shows when docs are opened and completed.

You can replicate and accelerate the document handoff process with automatic approval workflows and notifications.
Pricing: eSign plan (free), Essentials ($19/month), Business ($49/month), Enterprise (custom). Free 14-day trial.
3. Formstack: Good at simplifying document preparation
Formstack is also good for efficiency, as it automates the process of creating online forms and collecting customer data—as well as generating policy documents and enabling digital signatures. No need for manual data entry, and you get an analytics function too.
It's simple to build forms for quotes, policies, claims, and surveys, which customers can fill out on any device. You can consolidate all forms into a centralized portal for customers to review and complete.
Its integration with Salesforce enables you to pull data into documents. With customer details always at hand, you can create personalized digital policies.
Best features:
The drag-and-drop editor lets you build forms in a few clicks, with no coding required. This includes smart digital forms that react to user input.

The document generator automates the creation of PDFs, Word documents, and other files with premade templates.

Create an automated claims processing workflow where multiple team members can review and collaborate.

Collect e-signatures on any device—and you can also send documents via text message for maximum convenience.
Pricing: Separate plans for Forms (from $50/month), Documents (from $92/month), and Sign (from $16/month), or purchase the Platform bundle (Starter $360/month, Pro $630/month, or Enterprise). Free 14-day trial.
4. Evernote: Allows you to map out both professional and personal notes

Evernote enables you to take digital notes wherever you are, which is perfect for insurance agents on the road or in client meetings. It's much more professional than fishing around in your purse for a pen and a scrap of paper—and there's no danger of losing the notes, either!
You can also scan handwritten notes, pictures, and useful web pages and record voice reminders if you don't have a hand free to type. Everything syncs automatically to all your devices, so you can access it offline, and the notes are completely searchable.
Evernote also offers task management capabilities, turning your notes into a digital to-do list (so there's no excuse for forgetting anything!)
Best features:
The built-in camera scans and deciphers even the squiggliest handwriting (in 11 languages, in case you're working with global colleagues).

Enhance your notes with images, audio, and documents, and choose multiple colors for text and highlighting important points.

You can add due dates and reminders to your own tasks, assign them to others and track progress.

Evernote is compatible with iPhone and Android, and integrations include Google Drive, Outlook, and Slack.
Pricing: Basic (free), Premium ($7.99/month), and Business ($14.99/month). 14-day free trial.
5. Expensify: Excellent at digital record-keeping

Expensify is designed to simplify your pre-accounting by tracking receipts and expenses. You can also pay bills, generate invoices, collect payments, and manage credit cards—and everything syncs automatically to your accounting package.
Whether you're traveling on business or having a quick coffee with a client, you can easily scan receipts and keep on top of expenses. It'll make your life easier when it comes to tax season!
You can also create approval workflows tailored to your company's structure and customize expense policy rules to flag up expenses requiring review by a manager.
Best features:
The SmartScan feature lets you quickly snap a pic of your receipts, so you don't have to worry about keeping them safe. It makes reporting, approval, and next-day reimbursement a cinch.

Create and send bulk invoices automatically to multiple customers—and they can leave comments or ask questions right in the invoice.

With multiple payment options, including credit/debit card, ACH, and PayPal.Me, your worldwide clients can choose whichever's most convenient.

Expensify lets you import personal and business card transactions for automatic receipt merging and coding.
Pricing: Collect (from $5/month) or Control ($9/month). Both prices include a saving from getting the Expensify Card. Free plans for self-employed users.
6. CamScanner: Good tool for processing documents

Although digital documents are increasingly common, some clients might prefer a paper policy, or you might need to take a copy of an existing document. Enter CamScanner, which scans "real" documents in HD, converts them to PDFs, and syncs with other devices.
The app basically turns any mobile device into a portable scanner, so you can grab important documents on the spot and send them to clients and colleagues. No need to spend big bucks on a traditional scanner for the office, either!
Other functions include up to 10GB of cloud storage, OCR translation into 60+ languages, and the ability to set a PDF password for confidential files.
Best features:
The app automatically sharpens and brightens scanned images, auto-corrects curved surfaces, and removes messy backgrounds.

You can scan both sides of an ID card onto a single page and turn a written signature into an e-signature.

If you take a photo of a paper form, the app will convert it to an Excel document.

Scanned documents can be sent to print wirelessly and faxed to more than 30 countries.
Pricing: Free version available on Google Play Store and the Apple App Store, or pay for Premium ($4.99/month) or Business ($6.99/month).
7. Google Workspace: Includes collaborative tools

Google Workspace (formerly G Suite) gives you the full set of well-known tools, enabling you to collaborate better and keep all your work in one place. You can use the free apps to do the basics or pay for a Business package.
Because these tools (Docs, Gmail, Calendar, and the rest) are so familiar, there's not much of a learning curve. It's simple to share documents internally via Drive, and there are plenty of opportunities to communicate with clients through chat, custom email, and video conferencing.
Dialpad actually integrates with Google Workspace, so it's possible to equip yourself with these features as well as Dialpad's AI tools—and you won't have to pay extra for voice calls.
Best features:
If several people work on a document simultaneously, updates are automatically saved and stored, so everyone always has access to the latest version. You can also see edits as others type and ask questions in comments.

Calendar makes it easier to schedule meetings, send automatic email invitations, and sync with your other apps.

You can archive email messages and chats and control how long they're retained for.

Protect your data with security options like 2-Step Verification and Single Sign-On.
Pricing: Free version, or Business Starter ($6/month), Standard ($12/month), Plus ($18/month), or Enterprise (custom). 14-day free trial.
8. ScanBizCards: Allows you to convert business cards from physical to digital formats
Business cards are still a great way to capture leads at physical events. Hands up who has a stack of 'em in a drawer? ScanBizCards helps you reduce clutter by scanning them—giving you a permanent record of who you met (great if you're not good with names!)
Just snap a photo of a card, and the app will convert it to a digital format. It will append contact info (email, phone, address, and LinkedIn URL wherever it's available) and export it directly to Salesforce or another CRM.
Conference badge scanning is also available in the paid tiers. The app recognizes 20 languages and is easy to download for Android, iPhone, or iPad.
Best features:
You can attach scans to new or existing customer accounts in real-time and automatically find and update contacts from email signatures.

It's not possible to import pre-existing contacts, so you won't annoy someone by contacting them twice!

The app offers a human transcription service for scanned cards and badges to save you time.

Use the stored data to send introduction emails and VCards with a photo so that people remember you.
Pricing: Trail-Blazer (free), Sales Ninja ($100/year), Growth Hacker (custom). Free 14-day trial.
9. Campaign Monitor: Good for email marketing

Email is great for insurance marketing­­—you can send targeted offers, newsletters, and follow-ups, which clients can read and respond to when convenient. Campaign Monitor lets you automate this process to save time and reach more people.
It's a straightforward tool with no coding knowledge required. You can create customizable templates with your branding, contact multiple clients and prospects at once, and generate automated follow-ups.
The app integrates seamlessly with your CRM, website, and social media, using existing customer data to build hyper-targeted segments and send highly personalized emails.
Best features:
Customize templates with the drag-and-drop email builder, and lock crucial sections of the template to guard against accidental edits.

You can set the app to send out automatic emails, based on the interactions your audience has with your company.

The Link Review tool automatically searches emails and flags any broken or outdated hyperlinks.

The analytics suite shows how well your messaging is working and offers actionable insights.
Pricing: It's free to create an account and send a campaign to five subscribers. Paid plans are Basic ($9/month), Unlimited ($29/month), or Premier ($149/month).
Improve your productivity with these insurance agent apps
With 41% of consumers saying they're likely to switch providers due to a lack of digital capabilities, you can't afford not to use mobile apps! The increase in efficiency and effective communication will help you build great relationships with clients and your team and bring in more business.
You might decide to use all nine of the apps I described, but for communications, my tip is to start with Dialpad. You'll be able to communicate and collaborate from anywhere, and integrate it with your favorite tools—it's a great app for insurance agents.

See how Dialpad can work for your insurance team
Book a demo or take a self-guided interactive tour of the app!