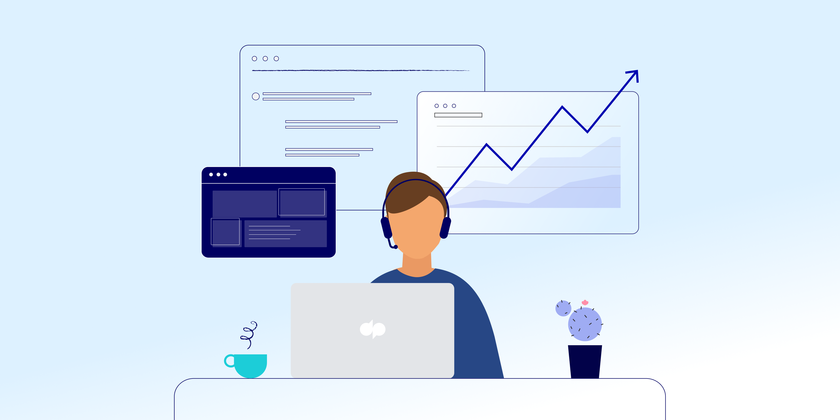 April 13, 2021
The saying "knowledge is power" is somewhat vague. What kind of power does it mean? In a business environment, however, the answer is clear: knowledge gives you the power to provide superior service, satisfy your users, and create a positive experience. That leads to the next question: how do you acquire that knowledge?
The answer is also simple: analytics.
By utilizing proper analytics, you can identify pain points, provide better predictions and estimates, and empower your decision-making. This is particularly important for contact centers, where analytics can help managers and agents provide the best service possible.
Dialpad and Customer Contact Week Digital recently worked together to create a special report titled "Leveraging Contact Center Analytics." In it, we explore what matters most for customers contacting call centers and how analytics can help provide that.

The Value Analytics Brings to Customers
When customers reach out for assistance, the first thing that matters to them is getting a proper resolution. Research by Quiping Yu, professor of Operations Management and Business Analytics at the Scheller College of Business of Georgia Tech, indicates that 41.97 percent of consumers value "accuracy of information and resolution" from their customer service above all else, with "speed and efficiency" coming in second. Yet customer service can provide neither accurate nor efficient resolutions without the right data to guide them.
Analytics brings actionable intelligence to businesses, allowing them to make informed decisions. In contact centers, this can mean:
Providing real-time assistance
Getting accurate live updates
Accessing relevant customer information
Identifying and quickly addressing recurring issues
Analytics should cover both the call center's performance and the details within a call. A good call center should be able to provide metrics highlighting agent availability, ongoing calls, and so forth, providing a detailed look at the call center's efficiency.
At the same time, analytics requires breaking down information taken from the calls — are users encountering an issue, are these issues more common among certain demographics, which users find more value in what features, and so forth. A complete look at the analytics data needs to be able to be able to identify the various details in addition to providing a holistic overview.

What Dialpad Provides
Dialpad provides real-time analytics for call centers, enabling agents to work more efficiently and with better information at their fingertips. This includes providing real-time metrics to inform decisions, such as ongoing calls and agent availability. All information is made available instantly through a user-friendly analytics dashboard, which monitors calls to provide support and an overview of the call center.
These analytics can help call centers on multiple levels. On the macro level, they can help identify how call volumes change throughout the week or if there are any growing inquiries, which can provide insights for product development, marketing, and sales. On the micro level, they can help with individual callers by identifying customer sentiment and instantly provide agents with information they need.
Both of these can be helpful for coaching and training agents, providing insights into where they need assistance. With Dialpad's AI-powered Voice Intelligence (Vi), agents can also receive real-time aid in the form of assist cards tied to select keywords or prompts during the call.
In other words, Dialpad uses real-time analytics and AI technology to empower agents with insights and guidance during each customer interaction. This helps agents address customer concerns quickly and to their satisfaction.

Read More
The power of analytics goes even further, as explored in the Customer Contact Week Digital report. You can learn more about how analytics can empower contact centers by reading the full report, available here.