Back to Blog
Dialpad's Open App Ecosystem: Add Dialpad Ai into the apps you use daily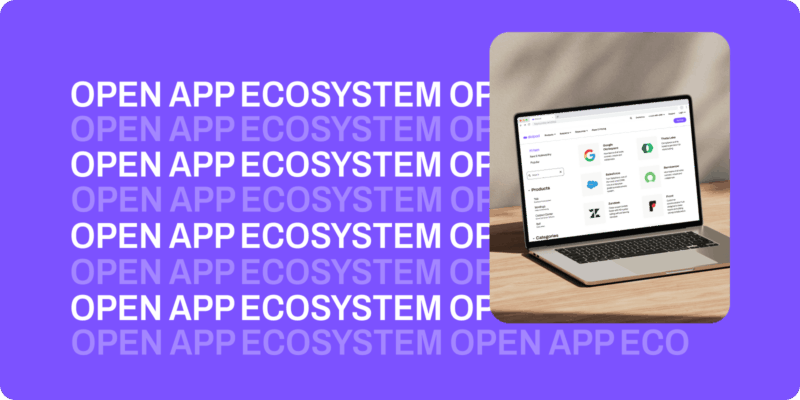 Today's hybrid work environment is driving demand for greater workflows, ease of use, and agility. The amount of apps being used and the siloed data it creates across organizations has skyrocketed, while IT organizations and users want to break down different silos of data and create a unified experience.
When interoperability is missing between your apps, time is wasted because employees are constantly flipping through multiple apps and data sets to get the whole story as it relates to their work.
That's why we've designed Dialpad's Ai-powered customer intelligence platform to integrate with essential business applications and to be highly customizable so that businesses can tailor their workflows to improve the employee and customer experience, and workforce efficiency.

Consolidate workflows with Dialpad's innovative applications
Take advantage of Dialpad's powerful Open Ecosystem with Integrations and APIs that create custom workflows for your team. Whether it's sending SMS notifications or clicking to dial within Google, we make it easy to communicate your way.
Dialpad's integrations work where you work or bring the apps that you use every day into Dialpad.
New and updated integrations:

Google Chrome
Dialpad ChromeOS Desk Connector
For contact center agents, productivity and efficiency are essential when helping customers with their needs. With multiple apps, tabs, and windows open at a time, it can be cumbersome for agents to flip through multiple windows or tabs to effectively work their calls.
Enter the NEW Dialpad ChromeOS Desk Connector, which empowers agents to easily create a new Desk while taking calls. When a call has finished, the Desk Connector asks the agent to close all windows and tabs associated with that call. Once the Desk Connector is prompted yes, agents can instantly clear up their desktop and prepare for their next call.
Dialpad Chrome CTI
Coming soon, we've combined our Chrome CTIs for ease of use, better usability, and added some cool new features. Click-to-call and SMS, team messaging, call center status, do not disturb settings, contacts and communications history will all be included in the new Dialpad CTI. No need to download an extra click-to-call add-on anymore!
The combined CTI will be available on the Dialpad App Marketplace in 1H 2023.
Chrome WebHID
By leveraging the new Chromium WebHID standard, Dialpad can easily integrate call controls into any compatible headset without the need of vendor client application to support the headset integration.
The Chrome WebHID integration will allow Dialpad customers to choose any headset compatible with the added benefits of:
No additional vendor app installation for call controls

Synced call controls: Answer, hang-up, and volume and mute control

Support for Chrome OS, MacOS, and Windows
Get started → WebHID EAP program
Dialpad was built on Google Cloud and has more than a decade of history working with Google. In 2021, the relationship grew significantly and now includes a full GTM Partnership. Today, in addition to longstanding Chrome and Workspace integrations, we have co-marketing, co-sale motions, deep executive alignment and many programs designed to provide the maximum benefit to our customers.
Reach out to Dialpad today to discuss how we can help you burn down committed spend and get the most out of your investment with Google & Dialpad.

Salesforce
The
Dialpad for Salesforce integration
brings a robust
CTI
to help your teams make and receive calls, click to dial, log notes and calls, view contact records, and get all the power of Dialpad in Salesforce. When you enable the
Dialpad Everywhere widget
in Salesforce, your teams can get access to real time Ai-powered
voice transcription
,
call center coaching
, and RTA (
Real-Time Assist
) cards on every active call:

The Dialpad Everywhere widget automatically transcribes every call, pulling out notes, action items, and keyword mentions so reps are always equipped to handle the call. Ai coaching and RTA cards will coach reps to talk slower and pop up when certain phrases are mentioned, such as pricing or competitors—providing answers, links, bullet points and follow-up questions so the team always asks the right questions and closes deals faster. The widget also allows reps to quickly log notes to a call, even if they're working outside of Salesforce.
New features:
Improved workflows to log calls to cases and opportunities

Historical call logging for customers to log calls to objects even after the call has ended

Create a lead from the Dialpad sidebar (coming 1H 2023)

Share presence with Salesforce omni channel (coming 1H 2023)
HubSpot
Dialpad for HubSpot
Available soon, our improved Dialpad for HubSpot integration will make it even easier for users to quickly resolve tickets and engagement with customers. This CTI integration will bring Dialpad features such as click to dial, click to SMS, inbound screen pop, and more inside HubSpot so agents can understand the context of who's calling before they answer a call.
This CTI integration will be available on our marketplace in the 1H of 2023.

Microsoft
Dialpad App for Microsoft Teams with License-Free Routing

The Dialpad App for Microsoft Teams and License-Free Routing brings advanced, Ai-powered calling and messaging capabilities to Microsoft Teams with no additional Microsoft licenses or third party apps required.
Interested in learning more? We cover everything you need to know in this release blog.
This integration is available via the Dialpad Early Adopters Program to any new or existing Dialpad customer with a Pro or Enterprise license.
Dialpad for Microsoft Dynamics
Boost your sales pipeline and manage your customer data faster with Dialpad for Microsoft Dynamics, within the Dialpad Sidebar. This integration allows you to log calls and notes back to Microsoft Dynamics without leaving Dialpad.
When you receive a call in Dialpad, you can turn on Ai to activate RTA cards and call transcription, and then log the files back to Microsoft Dynamics to share with teammates or reference for later.
This integration will be available in 1H 2023, within your Dialpad sidebar.

ServiceNow
The Dialpad for ServiceNow integration puts all the tools your team needs for better customer service in one place. With everything stored in the cloud, your data from Dialpad and ServiceNow will update and sync automatically across all devices so that you can close tickets and log notes or calls from anywhere. Dialpad also matches your incoming calls to existing records in ServiceNow—if there are no existing records, you can create a new one directly within Dialpad.
This integration will be available in 1H 2023, within your Dialpad sidebar.

Copper
The Dialpad for Copper integration will get matches on incoming calls to existing objects in Copper so your reps are always equipped to handle the call. Log calls as leads or a new person with the ability to enter a subject and description of the call without leaving Dialpad. Once you're done a call, notes and call details are automatically logged to your Copper instance—no need to toggle between different tabs. Increase customer satisfaction, and close deals faster.
This integration will be available in 1H 2023, within your Dialpad sidebar.

Bullhorn
The new Dialpad for Bullhorn integration allows HR professionals and sales reps to seamlessly manage candidates and leads in Bullhorn CRM without leaving Dialpad. Inbound calls trigger Bullhorn to open call pops with details associated with your caller, allowing recruiters to get a 360-view of who is calling so they can provide better candidate and customer experiences.
When you take a call in Dialpad, you can choose to automatically log a task or note in Bullhorn to your matched candidate and view key details in your Bullhorn activities (like whether the call was inbound or outbound, the name of the caller, call notes, the transcript link and more) so your teams never miss an important interaction. Your Dialpad and Bullhorn data automatically syncs to all devices.
Available in 1H 2023 on the App Marketplace to join the Bullhorn Early Access Program.

Powering an App Ecosystem with Dialpad open APIs
With Dialpad APIs, you can build custom workflows into their Dialpad environment or create public apps. Over 140 API endpoints are available today to help customers and partners build workflows like voice archiving, agent management, AI-generated transcriptions, SMS apps, and more.
Popular APIs

Programmatically get the transcript and Ai moments from any call. If you are a call center manager and you want to review key moments and the performance of a customer service call with an agent on your team, automatically pull in call transcriptions and Custom Moments generated on that call to review with agents in real time. This makes coaching and developing agents easier and all the data is available to you in a single place.
We also support generating CSAT reports via the Stats API to obtain CSAT responses by customers or generated by the Dialpad Ai for your call centers.

In real-time, this API allows developers to route calls to anyone via a dedicated phone number or main menu option and build a customized IVR experience based on any logic that you determine.
For example, if a high priority customer calls into your call center, this call router can automatically detect that this customer is high priority and should route to a specific account manager, resulting in better customer satisfaction and shorter wait times.

Dialpad's event-based mechanisms allow customers to create event subscriptions to Dialpad targets (company, office, call center, department, or user) and be notified whenever a predetermined condition is met.
For instance, in 100% real time, you can hook directly into all stat events (e.g. any event you can pull a statistic from, like number of calls, SMS messages, how many times an agent went on do-not-disturb mode, etc.) at Dialpad. Get alerts for stat events such as call, SMS, contact, and even agent status events. With this API, you can trigger live alerts or create a custom live dashboard based on the events you subscribe to.

Dialpad Ai Agent Assist searches through unstructured data (like web pages, knowledge
bases, ticketing systems, and more) to find answers needed to address customer inquiries. Developers can build workflows easily into Dialpad Ai Agent Assist that include easy to create Automations that easily connect to mission critical internal/ external systems or IOT to help agents service customers faster and easier.
A great example of this API at work is a large European utility company that has built custom automations into multiple back-end systems to make complex pricing data easily available to agents and calling up customer meter readings.
Building a robust App Marketplace
Dialpad's updated App Marketplace allows customers to search and discover integrations by business use case and vertical needs.
The Dialpad App Partner program (DAP) extends the Dialpad solution by working with technology partners to provide customers value with custom workflows in AI, productivity, and customer support apps.
New DAP partners:
Theta Lake now seamlessly integrates with Dialpad Ai Voice call recordings and Ai Messaging to bring compliance and artificial-intelligence-based supervision with long-term archiving, eDiscovery, acceptable use risk and data leakage detection to Dialpad customers.
We are excited to work with Dialpad, be a part of their partner program, and create Ai powered apps that mutual customers can benefit from. With Dialpad's Ai Customer Intelligence Platform and Theta Lake's Ai compliance and regulatory integrations, new and existing customers have world class Ai driven communications for their business needs. – Sacha Nacar, Sr. Director Partnerships @ Theta lake
Front puts customer conversations at the center of a team's attention. Front surrounds every high-stakes conversation with team collaboration capabilities and contextual data to ensure responses are always fast, accurate and deeply personalized. Through integrating the Dialpad CTI into the Front environment, mutual customers can seamlessly make and receive calls, send SMS messages, and get Ai powered transcription and real time assist coaching cards without leaving the Front environment.
Front is built for teams that differentiate on customer relationships, and we're excited to integrate and partner with Dialpad to further strengthen the customer experience and drive productivity through our mutual solution. We had a positive experience building with the Dialpad API and look forward to growing our partnership to help businesses better communicate with customers. – Craig Klemp, VP, Partnerships & Business Development @ Front
The Dialpad Open App Ecosystem team is continuing to invest in expanding ecosystem partners, building valuable integrations, and providing APIs that help our customers Work Beautifully.

Learn more
Visit our App Marketplace page to learn more about our most popular integrations, the technology partners page to learn how to partner with us, and the developers page to learn how you can build integrations + custom workflows, and partner with us!