Back to Blog
Dialpad for Microsoft Teams + License-Free Routing GA!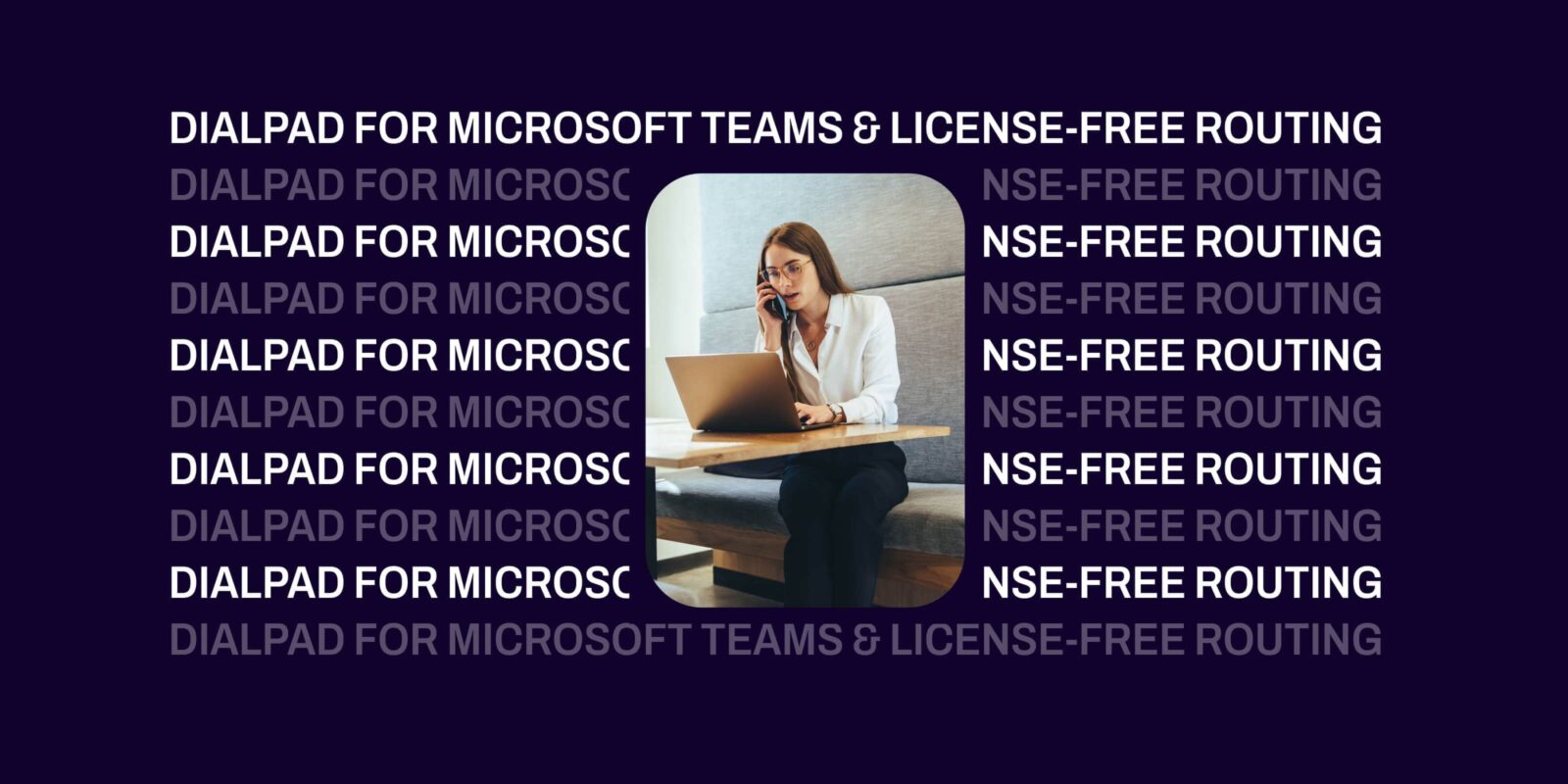 The Microsoft Teams user count continues to climb higher and higher, so it's safe to say that if your organization is a Microsoft shop, you're probably using Teams. You might be using it for internal calling, video meetings, or as the sole platform for all your company's communications, but it almost certainly plays a role.
And for the basics of communications, that's fine! Microsoft Teams handles team collaboration, video meetings, and file storage nicely… but it's still missing a few things.
One of the biggest issues is the complex licensing—you need to navigate the Microsoft site to figure out what licenses you need for outbound calling, additional calling plans, and so on. (Of course, all of these come at an extra cost.)
Plus, Microsoft calling plans often lack important business communication features like:
And yes, those are all features that Dialpad offers, which brings us to our next point…
Dialpad is working to help our customers make Microsoft Teams the next-generation business communications tool they deserve. That's why we're excited to announce the GA (general availability) and first of its kind, License-Free Routing!

This call routing option brings cost-effective outbound calling to Microsoft Teams, alongside powerful Ai technology. And best of all, it doesn't require a Microsoft Teams Phone license or any extra apps to make your Teams calls.
Ready to learn more?

What's new?
Dialpad for Microsoft Teams brings a robust Dialpad experience right into your Teams environment. This eliminates the need for customers to jump back and forth between two separate communications apps, making the communications experience all the easier.
We know that not everyone uses all of each app's features exclusively. You could, for instance, do internal video meetings on Teams (though Dialpad also offers unlimited free video meetings!), but use Dialpad for your outbound phone calls. By bringing the Dialpad interface right into Teams, you can call, text, and meet in a single app. This improves workflows, reduces app overload, and as you'll see soon, saves you money.
You can make outbound calls from the Teams interface by searching for contacts from your synced Dialpad and Microsoft 365 directory, clicking any number shown on the screen to call it, or by inputting a number into the search bar. Inbound calls are received just as you normally would in Teams, through a pop-up alert.
Accessing the integration is easy, it just takes three quick steps:
1. Navigate to the left sidebar of Microsoft Teams
2. Once Dialpad is installed and the integration is set up, there will be a Dialpad icon present
3. Click the icon to open the Dialpad view native in your Teams environment
And that's it!
The Dialpad app brings all of your contact's information into Teams, so you can quickly reach them without having to look up their number and enter or copy it into the Teams dialer. And beyond standard Teams capabilities, the integrated app also allows you to:

Send SMS/MMS messages right from within Teams

Have control over your telephony actions, like enabling Ai voice transcription

Initiate call recording and and access past call recordings, complete with playback and transcription

View call history and access Ai call summaries with playback and transcription

View visual voicemail (complete with playback and transcriptions)
A new path to the PSTN

is a first-to-market approach for making outbound calls to the PSTN from Teams, all without the need for the Teams Phone license or a separate phone app to be running alongside Teams. And with our most recent release, we've announced the new GA (General Availability) of this product so you can use it with ease knowing Dialpad has tested and ensured its reliability for your organization.

This new calling approach provides a more cost-effective option for companies that have been using a completely separate business phone system for calling outside of Teams or use direct routing with a host.
License-Free Routing allows customers to make calls from Teams, but doesn't require the Teams Phone license that's normally needed to make outbound calls from Teams with Direct Routing. And since the Teams Phone license is normally included with Microsoft E5 license, this gives companies an opportunity to choose other license types if they're not using E5 on a daily basis.
Designed to complement the Direct Routing offering in our Microsoft integration portfolio, License-Free Routing is ideal for Teams users that have light or medium daily outbound calling needs. It creates a cost-effective solution that eliminates the need for additional Microsoft licenses.

The best of Dialpad, now in Teams
Now that Dialpad is available in the Microsoft Teams environment, customers can take advantage of much more than just unlimited HD calling, like:

Industry-leading Ai

To transform Teams into a more robust communications environment, our new integrated interface brings all of the power of Dialpad Ai to every call made on the app.
Each interaction is transcribed in real-time by industry-leading automated speech recognition and natural language processing models. Dialpad Ai listens for keywords, call sentiment, and opportunities to offer real-time assistance and recommendations to call participants—it's like having a sidekick for every call.
All of the information is sent straight to you right after the call, and call summaries are also attached to contact records for everyone participating on the call. This creates opportunities to improve workflows and build better insight around your relationships with the people you work with and communicate with the most.

Advanced Ai-powered contact center audio endpoint
You can use Microsoft Teams to leverage Dialpad Ai Contact Center by using the app as an audio endpoint for contact center agents in Teams.
Only Dialpad can deliver an integrated, truly unified communications and contact center experience through Teams, complete with native Ai for every contact center interaction. It's the industry's first "AI at the Core" customer experience solution, and when used with Teams, gives you Ai-powered productivity tools that are hyper-focused on making it easier to have more productive conversations, improve customer effort and satisfaction, and reduce contact center costs.

A single app for all communications
Dialpad for Microsoft Teams creates a single, unified workspace for Teams users to get their best work done, while enabling outbound calling in Teams via two routing choices.With the Dialpad app in Teams, you'll be able to see a full call history (complete with visual voicemail and spam blocking), send SMS messages to any of your contacts (not natively available in Teams), and manage your call recordings.
Modern dual-cloud architecture and global telephony network
Dialpad's HD voice for Teams is powered by our unique dual-cloud architecture, where all of the call routing, storage and business logic exists in the Google Cloud Platform (meaning best-in-class scalability and security).
And during the call, voice traffic is separated out and run on our global, proprietary, bare-metal telephony network that ensures HD voice for all interactions on Dialpad. This global network also provides PSTN access in 70+ countries, and full PSTN replacement in 49 countries, so Teams users will have local presence with global reach across the world (with unlimited in-country calling and competitive international rates).
This modern approach to cloud delivery also allows us to offer Enterprise plan customers a 100% uptime SLA, meaning you'll be open for business at all times with Dialpad in Microsoft Teams.
By using microservices, we can make feature upgrades and perform maintenance—without taking the platform offline at any time. And with Microsoft reporting only three-9s uptime for Teams, you can rest assured that even if there is a Teams outage, Dialpad will always be available.

Ready to get started?
We're all excited about the Dialpad for Microsoft Teams License-Free Routing, and what it can bring to Microsoft Teams calls. Now you can make more calls with less confusion, and with no shortage of tools and Ai features to make every call a great one.
Ready to experience Dialpad and License-Free Routing for yourself?

See how it works with a demo
Get a personal walkthrough of a first-of-its kind, Dialpad + Microsoft Team's License-Free Routing!