Back to Blog
How can you build customer focus (the right way)?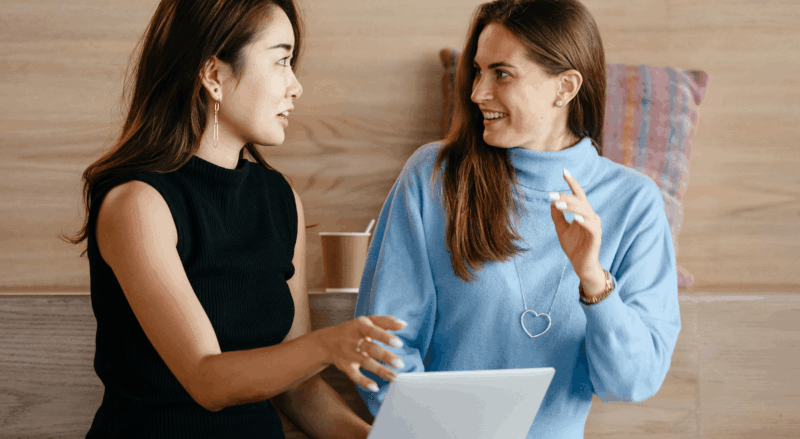 Every company says they're a "customer-focused business," right? But it's clear that many, many companies are far from reaching this standard. Why is that?
Well, I'd say that a big reason for this is the fact that many companies seem to think that only their frontline or customer-facing workers have to be customer-centric. And this is just not the case. (I'll get more into why in just a bit.)
Whether you manage a Customer Success team or Customer Support team (yes, they're different)—or even if you're a salesperson—you should have a customer focus strategy.
What is "customer focus?"
The idea behind customer focus is pretty straightforward: being customer-focused means that your priorities and business strategy are driven by your, well, customers. That includes what your customer wants, what level of service they expect from you, and an awareness of how you can exceed those customer expectations.
For companies that have a high level of customer focus, like Zappos and Amazon, it can be a huge boost to not only brand affinity, but also their bottom line.
Why do companies with no customer focus even exist?
There are literally thousands of articles that show up when you search "why is customer focus important?", and it's not exactly hard to see the benefits of customer focus—so you might be wondering why it looks like some businesses just… Don't care about it. How can that be?
I don't believe that anyone sets out to provide terrible customer experiences on purpose.
And while I can't directly speak for these businesses, I can share with you a few factors that hold companies back from honing in on customer focus from past experiences and observing other companies.
Fear of (or slow in) investing in new tools
I'd wager that pretty much any business wants to meet customer expectations. But that doesn't always mean they have the means to do so.
When you're a mom-and-pop shop with one store location, it's relatively easy to be customer-focused. You can probably remember most of your regulars who come in by name and build customer relationships organically, every day.
But what if you're a law firm, or a healthcare practice with a few clinic locations?
You might not get the same type of daily foot traffic, and your customer touchpoints might look very different.
In these cases, your support team might need to help customers over social media channels like LinkedIn or Twitter, or live chat, or over the phone (or all three).
And that would mean that you'd need software that lets you provide omnichannel customer service, while centralizing all those customer interactions and data in one place, which would make life easier for your reps or customer-facing teams.
An easy-to-use, intuitive app or tool can be a huge help—or a huge hindrance—to your team. That's a big reason why my own Customer Support team uses Dialpad Ai Contact Center. It lets us handle all these communication channels in one place, and get our customers the answers they need quickly: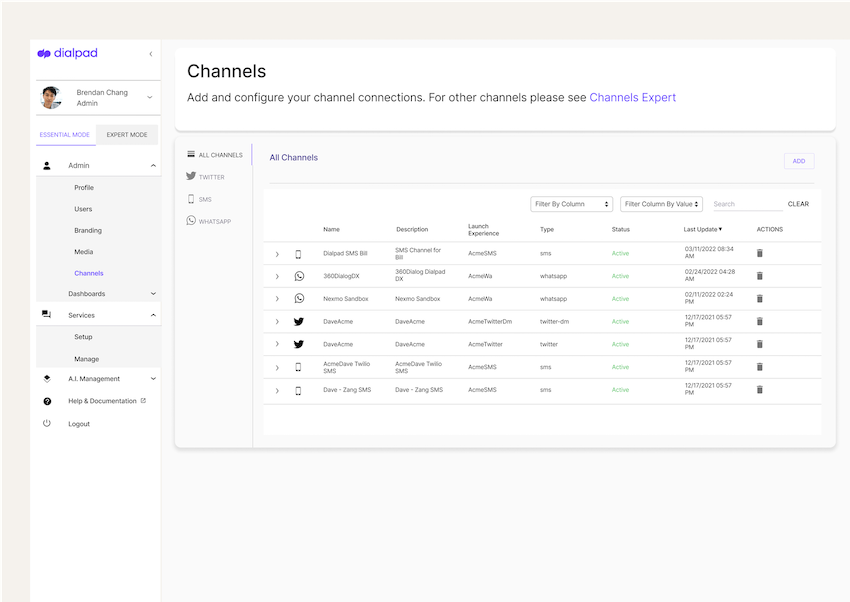 Lack of training
It's difficult for agents to focus on driving customer success when they don't have the training they need. Customer Support teams have notoriously high turnover, and many new employees in this field come in without experience in this type of work.
That's not necessarily a bad thing, but it's important to be aware of that and be able to plan for it when you do training and development for your team. Our own Customer Success and Customer Support teams regularly go through training on everything from onboarding new customers to troubleshooting issues.
Again, Dialpad Ai Contact Center has a few features that are designed specifically to help with this. For one, we can track common keywords or topics that come up in customer conversations. Say I notice that we seem to have been getting a lot of questions on Feature X lately. I can create a "Custom Moment" in Dialpad to track how often this topic actually comes up:


If I do see in the analytics that our agents are getting asked about this a lot, I can then create a Real-Time Assist (RTA) card in Dialpad and add tailored notes or talking points in it, then set that to trigger on agents' screens whenever "Feature X" is mentioned:
This way, I can be responsive to customer feedback while helping agents be customer-focused and solve problems quickly—without having to personally coach every call. Speaking of customer feedback…
Neglecting customer and employee feedback
Customer data and feedback are some of the most valuable (and least expensive) insights you can get. And collecting this feedback is one of the best ways to make sure that your teams are being customer-focused.
Your satisfied customers can tell you exactly where you're performing well, while your not-so-satisfied customers can let you know which areas need improvement. And really, all feedback can help drive business growth—and give you a competitive advantage—when you act on it.
The thing is, asking customers to fill out a CSAT survey is a great initiative… Provided that customers actually give you that feedback.
One of the biggest challenges by far with CSAT scores is that not a lot of people actually fill out those surveys.
In fact (depending on the industry and specific business of course), we've found that on average only about 5% of customers actually fill out CSAT surveys. On a related note, usually only the angriest—and happiest—customers actually bother to respond to these surveys, which means your CSAT answers are likely to be very skewed and not representative of how your customers feel overall.
Dialpad's industry-first Ai CSAT feature is designed to solve exactly that. Not only can our Ai transcribe calls and analyze sentiment in real time, it can also infer CSAT scores for 100% of your customer calls thanks to its hyper-accurate transcription feature. The result? A much more representative sample size for CSAT scores, and a more accurate understanding of how satisfied your customers really are: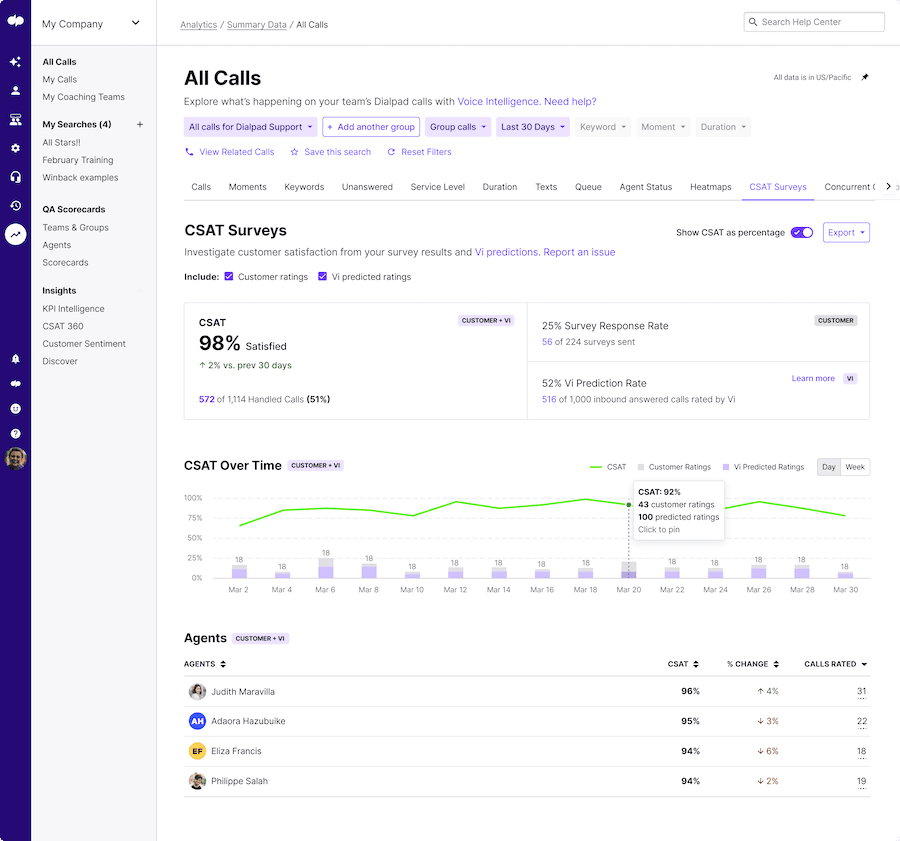 4 tips to improve customer focus in your organization
The thing to remember is that customer focus should be at the heart of company-wide decision-making—not just a tagline that you try to drill into your customer-facing teams' heads.
With that in mind, here are four tips that have helped me in the past with improving my team's customer focus.
1. Make sure your tools can support you
I've already mentioned that not having the right tools can hold you back. On the flip side of that, a great tool can support you and give you what you need to focus on your customer needs.
For example, does the tool give you real-time data (whether that's your response time, call volumes, and so on)? Dialpad, for instance, shows us all of that, and even does live sentiment analysis on calls so that we can quickly spot if a customer conversation is going south (and jump in if needed to help the agent):


What about integrations? If your agents and supervisors are using other software, like CRMs or ticketing systems, does that integrate with, say, your cloud contact center platform? These integrations are important because they can take a lot of repetitive, low-value tasks off your agents' plates.
Another example: Dialpad Ai Contact Center integrates with tools like Zoho CRM, HubSpot, and more to not only embed the dialer inside those CRMs (so agents can make / take calls without switching to another window), but also automatically log activities and calls to the CRM: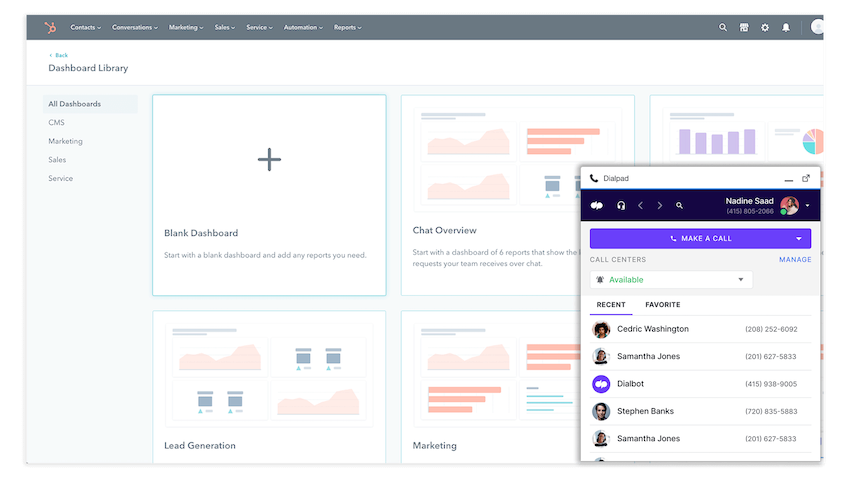 2. Automate strategically
Automations can be very helpful. And it would be smart to use automations in your contact center or support team's processes. The trick is to still be customer-centric while automating things.
For example, if you have a chatbot on your website that can deflect most common questions, that's great! But what happens if a customer needs to talk to a person? Can they easily escalate that chatbot conversation to a voice call or video call with someone on your team?
(They should be able to.) If not, why not?
What we like about using Dialpad Ai Contact Center is that not only does it let our agents talk to customers across phone calls, video calls, SMS messages, and more... It also lets us build chatbot response flows that can escalate to a human. All with just a few clicks, no coding needed: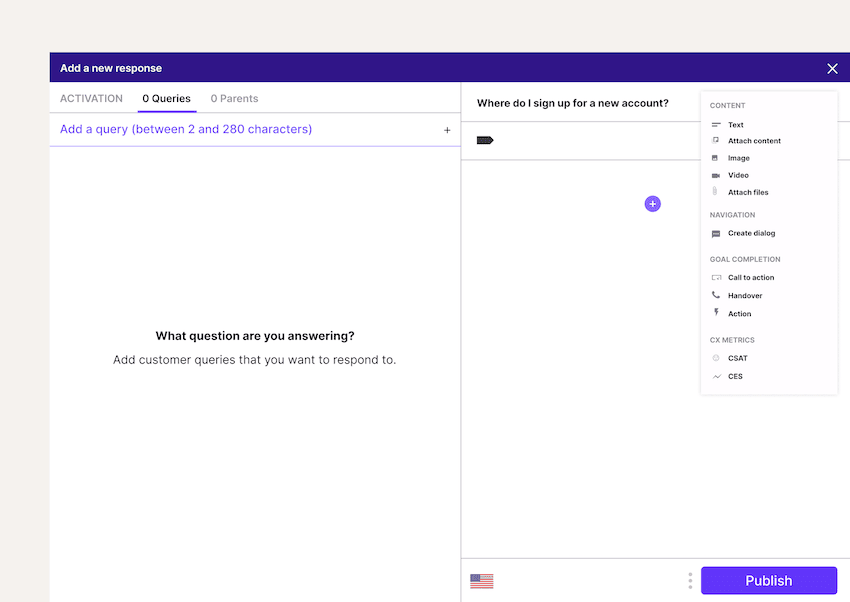 3. Make sure you have top-down support
No matter how customer-centric your support team or customer success team is, they encompass only a small part of all of the total interactions over the customer journey.
What that means: Your customers are also interacting with other departments, like your Finance team, Legal team, Sales team, and Marketing team—and these teams should be customer-focused too!
Otherwise, even if your team is great at building customer relationships, all of that work can be undone if, say, your Finance team has a hugely complicated process for customers who want to renew subscriptions. That creates an inconsistent customer experience company-wide, and that customer would probably churn (i.e. leave you and take their money elsewhere).
This is why I say you need top-down support. Customer focus needs to be in the DNA of your very business model.

4. Monitor metrics regularly
To know that you're being customer focused, you need to set goals and be able to measure them to come up with ideas for optimization or improvement.
Take a close look at your customer journey and the metrics that can help you measure success at each step. For example, after a customer ends a call with you, can you trigger a customer satisfaction survey to gather feedback on how that interaction went? With Dialpad, we can!

Many companies also measure NPS (Net Promoter Score), which gives you a good idea of whether your customer base is likely to recommend your company to others (or churn).

Side-note: This isn't a quantitative metric, per se, but we also regularly review transcripts of customer calls. Dialpad Ai Contact Center does real-time transcription as well, which helps managers overseeing multiple active calls get context on potential issues quickly:


How 3 real businesses stay customer-focused
Let's look at a few examples of companies in different industries that are keeping customers happy—and doing it efficiently too.
Dogdrop
If you have a pet, you know how important it is to have a pet-sitting service that's responsive and accessible.
Dogdrop provides on-demand dog care and daily dog essentials in LA—but it had one problem. Its outdated phone system didn't have a texting option, and made it hard for their current and potential customers to get in touch with them.
So, how could they provide more customer-focused service? They went with a new phone system that was actually more like a communications platform. Not only could they make phone calls with this app, they could also send SMS text messages to keep dog parents up to date with how their pups are doing: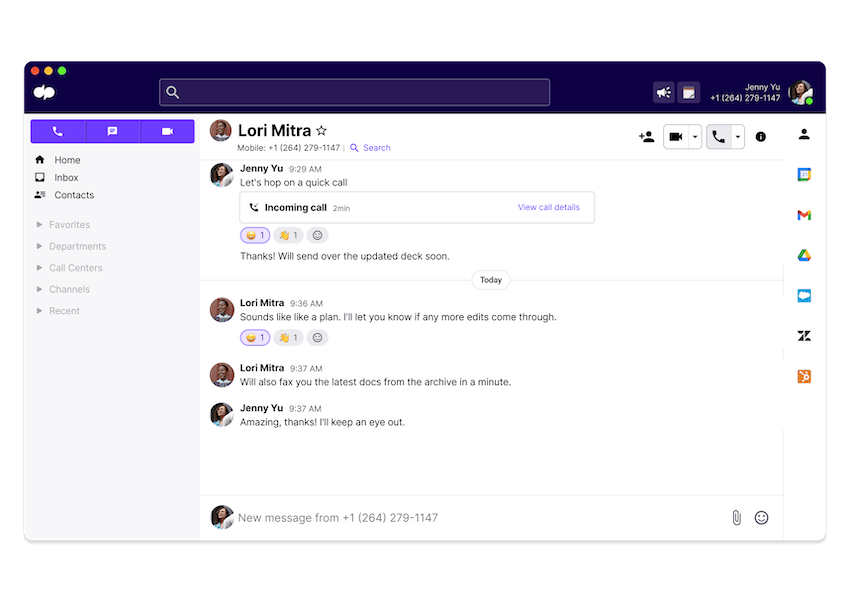 "At Dogdrop, one of our biggest priorities is fast and transparent communication with our daycare members," says Shaina, their Co-founder and CEO. "The Dialpad desktop app allows us to quickly respond to messages and keep parents updated."
Rently
As a business, Rently provides property managers with self-touring and smart home technology and support. And their reps get two to three thousand calls every week. Without a way to route all those calls automatically to the right people, customers would end up waiting on hold for longer than they had to—not very customer-focused.
So, they went with a fully integrated phone system and contact center platform that let them create three customer service departments—one each for renters, property managers, and technical installers who might be calling in.
Now, whenever someone calls, they can easily reach the right department, and Rently's team members can even know what they're calling about as soon as they pick up the phone.
Not only that, they're also using Dialpad's RTA cards to help agents answer customer questions more effectively. For example, if agents are getting tricky questions about rental policies or ending a lease, Rently can create an RTA card and set it to pop up whenever phrases like "cancel a lease" or "end a lease" are spoken on a call so that agents have all the info they need.
No wonder they're now earning an impressive customer satisfaction score of 4.5!
Camino Financial
Camino Financial provides funding to micro-businesses and companies of all shapes and sizes (from restaurants to beauty salons, food trucks to party companies). Their proprietary credit assessment and data aggregation AI determines the best loan for their clients. With offices located in LA, Mexico and Colombia, they need to be able to communicate from anywhere.
The problem was their team had no way to view their call analytics. No insights. No way of knowing how agents were performing. No way of helping.
That's no longer a problem. Now that Camino's team has Dialpad's call analytics, the admins can get a holistic view into everything, from the busiest times of the day, to how long it takes to resolve each call, as well as detailed call dispositions.
Each department can measure their call volume, missed calls, abandoned calls and more. As a result, they know when to add more agents and can manage their scheduling more efficiently. For instance, they know that call volumes shoot up on days when payments are due, so they schedule their agents accordingly:

"I get so much data that really helps me understand my customer service team's capacity," Tania, their Senior Sales and Operations Manager, says. "Dialpad helps us identify if we need to add more agents or change a process to make decisions quickly."

What's your customer focus strategy?
If you want to improve customer loyalty or customer retention, then being more customer-focused should be top of mind for your business.
Whether you're leading a Sales team or a team member in a non-customer-facing department, there's an opportunity for you to bring a customer-focused approach—and make a difference in your bottom line.
And if you need better tools to help your team be more customer-focused, like a contact center platform, why not check out a platform like Dialpad Ai Contact Center? From the Ai CSAT feature to the built-in analytics, it's designed to help you improve customer satisfaction and keep them coming back.
Chat with our team to get a personal walkthrough and learn more about pricing!
See how Dialpad Ai Contact Center can help you be more customer-focused!
From real-time coaching features to omnichannel communications, Dialpad is designed to help you meet your customers where they are, whether that's on social media or through phone calls. See how it works with a demo, or take a self-guided interactive tour of the app on your own!