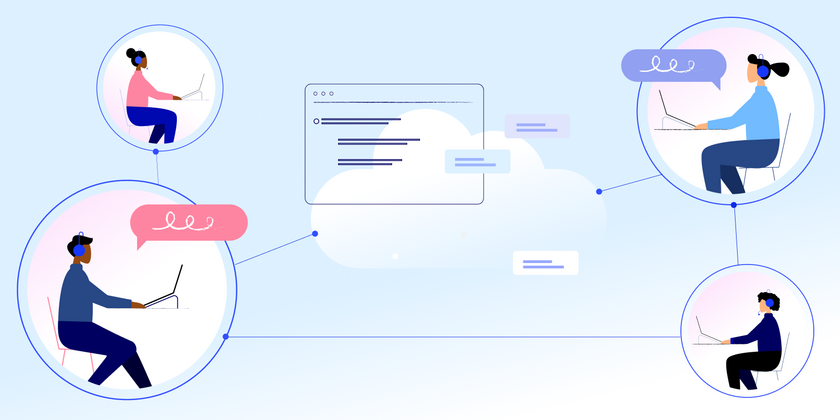 April 14, 2021
The higher education landscape has changed, as the COVID pandemic forced schools to quickly shift to an online, remote learning style. The sudden transition created several stumbling blocks that institutions and their IT departments had to struggle with in order to keep providing an effective work environment. Now, as schools prepare to reopen and attempt a combination of in-person and remote lessons, we can look at the technological challenges that await.
1. Changing Communication Preferences
The past year accelerated the adoption of virtual learning, but more by necessity than choice. There was a sudden need to quickly learn the ins and outs of video meeting technology and to ensure the institutions had the infrastructure to handle it.
Suddenly, communication shifted from email and phone calls to include video calls and meetings. The educational institutions need to bridge the physical and virtual campus experience, which means including:
Email
Phone calls
Chat
Video calls and meetings
The days where a student could walk into their professor's office hours are no more. Now they need to connect virtually with a video call, and educational institutions need to be prepared to support this. Yet that opens up another issue, bringing us to…
2. Finding Secure & Complaint Cloud Technologies
When faculty members and students go online, they need to be sure their personal information is safe. Data security and privacy are essential, and educational institutions have certain security standards they need to be compliant with. This means that the communications platform needs to be completely secure and compliant as well.
Beyond data security, there's the matter of privacy for educators. If professors need to hand out phone numbers to their students, it is much more convenient to have a virtual phone number they can provide, rather than their personal numbers. At the same time, they can't be expected to carry multiple devices with them at all times. A communications platform that offers business phone numbers that can be reached across devices provides a solution to this problem, as it allows faculty to remain accessible only when they want to be.
At the same time, it shouldn't be too difficult for users to log in and administrators to access the platform. This is where access management via Security Assertion Markup Language (SAML) and System for Cross-domain Identity Management (SCIM) come into play. These provide secure options for user administrators and log-ins, keeping everything secure across the cloud.
3. Moving Off of Antiquated Legacy Systems
It's time to move communications to the cloud, and that means leaving behind the old legacy systems. These systems are often expensive to maintain, lack modern communications features, and cannot keep up with current demands.
Instead, educational institutions need to invest in a scalable, cloud-based solution. These are more powerful and efficient than on-premises PBX systems in several ways. Maintenance and updates are handled entirely by the provider, which frees up the IT department, while the lack of physical equipment helps save on space and maintenance.
We can see this in action in Azusa Pacific University (APU). It has around 1,500 employees across seven campuses, and when the shift to remote learning began, it needed a telephony system that could support managing a remote workforce. APU had already adopted several cloud software products for education and business operations, so it wanted a telephony system to match. When APU switched to Dialpad, the IT team was able to get set up quickly and support the entire university through the cloud.
"We wanted to implement a piece of software that is built to integrate, and not something we need to build internally," said Rob Davis, Azusa Pacific University's Director of Personal Technology. "Dialpad's integrations did the work for us."
4. IT Staffing and Administration
A big concern for educational institutions moving to a new communications platform is the IT and admin requirements. As technological needs grow, so too does demand for IT staff - what kind of new demands could a cloud-based communications system put on the IT department?
In actuality, solutions that are hosted in the cloud typically alleviate the pressure on IT teams. With the right workforce strategy and sourcing tools, IT departments can focus their time and energy towards more strategic initiatives, rather than worry about maintaining the platform.
Administration is also simplified with cloud-based solutions. Dialpad includes a user-friendly admin dashboard, allowing administrators to get an overview of their departments and make any changes needed with just a couple of clicks.
5. Communications Costs
Cost is always a concern when moving to a new communications platform, especially for educational institutions, where budgets may already be slim. Yet a cloud-based solution is actually more cost-effective than an on-premises solution.
On-premises PBXs can be complex to manage and require maintenance that costs you time and money. These hidden costs can result in multiple unexpected expenses and a drain on resources.
Instead, hosted platforms offer a predictable pricing model that eliminates capital expenditures and reduces monthly communication costs. Institutions using a cloud-based solution will be able to save on maintenance costs, expensive upgrades, and even the electricity costs of powering an on-premises solution. In exchange, they simply pay a set recurring cost with no hidden fees.
Why Dialpad?
Dialpad offers a hosted cloud communications platform that can keep your staff, faculty, and students connected across departments and both on and off campus. We offer a reliable and easy to use communications system that helps streamline the administrative process, improve staff collaboration, and enable virtual learning.
Dialpad enables FERPA/HIPAA compliance and encrypts communications and data in transit and at rest, so your information and communications are secure. Everything is available at a predictable recurring price with no hidden fees.
Higher educational institutions face many challenges, but Dialpad has the tools they need to empower faculty and students alike.