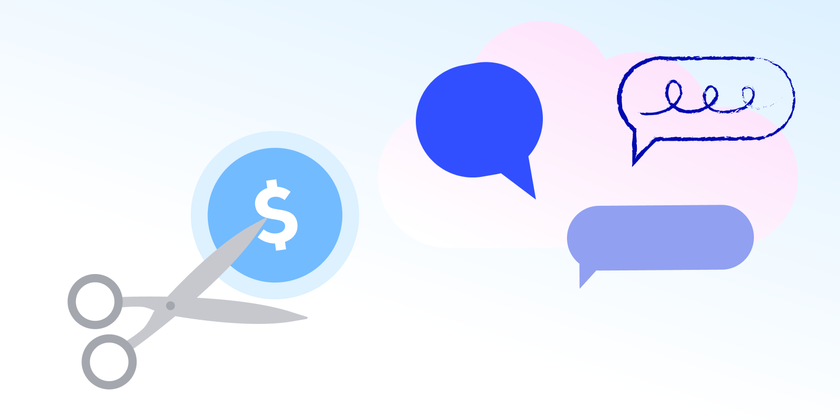 March 23, 2021
As we all know, running a business can cost a lot of money. But thanks to technology — specifically cloud technology — you can now substantially reduce the cost of doing business through cloud migration. This article will explore various ways to cut costs with the cloud. Let's get started!
1. Trim Startup Costs
Starting a business has traditionally been associated with a massive barrier to entry in the form of startup expenses. The cost of web and intranet technology alone was once enough to keep would-be business owners at bay, to say nothing of the spending related to licensing, location, staffing, and other necessities.
The time is not long gone when starting a contemporary business involved finding enough office space to store massive servers, and finding a perfect solution was challenging. Either there was too much server capacity — wasting equipment and thereby money spent — or the business grew too quickly for the servers to accommodate, overloading them and causing crashes.
However, with the advent of cloud computing, startup founders no longer need to come up with the capital to invest in and manage all that hardware. Instead, they can get what they need from a cloud provider, generating all the computing power they need in just a few clicks.
2. Lower Setup and Deployment Expenses
Setting up those data centers mentioned above came with an expense higher than the bare cost of equipment. Either the founders had to take the time themselves to set up the systems (assuming they had the know-how), or they had to bring in technical experts to do it for them. The former results in opportunity cost — time is taken away from doing their core work — and the latter comes with labor and maintenance costs.
Further, once these systems were up and running, deploying time-saving improvements to software could take days and even weeks with a conventional installation. However, cloud-based infrastructure can roll out updates in a matter of hours, allowing employees to spend more time working productively rather than waiting for updates to complete or work with outdated software while sitting in the update queue. Today, many of these tasks can be automated so that updates take place after business hours.
3. Manage Growth

Small businesses that leverage cloud technology to overcome initial challenges grow 26% faster than those that do not. This is a fact worth celebrating if you're still in the startup phase because it translates to an average of 21% higher gross profits. Even so, that kind of growth also creates its challenges. In a hyper-growth environment, rapidly purchasing and configuring new hardware can be tedious, costly, and time-consuming, not to mention inconvenient as you may have to find places to put all that new tech.
The amount of room to grow made possible by cloud technology is unparalleled by on-premises software (on-prem) solutions. Automatic expansion is another flagship feature of cloud services because you never have to worry about purchasing new equipment as your business grows. Instead, these costs are passed onto vendors who already have the hardware concerns taken care of. And if you happen to be in an industry that experiences seasons of expansion and contraction, the elasticity of cloud computing has you covered. Growth management is a compelling way that you can cut costs with cloud technology.
4. Secure Important Data
With companies in every industry relying on data more than ever to inform business decisions, the need for data security has never been higher. Furthermore, customers have come to expect ready access to public-facing resources at all times, so service interruptions due to malicious attacks can be costly.
One way that cloud technology solves this problem is by protecting against distributed denial-of-service (DDoS) attacks. Because applications are not necessarily run on a single server, attacks can be absorbed and distributed, minimizing the risk of an interruption. Top solutions can also detect unhealthy instances, kill them, and divert traffic while a new one is automatically created.
Economics of scale also applies here. Businesses across industry lines likely face similar security threats, so when one company submits feedback that results in a new security feature, all customers of that cloud provider stand to benefit. This provides the added security benefit of receiving solutions to problems that your particular organization may not have faced yet.
5. Expand Reach
Cloud communication facilitates an unprecedented level of remote work, enabling companies to expand their reach to markets all over the world.
Before remote work reached the level that we currently enjoy, collaboration was only truly efficient when the entire team could be in the same place. Now, with systems that can update everyone involved to changes in real-time and communications platforms to help facilitate group work, you can recruit the most talented people, regardless of their physical locations. This allows you to decentralize your workforce. Furthermore, cloud computing gives your business access to top technical talent without hiring them full-time: your salary resources can go to your core employees who create, refine, and manage your products and services.
And for those times you need a local presence, the cloud has the solution. Studies show that people are more likely to answer calls from numbers with area codes that they recognize. A cloud phone system like Dialpad offers local, virtual phone numbers, allowing you to reach people easily wherever they are.
6. Modernize Infrastructure
Cloud computing allows you to take an entirely new approach to your company's technological infrastructure. On-prem infrastructure can quickly become outdated, causing your IT teams to constantly play catch-up to ensure that your organization's systems can keep up with customer expectations.
While a lift-and-shift approach might be initially necessary to get your systems running on cloud servers, one of your ultimate goals should be to develop a cloud-native architecture that allows you to use capabilities that aren't possible with traditional frameworks. One such example is the approach to system security. Where on-prem systems were traditionally designed like fortresses with walls and perimeter defenses, cloud environments can operate more like secure facilities with keycards that enable specified access levels to different areas.
By trusting your infrastructure to cloud service providers, your teams can focus on your organization's core work, thus becoming more productive at developing the solutions that you bring to your customers.
7. Optimize Resources
One of the common themes of cloud computing entails paying for only what you need at a given moment when it comes to processing power. At a glance, this means simply paying per usage.
And while this initially attracts many operators, it goes deeper than that. Once your cloud resource pool is up and running, you can begin to make tweaks here and there to continue to trim your expenses. Perhaps you don't need quite as much power as you thought you might, or maybe you can get away with fewer instances of a virtual machine. While it does require a degree of finesse, you'll find that you'll save more than you initially projected by optimizing the use of resources.
By cutting costs with cloud computing, you free up that excess capital to invest more into your core work. Perhaps you can use it to drive research and development efforts to improve products and services that will better serve your customers. This, in turn, leads to greater profitability.
8. Improve Flexibility
From a technological standpoint, the flexibility you gain from using cloud services is evident: you can make adjustments to the tools you're using at a moment's notice as long as you have someone with the know-how to make it happen.
But the flexibility gains don't stop there — cloud computing and communication can completely change the way you do business! You once had to be in the office and on your computer to access the resources you need. But you can now utilize a cloud-based customer relationship management (CRM) system and place calls with a virtual phone such as Dialpad Talk.
These options and others that stem from cloud capabilities have led to a rise in BYOD (bring your own device) policies, which come with unique advantages on both sides of the employment equation. Team members can use whatever devices and platforms help them feel most comfortable and productive, and employers can virtually eliminate the cost of purchasing, maintaining, and replacing equipment. As long as the cloud-based software is up and running, employees can access everything they need (and nothing they don't) from their smartphones, tablets, and personal computers.
---
Because you can quickly test new products as they become available, cloud technology allows you to develop ideas and respond to your business changes more quickly. You may have previously had to put in a lot of time and money to test a new product. But with cloud computing, if you find that something doesn't work the way you hoped, you can either roll back to what you were using before or try something new. In either case, your business risk in experimentation is minimized, which offers another instance of cutting costs with cloud technology.
As you launch, grow, or pivot your business, cloud migration can help you expand and thrive while reducing expenses.
Dialpad offers calling, conferencing, and a contact center in the cloud: let our services be your first step toward a cost-efficient, cloud-based business.
Learn more about our products here!