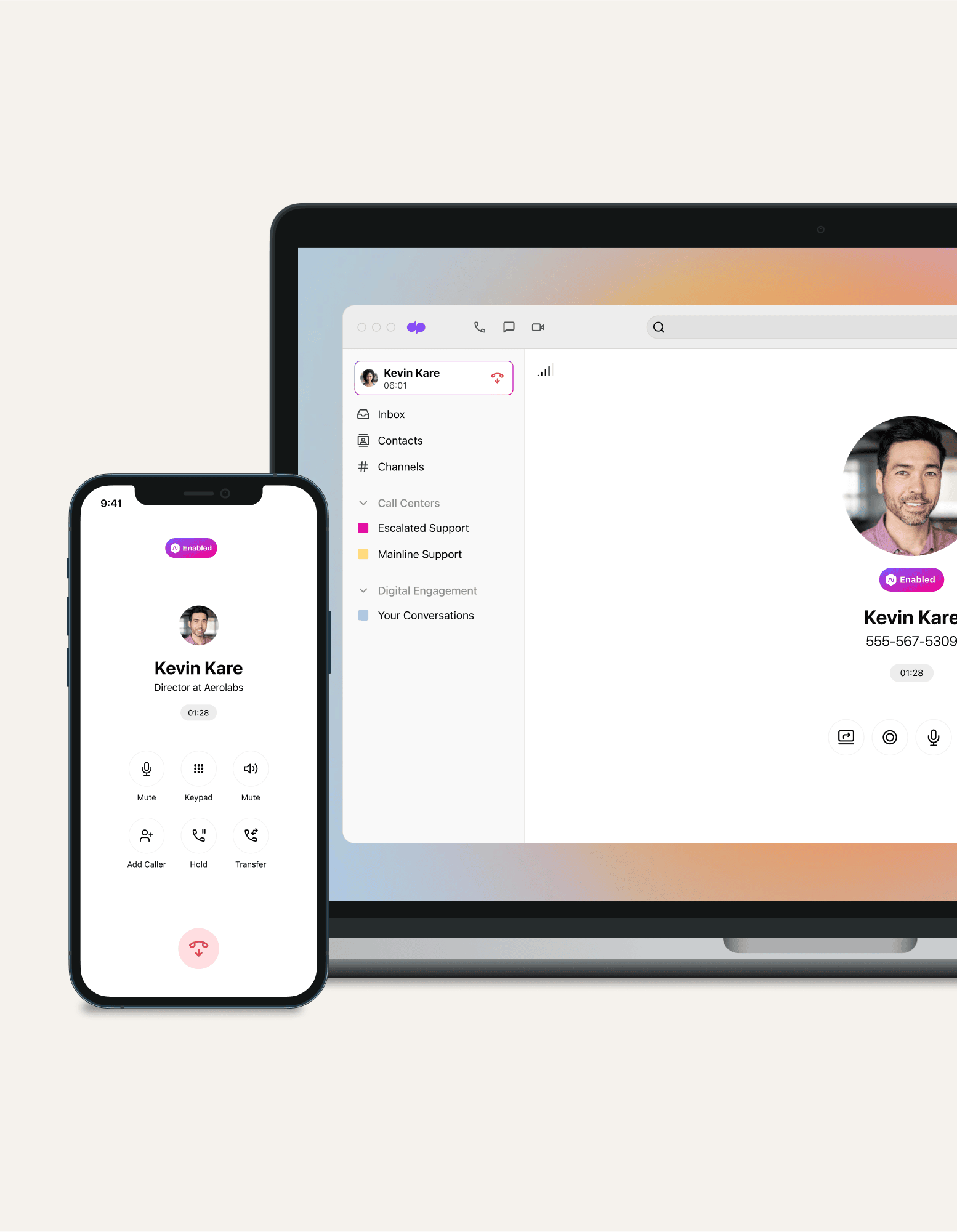 What is VoIP caller software?
Learn more about what VoIP caller software is and how to use it to make phone calls from anywhere, on any device. Or, if you want to see how it works, check out a demo of Dialpad's AI-powered collaboration platform, with built-in VoIP calling.
Almost every business needs some type of telephony solution to make phone calls and stay connected to customers. But today, traditional phone lines are becoming less and less common, with many businesses choosing to use VoIP caller software instead to make and receive calls.
VoIP stands for Voice over Internet Protocol, and VoIP caller software lets you make calls over your broadband line, providing a flexible and cost-effective calling option for many business owners.
In this guide, we'll look more closely at VoIP caller software and the top features to look out for.
What is a VoIP caller?
A VoIP caller is basically a software or app that lets you make voice calls over the internet.
During this process, audio data is converted into digital signals / data packets, and sent through the internet instead of using analog phones and landlines.
VoIP software uses IP addresses to identify where to send calls (kind of like a postal worker checking the address on an envelope).
The great thing about VoIP caller software is there's no wiring or other bulky hardware, making it super easy to upgrade from an old PBX phone system to a VoIP phone system. (In some cases, you can also use adapters to "update" an existing phone system to use VoIP technology.)
What is a VoIP number?
A VoIP phone number is like a landline phone number, except it's assigned by your VoIP service provider. You can do everything that you'd be able to do with a regular phone number, including making phone calls from an internet-enabled device like a computer, cell phone, or VoIP phone.
Fixed numbers
A fixed VoIP number is an internet-based number that's tied to a physical location.
Non-fixed numbers
A non-fixed VoIP number isn't tied to a physical location. This means you can choose your own number, including the area code (handy if you're a multi-site business).
Features to look for in VoIP caller software
Now, let's look at the features to look for in a VoIP phone service. Different VoIP services offer different features, and sometimes there are things like ease of use and setup processes that you can't just check off a list. Because of this, it's a good idea to sign up for the free trials and sales demos to get a firsthand look at how these apps all work.
All your communications in one place
Some VoIP business phone providers let you communicate in other ways beyond just phone calls. For example, Dialpad is a platform that integrates multiple communication channels into one beautiful app. This includes conference calls, video conferencing, SMS messaging, instant messaging, screen sharing, and more. For example, here's how it looks like in Dialpad:


Platforms like Dialpad and UCaaS (Unified Communications as a Service) solutions save you time and money by reducing the time you have to spend switching between apps and windows, and they tend to be cheaper than purchasing, say, a messaging platform and a separate video meetings platform, and so on.
With Dialpad, you can work from anywhere and from any device with just an internet connection. The desktop and mobile softphone app works across iOS, Android, PC, and Mac—and it even works on web browsers too, no downloads needed:
Customizable caller ID
Good VoIP caller software should also come with customizable caller ID or caller identification functionality. A VoIP caller ID basically tells the person you're calling who you are and where you're calling from—like your company name and business phone number: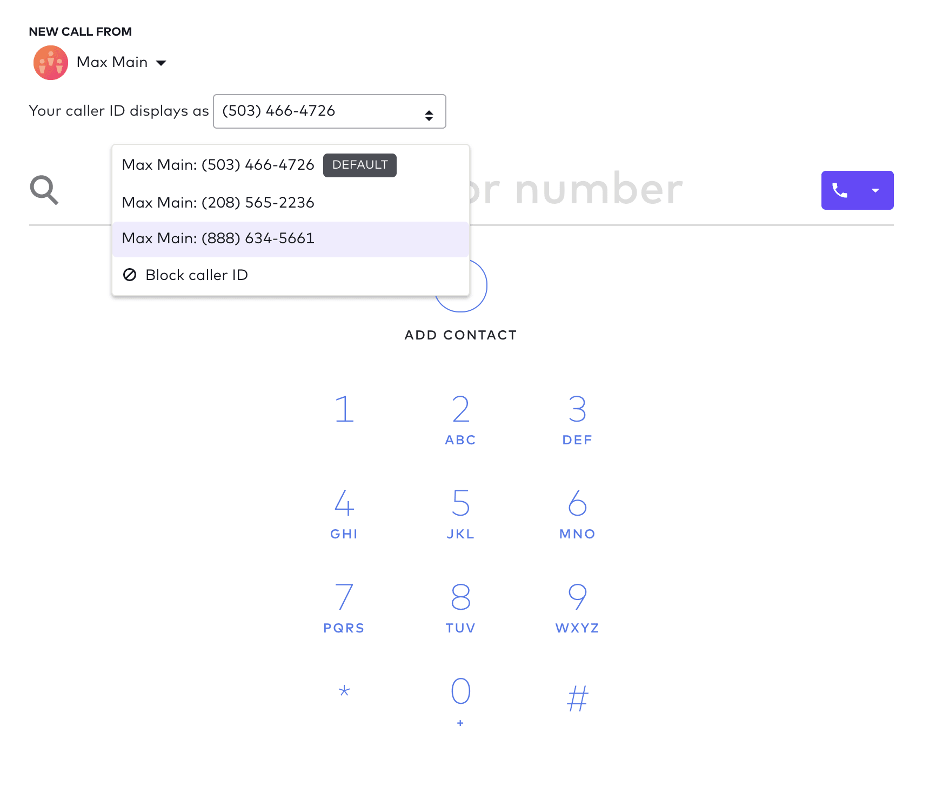 Traditionally, phone companies provide caller ID by attaching caller information from a CNAM (Calling Name) database to your phone calls. With UCaaS platforms like Dialpad, though, you can choose which caller ID you want to display, which is useful when you're making work calls from your personal cell phone.
(Not only does this protect your privacy, it also shows the client or prospect you're calling that you're calling from a business and aren't a scammer.)
Easy call routing
Call routing is a must-have functionality for VoIP callers, and especially for businesses that get a lot of inbound calls.
A good call routing feature will automatically direct incoming calls to the right department or person after your callers enter a number on their keypad. (You've probably interacted with these IVR menus before.)
With Dialpad, you can route calls based on idle time, skill level, availability, and more. You can even route calls to voicemail—all with a few clicks from your online dashboard: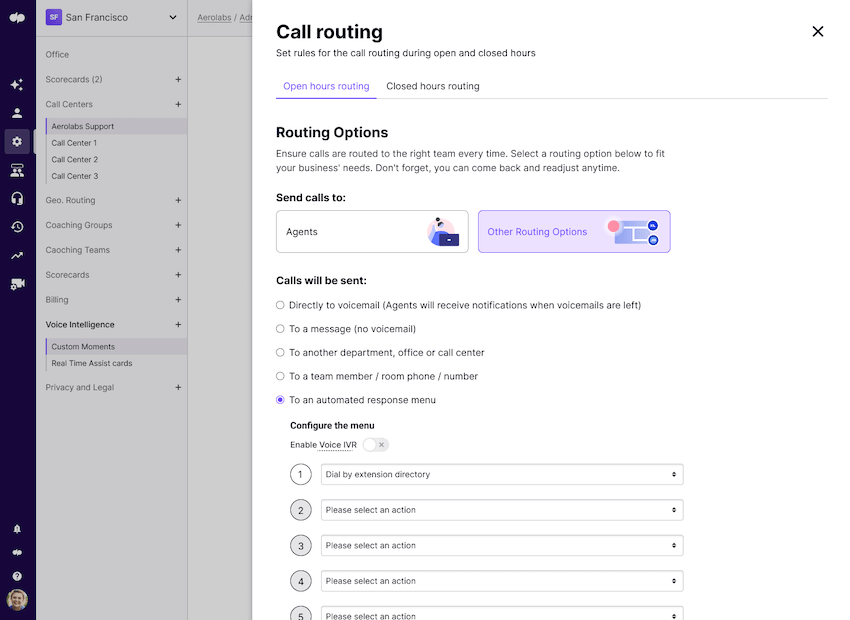 For small businesses that have limited resources, this is important because you'd otherwise be spending more money on staffing or having a secretary to manually route calls.
Visual voicemail
Visual voicemail is another great telephony feature to look out for. For instance, Dialpad's visual voicemail transcribes messages—in real time. If you're in back-to-back meetings all day and don't have time to listen to each voicemail message, this lets you quickly read them instead and know if you missed an important call:


Flexible call forwarding
Every missed call is a lost opportunity to connect with your customers. That's why the best VoIP apps all offer call forwarding to make sure that any missed calls automatically get forwarded to an alternative phone number.
For example, with Dialpad's call forwarding, you can forward calls to up to five other preset telephone numbers so that whether an employee is on holiday or they've left the office for the day, there's always someone who can answer a call:

One-click call recording
The final must-have feature for VoIP caller software is call recording. For instance, with Dialpad's one-click call recording, you can record both inbound and outbound calls at the press of a button.
Call recording is great for several reasons. First, managers can check their agents' performance and provide help when needed. Second, some companies may record calls to prove compliance with regulations like HIPAA and GDPR.
(Call recording also gives you peace of mind in case of customer disputes.)
One unique thing about Dialpad is that it gives you unlimited call recording and real-time voice transcription, thanks to its built-in AI:

Accelerate your business's growth with the best VoIP caller software
In this guide, we unpacked what's meant by the term "VoIP caller" and examined the features to look for in business VoIP caller software.
If you're still using a traditional PBX (Private Branch Exchange) or other legacy system, you might be wondering what's the best VoIP app for your business. Well, whether you're a small startup or an established company, you need a VoIP caller that's affordable, scalable, and flexible.
You might be tempted by cheap VoIP services that offer key features like call recording and voicemail. But you're often charged extra for these features, so they may not be as cost effective as you think. With a UCaaS provider like Dialpad, you'll get the advanced features you need included in the price.
With the best VoIP caller software behind you, you can connect with customers all over the world—all from the comfort of your office.

Looking for VoIP caller software?
With Dialpad, you can make phone calls, have video meetings, send instant + SMS/MMS messages, and more—all from the desktop and mobile app. Sign up for a 14-day trial to try it out. It takes just a few minutes and you'll be set up with a virtual phone number. Or, take a self-guided interactive tour of the app!
Why would someone use a VoIP number?
There are many reasons businesses use VoIP. The most obvious reason is the price, which is a lot cheaper than a traditional phone service.
With VoIP-based phone systems, you don't have to pay extra for long-distance calls and you don't have to pay out vast sums of money for upgrades.
VoIP also offers greater portability than a landline telephone network. For example, you can log into your Dialpad account from anywhere in the world. This makes VoIP perfect for remote working.
Lastly, as we've already touched on, VoIP technology is full of features that streamline business performance.

Can a VoIP call be traced?