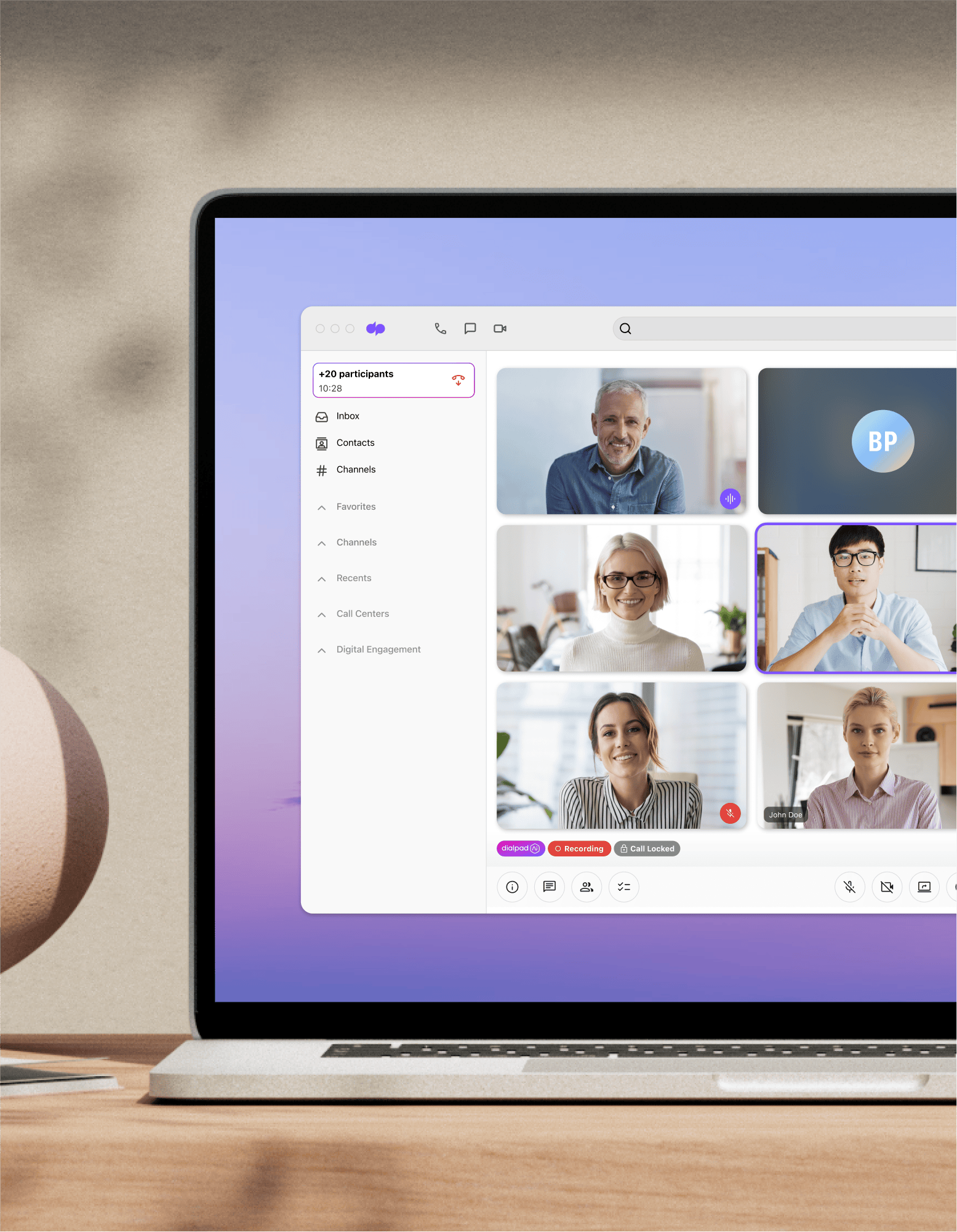 top features
Legal conferencing
Looking for a legal conferencing solution? See why the American Bar Association and law offices around the world are using Dialpad's AI-powered collaboration platform to provide a better client experience. Try Dialpad for free to get started with a virtual business phone number!
Sign up for a free 14-day trial!
For many law firms, video conferencing is a more convenient alternative to meeting with clients in person, not to mention the cost savings that are a result of reduced travel.
But how can legal teams have video meetings in a secure way, while keeping data secure and maintaining compliance?
Let's look at the key features that your law firm should consider in a legal conferencing solution.

What to consider when choosing legal conferencing software for your business
Ease of use
Because most conferencing platforms are cloud-based, the set-up should be quick and simple—you typically just need to send a link to invite someone to a meeting.
The software should have the ability to record and track calls to help with time management and billing, plus file sharing and storage (which also makes it easier to implement a paperless law office). Screen sharing is essential, and it's also useful to have a secure online portal where clients sign in for messages and documents.

📚 Further reading:
See how Coye Law Firm supports clients from anywhere, across time zones, with Dialpad's communications and conferencing platform.
Whether you're transitioning to a virtual office or just offering online meetings as an alternative for clients, it makes sense to choose a reliable and scalable solution—and you may want to consider secure video conferencing as part of a unified communications platform (like Dialpad) instead of paying for a separate tool, which will save you money in the long run.
(And new firms can benefit from Dialpad's Startup plan, which has also helped legal platforms like evident and CiteRight.)
Security and encryption
This is arguably the most important thing. From general security and encryption and meeting-specific features like lockable and password-protected, there's a wide range of features to look for in a legal video conference tool.

Team (and client) accessibility
The big benefit of a virtual meeting is that it can facilitate a face-to-face experience without the travel costs associated with having to be physically present. But it must be easy and straightforward for clients to actually join these meetings.
For example, with Dialpad, clients can easily dial in to a conference call from their phone or computer, and there's also a dial-out option that automatically calls clients when the meeting starts in case they forgot about it: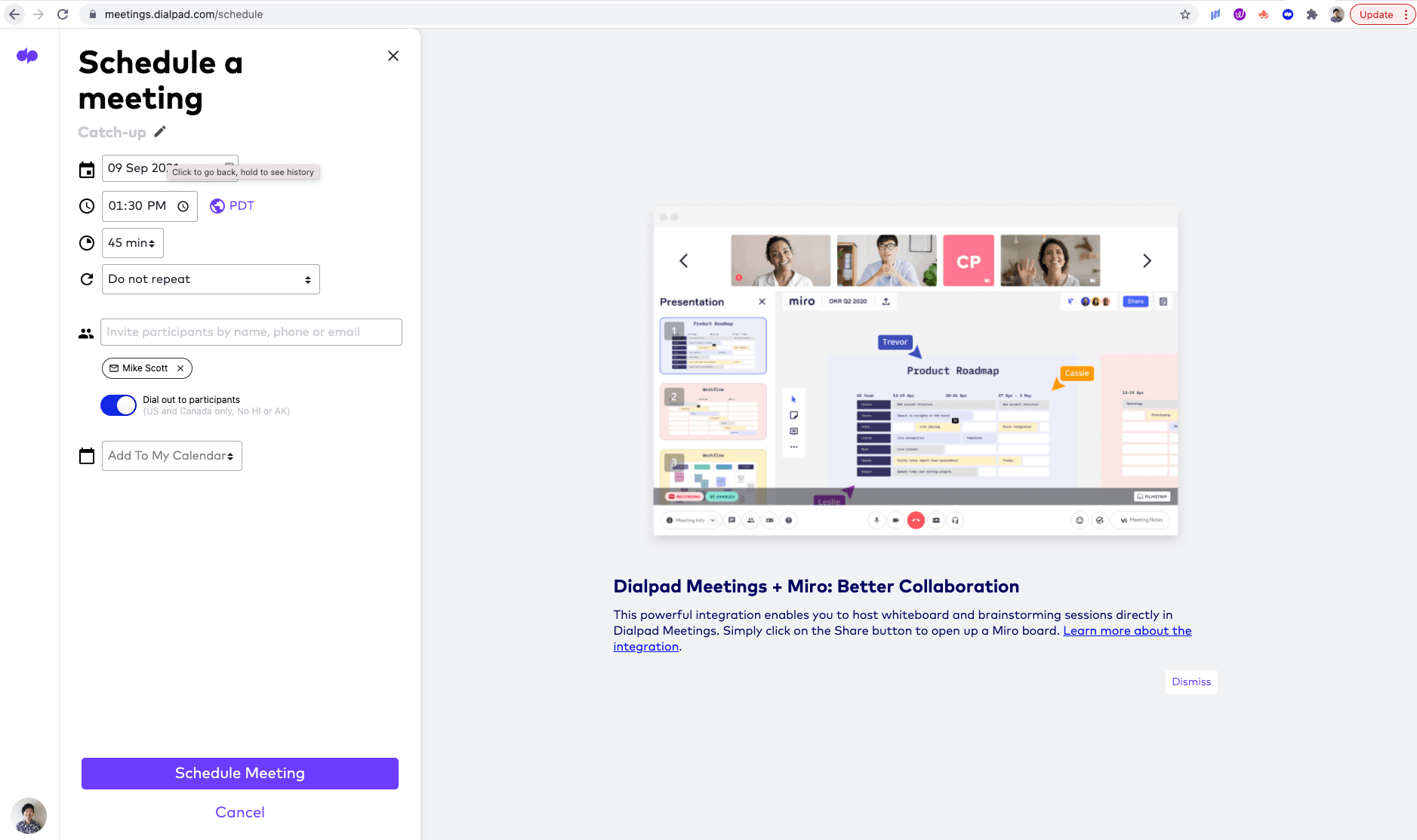 Price point
For small firms in particular, pricing is a big consideration. But don't be tempted to pick the lowest-priced solution without checking what it offers. For instance, free platforms like Zoom and Skype may not give you everything you need (and may be better suited to businesses with less stringent regulations).
👉 Dialpad tip:
If you're looking at a freemium option, check out Dialpad Ai Meetings. You'll still get features like screen sharing, call recording, and integrations—and the option of upgrading for full functionality like real-time transcriptions for meetings.
Essential features for legal video conferencing

Web conferencing solutions are essential to providing an excellent client experience remotely. Here are some of the features you should look out for:


Unified communications
Talk, message, and meet—all in one place. Dialpad's communications platform has a built-in phone system along with video conferencing and SMS messaging to let you communicate with clients however you need to.
Cross-platform accessibility
With Dialpad, attorneys and clients can call in using any device. Whether on a mobile device, computer, or web browser, Dialpad has full functionality.

Real-time transcriptions
This is one of the biggest use cases when it comes to AI for lawyers. Having analyzed over four billion minutes of business conversation data, Dialpad Ai can transcribe calls in real time and even automatically send attendees a summary after the meeting is over. No more scribbling notes during a client meeting while trying to maintain eye contact.

AI agent assists
Not only can Dialpad Ai transcribe your calls in real time, it also pulls up helpful information for client-facing agents instantly to help them talk through tricky topics live on the call.

Robust security
With custom data retention policies, encryption, and automatic and manual privacy settings inside the conferencing screen, Dialpad has a wide range of security features to keep your practice's and your clients' data safe.
Unlimited call recordings
With Dialpad, it's much easier to keep track of billable hours. All your calls, SMS messages, and virtual meetings are automatically logged.
Easy screen sharing
Need to review documents or contracts with clients or other attorneys? Dialpad's simple one-click screen sharing feature makes it easy to do that in video meetings.
Integrations with your favorite tools
From Microsoft 365 to Google Workspace, to legal software like Clio's practice management platform, Dialpad integrates with your favorite business tools to reduce data entry and allow you to make phone calls without toggling back and forth between windows.

High quality video
Did we mention that your meetings (and voice calls) need to have the highest quality video and audio? Your professionalism depends on clients and colleagues being able to see and hear you clearly.
Interested in an AI-powered legal conferencing solution?
See why law offices like Harrelson & Harrelson, Coye Law Firm, and more love Dialpad. Book a demo with our team to see how it can work for your legal practice. Or, take a self-guided interactive tour of the app first!
Security and compliance features you'll find in Dialpad

Conference lock
If you were using a physical meeting room, you'd only give access to those who needed to be there, and you can do the same thing in video calls. Once all the invitees are present, the host "locks" the meeting—nobody else can then join unless the host allows them in.
Virtual meeting rooms
This feature sends a message or notification to the meeting host when anyone enters the lobby or virtual waiting room, telling them that everyone's ready to start. If someone shows up after the meeting's been locked, the host can decide whether or not to let them in: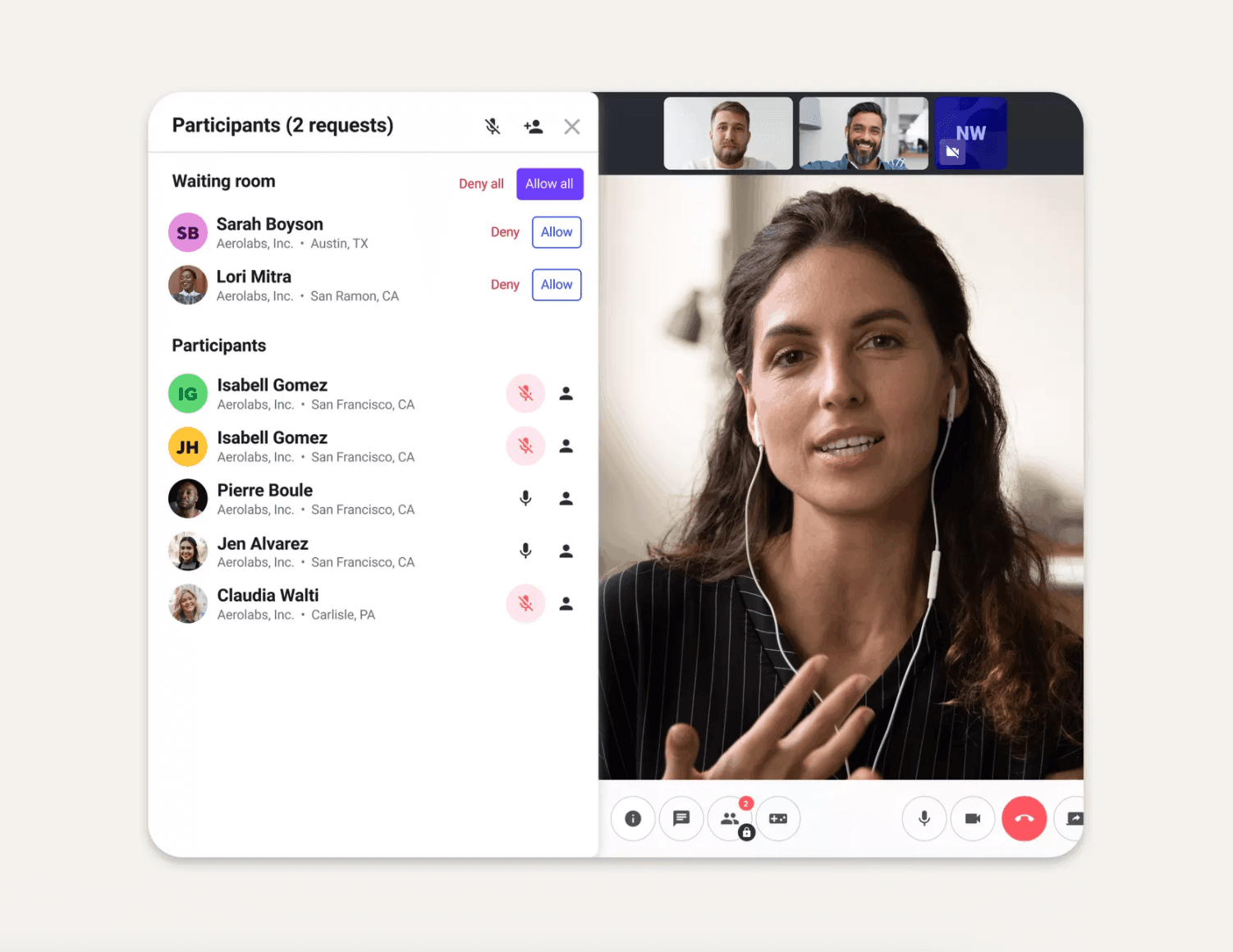 Remove unwanted guests
It's unlikely that anyone would misbehave in a legal meeting, but you never know—and if necessary, the host can remove them with one click. They may also choose to remove selected participants during a particularly confidential part of the discussion.
Conference PIN codes
PIN codes add another layer of security to online meetings. They prevent people joining the wrong meeting by accident—and even if someone somehow accessed the meeting ID, they still won't be able to get in without the PIN.

👉 Did you know?
Dialpad guarantees 100% uptime for Enterprise customers, alongside outstanding security.
7 best practices for legal video conferencing
Here are a few tips to help you make the most of your video conference solution (and keep everyone safe and secure).
1. Provide clients access to all documents and materials before the conference
Being prepared is half the battle, as somebody once said. You don't want to be messing about at the start of meetings because people haven't got the right information—if you share files and agendas in advance, it gives people the chance to ask questions beforehand.
During the conference, you can use screen sharing to view the documents together and make sure you're all (literally) on the same page.

👉 Dialpad tip:
It's frustrating when you're waiting to start a meeting and someone is MIA because they forgot it was time for the call. Instead of having people remember to dial in, you can set the dial-out feature in Dialpad to call them all simultaneously instead.

2. Make sure the virtual meeting is secure
Hopefully you've picked a solution with all the security features we discussed earlier. Before the meeting, double-check that they're all functioning, and that you've only sent the meeting ID and PIN to those who need to attend.
Before you share your screen within the meeting, it's worth taking a moment to check whether you have any other windows or tabs open.
3. Log billable meetings for better time tracking
More and more attorneys are choosing to charge clients a flat fee, but billable hours are still the method that most law offices are still using. If you are still using the latter, it's essential that you can log conference calls and virtual client meetings so that everyone has a record. Or, choose software that does it for you. Harrelson & Harrelson LLP use the Dialpad + Clio integration to automatically and accurately do call and time tracking.

4. Record your calls—with clear consent
Following on from the last point, you can always share recordings with those who didn't attend (depending on the confidentiality of the discussion, of course). Recording calls is also useful for avoiding disputes and staff training.
Whatever the reason for recording a meeting, you must inform participants that you're going to do so. Tell them in advance, get their consent, and then remind them again as the call begins.

5. Only make video calls when necessary
While video calls are a good communication option in some cases, there may be times when clients will prefer a simple phone call, or even to just meet in person. To give your attorneys and office staff more flexibility, it's generally good to have a unified communications platform at your disposal so that you can make phone calls, do video conferencing and send instant / SMS messages from one convenient place.

6. Keep unnecessary participants to a minimum
This one is also about security. Especially because sensitive information is at stake, the fewer people who are involved, the better. Invite participants on a need-to-know-basis only. Having fewer attendees should also help you to keep meetings shorter—if you have too many people and too long an agenda, things can drag on and become unproductive.

7. Make accommodations for clients with disabilities
It's important that all clients can access your services. Some platforms use closed captions for those with hearing impairments, but Dialpad's real-time transcription does the same thing (and you can send it out to non-attendees later). Video meetings are also helpful for physically disabled clients, as they don't have the hassle of traveling to an office.

Legal conferencing with care: Keep clients safe and secure

Whether you're going 100% virtual or offering video conferencing as an extra service, you need to protect your clients and their information at all times. Your reputation depends on it.
Dialpad's law office phone system is designed for the legal industry and takes compliance very seriously, using the 256-bit Advanced Encryption Standard. All US data is stored in the Google Cloud Platform, which is ISO 27001 certified and audited every year for the SOC2 Type II.
Plus, legal teams and clients can stay connected with Dialpad's all-in-one communications—on mobile or desktop, from wherever you are.
Not just a legal conferencing solution
If your legal practice is looking for a communications platform that gives you phone calls, video conferencing, instant + SMS messaging, and more—all in one place—book a product tour to see how Dialpad can work for you. Or, take a self-guided interactive tour of the app on your own!