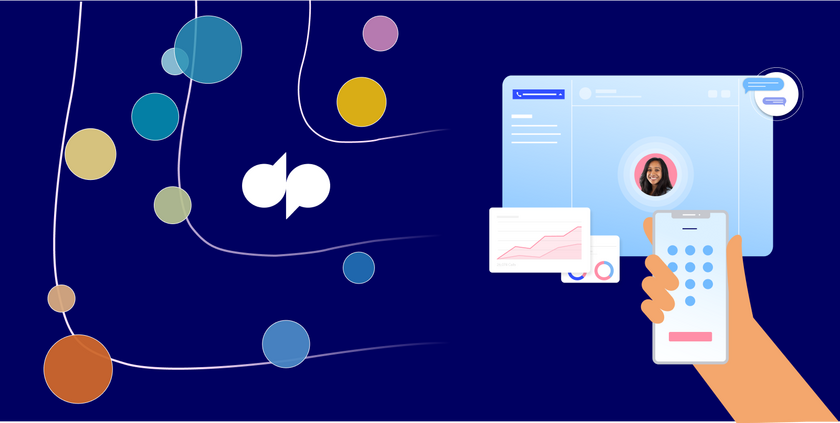 March 18, 2021
We work hard to provide Dialpad users with a unified communications platform that enables clear, easy-to-use, and intelligent communications from anywhere and on any device. The results make our effort clear, and analysts are noticing. That's why we were thrilled to learn that Dialpad has been recognized as a Major Player in both the SMB (small to medium business) and enterprise categories in its latest IDC MarketScape UCaaS reports.
IDC MarketScape Report
"IDC MarketScape: Worldwide UCaaS Service Providers for Enterprise 2021 Vendor Assessment" and "IDC MarketScape: Worldwide UCaaS Service Providers for SMB 2021 Vendor Assessment" reports are evaluations of Unified Communications as a Service (UCaaS) solution and service providers. They analyze the capabilities and strategies of a wide range of UCaaS providers and position them according to each.
The companies included in the lists are then placed into categories:
Participants

Contenders

Major Players

Leaders
There are many factors that go into IDC MarketScape's evaluation, ranging from

Price

Implementation

User support

How well the provider can meet businesses' needs as they change over time.
In the case of both enterprises and SMBs, IDC MarketScape named Dialpad as a Major Player.
SMBs
In the SMB market, Dialpad was recognized for both our capabilities and our strategies. The report praises how customers can access our communications platform from any device, including mobile devices, our fast setup, easy deployment, integrations with leading business productivity tools, and real-time user management. The IDC MarketScape also recognized that we have more on the way, thanks to our acquisition of Highfive, and recognizes the value of Dialpad Ai.
The IDC MarketScape recommended Dialpad for SMBs, including mid market companies, who are looking for ease of calling and AI-assisted voice analytics for their UCaaS solution. We've always taken pride in how our offerings have helped SMBs, with tens of thousands of businesses of all sizes empowering their communications and contact centers with a scalable, cloud-based platform.
We've helped small and mid-sized businesses make the jump to the cloud, boosting their flexibility and productivity by enabling owners and employees to work from anywhere. Whether it's helping Rocket Matter save thousands a year on a secure and reliable contact center solution, or boosting Jungle Disk's productivity with an AI-powered communications platform, we're grateful to have been able to assist SMBs around the world.

Enterprises
For enterprises, Dialpad is named a Major Player for both capabilities and strategies. They found that, with our broad set of unified communications and contact center solutions, we're in a strong position to reach the needs of key customers in the enterprise segment.
The IDC MarketScape also noted that Dialpad Ai, our proprietary AI, helps add value to organizations with our smart transcriptions and analytics, across Dialpad Ai Voice, Dialpad Ai Contact Center, and Dialpad Ai Meetings.
According to the IDC MarketScape, "enterprises should consider Dialpad when they are looking for a foundational set of features in a UCaaS solution that is integrated with other add-on UC elements from a single vendor."
We're proud to support enterprise customers around the world, like helping TED's workforce talk to each other wherever they go on whatever devices they prefer. Our enterprise offerings continue to grow as companies discover the value of our reliable, scalable platform backed by Dialpad Ai.

More to Come
While we're thrilled to be named as a Major Player by the IDC MarketScape, we know that there are still more opportunities to grow. Every day we're finding new ways to improve our solutions and provide more value to our users at businesses of all sizes - from the acquisition of Highfive, to new integrations, to constant testing and improvements for Dialpad Ai, and more. In fact, we recently surpassed over one billion minutes of voice to improve our artificial intelligence technology. This has made our transcriptions and analysis more precise than competing solutions from large companies, including Google's own enhanced telephony model.
So keep an eye on Dialpad and all that we have planned. We have every confidence that in the coming years' IDC MarketScape reports, you'll see Dialpad included in the Leaders Category.