Back to Blog
Can enterprise voice supercharge your business communications?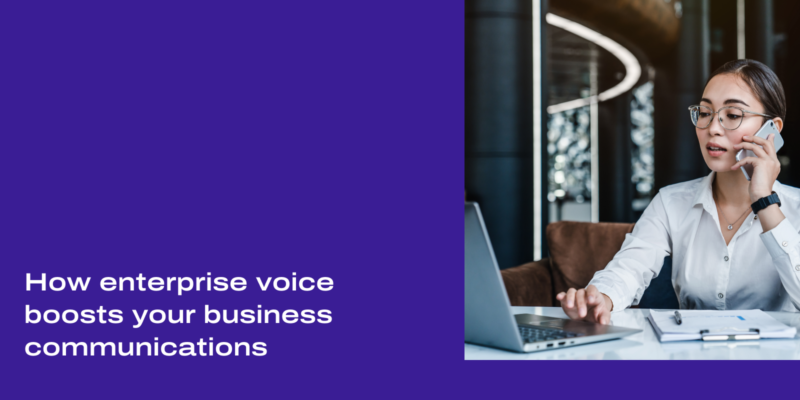 Enterprises need enterprise-level communication solutions. With colleagues and customers distributed across countries and time zones, it's vital you can communicate and collaborate effectively. That's where enterprise voice comes in.
An enterprise voice solution should give you HD voice and video quality anywhere in the world and guarantee 100% uptime. It should also be more than just a business phone system.
Giving clarity to enterprise voice
Enterprise voice covers any tech that enables large businesses to communicate effectively by voice—including phone calls, audio conferencing, virtual collaboration, and advanced call control features.
In traditional telephony, an enterprise would have a PBX on the premises connected to the PSTN (Public Switched Telephone Network). While you can add SIP trunking to this to enable VoIP (voice over internet protocol) calling from legacy systems, in my experience, you're better off with a cloud-hosted enterprise voice solution.
They're customizable, scalable, and mobile—and go beyond simple voice features to give you unified communications for maximum connectivity and productivity.

Give hybrid work a chance
Find out how the best companies are handling hybrid work!
What does it mean to be a truly voice-enabled enterprise?
An enterprise voice-enabled business enjoys all the benefits of an advanced phone system, including HD call quality, guaranteed reliability, and features to make communication more efficient.
Alongside call transfer and voicemail, enterprise-level phone systems give you functionality like AI-powered call routing, IVR menus and auto-attendants, and customizable caller ID. It should be easy to add or remove users, purchase toll-free phone numbers, or set up contact center teams.
These functions enable enterprise voice system users to stay in touch from any location and device. Cloud-based VoIP technology also reduces costs for local and international calling.
Enterprise VoIP typically uses subscription pricing, with service providers handling maintenance and upgrades.
As mentioned, enterprise voice also shouldn't exist in a vacuum, but instead be part of a broader communication platform. For instance, Dialpad has video conferencing, instant messaging, SMS, and even virtual faxing all streamlined in one app.

Features to look for in an enterprise voice system
The best enterprise voice providers will offer at least some of these features in their plans. Check whether they're included or charged as add-ons!
Built-in AI
Enterprise voice AI helps larger businesses take communication to the next level. Handle high call volumes by automating responses, avoid note-taking with real-time transcriptions, and analyze call sentiment to improve customer relations. Dialpad Ai can do all of this and more.
Auto-attendant
An auto-attendant ensures callers receive professional greetings and call handling at all times. It works 24/7, so global businesses can handle calls across time zones without hiring humans to work unsociable hours.
Call forwarding
Enterprise workforces need the ability to answer calls from anywhere, whether they're traveling between client meetings or working remotely.
Alongside call park and transfer, your system should enable call forwarding to an alternative number (you can choose up to five with Dialpad) so you never miss that crucial call.
Conference calling
If you're anything like us, your enterprise business voice system will need to support conference calls with 100+ people dialing in from around the world. Reliability and call quality are crucial for productive calls. With unified communications, you'll also get video conferencing for team calls and company-wide meetings.
IVR
Enterprise businesses receive a high volume of calls, and an IVR system helps handle them efficiently. The technology understands the caller's intent and chooses the most suitable route for the inquiry so callers aren't passed around. For global customers, an IVR that supports different languages is a bonus.
Visual voicemail
It's not always convenient to listen to voicemails, so this feature is ideal for super-busy people. It auto-transcribes voice messages into text and sends them to your inbox to read at your convenience. Both the audio and text versions are saved to revisit later or share with colleagues.
Software integrations
Your enterprise probably has a large tech stack already, so look for a solution that integrates with the tools you use, from basics like Outlook and Google Calendar to apps for project management and workforce engagement. Dialpad also includes APIs for custom integrations and workflows.
Security + reliability
Enterprises must manage large volumes of customer and employee data and need guaranteed uptime so customers and remote colleagues can always get in touch.
Dialpad offers 100% uptime SLA to enterprise users, alongside custom data retention policies, single sign-on, and robust in-meeting controls.


See how these customers are collaborating using enterprise voice
WeWork
WeWork provides shared workspaces for businesses, encompassing 700+ buildings and 16,000 conference rooms. They needed a reliable platform with robust calling functionality to replace their legacy system and reduce operational costs.
Enter Dialpad. The team found it super easy to manage phone lines and add virtual numbers through the admin portal. They also love the call analytics and spam-blocking features.
Enter Dialpad. The team found it super easy to manage phone lines and add virtual numbers through the admin portal. They also love the call analytics and spam-blocking features.
Xero
Xero has offices on four continents and required an enterprise phone system that could meet the demands of ongoing global expansion.
The aim was to consolidate company-wide conversations into a single communications platform. Thanks to Dialpad's calling plans, features, and integrations, they can now collaborate with colleagues and customers from anywhere.
Vivint Solar
63% of Vivint Solar's workforce is remote, so the company wanted a communications infrastructure that could keep everyone connected. When they realized that their old PBX system couldn't hack it, they moved over to Dialpad.
The shift away from physical desk phones allowed the enterprise to achieve new levels of productivity, and employees can now collaborate on the go. Sales reps and solar technicians can field voice calls from anywhere—even a rooftop!
Enhance collaboration and communication using enterprise voice
Enterprise voice solutions are a great way to improve your business communications. Crystal-clear call quality reduces misunderstandings and improves the customer experience, while AI-powered features ensure calls are managed with ease.
With Dialpad, you're not only getting a world-class enterprise voice system—you benefit from truly unified communications. Video meetings, SMS, and group messaging sit alongside phone calls in a single platform, so you never lose track of a conversation, whether you're at your desk or away from it.
As an enterprise voice provider, Dialpad is built for organizations that need the ability to scale up quickly on a global basis.
Learn how Dialpad can help you implement enterprise voice across your organization.
Discover first-hand how Dialpad uses voice to help future-proof your business communications and enable better team collaboration!

Frequently asked questions about enterprise voice
What is enterprise voice?
Enterprise voice refers to technology that enables enterprise-level businesses to communicate better. It's often synonymous with VoIP phone systems, but the best enterprise voice solution may be part of a wider unified communications platform.
What is an enterprise voice service?