Back to Blog
Building a customer success process: An in-depth guide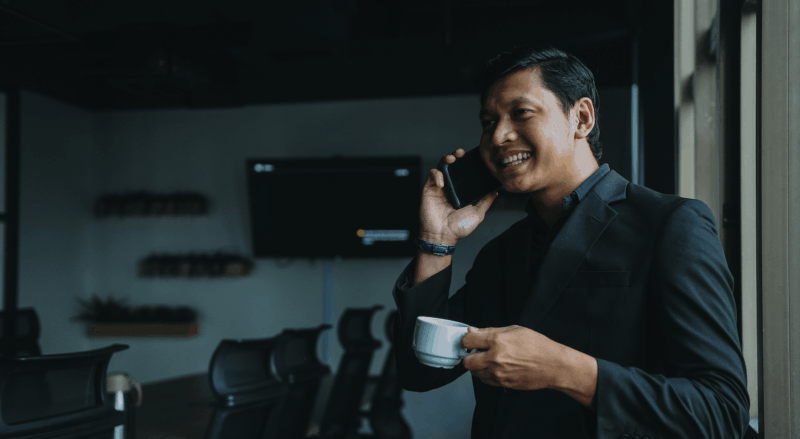 Want to keep your customer retention numbers high? Maybe you want to help your team cross-sell and upsell more easily. In either case, you need a good customer success process.
In recent years, customer success has become one of the most important partners for B2B sales and marketing teams, and a key competitive advantage for business operations as a whole. And it makes sense, the more successful your customers are with your product, the more likely they'll stay with you and refer their colleagues to you.
So, how can you create a customer success process that makes this happen?
I'm going to walk you through what customer success is, what functions and strategies to know, and the tools your team will need.
What is customer success?
Winning customers is one thing. Keeping them is a whole 'nother challenge.
That's where customer success comes in. Customer success is a holistic approach that (technically) should cover every touchpoint and milestone of the customer journey. With a good customer success strategy, your CSMs (Customer Support Managers), supervisors, and business as a whole will have more happy customers, higher retention, and ultimately, increasing revenue.
"Customer success" vs "customer experience"
Like ice cream and gelato, "customer success" and "customer experience" are very similar, but do include some key differences even though both are integral to the customer journey.
Think of it this way. Customer success has more of an emphasis on the end result, while customer experience focuses more on the journey.
A customer success team ultimately wants to make sure that your customers are getting what they need out of your product or service and achieving success with it. For example, with Dialpad, our customers being successful means they can easily have voice calls, video meetings, and messaging chats, from anywhere.
On the other hand, with customer experience, you're making sure every detail of each customer's interaction with your company is seamless. It's a broader approach and perspective.
Most common customer success functions: What does a customer success team do?
Every business and customer success team is different, but typically, this team of champions help new and existing customers throughout their customer journey. This includes ensuring the customer has a seamless onboarding experience, coaching and consulting the customer on best practices and making sure the customer feels confident in using and rolling out the product or service to their teams.
Proactive relationship and account management
To proactively manage relationships, a customer success framework needs to focus on helping customers adopt your product or service and support them through onboarding and use, while building and maintaining connections—before they reach out to you with questions and concerns.

👉 Dialpad tip:
Monitor customer engagement metrics that track customer health, like net retention and account health score, to keep customers happy and reduce churn.
Dialpad offers several features to help you be proactive instead of reactive when it comes to relationship management. One of those is live sentiment analysis, which allows managers to catch calls before they go south:
Even if one manager is overseeing 10 or more CSMs on active calls at the same time, they can quickly spot if negative sentiment is creeping into calls, open up the real-time transcript, and get more context before deciding whether or not they need to jump in.
Customer problem solver
As customers adopt and use your products, they're undoubtedly going to have questions (and problems) along the way. Other than having a go-to customer advocacy point person in each department, it's essential that your customer success team also be equipped to answer customer questions themselves.
There are a few great things about Dialpad that help our own team with this. Call pops or screen pops, or as we call them at Dialpad, Real-Time Assist (RTA) cards are one example. When a customer says a specific phrase or keyword on a call, a pop-up with information appears to guide the CS team member through answering the question:
If we know that there are some common questions that many of our customers ask as they're onboarding, we can create RTA cards for each of these topics and set them to trigger automatically on our CSMs' screens so that even new hires can confidently answer these questions.
(If your churn rates are high because customers are frustrated and not getting their issues resolved, this feature is a must-have.)
And if your customer success team is really strapped for time, you might want to consider self-service options like a chatbot or IVR that give customers the option to find solutions on their own. Dialpad's self-service feature, for example, is easy to set up—no coding needed—and you can easily create chatbot flows in minutes (while improving customer experience too):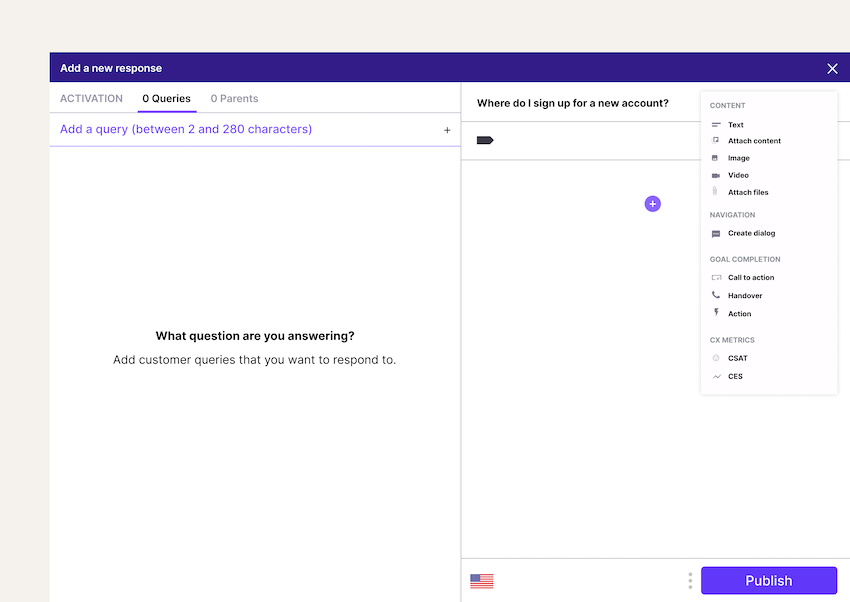 Customer retention
One of the biggest marks of success for a customer success program is of course, improved customer retention. If a customer is finding success with your product or service and loves the whole experience, it's highly unlikely that they'll leave you (even for a competitor that costs less).
Not only that, these customers are also more likely to tell their friends, family, and business peers about your service, further building your customer base for you with their referrals.
Again, this is where the value of a customer success team really shines. You're not just providing support after someone is frustrated—you're building retention proactively by reaching out regularly and offering help before serious issues arise.
👉 Dialpad tip:
If you don't already, you might consider collecting voice of the customer feedback. This can help you gain a lot of valuable insight about customers, from how their onboarding is going to potential pain points in their lifecycle.
Coaching and consulting
Getting your customer set up and comfortable with your product or service isn't a one-and-done situation. It requires a lot of check-ins and ongoing communication with the customer to ensure they're on the right track. This is one big difference between a customer success team and a support team—the first one proactively coaches customers and acts as consultants, while the latter is reactive and only responds when questions and issues come up.
For a software or B2B company like Dialpad, the goal of your proactive engagement is to maintain and increase product usage. Customer success managers might focus on metrics like product engagement health score, Net Promoter Score (NPS), and customer churn during the customer lifecycle.
Customer advocacy
Often, your customer will need help with something that lies outside the scope of the customer success team. While the team is there to ensure customer success, they may not have the answers to, say, technical problems or feature requests.
To ensure your customer stays connected and receives the help they need, customer success team members also need to sometimes act as advocates and find the people in other departments who can help.
Having a roster of go-to people in each department is a great way to help with your customer advocacy efforts. This way, when a customer reaches out with a specific problem, you can quickly contact your point person in the qualified department and pick their brain or have them connect with the customer one-on-one.
Customer advocacy will require the commitment of everyone in your business, and its efficacy will not only strengthen your customer relationships, but also boost your overall customer lifetime value.
👀 Want to provide a better customer experience?
Grab The Contact Center Playbook, which includes real-life case studies and learnings from five contact center leaders!
5 customer success strategies

Customer success won't just happen on its own—you need to create strategies and workflows focused on your desired outcomes. Below are some of the key strategies we use to optimize our customer success team:
1. Do team training regularly
First things first, you can't make your customers successful with your products and services if you don't know your products and services inside and out. Make it a habit to do knowledge training and development for your CSMs.
RTA cards (remember those?) and Custom Moments help us stay super agile with our CSMs' knowledge, training, and development processes. I mentioned RTA cards earlier, and we also use Custom Moments to track how often certain topics come up on phone calls.
For example, if we want to track what kinds of issues customers need help with, we can create a "Custom Moment" to track every time phrases like "need help" or "can you help with" come up on a customer call. It takes just a few clicks to set up a Custom Moment in Dialpad: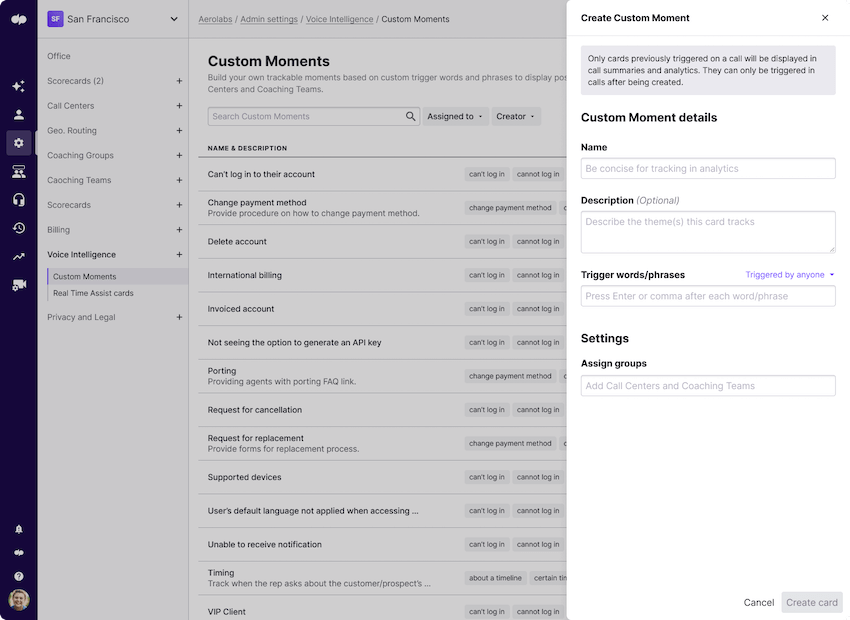 From there, we can just open up our analytics dashboard to see how frequently each Custom Moment occurs!
2. Align CSMs with the customer acquisition process
Every business and industry's processes are unique, so it's critical when developing your customer success strategies to align your team with the customer acquisition process.
Customer success is a unique blend between customer support and sales. Contrary to popular opinion, our goal is not to upsell and cross-sell—it's to make our customers successful. Our customers' success is the most important part. The upselling and cross-selling headwinds are just a byproduct of this.
3. Data, data, data
For us to be successful, we need to know everything about our customers and their past interactions with our company.
For example, what were they hoping to achieve when they signed up for Dialpad, what challenges they're facing, and so on. This information is often recorded in your customer relationship management (CRM) software.
Your CRM should integrate with your contact center platform so all the information is automatically available when CSMs are on calls with customers. For example, when they're on a call or messaging customers through Dialpad Ai Contact Center, its integration with CRMs like Salesforce and HubSpot automatically pop up relationship history information and automatically log call details too:


Having a robust conversation intelligence platform like Dialpad can be a huge help for CSMs—they don't have to dig through different tools or toggle between windows to find information. Everything they need is right there in front of them so they can quickly help the customer.
4. Find your customers' "aha!" moments
Finding your customers' "aha!" moment, or reducing their time to value, should be a vital part of any customer success strategy.
You'll often be able to create these moments during the customer onboarding stage when your new customers are tinkering around and learning how to use your product or service. This gets your customers to the "success" stage of their journey more quickly.
Think of it this way—imagine you buy a new Dyson vacuum, take it home, and get it out of the box. You read the instructions and maybe watch a few YouTube videos. Then you switch it on and take it for a spin. You like it, but then you discover how well the attachments clean your blinds and ceiling fans—what used to take you an hour to clean now takes less than 10 minutes.
That's your "aha!" moment with your new vacuum—where you see the value in your purchase.
5. Engage customers with content
Use content to continue educating and engaging with customers. You can do this through in-app messaging, emails, webinars…The list goes on and on.
The goal is to keep dripping information and tips for how to be successful with your product. You want to keep customers engaged and interested in learning and exploring your product or service. A lot of this can be automated, e.g., email campaigns; you just have to grasp your customer journey and plan this out well.
Essential features to look for in the best customer success software for your CSMs and supervisors
Customer success software comes in all shapes and sizes—what should you pay attention to? Here are some of the core features to look for in the best customer success software based on our CSM team's experiences and day-to-day work.
AI
Everyone's saying that artificial intelligence is changing the way we work. But what does it actually do?
Well, with Dialpad Ai, our calls are transcribed for us in real-time, and meeting notes are delivered instantly to our inboxes as soon as we hang up a call. The result: our team can focus on taking action for our customers, not on taking notes and sending recap emails.
Not only that, it also tracks keywords via Custom Moments for us, detects customer sentiment, generates predictive Ai CSAT (customer satisfaction) scores, and more:

👉 Fun fact:
Most customers don't fill out CSAT surveys—unless they're really upset or really happy with your service. Dialpad's Ai-powered predictive CSAT feature solves that issue by analyzing the conversation to generate a pretty accurate CSAT score. This gives you a more representative and holistic view of customer satisfaction.
Scalability
The better customer success platforms will allow you to scale up or down as your business changes. When you sign on to a customer success platform, you don't want to sign up for more than your business can handle—anyone running a startup can tell you it's critical to stay on budget and make your precious dollars work for you.
So, look for a system that offers tiered pricing and plans that will accommodate your business in the future. Look for a plan that fits your budget and includes the features you're looking for, like analytics and reporting, integrations, automatic post-call notes, and call transcriptions.
Dialpad Ai Contact Center, for example, has all this, but is also super easy to scale up. Need to hire a hundred CSMs quickly in another country? You can do that with Dialpad, since it's one of the very few post-iPhone era communications platforms—and is truly "born in the cloud"—without the legacy architecture and clunky hardware.
Integrations
Integrations are essential for any CSM team that uses multiple tools and software. We love the Dialpad integrations with Salesforce and Google Workspace because it lets us see everything in one place, like call history, chat, upcoming events, and more.
The automations save a ton of time for our CSMs—they can make calls through Dialpad from right inside their CRM, their activities get automatically logged, contacts are synced between Dialpad and other tools, and a lot more.
With Dialpad's App Marketplace, you get access to a ton of popular integrations including Zendesk, Microsoft 365, Outreach, and more.
Ease of setup and onboarding
Ease of setup and onboarding is critical, especially if you're in a remote work environment. The customer success platform you choose should set up in minutes and have plenty of onboarding resources and help available. I want my team to be comfortable with the platform so they can focus on the customers' needs, not the tools they're using.
We know how important this is, since we're using Dialpad Ai Contact Center every day. That's why we designed Dialpad to make it easy to do everyday things like adding phone numbers and managing user accounts, right in the online dashboard:


There's also a detailed Help Center online—and every contact center plan comes with 24/7 support across the phone, live chat, and web. (And if you have a particularly complicated setup, we have a great Professional Services team that can do a lot of the heavy lifting in your onboarding process.)
Security and reliability
Last but not least, security and reliability are critical. When it comes to security, look for a platform that offers wide-reaching industry compliance so all of your bases are covered. Ensure you see SOC2 Type II, HIPAA, GDPR, CSA, and ISO standards listed under the platform's security.
On the reliability side, you want a service that you can trust to handle and manage your data safely and effectively. You don't want calls and video meetings dropping every five minutes, and data should be encrypted and backed up across multiple sites. Dialpad offers top-level security and reliability, with all of the elements listed above, and a 100% uptime SLA for Enterprise plan users.
A good customer success process can help you grow sustainably while building long-term relationships
At the end of the day, your goal is to grow your business sustainably while building long-term relationships with your customers. And to do that, you need a good customer success process and a communications platform that helps you talk to your customers, whether that's through phone calls, live chat, or social media.
Dialpad Ai Contact Center is a key piece of our customer success process, helping us nurture customer relationships and keep all our data organized in one place. Let us walk you through how your business or organization can do the same with it!

Want to empower your customer success team with the right tools?
Dialpad Ai Contact Center is designed to help CSMs and their supervisors find answers for customers quickly, communicate with each other across any channel you need, and grow your customer base from anywhere. See how it works with a product tour!