Back to Blog
What to look for in a business communication solution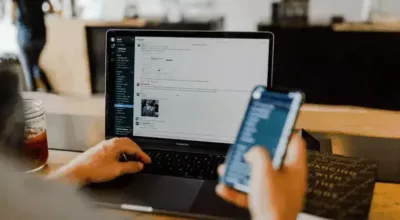 Want to run a successful business? Your team has to be good at communicating. Whether that's communicating updates or issues with customers or communicating with teammates while you're managing projects, almost every single business has a certain degree of both external and internal communication needs.
And to fulfill those communication needs, you'll need the technology to support them—especially if you have a remote or distributed team.
But with so many business communication solutions (sometimes referred to as BCS) out there, how can you choose the right one for your company or team?
Well, as a remote worker who's worked for a few companies in the business communications space, I've noticed that there are a few must-have features that a good business communication solution has to have. I'll walk you through what these are, and why I think they're important, below.
But first, let's look at a few important ways in which the idea of "business communications" has changed.
How have "business communications" changed?
Business communications used to mean landline calls, in-person meetings, and written memos. The changes in technology—and the growing popularity of remote and hybrid work—have greatly expanded the ways in which we communicate.
Traditional telecommunications are being replaced by VoIP phone systems, while video conferencing has probably become one of the fastest-growing communication channels during the COVID-19 pandemic.
In fact, many business communications platforms today aren't just phone systems anymore. Take Dialpad, for example, which is really a unified communications platform that also includes SMS/MMS + instant messaging, video calls, and even contact center technology—in a single app: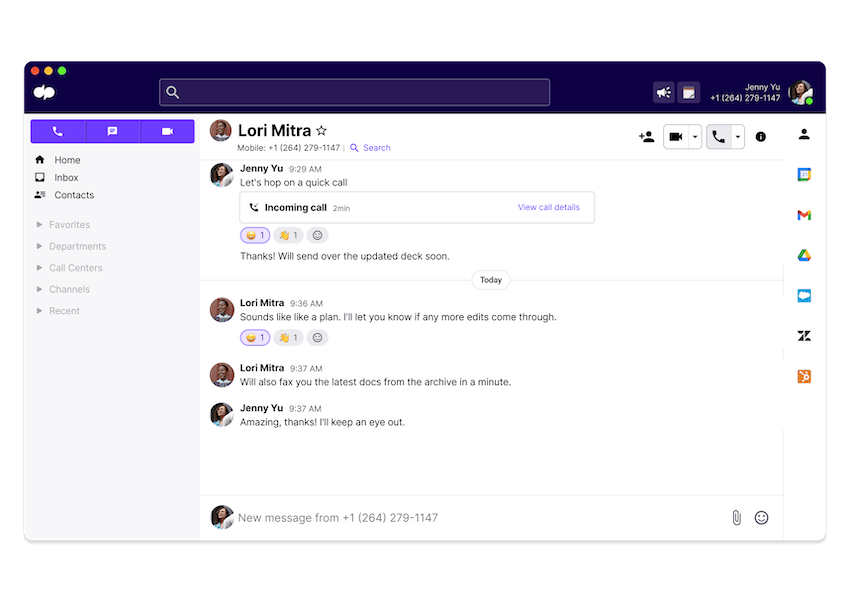 Communication solutions features: Small businesses vs enterprises
Even though overall, businesses of all sizes may need similar features (like HD call connectivity, an auto attendant, and voicemail), there are a few things in particular to keep in mind if you're shopping for either a small business or enterprise.
What small businesses should pay attention to:
Value for money is crucial. Instead of forking out for multiple apps, it makes sense to choose a versatile business communication solution that lets you consolidate different apps into one platform.

Easy to set up. Small businesses typically don't have huge IT teams to manage all their apps. Because of this, a good communications platform should be easy to set up and maintain. For example, with Dialpad, you can add a user or manage phone numbers in a few clicks right from your online dashboard: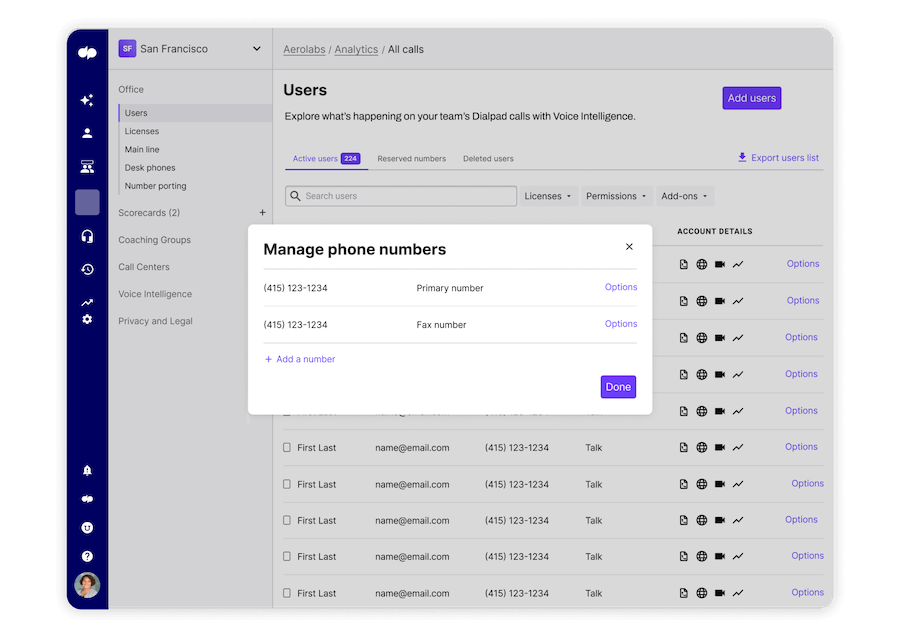 What enterprises should pay attention to:
Sophisticated, next-level functionality from vendors that are industry leaders.

A robust platform. Not only can a versatile communication tool help streamline the bloated tech stacks that most enterprises suffer from, it also makes it easier for busy IT teams to administer in the back end.

Automations and integrations with other tools your team is using, like Salesforce or Microsoft 365.

Fully integrated UCaaS (Unified Communications as a Service) and CCaaS (Contact Center as a Service) features to support both internal communications and a contact center or call center team.

Security. Some enterprises may have to maintain GDPR or HIPAA compliance, or adhere to other industry security requirements. An enterprise communications solution should have these features built in.
What to look for in a business communication solution
Scalability
One big advantage that cloud business communication solutions have over traditional PBX or on-premises phone systems is that they tend to be much more scalable. Want to add a hundred new users and phone numbers without installing extra cabling? You can do that.
Not all cloud phone systems can do this though, so make sure to try the free trials and sales demos and make sure that you can actually do this easily.
📚 Further reading:
See how ClassPass spins up new offices around the world and onboards new employees quickly with a small two-person IT team with their cloud unified communications platform.
High-quality calls around the world
Call quality is a crucial—and often overlooked—aspect of business communications. It's not exactly the kind of thing that's listed on providers' pricing pages, and you won't really notice it unless you've tried out the business telephone system or communications solution.
And fun fact: Dialpad is designed to provide crystal-clear HD calls worldwide, thanks to its unique dual-cloud architecture and global voice network.
Industry-leading AI
AI in communication isn't just a buzzword-y concept anymore—even though many business communication solutions don't have built-in AI at the moment, this is something to pay attention to if you want features like real-time transcriptions, visual voicemail, and cloud contact center features like call pops and sentiment analysis for agents.
And yes, Dialpad comes with all of this functionality built in:

24/7 customer support
Even the best communications systems will have hiccups sometimes. Make sure your provider has an actual customer support team that's available on different channels (i.e. not just an FAQ page).
If your business relies on phone calls pretty heavily, you'll also want to make sure there's an uptime guarantee.
Typically, the standard is "99.999%" uptime, which sounds great, but will still result in some degree of downtime over the course of a year. One unique thing about Dialpad is its 100% uptime guarantee for Enterprise plan customers—which is unheard of in the unified communications space.
Business problems that effective communication solutions can solve
If any of these sound familiar, it might be time to upgrade your video conferencing software or phone system.
Email or app overload
If you're like me, you probably get hundreds of work emails, every day. Honestly, I was getting so many notifications that I just turned them off.
Now that I use other channels, like team messaging and quick voice calls for simple questions and follow-ups, I've pretty much eliminated email overload and am hitting inbox zero on a daily basis. (Yes, it's possible.)
On a related note, almost every company I've ever worked at had way too many apps—definitely more than we were actually using. A good unified communications solution can help you streamline your tech stack so that you're not paying for obsolete or multiple apps that do the same thing.
For example, instead of paying for (and managing) a video conferencing app, an instant messaging app, and a separate phone system, we just use Dialpad, which covers all of that functionality in a single place: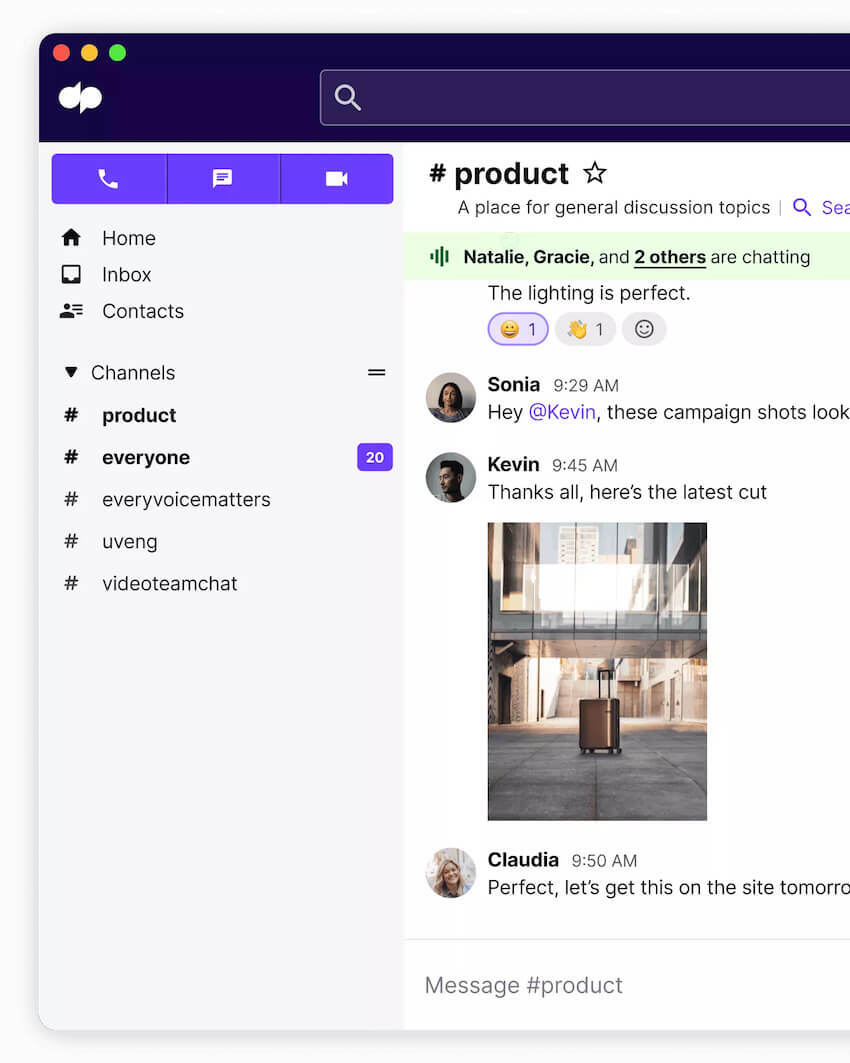 Silos / ineffective communication with remote team members
If you have a remote workforce, a good communications solution is even more important because it's pretty much the only thread that connects all your distributed teammates together.
When you're not in a traditional workspace, you can't just walk over to a colleague's desk to ask them a question or go for a coffee walk with them as a stand-up meeting. For me, a good team communication tool and project management platform are essentials.
With Dialpad, we have virtual water cooler threads, one-on-one video meetings, and other creative ways to connect with remote teammates all through the platform. It's not a perfect replacement, but in my experience it's the next best thing—and it does exactly what I need.
Poor customer service
Often, bad customer service stems from a few common things: your customer support team can't respond to customers quickly enough and/or they can't resolve issues effectively.
Both of these problems can be solved with good communications.
For example, with a good phone system or contact center platform, you can set up call routing that gets callers to the right person or department quickly.
And with a good communications solution, agents can message their supervisors for help in real time when they get hard questions from customers, get instant answers with the help of Ai, and even manage multiple channels (including voice, digital, and social media channels like WhatsApp and Facebook Messenger) from one app: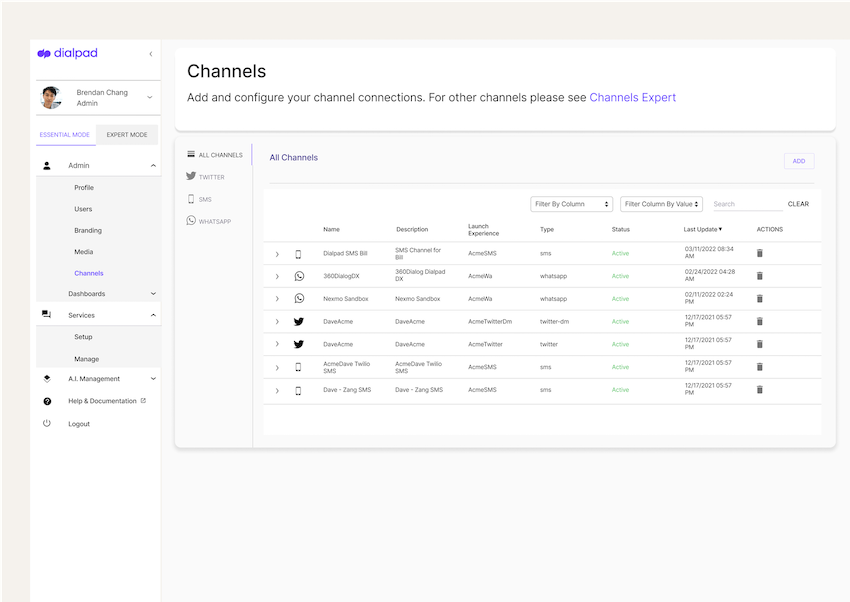 All of which helps make their lives easier—and improves the customer experience.
Try one of the best business communication solutions for free
If you're looking for a business communication solutions platform that gives you fully integrated UC and CC functionality, streamlines workflows, and lets you collaborate with teammates around the world, then I'd say you should check out Dialpad.
From VoIP calling to video conferencing to Ai-powered customer engagement features, it has literally everything you need to handle both your internal and external communications.
Take it for a test drive!

Looking for a robust, easy-to-use business communications solution?
Try Dialpad free for 14 days. It takes just a few minutes and you'll be set up with a virtual phone number too. Or, take a self-guided interactive tour of the app on your own!
FAQs about business communication solutions
What is a business communication method?
Business communication is about sharing information and collaboration, and a business communication method is just a way of doing that more effectively. This can involve using business phone systems, video calling, text messages, group messaging, and file sharing.
How can I improve my business communication?