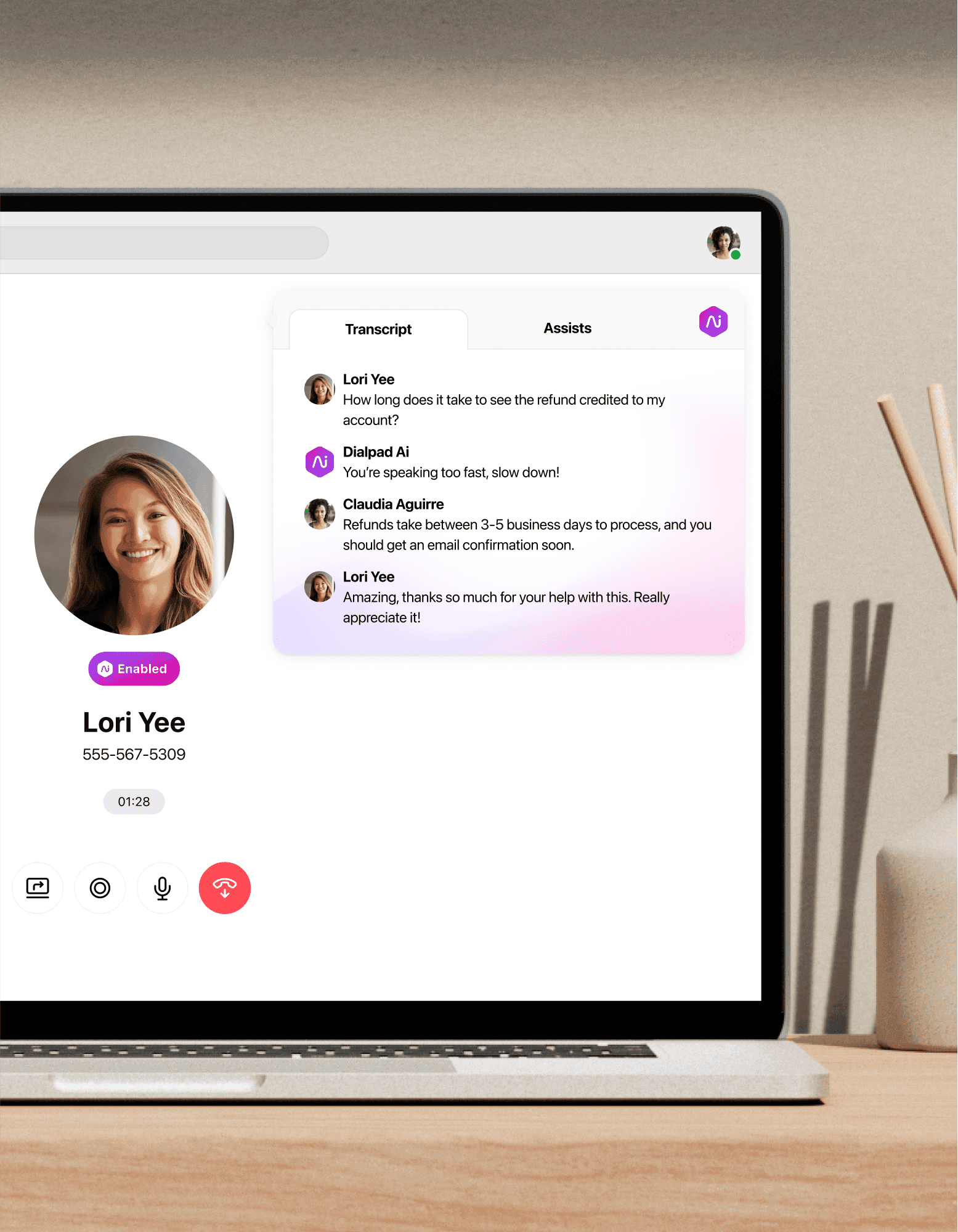 Easy to use + admin
Automated call center solutions
Automations are often essential for running an efficient call center. From auto dialers to automated call routing and call center IVR, there are a ton of ways to streamline workflows for agents and supervisors—while providing a better customer experience. Book a product tour of Dialpad's AI-powered customer engagement solution to see how it can make your team's lives easier!
Why automations are important in call center software
As your front line for customer interactions, your contact center needs to run as smoothly as possible. Otherwise you end up with not only unhappy customers, but also frustrated call center agents.
Many automated call center solutions also come with call center workforce management features, self-service options, and other functionality to minimize repetitive, low-value tasks, while making your agents' and supervisors' workflows more efficient.
Whether you run a small business call center or a global contact center with thousands of agents, any good contact center solution should come with easy-to-use automation features.
The best call center solutions (like Dialpad's contact center platform) should come equipped with all the automation tools you need for workflow management and customer service optimization.
Essential automations for an efficient contact center
Integrations with your favorite tools
It's one of the most important types of contact center automations out there, and Dialpad integrates with a range of CRMs, ticketing or help desk tools, sales software, and more. For example, Dialpad embeds a CTI dialer right inside your CRM (like Salesforce or Zoho CRM, so you can make phone calls without switching windows), matches your callers to customer information, and even automatically logs activities and calls for you.


Real-time transcripts
Built by our own team, Dialpad Ai can transcribe phone calls—in real time. Not only that, it can do live sentiment analysis too. This way, supervisors can oversee multiple active calls more easily. If they notice a call going south, they can quickly scan the real-time transcript for context before deciding whether to jump in to help the agent.

Automated coaching
Supervisors can also use Dialpad to track how often certain questions or topics come up—and create RTA (Real-time Assist) cards to help agents. For example, if they notice pricing questions cropping up a lot, they can create an RTA card with pricing notes and set it to trigger on agents' screens automatically whenever words like "price," pricing," or "cost" come up on calls!


Easy call routing
With Dialpad, you can route incoming calls to agents based on skill level, idle time, or a variety of other options. And it's easy to make changes to your ACD or call routing workflow too, right from your online dashboard in minutes. (No need to contact a support team!)

IVR analytics
Don't just set it and forget it. A good automated contact center software should come with built-in IVR (interactive voice response) analytics that tell you which routing options are actually being used by your callers. That's exactly what Dialpad can do—you can see the IVR usage metrics from your online dashboard and continuously streamline the menu options based on what your callers are (and aren't) choosing.


Voicemail drop
Have a sales team that makes a high volume of outbound calls on a daily basis? Are they reciting the same message every time they hit a prospect's voicemail greeting? With Dialpad's voicemail drop, reps can pre-record a message and drop it into the call as soon as they hit someone's voicemail, and move on to the next dial. What used to take a minute or two now takes a second or two—and it can really add up for high volume teams.
What else does Dialpad's cloud contact center platform come with?
Easy setup
Whether you want to change your call routing rules, create a new custom voicemail greeting, or set up a new virtual phone number, you can do it all—in minutes—from Dialpad's intuitively designed dashboard. You can even set up CRM integrations (with the likes of Salesforce and Zendesk) in minutes.


Truly integrated CCaaS + UCaaS
Dialpad isn't just a contact center solution. It's a truly unified platform that lets your agents and supervisors make phone calls, send SMS/MMS messages and instant messages, have video meetings, and more—all from one intuitive platform. Because we're not whitelabelling or reselling another company's contact center solution, that means both the CCaaS and UCaaS sides of the product are truly integrated. One cohesive user interface, one account, one login.


Advanced workforce management capabilities
With the Dialpad + Playvox integration, you get robust workforce optimization and quality management features like real-time agent forecasting, quality management, scheduling, and more—all in one fully integrated platform.


Plays nice with any device
Automations are great for workflows and convenience, but another benefit of Dialpad is that it works across iOS, Android, PC, and Mac—and even web browsers—so supervisors and agents can work from anywhere, on any device.

Multilingual greetings
As well as English, Dialpad's IVR menu supports Spanish, Japanese, Dutch, German, and more. You can even customize the default language for different departments, users, or call centers.

Simple call recording
Set up your contact center to record all calls automatically, or agents can easily toggle call recording on and off from your active call screen. To help you maintain compliance, there's also a handy API that automatically pauses call recording when sensitive information (like payment details) are being discussed.
The benefits of using automated call center services
It reduces waiting time for callers
Let's face it. People hate waiting on-hold. An automated calling routing feature like an ACD or IVR empower your callers to self-service most basic problems without having to wait for an available live agent. Dialpad also has automations like in-queue callbacks, and if you have a CRM integration set up, it can even pull customer data automatically for agents so they don't have to go digging around for someone's customer relationship history with your business. In the end, it makes life easier for both your agents and your customers.

It frees up agents and resources for more complex, high-value issues
It's not just customers who love self-service. It's great for agents too. Automation allows customers to self-service common queries and complete basic tasks, in turn freeing up agents from the tedious stuff to handle more important tickets.

It lets you provide more customer service options around the clock
Even if you don't have live agents on standby 24/7, automations can still help you provide as much help to customers as you can—even outside business hours. With chatbots, a well-designed IVR system, you can provide better customer support at scale. Having these automations is an important complement to a skilled contact center workforce, and helps maintain customer satisfaction without burning out your agents.
What's the best call center solution for your business?
Still using an on-premises solution? Whether you'r running an inbound call center or outbound call center, Dialpad can help. Book a demo to see just how easy Dialpad Ai Contact Center is to use, configure, and admin. Or, take a self-guided interactive tour of the app first!
FAQs about automated call center solutions
What is call center software?
Call center software is a technology that lets call center agents and supervisors manage inbound and outbound customer engagement. Contact center software is basically the same thing, only it includes different types of interactions across more communication channels (sometimes referred to as "omnichannel"), beyond just phone calls. This includes live chat, SMS, instant messaging, social media, and more.
How does an automated call center work?
What is a call center automation?