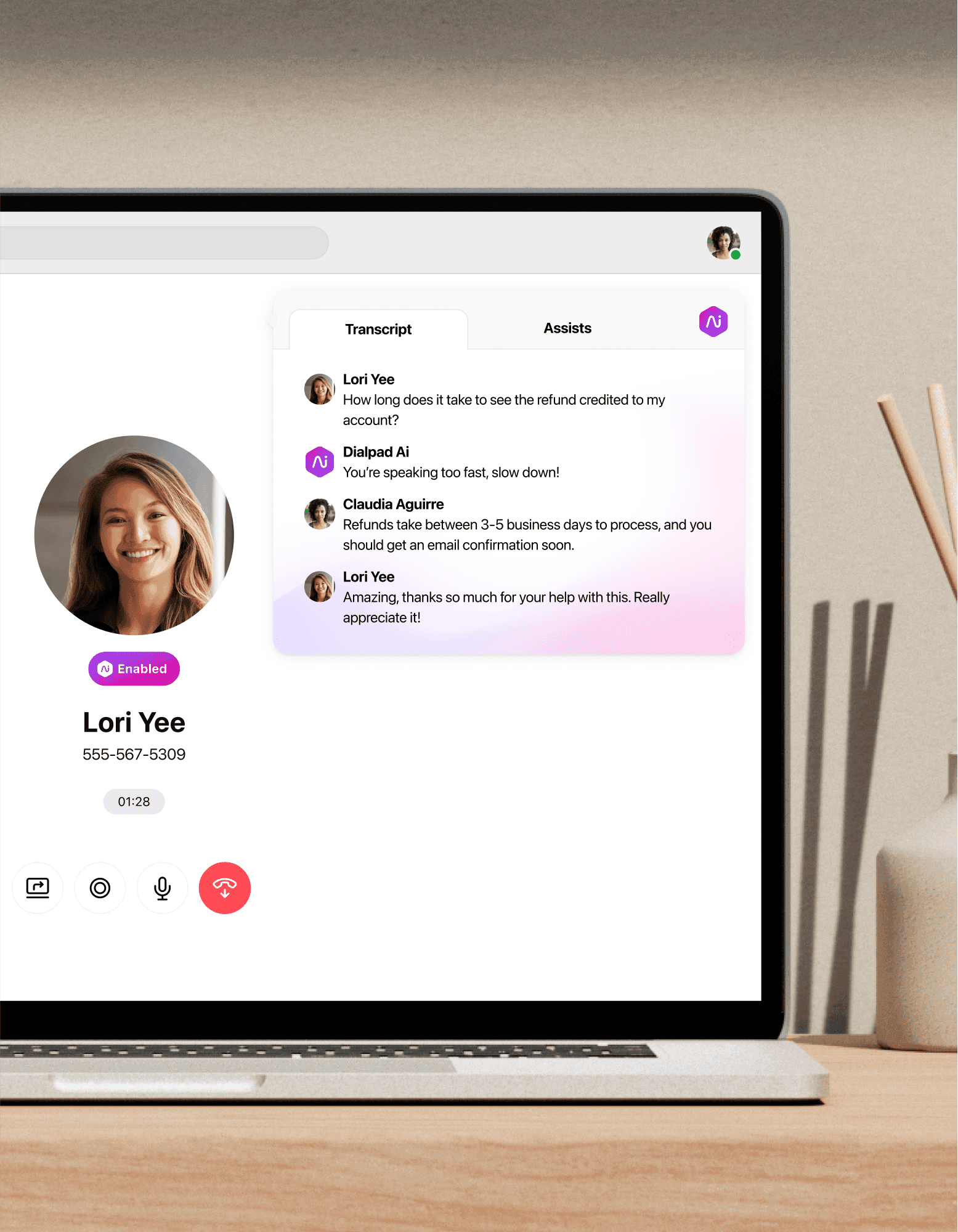 A guide
Contact center transformation
Interested in transitioning from an on-prem contact center setup to a cloud-based operation? Learn how to do this below. Or, book a product tour to see how your organization can do this with Dialpad Ai Contact Center!
Today, fewer and fewer companies have large in-office call center teams. A busy contact center is more likely to have a mix of both work-from-home agents and in-office agents instead of hundreds of agents all in one room.
And a big reason for that is because many businesses have undergone contact center transformations. Not only is it an incredibly important part of overall enterprise digital transformation, it also comes with other benefits like cost savings and more flexibility in global hiring.
In this guide, we'll cover the essentials of contact center transformation including what it is, what you'll need to make it happen, and how to make your agents and supervisors as successful as possible during and after this shift.
But first, let's look at what exactly contact center transformation is.
What is contact center transformation?
Contact center transformation is the process of modernizing a business' outbound sales and/or inbound customer service systems and processes. This is most often done by adopting digital communication channels and new technologies like customer service AI (or sales AI) tools, automation, and cloud-based solutions.
Different contact center teams, of course, will have specific strategies or tasks in mind. Some leaders may want to consolidate disparate systems into one unified platform, while others prioritize creating AI-powered self-service options for customers.
Overall though, most businesses' contact center transformation goals are to improve customer satisfaction, gain more insights into performance, reduce operational costs, and ultimately, increase revenue.
How does digital transformation impact a contact center?
Digital transformation is revolutionizing how contact centers operate and manage customer interactions. Here are a few key impacts that it can have:
It allows businesses to provide an omnichannel experience
One way digital transformation affects contact centers is by giving customers more channels to interact with a business. This includes options like social media, live chat, chatbots, and email in addition to voice calls.
Old school on-premises call center platforms don't typically allow for all these communication channels, and the need to support these channels is a common catalyst for contact center transformation.

🔎 Case study:
See how Tecovas' customer support team manages customer calls and support tickets from a single platform with Dialpad, which integrates with their CRM, Kustomer.
It reduces the burden on supervisors
Contact center supervisors are often overwhelmed with the amount of work they have to manage, from training new agents to monitoring call quality in real time.
With contact center transformation, supervisors can take advantage of automation tools and AI-driven customer engagement platforms to reduce their workload and free up more time for other tasks.
For example, Dialpad's AI-powered contact center solution can automatically detect positive and negative sentiment of customer conversations in real-time and alert supervisors when necessary:

If a supervisor is overseeing tens or hundreds of agents on simultaneous calls, this helps them quickly and easily spot if an agent needs help. If they do, they can just open up the real-time transcript to get more context before deciding whether they need to barge the call.
On top of that, contact center transformation also helps supervisors keep an eye on their KPIs. With traditional on-prem systems, accessing analytics tended to be time-consuming and complex—especially if your provider took a long time to get back to requests for data. (Learn more about on-prem vs cloud.)
Today, some cloud contact center solutions come with built-in analytics dashboards that give supervisors insights into agent performance—in real-time—along with a better understanding of how their operations are running at any given time. This allows them to make informed decisions quickly, adjust their strategies accordingly, and maintain high customer service levels.
For example, one of the biggest challenges with collecting CSAT scores is that not a lot of people actually fill out these surveys.
In fact (depending on the industry and specific business of course), we've found that on average only about 5% of customers actually fill out CSAT surveys. On a related note, usually only the angriest—and happiest—customers actually bother to respond to these surveys, which means your CSAT answers are likely to be very skewed and not representative of how your customers feel overall.
Dialpad's industry-first Ai CSAT feature can infer CSAT scores for 100% of customer calls, which results in a much more representative sample size for CSAT scores, and a more accurate understanding of how satisfied customers really are:


This is just one example of how contact center transformation can provide unprecedented insights for supervisors and business leaders compared with on-prem systems.
It helps with deflecting inquiries away from agents
Another way digital transformation impacts contact centers is by providing automation options that streamline tasks like data collection and note-taking.
A large piece of this is thanks to modern AI call center features. For example, agents tend to spend a lot of time on after-call work like summarizing and dispositioning the conversation.
With some modern contact center solutions, there are features like AI-suggested dispositions and note-taking, which automatically do this work for agents.
Not only that, conversational AI (essentially very advanced chatbots) can answer a variety of customer inquiries, which reduces call volumes for overwhelmed agents.
It provides more opportunities for global hiring
Last but not least, cloud-based contact center technologies have made it possible for businesses to expand their geographic reach—without needing physical space or additional IT resources.
This means businesses no longer need to limit themselves geographically when hiring salespeople or support agents—they can now hire remote workers all over the world who will have access to the same tools and resources as those working onsite at their headquarters location.

🔎 Case study:
See how Fenway Health moved its 600+ agents to remote work—with zero downtime—by undergoing a strategic contact center transformation.
Technology that can facilitate digital transformation in a contact center
Digital transformation in contact centers is made possible through the use of a few specific types of technology.
1. Artificial intelligence (AI)
AI-powered customer engagement tools allow contact center teams to automate mundane tasks for both agents and supervisors. From data entry to appointment scheduling to reporting and insights, companies that are leveraging contact center AI have a unique way to both provide real-time assistance and gather more customer intelligence.
With Dialpad Ai Contact Center, for example, supervisors can monitor how often certain keywords and topics come up on customer conversations. Want to see how many customers have been asking about refunds? Just create a "Custom Moment" to track every time "refund" or "money back" is spoken:


2. A CCaaS (Contact Center as a Service) solution
Another essential piece of technology for contact centers interested in digitizing operations is a CCaaS solution. Similar to UCaaS, or Unified Communications as a Service, solutions, CCaaS products are paid for on a subscription-based model—usually monthly or annually.
These are both modern alternatives to legacy on-premises communications solutions, which require hardware, wiring, and significant initial investment. With CCaaS and UCaaS solutions, businesses only need to provide their employees with computers, and they'll be able to work from anywhere using the solutions' desktop and/or mobile apps.
For contact centers specifically, a CCaaS or cloud contact center solution will let agents and supervisors manage all their internal and external communications from a single app. This includes voice calls (over the internet, through VoIP or Voice over Internet Protocol technology), team and SMS/MMS messaging, video conferencing, live chat messages, social media conversations, and so on.
3. CRM and other cloud-based software
Finally, a cloud CRM solution is crucial for any contact center team undergoing digital transformation, because this gives agents and supervisors a centralized database of all customer relationship information.
From past customer conversation records to sales pipeline tracking, a CRM makes it possible for both support and sales agents to easily access information that'll help them have more successful customer interactions from anywhere.
The CRM your team uses should integrate with your contact center solution—this will automatically sync calls and other activities and reduce manual work for agents, and also allow them to make calls from right inside the CRM without having to toggle back and forth between apps:

Transform your contact center with Dialpad
If you're thinking ahead and planning to digitize your contact center operations, the first step is to equip your team with the tools they'll need to go through the transition smoothly.
A robust contact center platform with AI-powered customer experience features built right in, along with a CRM software, are two essential components of the digital transformation roadmap.
See how other contact centers have moved to the cloud with Dialpad Ai Contact Center!

Get a hands-on look at a leading AI contact center solution
Book a demo with our team, or take a self-guided interactive tour of the app on your own first!
FAQs about contact center transformation
What is a contact center?
A contact center is a team that provides customer service and sales support over different channels, such as over the phone, social media, and through other communication channels. Inbound contact centers are typically staffed with agents and supervisors who are responsible for interacting with customers, answering inquiries, taking orders, resolving complaints, and providing technical support. Outbound contact centers, on the other hand, are typically staffed by sales reps who do cold calling and other forms of outreach.
What is digital transformation?
How can I make contact center transformation work?