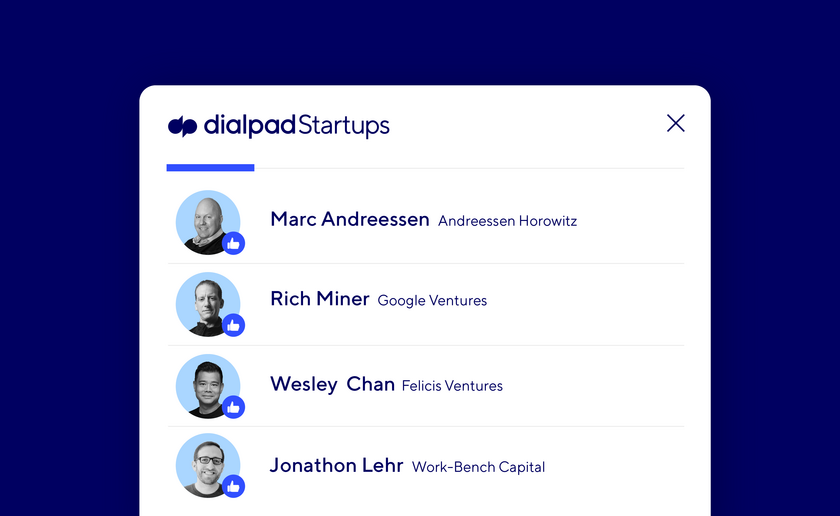 June 12, 2020
Dialpad for Startups was created with a single mission in mind—to make it easier for startups to do business. Legitimizing early-stage companies with business phone lines and expanding their communications with video conferencing is what we do best.
"I know from experience that there are so many growing pains with building and scaling a business. It has always been my belief that your communications tools should not be one of them," said Craig Walker, CEO of Dialpad.
That sentiment is shared among top investors—including Andreessen Horowitz, Google Ventures, Work-Bench Capital, Felicis Ventures, Amasia VC, and more. "Investors always try to offer their portfolio companies value," says Rich Miner, former General Partner at Google Ventures and founder of Android. "That can be through funding, but it can also be by making them aware of programs like Dialpad for Startups which offers a reliable, scalable phone and conferencing system—at the best price possible."
Entities that back startups, be they venture firms, incubators/accelerators, or advisors know that supporting their portfolio goes beyond just funding. Everything, from coaching on key factors like product market fit, to helping acquire talent, to advising on tech stack, goes a long way for early-stage founders and companies. "Many of the startups I advise tell me they wish they'd chosen solutions that were easier to scale," says Wesley Chan, Managing Director & General Partner at Felicis Ventures, and founder of Google Analytics. "That's why I recommend solutions like Dialpad that are dead simple to set up, integrate with, and scale long term."
And while building and scaling a company is an ever-evolving challenge, switching from suboptimal solutions to those that are a better fit can happen at various stages of the journey. "One thing I am constantly seeing with startups is the need to go back and course correct once the business gains speed," says Jonathan Lehr, Co-Founder & General Partner at Work-Bench Capital. "To build and maintain momentum, I recommend tools like Dialpad and believe that every startup should use them for their business communications."
And as more companies transition to being partially or fully remote, the need to accommodate that change in the business communications landscape has become even more critical. "Remote work has always been a big part of the startup ecosystem, and even more so now," says John Kim, Managing Partner at Amasia VC. "Having a reliable, mobile solution like Dialpad, which keeps teams connected through voice calls and video conferencing, is non-negotiable from your first employee to your 500th."
Dialpad for Startups is proud to offer early-stage companies, and the entities that support them, best-in-class business communications starting at no cost. And as Marc Andreeseen, Co-Founder and General Partner at Andreessen Horowitz puts it, "Every startup should use Dialpad and Dialpad UberConference."*
---
*Dialpad UberConference is now Dialpad Meetings!