Get the most out of your business phone system
Dialpad Talk Key Features Guide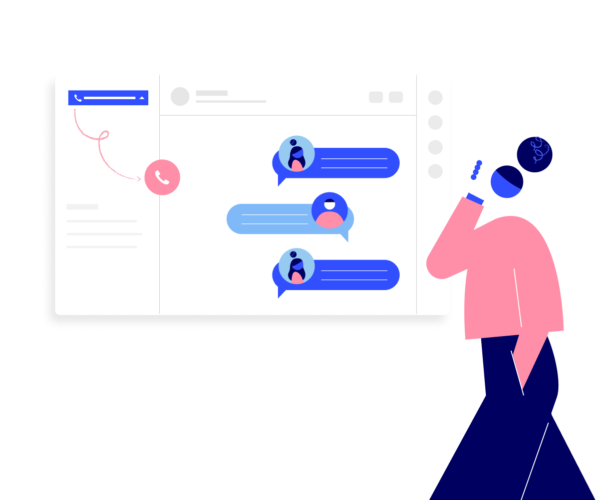 What is Dialpad Talk?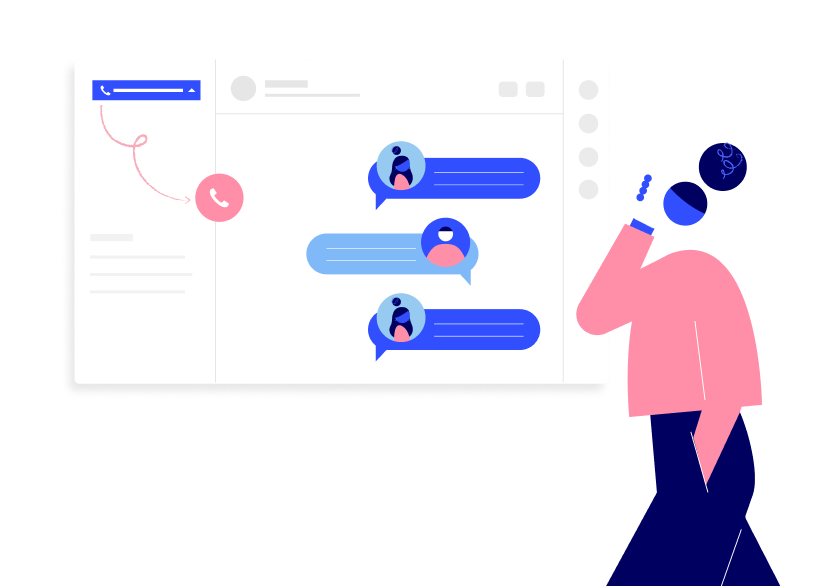 Dialpad Talk is the only business phone system built to help you have better conversations, no matter where they happen. With reliable call quality, seamless messaging, and call transcriptions all powered on your existing devices, staying in the loop at or away from your desk has never been easier.
In this guide, we'll highlight some of the key features found inside.
Placing & Receiving Calls
It's fair to say that if your business phone system doesn't make calling contacts or colleagues dead simple, well, it's not really doing its job.
Luckily, Talk has you covered. Calls can be placed either by:
Selecting the 'Make a Call' button from either the desktop or mobile app
Selecting the 'call' icon wherever it appears in your app (in your message view, in search, hovering over a directory contact)
Click to call from a phone number linked online (requires a Chrome extension add-on)
Once connected, you'll see call controls are front and center, no matter if you're using the desktop app, mobile app, or leveraging the always on top call widget (Dialpad Everywhere).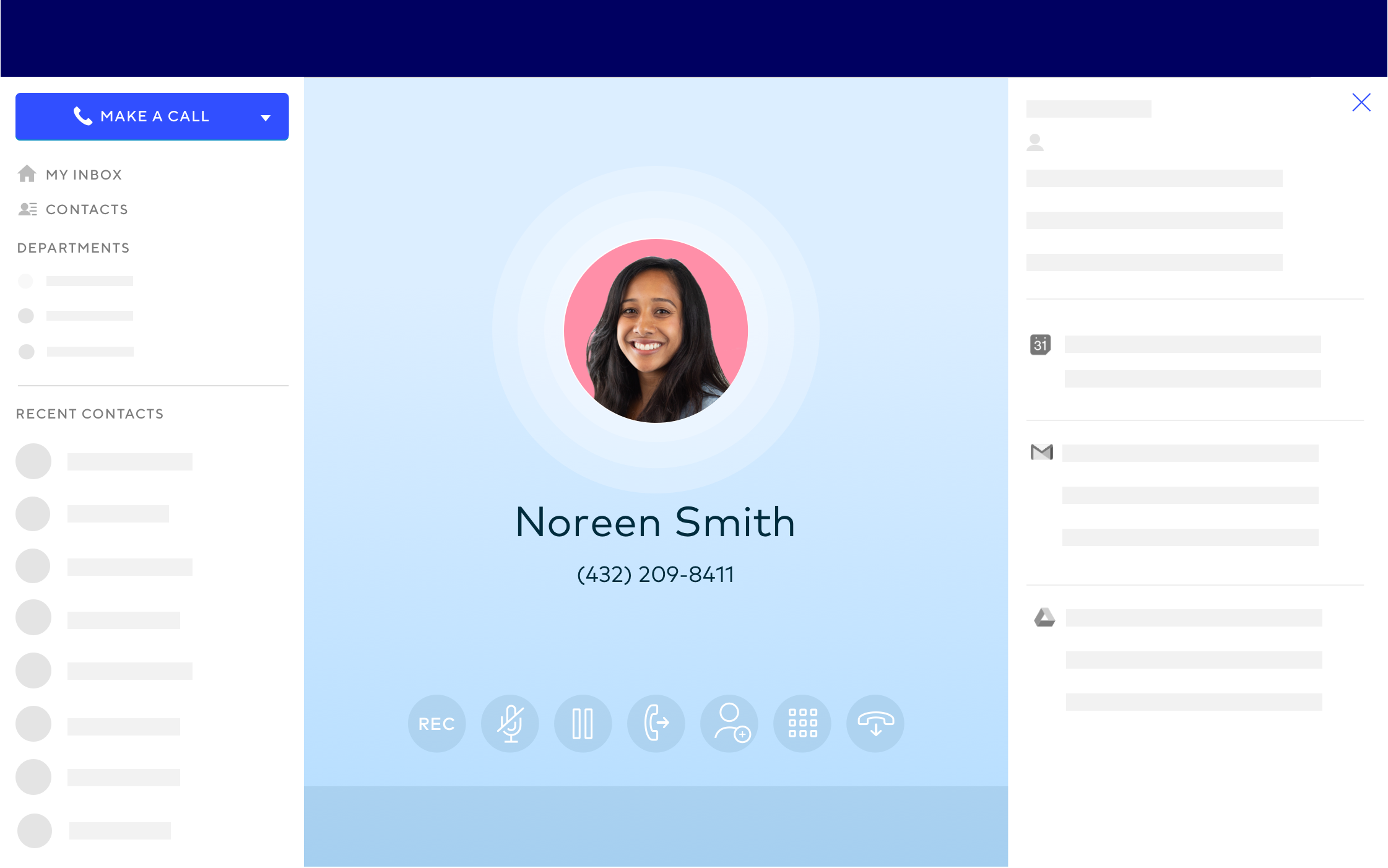 Of course, that's only half of it. When someone calls your Dialpad number, we'll pop up a notification with the caller ID and give you the option to answer or screen the call.
No worries if you're not by your computer—we'll fan out to all your connected devices so you can choose which one makes the most sense for your conversation.
Switching Between Devices
Speaking of, let's talk a bit more about switching between your connected devices. After you sign up for Talk, we'll prompt you during onboarding to add your mobile number on the web portal under Your Profile > Devices.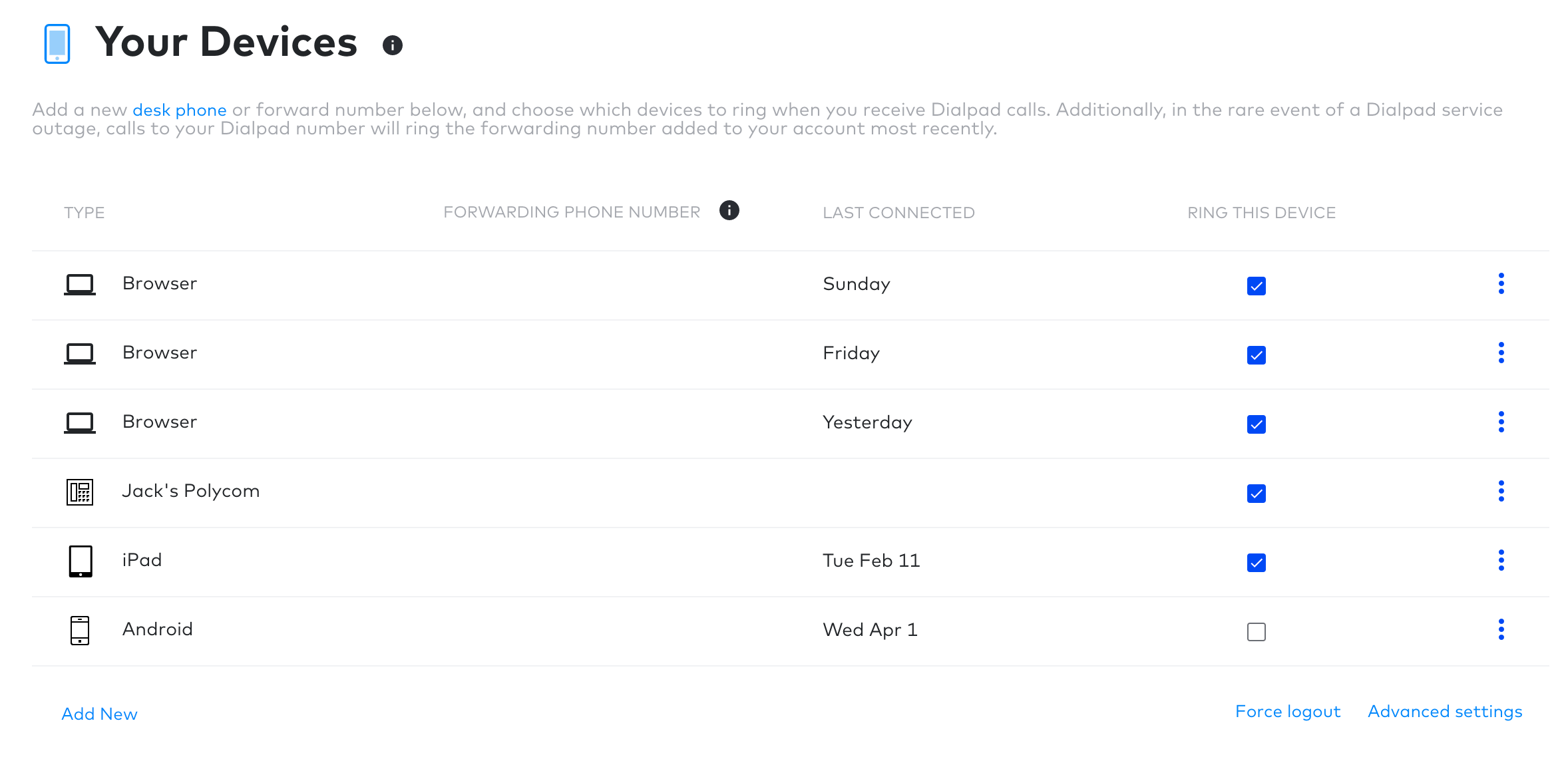 ✅ Tip: Download the mobile app and you can skip this step since we'll ask for your cell # then.
Once added, every call placed to your Dialpad # will ring out across all your connected devices. And when you need to switch between them, like say when you're on your way out of the office, all you'll need to do is follow these steps:
Open the app on the device you want to switch to
Select the active call to pull up the call
Select 'Switch to this Device'
Your call will now be switched to the new device
Yep, that's really all it takes. No hang-ups, no placing a caller on hold. Just seamless switching right in the palm of your hand 👌.
SMS, MMS, and Group Chat
Sure, a phone call is important but isn't there something about a picture being worth 1,000 words? With Talk, send texts, photos, or videos via 1:1 messaging or with a larger group when you need everyone on the same page.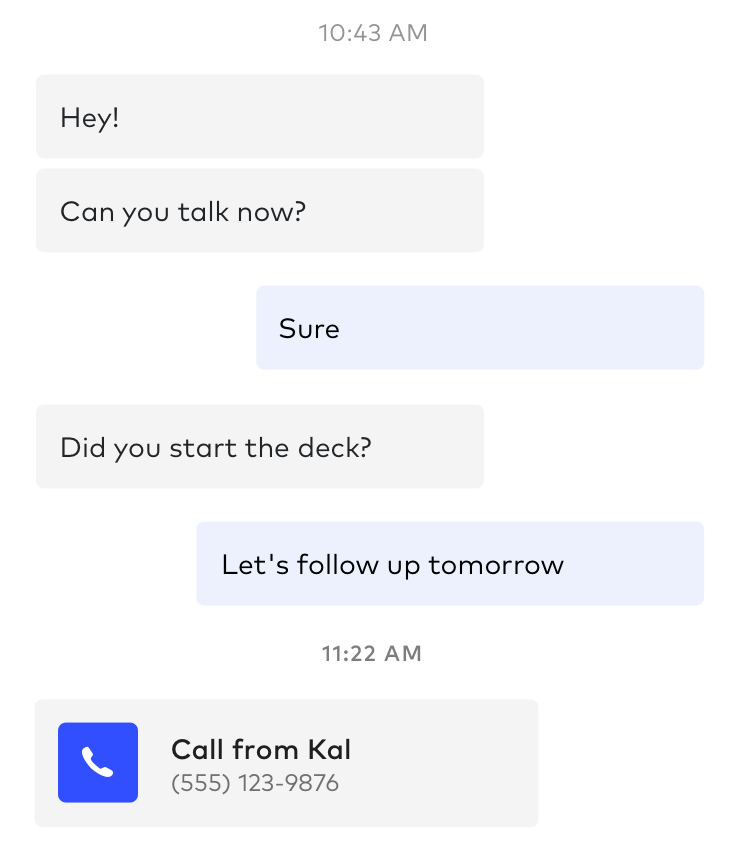 And since Talk is a single platform for all your business communications, your calling and messaging history is saved in the same conversation view of your contact which makes it that much easier to go back and find what you need.
Pull Up Past Conversations
Thanks to the cloud, everything you need to search for in Dialpad can be pulled from either your desktop or mobile app, all in real-time.
Curious about the types of things you can search for? Here are just a few examples:
A keyword mentioned in a text or chat
A colleague or contact's name (and their accompanying profile)
A keyword mentioned in a call summary transcription
Call summaries are great resources to leverage when you need to catch up with what was said during a call (and saves a ton of time compared to listening to just a recording).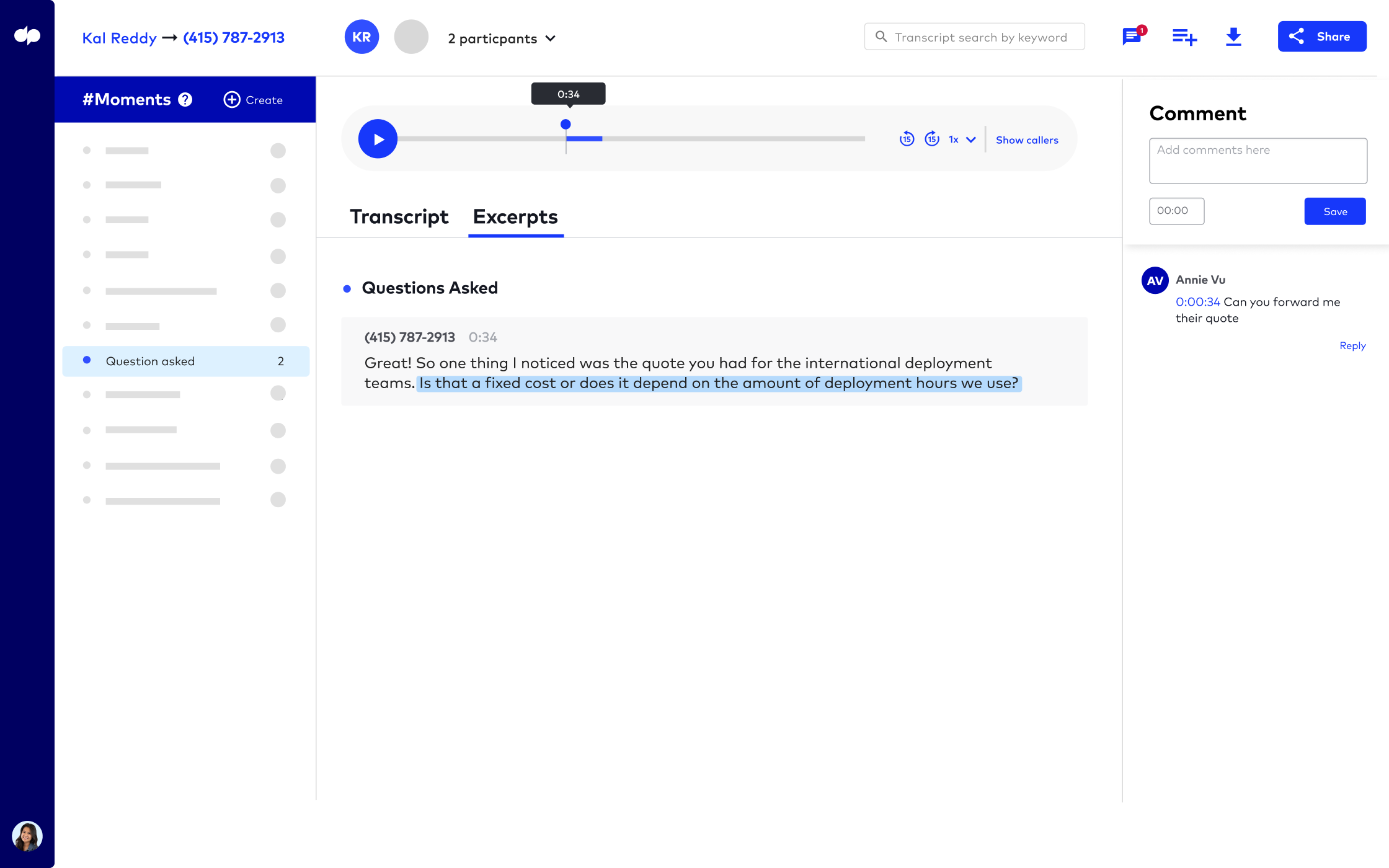 As long as you've got Voice Intelligence™ (Vi) turned on, you'll see a prompt to view your post-call summary which will take you to the web portal if you're on your desktop or will show directly in the app if you're on mobile.
Not only will you get the full transcript of the call but you'll have access to:
Highlighted moments from your call (action items, questions)
Audio recording (if turned on) tied to your transcript with the ability to jump to a specific part in the call
Comment sidebar that ties to a specific part in the call
Share options that include the entire summary or just a portion of the call
A Single Platform
Whether you're placing a call, sending a quick text, or reviewing some action items, all of it can happen from a single place: your Talk app.
To help enrich those conversations, we've also partnered with platforms like G Suite, Office 365, Salesforce, and more to surface shared activities and docs right inside your app.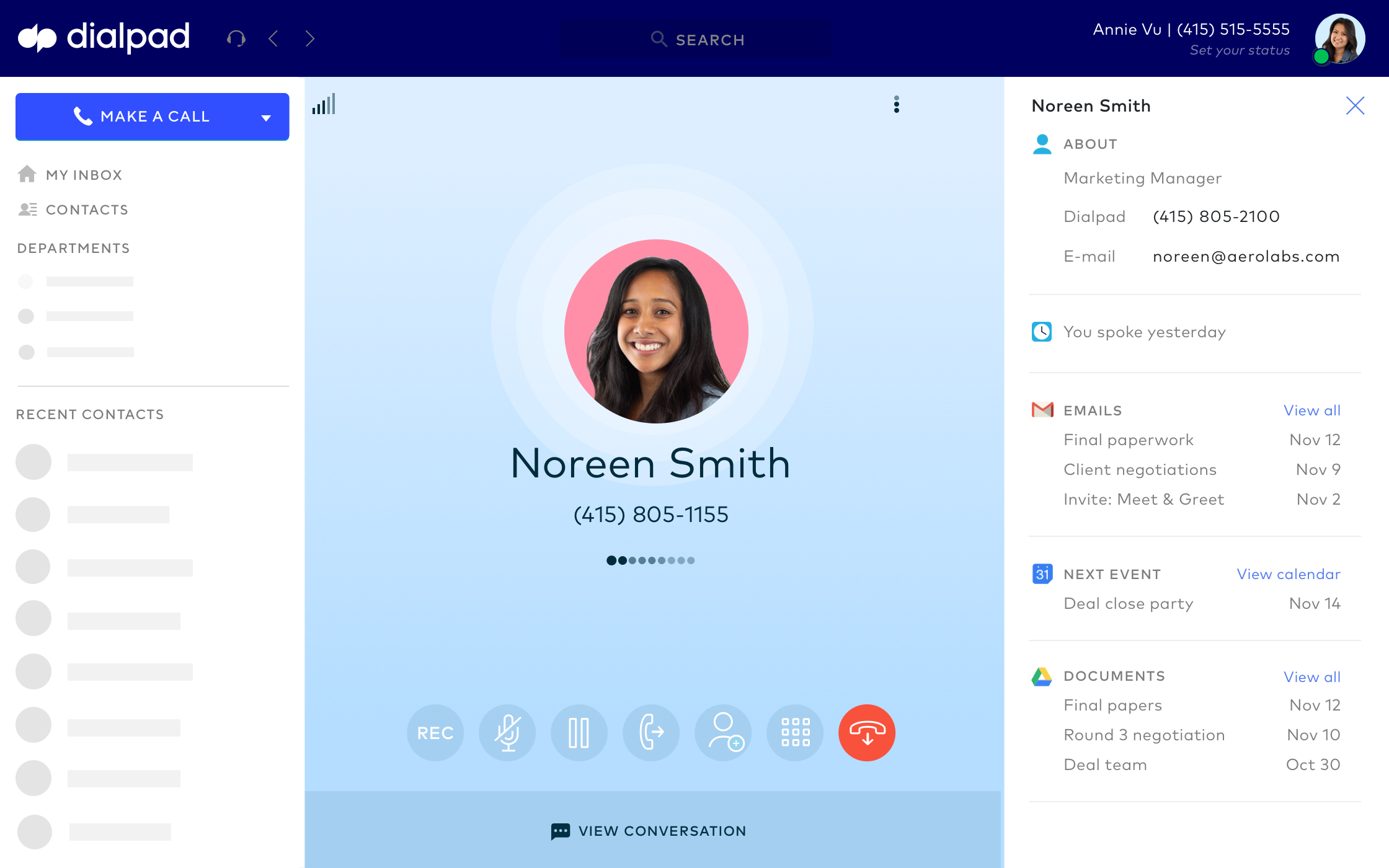 A few examples of the types of info you'll be able to see when viewing a contact:
Recently exchanged emails
Upcoming and current events
Recently shared documents
Keep in mind that these profile details are available no matter if you're using the desktop or mobile apps. Because after all, work is a thing you do not a place you go.
Helpful Links
Looking to learn more about how to try the features above? Check out some of the help articles that go into more detail and offer FAQs and tutorial videos:
Looking for other best practice guides? Check out our resources hub for guides on call quality, tips on using Talk as an admin vs a user, and more.