Back to Blog
Sales call planning: How to run a discovery call like a pro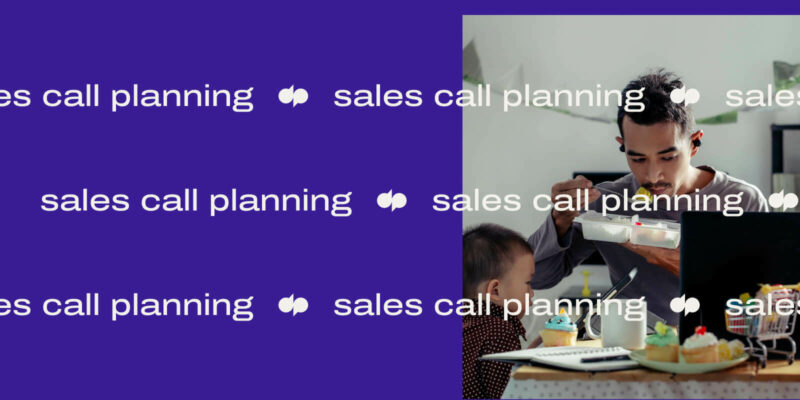 Fun fact: discovery calls are almost always set up in one of two ways. Which means you can narrow down how you strategize for these sales calls a lot—and makes the process much less intimidating.
So, what are these two types of discovery calls?
I'm going to walk you through them, including some of the best tips I've gleaned from working in sales to help you make sure you've got a plan for every sales call.
Sales calls vs discovery ("disco") calls
A sales call is just any call that's meant to, well, sell a product or service. There are many kinds of sales calls—you've got cold calls that are right at the beginning of a sales cycle, and then you've got those "deal-closing" calls where the seller has done all the heavy lifting and just needs to close the sale.
In this guide, I'm going to be talking specifically about discovery calls, which are earlier in the sales process, and are meant to help a seller learn more about a prospect and what they need before deciding whether this is a deal that's worth pursuing.
The 2 main types of discovery calls
Here are some fundamentals to keep in mind as you do pre-call sales planning.
Discovery calls that result from a cold call
This is a sales call with someone you cold called to set up a meeting—there may or may not be an active project, or even interest.
In order to best prepare for this kind of discovery call, you'll want to compile a list of information to help you uncover what may be important to that individual and their company, like:
Name of individual you are speaking with

Names of key leadership folks who are relevant to the product you are selling

LinkedIn profiles for those individuals

Read over their 10k to figure out what is important to their company (only relevant if they are publicly traded)

Recent news article where their key leadership is mentioned

Recent press releases talking about acquisitions or initiatives they're working on in the near future

Any key new hires that signal there is going to be a change in the org—new leadership can bring in people who may completely wipe the tech stack and start over with sales apps they are comfortable with

Is the individual you are speaking with in your CRM instance from their previous company? Were they a past client? It's easier to win over someone who is already familiar with your company and/or product

The company's mission, vision, and values

Did they recently get funding?

How big is the team that you are selling into?

Etc. etc.
This is all important information to have if you're preparing for a call where you're going in cold.
How to prepare
Research is going to be your number one best bet for any discovery call that came from a cold call.
Going into a sales pitch with every piece of information you need about the prospective client, their business, their customers, and everything short of their hopes and dreams means you'll be prepared to question—and find a solution—for every objection.
What if a prospective client stumps you with a tricky objection?
Having a good cold calling software can really help here. If you're a Dialpad customer, you'll have access to Dialpad's Real-Time Assist (RTA) cards, which can help you out with even the most challenging questions.
In Dialpad, you can customize trigger words and phrases so RTA cards will pop up during sales calls for all the objections a salesperson might encounter when talking to a prospective client (or track how often competitors' names come up):

If you're managing a larger sales team, you can set up RTA cards to be shared across multiple contact centers.
👉 Dialpad tip:
Don't forget to confirm if these words or phrases are triggered by anyone, the salesperson, or the customer, and remember you can also turn on real-time alerts to notify supervisors.
Discovery calls that result from warm calls
If a cold call is a call to a stranger, you can probably guess what a warm call is.
Here, the lead is already interested—but you aren't 100% sure they are actually in the market. This could be someone who fills out a form on your website, has been a part of an email drip campaign, attended your webinar, and so on. They generally have a basic understanding of your company.
You still need to do the above research when prepping for the call, but you may have a better understanding of what they are specifically interested in by looking at their interactions with your company in the last three to six months.
You can use intent data here as well—now, "intent" doesn't mean that they are in the market to buy now, just that they are doing research on keywords that are relevant to your products or services.

How to prepare
You may already have some kind of rapport with the client or they at the very least are familiar with your company, so use warm calls as an opportunity to cement your relationship and their understanding of your brand further.
Prepare by going over your initial client research, and make sure to include any new relevant information you've discovered. Have a specific goal in mind for the call and showcase how your product can solve the client's specific pain points.
Go over materials and information you have on the prospective client and review your talking points. Don't overlook small details, and make sure any supporting materials you send to the client are flawless.
With Dialpad, you can make a "best of sales" call library and share sales call playlists with your team, so they have an audio template they can reference when prepping and improve ffor sales calls: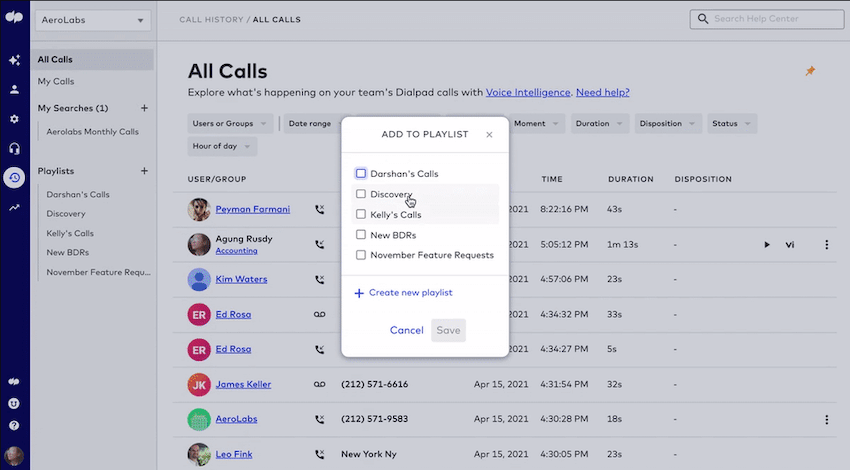 Sales managers will find call playlists especially useful when conducting sales training.
With a sales call, winging it won't cut it, so make sure your research, facts, product, and presentation are ready to go.
The importance of pre-call planning for your sales team—why do it?
A pre-call planning session is one of the most important steps you can take to ensure a successful call—and a future sale.
Going into a call, you should know everything you can about your prospective client—which includes what their needs might be, how your product can meet those needs, company news, what they are posting on their social media channels, and a bit about their competition.
Collaborating with teams across your business makes researching and building a pre-call plan easy. Dialpad's business phone system gives your team a workspace for video calls, messaging, phone calls, screen sharing, and lots more:

Build rapport with your team members in the office and remotely—while planning your strategy to build rapport with prospective clients.
I can't overstate the importance of a pre-call planning session. Here are some specific ways that it can benefit your sales call.
Helps you understand buyer motives
Knowing where your prospective client is coming from can help you see the advantages your product provides them in their business, and gives you a unique selling perspective.
Builds better client relationships
Doing your homework on the client beforehand will show on the sales call. Clients will appreciate the attention to detail, forging a stronger relationship.
Creates fail-safes for your salesperson to fall back on
With a plan in hand, your salesperson can easily re-group when tough objections or questions arise. (And these learnings will help you create better training materials in the future for new hires!)
Here's a sales call plan template for you to build on
Wondering how to structure and standardize your sales call planning? Wonder no more thanks to the following template:
Discovery Call Prep: Template
OVERVIEW
What kind of key information do you want to capture?

GUIDELINES:
How should this template be used? (When should it be filled out, and who should it be shared with?)

TEMPLATE:
Account / Prospect Name
Website URL
Relevant profile info: What's their...
Full Name

Title/Role

Email

LinkedIn URL
Any relevant information about their industry or company
What does their business do?
What research have you done that presents a compelling case for what you're selling?
Why should the prospect go with you or even consider you specifically? What can we provide that's unique?
What else can I do to help sales calls planning?
In addition to your sales call template, here are a few more ways you can optimize sales call planning for your team.
Integrate your tools (CRMs, contact center systems…)
Salesforce and HubSpot are two popular CRMs that offer powerful sales tools and automations, but there are many other options on the market, and some businesses even have custom "homegrown" CRMs. The main thing to remember when choosing a CRM is to make sure it integrates seamlessly with your business phone system.
For example, Dialpad integrates with CRMs like HubSpot and Salesforce to automatically log activities and calls for reps—and they can even make phone calls directly within Salesforce:

You can use Dialpad's open API and webhooks to customize your workflows, so you get exactly what you want from the services you use.
And if, like our sales team, you're spending most of your time in Outreach—there's a Dialpad integration for that, too. Make the most of both systems by using the Dialpad Everywhere widget to make calls with Dialpad right from the Outreach platform.
Plan for every stage of the sales cycle
A pre-sales call plan is great, but to really boost your chances of success, make a plan for every sales cycle stage.
Every prospect's buying process is different, of course, but having a rough idea of what your must-haves are a great way to get a head start. Here's a quick overview of a few essential stages to consider:
Outreach: After your initial call, if you know the client constantly checks their LinkedIn profile or responds primarily through email, follow up with them on their preferred channels

Appointment: Getting the potential client to agree to an appointment can be tricky⏤people are busy with other commitments and will be hesitant to add something else to their plate. Have specific times and dates ready to go before you get on your sales call, so the client is less likely to waffle on the commitment.

Follow-up: The best way to build on the developing sales relationship with your prospective client is to follow up on your communications. Whether you send an email, text, or even a thank you card, timely follow-up should be a priority of your sales plan.
Allot time for call analysis
Setting aside time for call analysis will help you pinpoint the parts of your sales call plan that are working and which aspects need adjustment. Call analysis will keep you on track and maintain the level of quality you want to achieve on your sales calls.
Pre-call analysis
The main objective of the pre-call analysis should be to nail down what you want to accomplish on your sales call. Don't forget to also set call objectives to help you stay focused on the call.
During your pre-call analysis, go over important details like what information and details to collect and the best way to open your call.
Post-call analysis
Don't procrastinate when it comes to analyzing your post-call performance. Go over the notes you wrote down in your sales call log template and see if you met all of your goals and objectives for the call.
Go over your sales script and adjust any parts that didn't work on the call. Add in anything you felt was missing from the call and double-check your content.
4 tips for sales reps making the call
Having a sales call plan is all well and good, but what about some tips for when you're actually on the call?
The following information will help you fine-tune your sales call plan and empower you with tips to have engaging, productive calls with prospective clients.
1. Have a plan for dealing with common objections
You know objections will come up on sales calls, so get ahead of them by having a plan. When a client brings up an objection, remain level-headed and friendly.
Ask them to detail their objections, and where you don't have answers, offer insights that can steer the conversation back to your sales call plan.
2. Don't overwhelm them—get them talking too
Jamming information and sales talk down a client's throat will only discourage them from doing business with you.
Get clients talking and involved in the process. If clients feel like they have some say in the sales process and that their feedback is being heard, they'll be more inclined to continue the business relationship.
Fun fact: If you're on a call on your computer, but need to flip it to your phone (maybe you need to step away briefly or run an errand), you can use Dialpad's call flip feature to move the call seamlessly from one device to another—without interrupting or dropping the call:

3. Uncover your decision makers
Especially if you're selling a high ACV (annual contract value) product, you may encounter more than one decision maker. Buying committees get more complex the higher prices go, and a discovery call is the perfect opportunity to uncover as many of these important names as you can.
4. Use storytelling to highlight the value of the product
One of the key aspects of the sales call will be selling the potential client the story of how your product will solve their problem or make their workflow easier.
Frame the product's value in a way that the prospect understands both the fact-based evidence for the product, like its features and pricing plans, and equally importantly the emotional value. How does it fit into their business story? What customer stories can you provide (choose stories from other companies in their industry, or their company size), that relate to your prospect's pain points?
If a client sees the entire picture of a product's value, they'll be more inclined to commit to a deal.
Empower your sales professionals to close more deals with active sales call planning
Unlike cold calls, discovery calls require you to do a bit more research and really ask the right questions. It's not everyone's favorite thing to do, but it's a great way for sales professionals to refine their prospecting tactics and hone their sales strategy (while meeting their sales goals).
You won't be able to prepare for every bump on the sales call road, but with our template, and a solid plan, you'll be well on your way to successful sales calls that deliver results.
Want to help your team book more sales meetings?
Take a product tour of Dialpad and see how it can help your organization improve its sales performance!