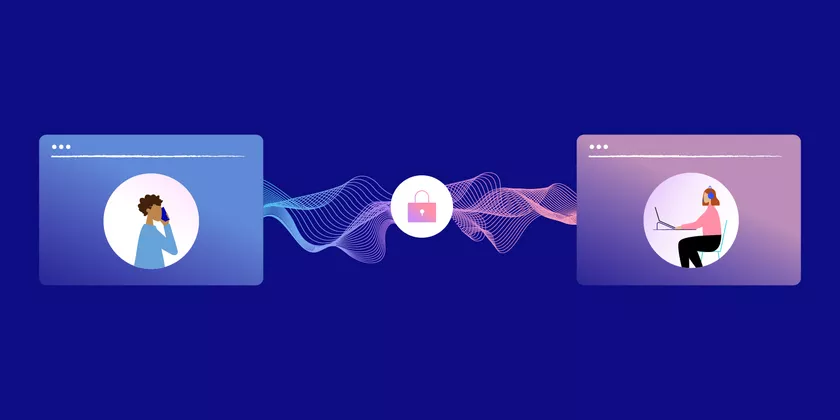 March 01, 2021
At Dialpad, we understand that data privacy is as important to your business as it is to ours. From the start, our goal was to build the modern business communications platform that we want to use, and that includes robust privacy and security. Dialpad puts you in control of your data, and we have implemented transparent and understandable privacy measures so your business, employees, and customers can get the most out of your business communications.
We protect your data in two distinct ways.
We put you in the driver's seat and give you control over your data.

We implement industry-leading security standards to ensure that only authorized individuals are able to access your data.
These parallel privacy measures are built into every step of Dialpad, so you know that you are secure throughout the life of the call, from the first ring to the customer insights gained from each interaction.
Your Information is Your Information
Dialpad's data management empowers businesses to control what data they save, how it's used, and how long it's kept. Customer data is valuable and provides insight into what customers want, but you know not to keep data you don't need or for longer than you need it. You need to be able to collect data, perform analytics, and reliably delete it at the right time.
Customizable Retention Policies for Data Minimization
Because each business has unique needs, one-size-fits-all retention policies don't work. Dialpad understands these demands and works with you to design and implement a customized retention policy that meets your specific legal and business needs.
So what does this mean? It means you have control to shape your data policies within Dialpad, business unit by business unit. Whether you want to archive data for later to declutter without deleting, remove just content, or scrub all personal information, you can do that. You can also determine how long you keep the data for. You choose when you want to delete the data, and it will be removed on that exact day - not a moment sooner or later.
A custom data retention policy can help meet your compliance obligations, minimize risk, and give you peace of mind in your business communications.
Recording and Transcription Settings to Maximize Insights and Minimize Risk
Every Dialpad call, including voice and video, has access to Dialpad's artificial intelligence (Dialpad Ai). Vi provides automatic real-time transcriptions, analysis, and even call center agent training with custom moments. Dialpad provides equally powerful privacy tools to help your business use Vi with confidence.
We know that having a record of a call can be invaluable, but call recording, notification, and consent can be tricky business. Dialpad helps by making call recording and transcription configurable on each line, inbound and outbound, including the option for automated notifications and even exception rules by jurisdiction. Sensitive information is protected with the ability to easily pause and resume recordings and transcriptions to omit sensitive or regulated data.
Dialpad's artificial intelligence APIs tightly coupled with your CRM API enables you to automatically toggle either recording and/or transcription when your agents open up a particular screen or field and start again when it's closed. Whether you're dealing with PCI, HIPAA, or other regulated data, this can help ensure you aren't storing sensitive information.
Your Information is Secure
Secure Sign-on and Integrations
Through the App Marketplace, Dialpad offers integrations for access management via SAML and SCIM from providers like Azure, GSuite, OneLogin, Okta, so you can centralize user management, from single sign-on capabilities to automated user provisioning.
Encrypted Calls
Data transferred within the Dialpad application is encrypted with Transport Layer Security, the modern standard for web communications and the same security that protects you while you browse the web. Data at rest is secured in Google Cloud Platform, where it is encrypted with AES 256-bit or greater ciphers. When data is transferred during live phone calls and conferences, it's encrypted and authenticated using Secure Real-Time Transport Protocol (SRTP). See our encryption page for further information around our encryption practices.
Demonstrated Compliance
In order to protect user data, Dialpad is compliant with multiple security standards by implementing verified and trusted technical safeguards to protect your data from any unauthorized access.
Dialpad is SOC2 Type II compliant and undergoes annual third party audit and penetration testing. Dialpad has implemented controls that meet the objectives of the AICPA Trust Services Principles, as verified by a third-party audit. Moreover, Dialpad is a member of the Cloud Security Alliance (CSA) Security, Trust and Assurance Registry (STAR), and has published its CAIQ assessment results.
What You Need to Remember
At Dialpad, we have designed all our products and features with the privacy and security controls needed to help you meet the privacy expectations of your users, your customers, and your business. When you combine Dialpad's Vi technology with tailored privacy controls, you can confidently unlock the full power of the calls that your business makes every day.