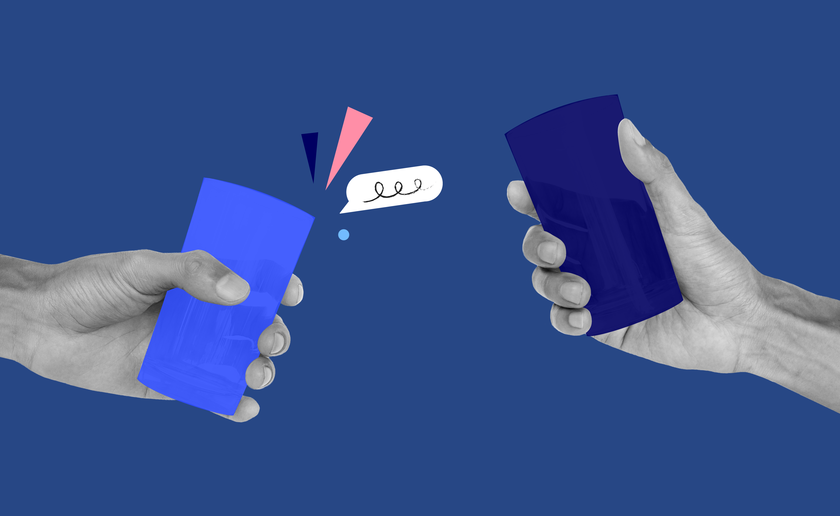 August 25, 2020
With working from home becoming the new norm, there's less opportunity for office small talk.
Just because you're working remotely doesn't mean that all water-cooler chats have to end. Water-cooler chats are those moments in the office where you have a non-work conversation with a co-worker.
Whether those conversations happen at a water-cooler, or while refilling your coffee cup doesn't matter, but those spontaneous conversations actually matter. It provides a much-needed break in the day and also strengthens relationships amongst co-workers.
Learning how to work from home is not an easy task, but by providing teams with new internal communication standards you'll save those relationships from disappearing when all employees are remote.

4 internal communication standards for remote work
It's time to take a look at internal communication standards and adjust them for remote life. These three standards will help you set up your team for success by encouraging collaboration and productivity. Before going all-in on virtual internal communications, be sure all of your employees have the tools and training they need to be successful. Keep in mind age and ability differences.
1. Invest in business instant messaging
First and foremost, make sure your company has business instant messaging software installed on all employees' devices. This software serves as an internal messaging system and allows teams to make groups or communicate 1-on-1. Collaboration tools do not replace the role of business internal messaging.
After you have a business instant messaging tool, train your employees, and then set usage guidelines. Encourage employees to use it for small talk and random thoughts. It might even be beneficial to create a channel dedicated to non-work chatter, similar to water-cooler chats.
This space will help people take a mental break from work, which increases productivity and it also will strengthen relationships. Once relationships are established, it's easier to work together and come up with solutions.
2. Offer training and development
Career advancement is important to all employees. One way to show that you care about your employees is through training and development, but when everyone's remote it's easy for those sessions to fall to the wayside.
Make learning and development a priority in your new internal communication standards. You can still hold these sessions by using video conferencing software and other remote work software such as file storage and sharing solutions.
Not only do learning sessions make your employees smarter, but it also will make them happier because they know that you're invested in their growth. The happier your employees are, the more productive they will be.
3. Lean on the cloud
The cloud can store business essentials and make everything easily accessible for remote employees, allowing them to work from anywhere. Use the cloud to store all of your internal communication documents and processes. You can also use a VoIP provider, like Dialpad for phone systems, video conferencing, call centers, and sales coaching.
By storing information in the cloud, teams can more easily collaborate and communicate with each other. Increasing communication channels prevents projects from falling through the cracks and deadlines being missed.
4. Use gamification
Gamification will keep your employees engaged from afar. Create inclusive team events to give everyone internal information and then gamify the meeting by using trivia.
If you used to have team outings like happy hours or team bonding activities, just move them to virtual events. That way your team continues to get to know each other in a more casual environment and then will bring those relationships to their professional working relationships.
Embrace the new normal
Remote work is not going away anytime soon, so it's time companies pivot their strategies in order to stay profitable and productive. It's easy to use online reputation management tools while working from home, there's going to be a little more work needed in order to maintain employee relations. Implementing a new internal communication strategy will help you and your employees adapt to working from home successfully and keep the water-cooler chats going, just in a different way.




Author bio:
Deirdre O'Donoghue (she/her/hers) is an Editorial Team Lead at G2. She brings her passion for research and creativity to her writing. In her free time, you can find Deirdre playing with her new pup or exploring the Chicago foodie scene.