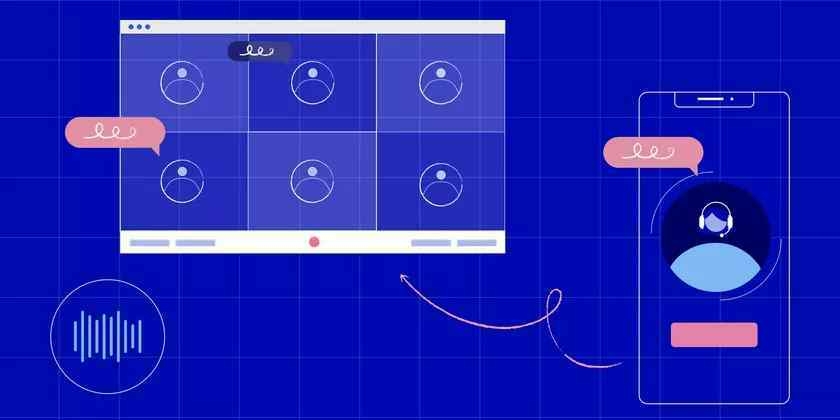 March 31, 2021
Holding meetings and conferences in the past was just a matter of getting everyone into one room for an hour or two. In today's modern work environment, it's a little more complicated. Organizers have to contend with remote workers across time zones, maintaining a video feed and connection, and ensuring they have the virtual tools they need at their disposal.
Efficient and productive meetings create the heartbeat of a thriving business. If they get clogged up with technical issues, poor quality, and ineffective features, your business will suffer. That's why Dialpad provides high quality video conferencing with easy to use tools designed to empower meetings and productivity. Here's how we empower your meetings.
Video Meetings
Video meetings can bring together coworkers, managers, and other participants from around the world into a single meeting. Pre-pandemic, video meetings often included conference rooms with wall-sized screens to project video conferencing participants as though they were physically present, but now that everyone is joining remotely, the demand for and on video has increased exponentially.
So how does Dialpad enable better video meetings? We do this in several ways.
Intuitive UI
It all begins with the user interface. We provide a modern UI that reduces the clutter and makes it easy to access everything you need. Screen sharing, messaging, camera settings and similar tools are clearly labeled and easily accessible without interfering with the video itself. Users can even choose the video layouts that best helps them engage with the speakers and content, whether they want dynamic meetings, a filmstrip layout of speakers, or anything else.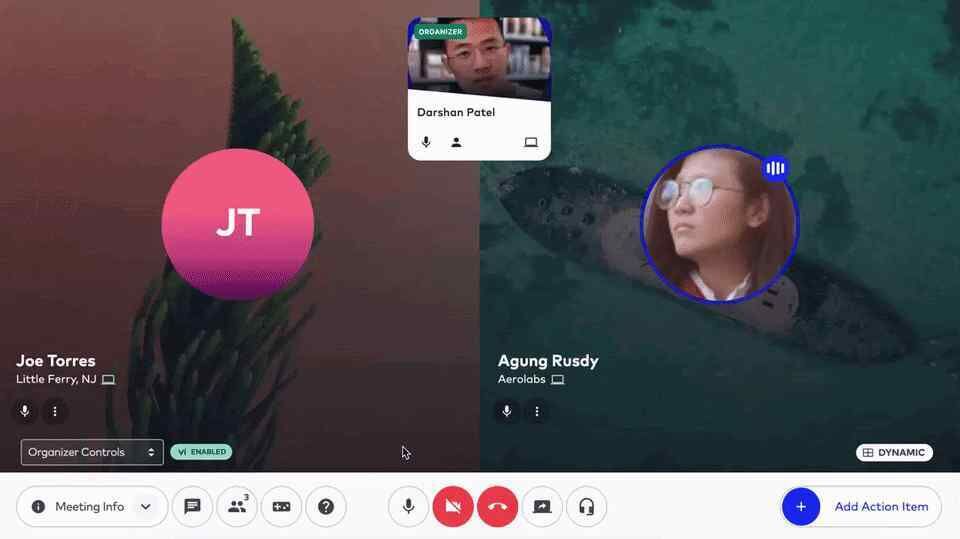 Meeting moderators also have access to advanced controls to ensure efficiency. When you're in charge of the meeting, you can control who has access to what tools, adjust participants and volume, or manage the settings to create better engagement.
Delight Our Users
Picture the perfect meeting. Everyone shows up on time. They're prepared. Invitations are easily sent out to every attendee and automatically integrated into their calendars to ensure everyone is up to speed. You don't even have to take notes during the meeting, since they'll be provided afterwards.
While it may feel difficult for virtual meetings to create that experience, it's possible with Dialpad. In-person meetings have personal aspects to them that are hard to replicate, but we provide nuanced features to create a more personal experience, like custom hold music and "buzzword bingo" to break the ice.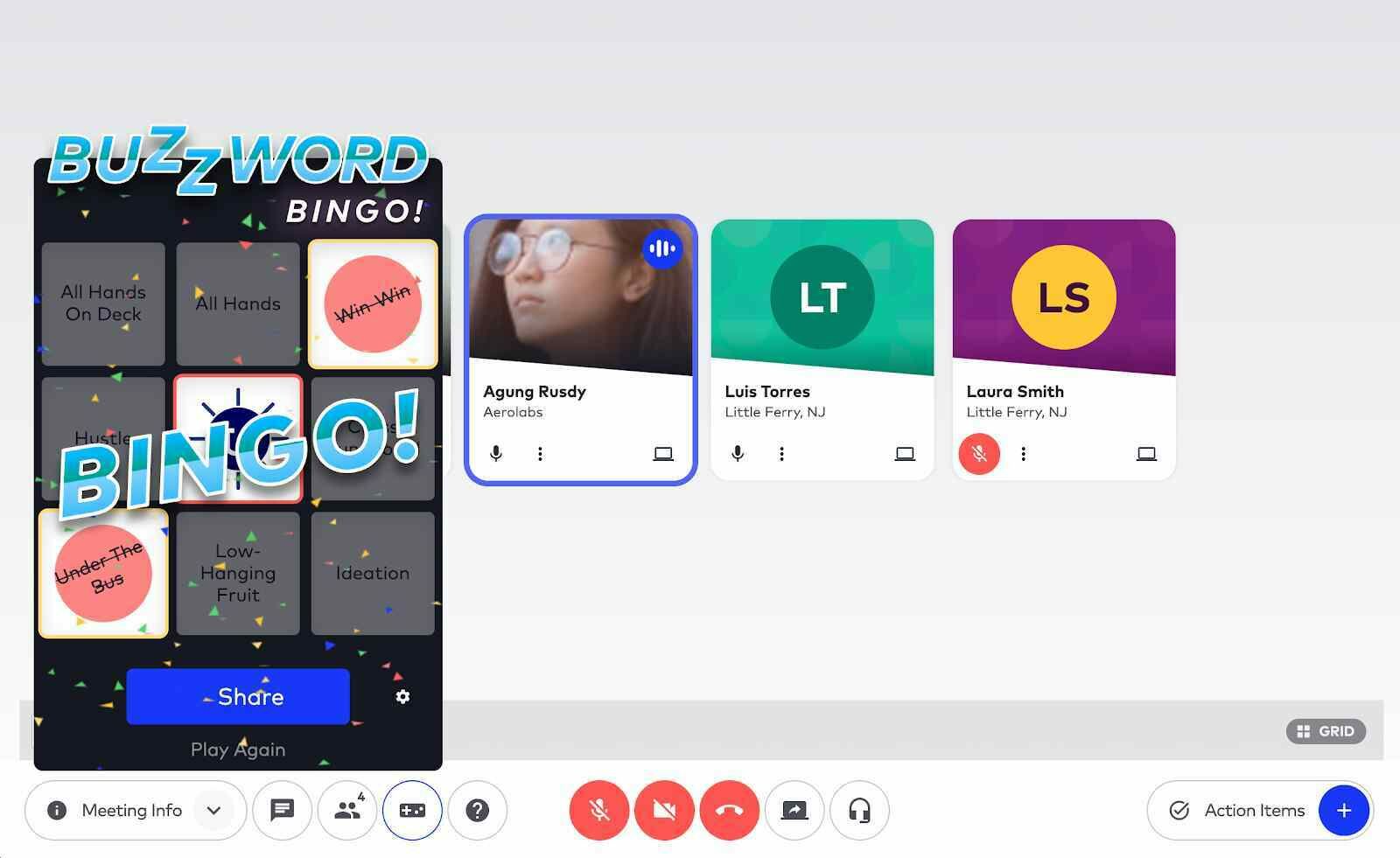 We're all busy people - that means you need convenient features to improve efficiency. We know that if you can get people in on time and get things done, your meetings will be all the better for it.
Smart Meetings
Our meetings are smart, not just by virtue of the people participating in them (although we're certain that's a factor too), but through the technology we use. Our smart meetings help you know who's in your meeting, what was said by whom, and captures key moments. Our patented voice enhancement is natively built into the platform to help reduce background noise during each call.
We also include tools to help make your meetings more efficient, such as the Meeting Countdown Timer, which uses visible timers to ensure everyone gets an equal amount of time to talk and the meeting doesn't run over its intended length, and five-minute reminders to let everyone know when the meeting is nearing its end.
Pre and Post-Call Support
We also understand that the true value of a modern meeting platform isn't just what you can do in the meeting, but the value you can get before and after each call as well.
Before the meeting, we make it easy to send invitations, set up the virtual conference room, and send reminders. You can schedule meetings directly from your calendar, which will automatically create a conferencing room for you. When it's time for the meeting to start, all participants can receive reminders via text or Google Calendar notifications.
After the meeting, you'll have access to recordings and transcripts and you'll get automatic call summaries, including highlighting action items like "send an email," "remember that" and "I'll follow up." You can go back to your meeting dashboard to see and share what was said, solving any communication gaps that may otherwise cause a holdup or confusion.
Some days are just filled with meetings, and you may find yourself jumping from one call to the next, with little time for taking notes or summarizing key points. Automatic transcripts and summaries of key moments can take care of that for you, so you can focus on the meeting at hand. Dialpad's AI-powered Voice Intelligence (Vi) makes this happen.
Mobility & Security
The world has gone mobile, both by necessity and thanks to the convenience it provides. At the same time, that presents key challenges for meetings, primarily:
- How can users access the meetings from anywhere?
- How can we ensure security for our users?
Dialpad manages to tackle these challenges, ensuring users will be able to access meetings across devices while remaining compliant with security standards.
So what does "mobility" mean in today's world? While it does still mean that users can access a meeting whether they were in office, at home, or on the go, modern demands have evolved to require more. Now it means users can dial in from any device, or receive a call to bring them right in to the meeting. It means you can download the app on your phone or computer, or access the meeting without needing to download anything through a web portal. Mobility isn't just about being able to access a meeting from anywhere - it's about how easy it is to access the meeting as well.
Yet with all this mobility comes a need for greater security. Data privacy is of the utmost importance, which is why Dialpad uses parallel privacy measures to maintain security from the first ring of the phone to the insights from after the call.
Companies have full control over their data from each meeting. They can implement custom retention policies, based on their specific legal and business needs, including allowing businesses to configure how they use Vi's real-time transcriptions and analysis.
Additionally, Dialpad encrypts calls with Transport Layer Security, the modern standard for web communications. While your data is at rest, it's secured in the Google Cloud Platform and encrypted with AES 256-bit or higher ciphers. We use a Secure Real-Time Transport Protocol (SRTP) to encrypt and authenticate data sent during your meetings, so your data is secure at any point before, during, and after calls.
Additionally, Dialpad is SOC2 Type II compliant, and undergoes annual third party audit and penetration testing. Dialpad is also a member of the Cloud Security Alliance (CSA) Security, Trust and Assurance Registry (STAR).
All of that goes to say we're dedicated to safety for each and every meeting.
Fully Integrated Platform
The modern employee has so many business tools and applications to sort through. There's messaging platforms, calendar applications, email applications, company directories - it never seems to end. Adding on a video meeting platform can feel like it's taking on another disparate tool to bounce between, especially with organizations reporting "video fatigue" from an overuse of calls outside of regular hours. A good way to combat this issue is with a video meeting platform that's fully integrated with the tools they already know and love.
A fully integrated platform can bring together disparate solutions into one unified place, enabling greater productivity and ease of use. That's why Dialpad integrates with top-tier software providers, including Slack, Office 365, Google Workspace, and so much more.
This means that everything is connected for greater ease of use. You can use Google Calendar to set up a meeting, have it dial out to folks on their phones, and get a reminder in Slack when it's time to start. Employees can access the files, emails, and events they need from Google Workspace, creating a powerful business communications hub. We know the value of Google's integrations inside and out, as Dialpad's Founder and CEO, Craig Walker, also founded what is now Google Voice.
These integrations are designed to help users focus on the meeting, rather than having to switch between multiple applications. No matter what device you're on or what applications you use, Dialpad can help keep everything convenient and efficient with its many integrations.
Dialpad and Done
As meeting rooms have gone virtual, there's now more potential than ever before to empower smart and efficient meetings. With Dialpad's video meetings platform, you'll find new ways to drive productivity, get the most out of meetings, and empower your workforce.
Even when work returns to the office, video conferencing will still be an integral part of the new workstyle. A hybrid of in-person and virtual meetings awaits, and Dialpad is preparing for this new work environment with new features and acquisitions to help us tackle it head-on.
We're more connected than ever before, across devices and locations. You need a video meeting platform that helps you make the most of that connectivity, with mobility, conferencing tools, and integrations.